Cincinnati Bengals 2010 Training Camp: T.O. & Ochocinco Update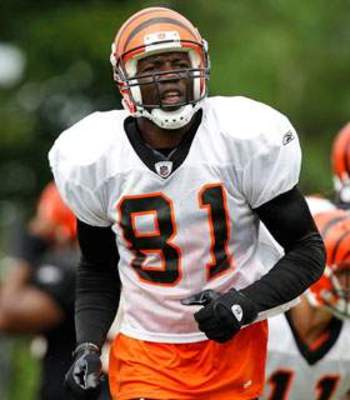 Last week, Terrell Owens agreed to be a Bengal when he signed a one-year deal that includes $2 million in base salary with an opportunity for $2 million more in bonuses. Owens will wear #81 like always. Chad Ochocinco and Ocho Uno on the same side of the ball could form an combination that will be difficult to stop.
Bengal fans are excited. Owens is big at 6-3, 224 pounds. He is also 36 years old and a 15-year NFL veteran.
Here is an update on the Ocho Cinco and Ocho Uno show.
Owens still must learn the offense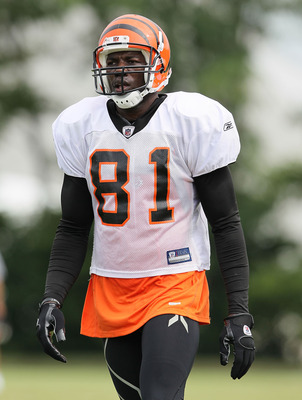 Before the show can begin, T.O. must learn the plays. Owens worked out with Carson Palmer prior to training camp this summer. Many think that the work they put in will help him adjust to the system. That may be true, but the learning process will still take some time.
When the season gets going, Owens will likely play on the outside. He excels at short crossing routes where he can get separation and gain big yards after the catch.
T.O. and Ochocinco's pads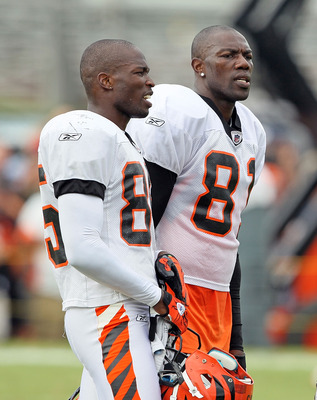 During the first week of camp, Dallas Cowboy wide receiver Dez Bryant refused to carry Roy Williams' pads. Rookies carrying the veterans pads is a tradition in the NFL.
Things were different at Bengals camp, though. Terrell Owens was seen carrying Chad Ochocinco's helmet, shoulder pads and jersey off the field along with his own gear.
Oklahoma Drill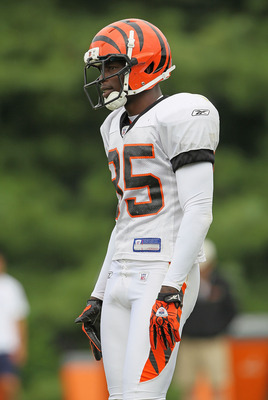 Fans of Hard Knocks know that coach Marvin Lewis loves the Oklahoma Drill. Ochocinco found himself matched up with linebacker Rey Maualuga. Maualuga is known as one of the hardest hitters on the team. Ochocinco managed to get the better of Maualuga when he hip tossed him aside.
#1 receiver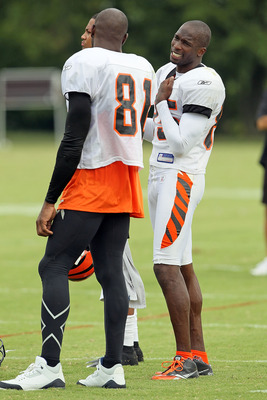 Ochocinco has already said that he has no problem if Owens is the Bengals #1 receiver. They both have played in six Pro Bowls. However, Ochocinco is four years younger than Owens and is the best receiver in Bengal history. Last season, Ochocinco went to his sixth Pro Bowl while Owens struggled.
In the end, it won't matter as long as the Bengals are winning.
Ochocinco...leader?
The Pacman Jones matchup on Ochocinco was widely reported. Jones got smoked more than once by Ochocinco in early drills.
What happened after that was not so widely reported. Ochocinco sought out Jones for some one-on-one work after practice.
Here is the money quote from Ochocinco: "...he's real good. We're going to keep going at it. It's all about the competition and getting better."
Touchdown celebrations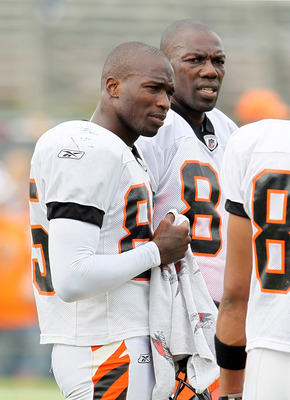 Owens and Ochocinco are well known for hamming it up in the end zone after they score a touchdown. Owens has many double digit touchdown seasons and has the third most touchdown receptions of all time. He should catch around five in 2010. Ochocinco is no slouch and will end up with at least five touchdowns of his own.
Expect some creative end zone celebrations from this duo.
More Bengal articles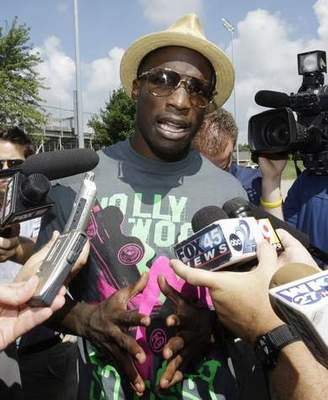 How do you think the Ocho Cinco/Ocho Uno show will play out? While thinking about that, check out these other Bengals articles:
Look here for some surprise cuts by the Bengals. Hint: the author could be way off or the next Nostradamus.
Ten Bengals that are on the bubble can be found here.
Five Bengals that should be on your fantasy radar are found here.
Here is a look back at the Bengals of last summer.
Here is a list of the top wide receivers in Bengal history. Spoiler: Ochocinco is No. 1.
This article previews the Bengals' defensive line for the 2010 season. See who may be a surprise cut.
Here is a preview of positive things for the Bengals going into training camp.
This is a list of Bengal concerns going into camp.
This is a list of Bengal weaknesses.
Here are five things the Bengals should not do.
This article reviews the top unrestricted free agent signings by the Bengals.
This article has been criticized on Bengal boards all over the net. It looks at Carson Palmer's career and why he hasn't gotten a playoff win.
This article gives five reasons why the Bengals signed Adam "Pacman" Jones.
Keep Reading

Cincinnati Bengals: Like this team?