Defense Wins Championships: Oakland Raider Edition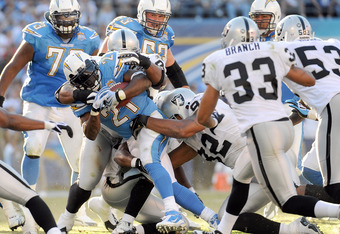 Harry How/Getty Images
The Raiders over the past few years have not had the best defense in the NFL, or for that matter anything close to the best defense in the NFL. Last season the Raiders finished allowing 23.7 points per game and a 4.5 yard per carry average for opposing running backs, according to NFL statistics the Raiders had the 7th worst defense all around last season. However, this trend is about to fade.
This offseason has been one of the best offseasons for any NFL team, and the Raiders have greatly enhanced the team. The addition of Jason Campbell helped tremendously on offseason, but as many coaches have said, "Defense wins championships.
A once stagnant defense has been overhauled completely and is about to turn into the surprise defense in the NFL . I'm sure many coaches in the NFL will make sure their teams don't take the Raiders lightly, but why should the fans be excited for the Raider defense this year?
Veteran Leadership
Nnamdi Asomugha and Richard Seymour are back and bring a level of intensity and professionalism that are second to none. Both have been staying after practice and helping improve the younger players, but both have also been showing the team and the younger players a more important lesson.
The lesson is what it takes to be great. These guys have their names known throughout the league, and now the other players see the hours they put in every day to become that way. If Seymour and Asomugha are staying after practice then you better believe the guys fighting for a roster spot better take the hint to work as hard as their captains.
What these leaders do isn't just about what happens on the field, but also how they make the team completely better by the example they set. These veterans are solid and will work their tails off to make sure the Raiders defense becomes remembered.
Free Agency and Trades
This offseason has also seen the addition of John Henderson, Kamerion Wimbley, and Quentin Groves. Each brings a different element to the team, and Henderson and Wimbley will both be fighting for roles as starters while Groves adds depth in case a linebacker goes down and also for pass rushing situations.
The acquisition of these players adds a ton of talent, as well as veterans who have proven their worth in this league. These moves have also shown to the players who remain on the team that no spot is safe anymore and that they better make plays or they'll be looking for a new job elsewhere.
Free agency and trades have helped the Raiders immensely this offseason and you better believe it will be shown on the field. I personally can't wait until I see Wimbley showing his dominance on the field like he did his rookie season and while at Florida State.
The Rookie Impact
This impact is probably the greatest impact the Raiders have had this offseason. However, it's not every year that you get two great players who are fiery and will be starters from the get-go.
Rolando McClain was drafted with the 8th overall pick and while at Alabama he led one of the best defenses in college football. Nick Saban sang praises about how great this kid was at college and how hungry he was to learn the playbook and to lead the defense.
It feels great to have a player like that on the team, it feels eve better knowing that he'll only get better and will be compared to Ray Lewis or Patrick Willis once he fully progresses. He will shut down the run and will make sure every player is in position on every play, he is a one of a kind player. Raider Nation, we have a truly special player on our hands.
The other great rookie is Lamarr Houston, a former RB turned DE while at Texas. He made this switch because he "was tired of getting hit and wanted to do some hitting himself". No wonder why this guy seems to be getting in a lot of fights with the offensive linemen during training camp.
Kiper wondered after the draft how he overlooked this guy, I think the rest of the NFL is wondering the same thing. He played in the same conference as Gerald McCoy yet had better statistics and better measurable than McCoy. Not to mention the motor on Houston.
I don't think he knows how to take a play off, and he's been working with Seymour every day after practice. Seymour probably sees a bit of himself in Houston, and he probably can tell this kid will be a special player for years to come.
Player Progression
The final step of the defense becoming one of the best in the league deals with player progression. Last year we saw Branch become a great player, this year another player will rise to the challenge and prove their worth. I don't know which player will stand out this year (feel free to debate in the comments section), but either way this young defense will continue to improve.
Overall, the Raiders defense provides that perfect mixture of veterans, rookies, new players on the team, and players who have been on the team in previous years. This is the end of the Raider defense being looked down upon, a new era is among us. This is the era of the talented Raider defense, and teams better be ready for it.
Let me know what you think Raider Nation! Comment below!
This article is
What is the duplicate article?
Why is this article offensive?
Where is this article plagiarized from?
Why is this article poorly edited?

Oakland Raiders: Like this team?