Pittsburgh Steelers Training Camp Preview: Position Battles
Pittsburgh Steelers training camp is quickly approaching with the players set to arrive at Saint Vincent College on Friday.
In addition to the players, tens of thousands of Steelers fans will make the drive down Route 30 to line the hillsides of the college and the bleachers of Chuck Noll Field.
It is their first chance to see the 2010 Pittsburgh Steelers.
All eyes will be on Troy Polamalu and Aaron Smith, two defensive veterans returning from injury; Ben Roethlisberger, the suspended franchise quarterback; as well as young players looking to make an impact, such as wide receiver Mike Wallace or cornerback Keenan Lewis.
Then, of course, there is the rookie class, where first round selection Maurkice Pouncey is expected to give the offensive line an influx of talent, receivers Emmanuel Sanders and Antonio Brown to compete for roles in the offense, and Jonathan Dwyer, a sixth round running back who has generated a lot of buzz as a possible late round steal.
While it will be exciting to see these players in action for the first time this year, the real excitement will be generated to see how they are competing with each other.
There are a number of position battles expected this camp that could mean a spot in the starting lineup for one player, or simply making the roster as a backup for another.
Defensive Line - Depth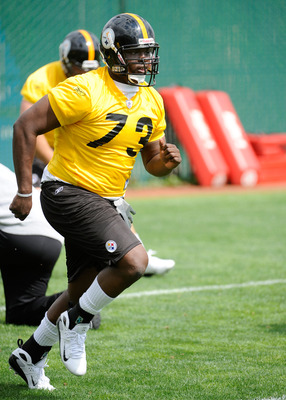 One of the key battles will take place on the defensive line.
Pittsburgh is set at defensive end with Smith and Brett Keisel, as well as last year's first round pick Ziggy Hood and veteran Nick Eason coming off the bench. There will still be one roster spot left that will likely come down to second year player Ra'Shon Harris and rookie Doug Worthington.
Harris signed with Carolina after being cut by the Steelers, but was later released and then signed by Pittsburgh following Aaron Smith's injury. He flashed potential last training camp, enough that the Steelers brought him back, even though he was inactive each week.
Worthington was brought in to add further youth to the defensive line and he could make an impact. A team looking to get younger on defense will give their young defenders every opportunity to make the team. Worthington, if nothing else, will push Harris for a roster spot.
Predicted Winner: Ra'Shon Harris
Running Back - Third String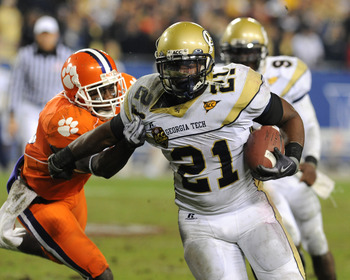 On the offensive side of the ball, there are a number of young running backs competing for the third string position.
Dywer, as well as second year players Isaac Redman and Frank Summers all have the skill set to be short yardage backs.
The 5-11, 229 pound Dwyer had 35 rushing touchdowns while at Georgia Tech and will look to have the same type of success with the Steelers. In his three years, two as a starter, he rushed for over 3,200 yards and could eventually develop into a starter once he transitions from the option to a pro style offense.
Redman was a star of last year's training camp, earning the nickname "Redzone" Redman for his short yardage performance. However, he did not have an overly successful preseason, rushing for 145 yards on 37 carries and three touchdowns.
If Redman is going to make the roster, he will have to show that he can be more of a short yardage back.
Though Summers is competing for both a running back and fullback spot, he could possibly earn the third string role. After spending much of last season on injured reserve, Summers will have to show that he further developed as a blocker and demonstrate the power running style that he was known for in college.
Predicted Winner: Jonathan Dwyer
Outside Linebackers - Primary Backups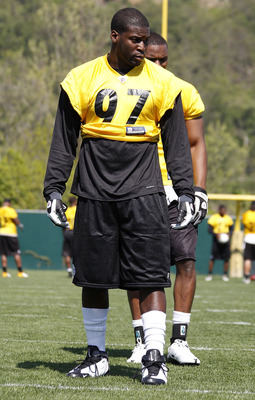 There will also be plenty of competition for the backup positions at outside linebacker, one of the thinnest areas of the team.
The early favorites will be second round draft choice Jason Worilds and fourth round selection Thaddeus Gibson.
Each player was drafted to provide immediate depth at the position and help on special teams.
They not be handed the positions though. Andre Frazier has played four of his six seasons with the Steelers, mainly on special teams, but has experience with their defense. Patrick Bailey, another special teams player, has been with the Steelers for two seasons.
If Worilds and Gibson show any comfort with the defense, they are locks for the backup positions. However, if they do not, look for Pittsburgh to keep an extra linebacker, likely Frazier, for the veteran experience.
Predicted Winners: Jason Worilds and Thaddeus Gibson
Return Specialist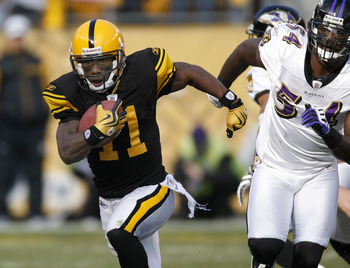 Not all of the position battles will be for backup positions.
Stefan Logan set return records last season for Pittsburgh, but is limited as a return specialist.
Second year player Joe Burnett may get another opportunity to unseat Logan, but the real threats will come from rookie receivers Emmanuel Sanders and Antonio Brown.
Both players have return experience, but the early favorite may be Brown, who is a multiple special teams award winner for his performance while at Central Michigan. His abilities to contribute as a wide receiver would also give him an extra edge over Logan.
Logan is a proven returner, though, and the Steelers have had problems plugging rookies into this position in the past.
Predicted Winner: Stefan Logan, very close over Brown
Wide Receiver - Third String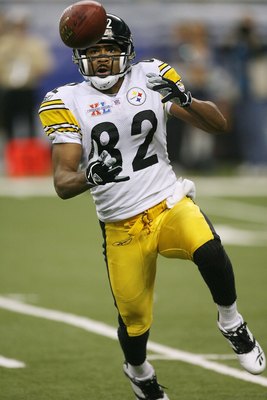 One of the more interesting battles could come at the third wide receiver position.
Veteran Antwaan Randle El re-signed with the Steelers after playing the last four seasons in Washington. Though he is older and slower at this point of his career, Randle El is a perfect fit for the slot and has a huge edge over his competitors.
Arnaz Battle will get a chance, though he is a long shot. Brown could also step into the position if he steps up, but the main competition will come from Sanders.
Sanders was a mid-round sleeper, though undersized, has the speed to get deep, the quickness to go across the middle, and good route running abilities. He also had a very productive senior season, making 98 receptions.
If Sanders can have a camp showing like Mike Wallace had last year, he will be the third receiver sooner rather than later.
Predicted Winner: Antwaan Randle El in camp, but Sanders will step up as the season progresses
Cornerback - Starter
The lone defensive starting spot that is up for grabs is at cornerback.
The Steelers brought back Bryant McFadden, trading a fifth round draft choice to Arizona. Without taking an elite prospect earlier in the draft, the Steelers added experience depth in McFadden. More importantly, he can step into the starting lineup immediately.
McFadden does not automatically have the job. William Gay, though demoted, will unlikely just want to sit back and take a lesser role. He will likely put in the work to improve on last year's performance.
The interesting name in this battle is Keenan Lewis.
Lewis spent much of last season injured and was never able to make a name for himself. He was taken in the draft last year to eventually push for a starting spot and this will be his first chance to make that move.
Lewis has good size, at 6-0 208 pounds, and speed to run with most receivers. It may be a lot to ask of Lewis to come of an injury plagued rookie season and step into the starting role, but he will at least compete this year.
Predicted Winner: Bryant McFadden
Right Guard - Starter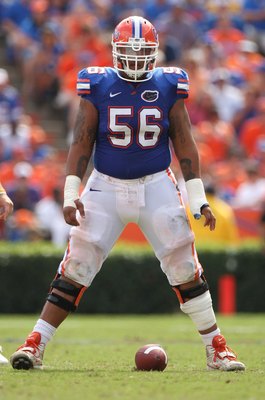 The biggest battles on the team are involving the offensive line.
Right guard will likely be a three way battle between first round selection Maurkice Pouncey, Ramon Foster, and Kraig Urbik.
If Pouncey does not have an opportunity to compete at center, or if he doesn't win the starting center role, he will be the early favorite to start at guard.
Pouncey has the potential to be one of the, if not the best Steelers lineman this season. A big, powerful blocker, he will offer an immediate upgrade in both pass and run blocking.
Foster flashed a lot of upside last year as an undrafted free agent. He is a powerful blocker and with a year under his belt, should be improved.
The dark horse is Urbik. After being drafted in the third round last season, Urbik was a moderate disappointment, not making an impact. With an offseason to develop, Urbik should be stronger and more comfortable with the Steelers system.
In the ideal world, Pouncey could win the center spot and Urbik the right guard position, giving the Steelers a good, young interior to their line.
Even if this doesn't happen, there are three young players with big upsides competing for one spot.
Predicted Winner: Maurkice Pouncey, but if he starts at center, Ramon Foster
Right Tackle - Starter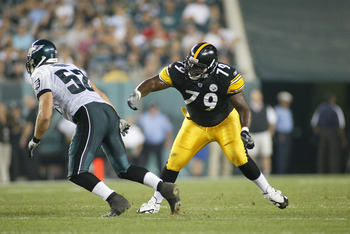 Finally, the most unexpected position battle is at right tackle. After Willie Colon suffered a season ending Achilles tendon injury, the Steelers were put in a difficult position.
Thought to be there best lineman, the Steelers will have to replace Colon with Trai Essex or Jonathan Scott.
Essex can play any position on the line except center and has been adequate when starting. He is not the Steelers best lineman, but he is serviceable and very experienced.
The biggest competition for Essex is Scott, who may have an edge since he is working under his old offensive line coach from Buffalo, Sean Kugler.
A third name to throw into the race is Foster. He has the capabilities to play both guard and tackle and also has the most room to grow. With Essex and Scott, what you see is what you get. Foster has plenty of room to improve and could be a fixture on the Steelers line for years to come if he continues to get better.
Predicted Winner: Trai Essex
Pittsburgh Steelers: Training Camp Previews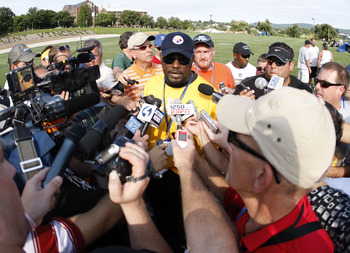 Keep Reading

Pittsburgh Steelers: Like this team?