Adam Dunn? Prince Fielder? Corey Hart? I'll Take Stephen Drew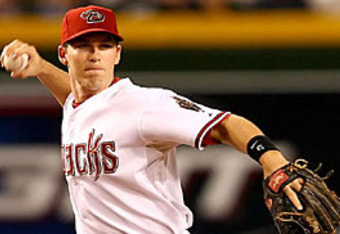 While the rest of the Giants' blogosphere has a woody for a big bat (Adam Dunn , Prince Fielder , Corey Hart , Jose Guillen , etc.), I'm here to tell you that Brian Sabean needs to approach the upcoming trade deadline with a different goal in mind: The Giants need to deal for a speedy, defensive-minded shortstop.
Currently, the Giants have Edgar Renteria and Juan Uribe at shortstop, which at first glance looks pretty solid. Uribe was a strong consideration for the All-Star Game earlier this month and Renteria's offensive numbers for the season (.291/.356/.366) don't seem to warrant an emergency back-up plan here.
But let's dig a little deeper here, shall we?
---
Uribe is not an everyday starter, despite what Bruce Bochy or anyone else might try to tell you. He's not. The 31-year old utility man started the season off strong, batting .281/.350/.463 with 7 HR and 29 RBI through the first 48 games of the season. But over the past 18 games, Uribe is hitting just .212/.264/.318 with only one HR and 9 RBI. Clearly, he has hit the wall. At his age, it's just a fact that as the long, grueling summer goes on, so will his slump. Bochy has known this for quite some time, which is why he does his best to give his aging players time off. Uribe would be best-served as an occasional starter and pinch-hitter-extraordinaire off the bench.
Renteria, 35, is one more injury away from calling it a season himself. Since 2003, he's been on the DL four times, including a two stints this season. Renteria has missed 437 days on the DL plus another 77 "day-to-day" days during that span. And, like Uribe, he is prone to long slumps.
The number of errors committed don't always tell the whole story when it comes to fielding prowess. Renteria (.975) and Uribe (.981) have terrific fielding percentages at shortstop, but it's important to remember that a player is not given an error for not getting to the ball in the first place. Both Uribe and Renteria have lost a step, and their range to get to worm-burners is limited, to say the least. Of course, the more infield singles a team allows, the more chances that a big inning is likely to crop up.
Thanks to Buster Posey , Aubrey Huff , Andres Torres , and a rejuvenated Pablo Sandoval , the Giants have been one of the highest-scoring teams in the Majors as of late and are plating an average of 5.4 runs per game in July, tops in the National League. A power bat, while sexy, is not the solution here.
What the Giants need is more speed on the base paths.
Look no further than the GIDP stat. San Francisco has grounded into 102 double plays this season, second-worse in the Majors behind the Minnesota Twins (112). And while Sandoval's GIDP antics have been widely publicized (he's grounded into 20 DPs), alone he makes up for just 19.6% of the Giants' GIDPs. Uribe has 14 and Renteria, in his limited at bats, has seven. Aside from Torres, the team does not have a legitimate stolen base threat. Nate Schierholtz ? Give me a break.
Eugenio Velez was brought up from Triple-A Fresno to be the speedy spark plug the Giants need late in a game when a stolen base puts a runner in scoring position without relying on an out (e.g., bunt). A guy like Velez can score from first on a double. (But ironically, Velez wasn't fast enough to avoid a line drive off the bat of teammate Pat Burrell that damn near knocked him unconscious on Saturday . He's probably out for the season.)
Getting rid of Bengie Molina helped speed the team up by default, but many fans (myself included) are growing tired of seeing Eli Whiteside pinch run for Posey late in ball games. If Posey needs a rest, why not send out a speedy runner (like a Velez) while Whiteside straps on the gear in the dugout?
A runner with good speed can do a lot more to give a team a chance to score a pivotal run than a player with just average speed (i.e., Schierholtz). Besides disrupting the pitcher's concentration by taking the huge dance off first base, a legitimate stolen base threat forces the pitcher to throw more fastballs to the plate (to get the ball to the catcher quicker). If the runner is on third base with less than two outs, the chances of scoring on a fly ball (even shallow flies) is greater. And it even opens up the option for the squeeze play. Whiteside and the squeeze? Yeah, right.
Let's review the facts:
Fact #1: The Giants need more range at shortstop.
Fact #2: The Giants need a legitimate base stealer.
Fact #3: The Giants' offense is already one of the best in the league (if the last 30 days are an indication).
That's why the Giants don't need Dunn, Fielder, Hart or Guillen.
Instead, the Giants would improve their team dramatically by acquiring a player like Arizona shortstop Stephen Drew .
Drew, 27, is no Jose Reyes on the base paths, but he is a major upgrade over Renteria and Uribe -- on the bases and with the glove. The Diamondbacks are sellers in the current trade market and Drew -- one of the best-kept secrets in the NL -- is one of the many players interim GM Jerry Dipoto will consider dealing before July 31.
Drew -- who is earning $3.4MM this season and won't become a free agent until after 2012 -- boasts a solid .275/.348/.416 line and is one of the best defensive shortstops in the game (he has +3.2 UZR this year). His .988 fielding percentage is tops in the National League and he is second in the league with seven triples.
Oh, and guess what? He can hit for power too. When the D-Backs' season was sinking last year, Drew was rising. The left-handed batter was hitting the cover off the ball in the second half and finished the season as the team's most reliable hitter. Drew slugged .502 last year, hitting 21 homers and 44 doubles. He had 67 RBI while spending most of the season leading off.
With his sore knee problem behind him, a healthy Stephen Drew leads the Giants to the NL West crown, hands-down. You know it, I know it, and Brian Sabean needs to know it.
© 2010 Troy Nelson is the purveyor of 22gigantes.com , a San Francisco Giants blog.
This article is
What is the duplicate article?
Why is this article offensive?
Where is this article plagiarized from?
Why is this article poorly edited?

San Francisco Giants: Like this team?