Phillip Rivers' Boneheaded Comments Over the Weekend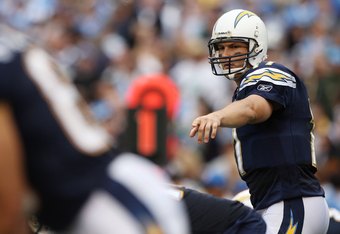 Donald Miralle/Getty Images
Did everyone hear Rivers' comments over the weekend?
Here is the quote:
"Those are two key guys on our offense," said Rivers of Jackson and McNeil.
"I don't think there's any way you can say we're not better with them...But at the same time, can you still get it done without them? The answer is 'Yes'."
Before I weigh in on Rivers' statement, I feel compelled to comment on two things: I believe Phillip Rivers to be a top six quarterback, with an indefatigable spirit and self-confidence, which is contagious not only in the huddle, but in the locker room as well.
The other is that the Vincent Jackson storyline has overshadowed the Marcus McNeill's holdout; the impact of the possible loss of a two time pro-bowl LT like McNeill could be devastating.
On to the question of whether Rivers was correct in what he said, and should he have said it publicly?
The answer is no and no.
Here's why what Rivers said was ill-advised.
For those of you who haven't been to a Chargers game, and seen Vincent Jackson, Antonio Gates, and Malcolm Floyd on the field at the same time, they are quite the formidable threesome.
While Floyd is the least talented of the three, his numbers were still respectable last year.
However, Jackson has become the real difference maker of that formidable troika; the kind of receiver who keeps opposing defensive coordinators up at night.
Not only does he create mis-matches all over the field, but he also creates a conundrum for opposing defenses.
If you roll the coverage to him, it put Gates, and to a lesser extent Floyd, in favorable matchup.
If you decide to play man coverage against him, he will out jump the defender for the ball.
If you play zone coverage, then you had better hope the pass rush gets to Rivers before Jackson finds a hole in the zone.
In a word, he is invaluable to the team.
In some ways, Marcus McNeill might be even more valuable than Jackson.
As I alluded to earlier, you can't underestimate the importance of a pro-bowl left tackle.
Without a doubt, they play the most important role on the offensive line because they protect the quarterback's blind side. If you don't have a good one, then no matter how good the quarterback or the receivers, it's hard to complete a pass when you're lying face first in the grass because the left tackle couldn't pick up his guy.
When you take into account the players lost in the offseason, and then add in the possible loss of two of the most integral parts of the offense, I find it very difficult to believe that the Chargers can "get it done" without them.
The other disturbing part of Phillip's comments is he shouldn't butt his nose into another player's contractual negotiations (no player should).
First, it's none of his business.
Second, if that player returns from a holdout, how do you think he is going to feel about the guy who "didn't get his back" (especially in the press)?
It's bone-headed statements like Rivers, which affect that little thing we refer to as team chemistry, and more often than not, "chemistry" can be the difference between "getting it done" and being one-and-done.
Rivers is a tremendous quarterback, but unfortunately, he needs to be more judicious about what comes out of his mouth.
He would be well served to observe how the greats like Tom Brady or Peyton Manning comport themselves off the field.
Even better, whatever A.J. Smith does, just do the opposite.
This article is
What is the duplicate article?
Why is this article offensive?
Where is this article plagiarized from?
Why is this article poorly edited?

San Diego Chargers: Like this team?