MLB Trade Rumors: 10 Trades the Seattle Mariners Should Consider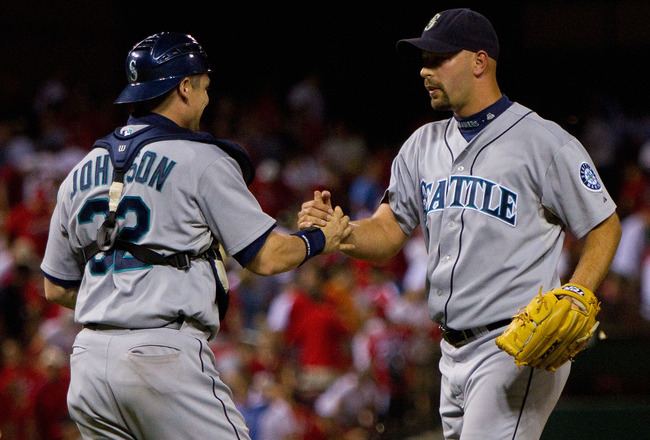 Dilip Vishwanat/Getty Images
The Seattle Mariners already pulled off the one big deal they had planned to make leading up to Major League Baseball's trading deadline. The Mariners traded away Cliff Lee for one of the best offensive prospects in the game in Justin Smoak (plus other prospects).
Yet, the Mariners are unlikely finished with their trading deadline work. Seattle is 39-60 and assuredly out of the buyer's market. Yet there are deals within the current roster the Mariners should consider as they look to the future built around Smoak and Felix Hernandez. The Mariners have the pieces, it's a matter of finding the right buyer.
David Aardsma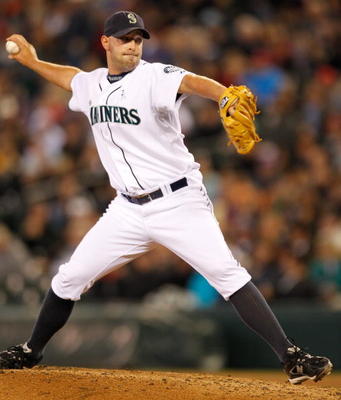 Otto Greule Jr/Getty Images
It has not been a good year for the Mariners closer. He has 16 saves, but he also sports an 0-6 record, 4.73 ERA and a 1.26 WHIP. Those are bad signs for a closer. Nevertheless, there are teams out there interested in Aardsma as a late-inning reliever.

Aardsma's performance this season will not generate much value going back to Seattle. A couple of minor leaguers, likely one pitcher and one position player should get it done.
Brandon League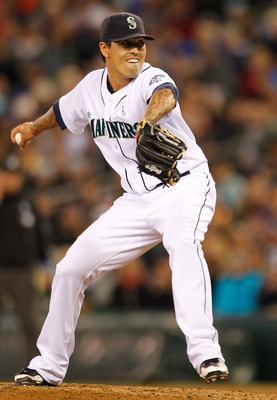 Otto Greule Jr/Getty Images
League has arguably been the most important piece to the Mariners bullpen this season. He is 8-6 with a 3.51 ERA in 51.1 innings with 39 strikeouts and a somewhat reasonable 1.20 WHIP. On the trade market teams look for hard-throwing relievers to stick in their late-inning voids. League has some experience as a set up man which should also increase his value on the market.
Jose Lopez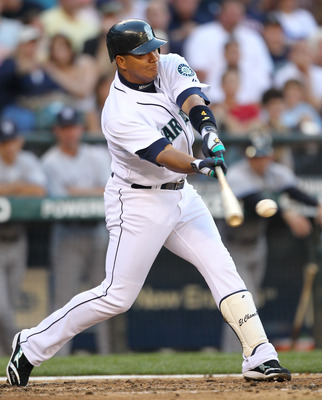 Otto Greule Jr/Getty Images
Lopez's 2010 season has been a far cry from his 2009 production. Lopez is currently hitting .236 with just six home runs and a .603 OPS after hitting .272 with 25 home runs and 96 RBI a year ago. That is going to drop his value on the trade market, but he could be moved for a couple of mid-tier prospects to a team seeking bench depth or a utility player.
Lopez's production climbed every year from 2007-2009, so the Mariners may consider hanging onto Lopez in the event that 2010 is simply a bump in the road.
Jason Vargas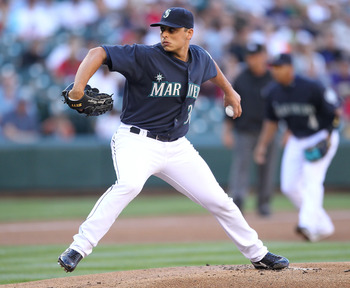 Otto Greule Jr/Getty Images
Vargas, who was acquired in the J.J. Putz trade, is having a career season as a 27-year-old. Vargas is currently 6-5 with a 2.94 ERA with an 80/32 K/BB ratio in 19 starts this season has proved to be the Mariners most consistent starters behind Felix Hernandez (since Cliff Lee was traded).
FOXSports.com reported that the Mariners stated they will not trade Vargas. One cannot blame the Mariners given that young left-handers finding their stuff doesn't happen everyday. But it is now that the Mariners could take advantage of Vargas' stock and get prospects in return.
Russell Branyan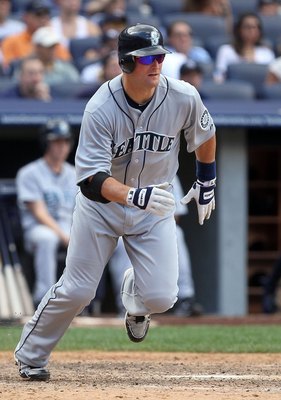 Jim McIsaac/Getty Images
The Mariners re-acquired Branyan at the start of July hoping he could give the M's the offensive sparked they lacked. In 13 games so far, Branyan has fallen short—he has hit three home runs and driven in 10 runs, but he is hitting .250 and recently went down with a tweaky back.
Combine those figures, the injury and the arrival of Justin Smoak and the Mariners are in lesser need of Branyan's services. Smoak is now the priority at first base and the Mariners already have Casey Kotchman in place to spell Smoak in the field.

Branyan should be sent packing just for anything because his value as a trade chip is better than a third first baseman and occasional designated hitter.
Milton Bradley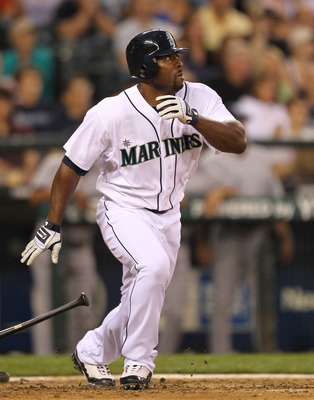 Otto Greule Jr/Getty Images
Bradley isn't doing much for the $11 million price tag he comes with. A .207 average, eight home runs and 29 RBI in 72 games isn't going to inspire value on the trade market and any deal the Mariners find for Bradley will likely come with eating much of what's left on his contract including the $12 million for next season.
The Mariners have voiced their willingness to stand behind Bradley as he exorcises his demons, but roughly $18 million through the end of 2011 is going to take a whole lot of patience. The Mariners would be better served dumping him in another team's lap.
Josh Wilson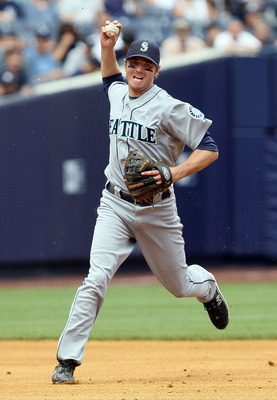 Jim McIsaac/Getty Images
One half of the Wilson duo is having a solid year at shortstop given the split nature of his duties. Wilson is hitting .265 with one home run and 14 RBI and is the perfect fit for a team looking for a utility man to handle the job up the middle. He will not provide much in the way of offense, but Wilson is a scrappy player that pinch runs and handles late game defensive holes well.
Jack Wilson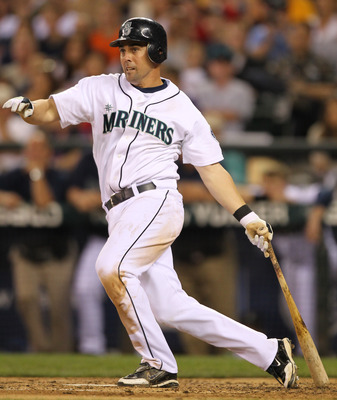 Otto Greule Jr/Getty Images
The same goes for Jack as it did for Josh, except Jack offers even less at the plate. Wilson is hitting just .255 with only 12 RBI in 50 games. At this point, he is nothing but a defensive utility player. The value is minimal but there is an infield log jam in Seattle that could use some easing.
Doug Fister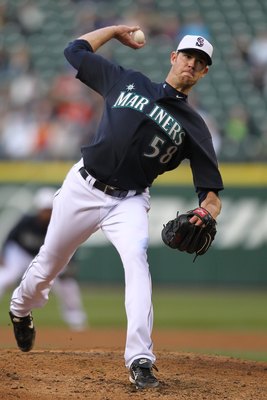 Otto Greule Jr/Getty Images
Fister is having a fairly good season in the Mariners rotation. His strikeout ratio is poor (50 K in 101 IP), but he walks very few (19 BB allowed) and has kept the ball in the yard more than Felix Hernandez. He is 3-6 with a 3.56 ERA in 16 starts. He would probably have trouble moving to another American League team and out of Safeco Field, but a National League team looking for a back of the rotation arm could make for a good match.
Ryan Rowland-Smith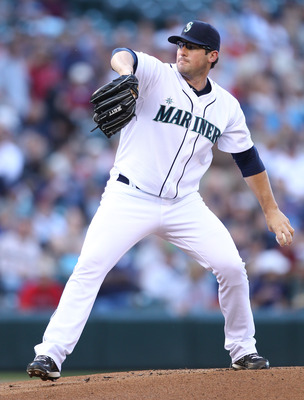 Otto Greule Jr/Getty Images
Rowland-Smith is the last piece the Mariners have that could possibly draw any interest before the July 31st trade deadline. Now, his 1-9 record and 6.27 ERA isn't going to impress off the bat and he likely wouldn't help another team pushing towards a playoff spot.
However, Rowland-Smith did go 5-4 with a 3.74 ERA and 1.18 WHIP in 2009 and at 27 years old could be viewed as something of a reclamation project in another system. The wheels have come of for Rowland-Smith this season, but a few teams will give up on a 27-year-old left-hander that has previously shown potential.
Keep Reading

Seattle Mariners: Like this team?