Tom Brady Talking Extension: Who'll Be Top NFL Free Agents Next Year?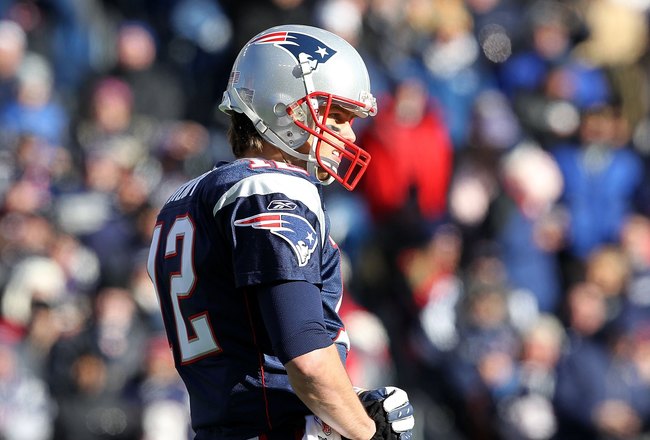 Jim Rogash/Getty Images
The big news in all of New England heading to Patriots training camp is the current state of talks over Tom Brady's contract extension. The Patriots All-Pro quarterback enters the final year of a deal that will pay him just $3.5 million this season.
Yet, Brady just doesn't want to talk extension, he wants to talk new contract and who can blame him? Brady's situation is just one of many examples of what will be highly sought after free agent class following the upcoming NFL season.
However, the dark cloud hanging over all of these free agents is the possibility that there will be no 2011 NFL season due to distance in a settlement over a new collective bargaining agreement.

The uncertainty over the 2011 season leaves owners very reluctant to dole out big money extensions at the moment. If they do not though, they could be looking at a market flush with these free agents.
Tom Brady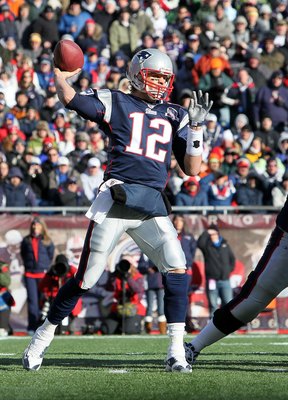 Jim Rogash/Getty Images
Tom Brady would certainly rank up near the top of the free agents-to-be. Brady is looking for $45 million to $50 million in guaranteed money over his next contracts. The Patriots, never a team act cavalier when dealing with a veteran free agent, are being very meticulous in their approach with Brady's contract negotiations. Brady has never been an unrestricted free agent. It's hard to imagine the Patriots would let it get that far.
Peyton Manning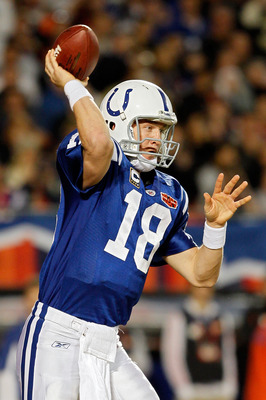 Andy Lyons/Getty Images
Brady could be near the top of the class, but not THE top because of Peyton Manning (depending on who you ask). Brady could also be waiting for his deal until Manning's is squared away.

However, Manning's situation is far different. Colts owner Jim Irsay has made it plainly clear that Manning will not reach free agency and is willing to go over nine digits and possibly give Manning the richest contract in league history.
Donovan McNabb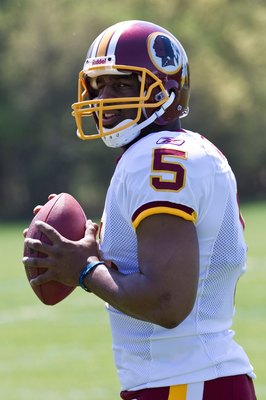 Chris McGrath/Getty Images
The Washington Redskins traded for Donovan McNabb prior to the draft and new head coach Mike Shanahan voiced his belief that McNabb has many years left in him. That statement combined with the fact that the Redskins avoided a quarterback in the draft likely means the Redskins have every intention of resigning McNabb.
But the uncertainty over the 2011 season is likely preventing even the loose-spending Daniel Snyder from ponying up an extension.
DeAngelo Williams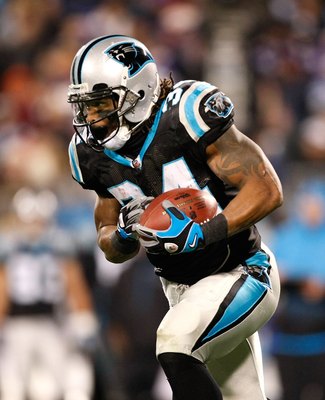 Kevin C. Cox/Getty Images
The market running backs is becoming less and less of a priority with each passing season, but that doesn't mean teams won't go for value on the market when they see it. Williams will be the best running back on the market after the season.
The Panthers running back has rushed for over 2,600 yards over the last two seasons and made his first Pro Bowl in 2009. Williams will be 28 years old when he hits the market which should be enough for a team to jump on him at least through his 30th birthday.
Steven Jackson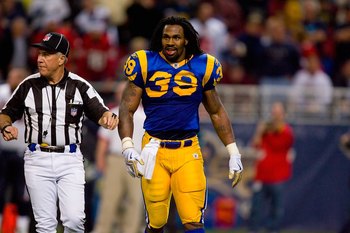 Dilip Vishwanat/Getty Images
Jackson comes off one of the best seasons of his career having rushed for 1,416 yards last season and earning his second Pro Bowl appearance. He will be 27 years old after the season and looking for one last big contract.

The concern will be that his big body and hard running style have subjected him to an disproportionate amount of blows and thus decreasing his value. Nevertheless, a team should at least give him a look at a big money but short contract.
Santonio Holmes
Gregory Shamus/Getty Images
Santonio Holmes has yet to play a down for the New York Jets, but the wide receiver is no doubt already looking towards his next contract. The Jets and Holmes have yet to enter any formal discussions regarding a contract extension.

That may be sticky process for the Jets considering the amount of money they will have to negotiate for in the future with a number of other young, highly touted players. Holmes may be a troublemaker, but his skills will make him one of the three best receivers on the open market.
Randy Moss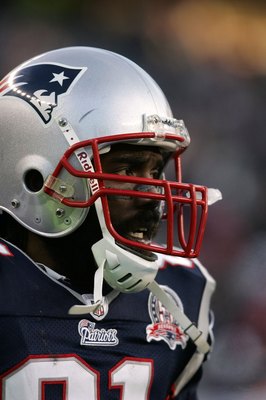 Elsa/Getty Images
It seems like yesterday when the Patriots inked Randy Moss to a three-year extension. Well, that extension runs out after the 2010 season and it is very difficult to see the Patriots resigning Moss again. Moss will be 34 after next season and has expressed that retirement is not in his future. Additionally, Moss has already knocked the Patriots for failing to pay their veterans and sees himself as another one of those casualties.
Moss will likely follow the long list of Patriots veterans to find themselves on the open market this time next season.
Sidney Rice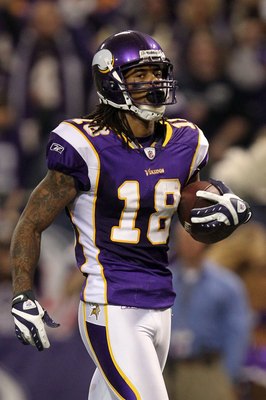 Chris McGrath/Getty Images
Sidney Rice became Brett Favre's favorite receiver and reaped all the benefits. Rice caught 83 passes for 1,312 yards and eight touchdowns in his first season with Favre, and received the resulting Pro Bowl appearance.
Rice is probably hoping Favre comes back in 2010 to help boost his numbers as he heads into free agency. Nevertheless, we've all seen what Rice and do when he has a very capable quarterback throwing to him. That should net big bucks for Rice if/when he hits the market.
Tony Ugoh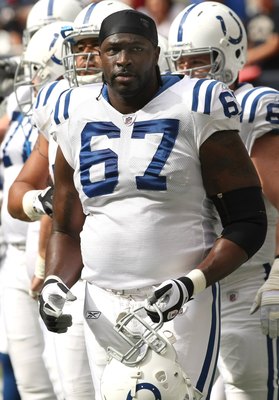 Stephen Dunn/Getty Images
The Colts move to lock up Peyton Manning is going to come with an attachment-and a big one. Ugoh is Manning's personal body guard on the left end of the offensive line and has been responsible for keeping the All-Pro quarterback upright.
Ugoh will be 27 years old at this time next season and is viewed as the guy to hold down the always important left tackle spot and keep Manning on his feet.
Champ Bailey
Jamie Squire/Getty Images
Bailey will be 33 years old next summer, but the Broncos cornerback has shown no signs of giving up his title as a shutdown corner. The market for cornerbacks could be set by the Jets and their negotiations with Darrelle Revis, leaving Bailey and the market at the mercy of the younger corner.
Antonio Cromartie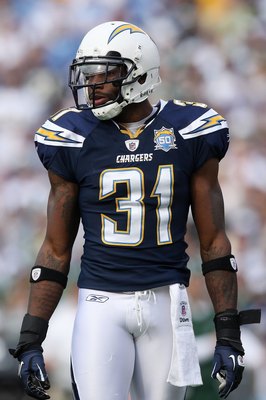 Donald Miralle/Getty Images
The Jets acquired Antonio Cromartie and will line him up counter Darrelle Revis, but Cromartie too will look for a new contract after the upcoming season. Cromartie made the Pro Bowl in 2007, but has regressed and been bothered by nagging injuries since. Nevertheless, a good from Cromartie with the Jets and he could be one of the hottest defensive pieces on the market next season.
Troy Smith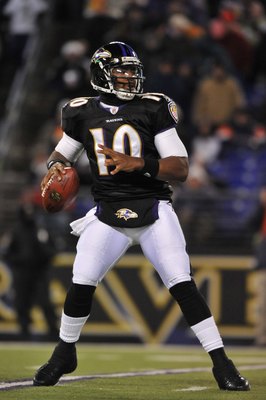 Larry French/Getty Images
Troy Smith hasn't accomplished much in his NFL career to this point, but he could be one of the very few quarterbacks sought in 2011 to make the jump to starter and could be an attractive option because he'll come at a cheaper price tag. Smith got a vote of confidence from Ed Reed who vouched for the likely demoted Smith as the superior backup to the newly acquired Marc Bulger.
Miles Austin
Chris Graythen/Getty Images
The Cowboys drafted Dez Bryant, but it is Miles Austin who Jerry Jones is most concerned about. Austin had a breakout season in 2009, totaling 81 receptions for 1,320 yards and 11 touchdowns. Jones expressed confidence that Austin will be taken care of in the near future. As the Cowboys new top option at receiver, he should continue to see his production climb and his earning potential as well.
Brett Favre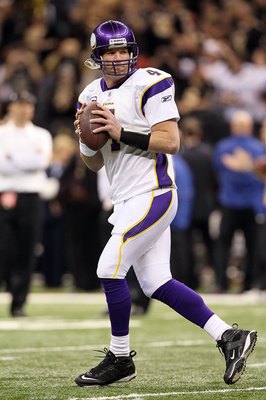 Jed Jacobsohn/Getty Images
Okay, it may be wishful thinking considering we STILL don't know if he will play in 2010, but Favre will be a free agent following the season. Could there be yet another season left in his legs and that famous right arm?
Steve Smith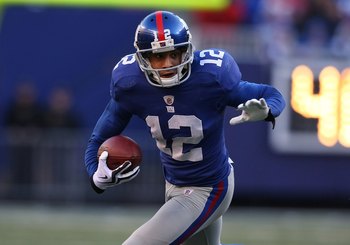 Nick Laham/Getty Images
Steve Smith had his own breakout season for the Giants in 2009, earning his first Pro Bowl appearance thanks to a franchise record 107 catches, 1,220 yards and seven touchdowns. The Giants are still grooming their big number one, downfield target but in reality Smith is the top choice for quarterback Eli Manning.

The Giants will have to ensure one of the game's best top possession receivers doesn't walk away from their franchise quarterback.
Nick Mangold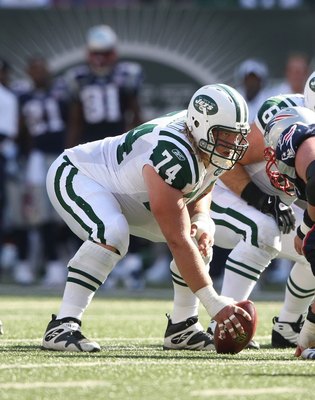 Nick Laham/Getty Images
Nick Mangold has said he will not hold out of Jets training camp this summer, but he has made his desires for a new contract to be heard. Mangold enters his fourth season in the league (all with the Jets) and is already one of, if not the, best centers in the league. He will be paid like it come this time next summer whether it is the Jets or another team.
Michael Vick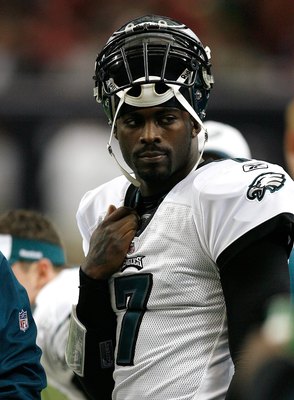 Kevin C. Cox/Getty Images
And then there is Michael Vick who is assuredly itching for playing time in 2010, the final year of his two-year deal with the Eagles. Vick, 31, wants to show that he is capable of handling starting quarterback duties in the NFL. The only question is whether or not the Eagles will give him the time to show the league he has value as a starter on the free agent market.
Keep Reading