Maurice Jones Drew and The Sirius XM Fantasy Football Draft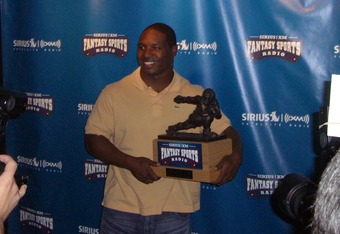 SIRIUS XM 2010 CELEBRITY FANTASY FOOTBALL DRAFT
Hard Rock Cafe, Times Square NYC

Written by Evan Marx, exclusively for the TheFantasyFix.com

TheFantasyFix.com was privileged this year to be part of the press for the Sirius XM Celebrity Fantasy Football Draft held at Hard Rock Cafe in Times Square. Some of the big names drafting were Jacksonville Jaguars' Maurice Jones-Drew (MJD) , New York Mets Ex-GM/ESPN Baseball Analyst Steve Phillips , and ex-NHL star Jeremy Roenick .

The event kicked off with the Howard Stern Wrap Up Show live hosted by John Hein and Gary Dell'Abate (Baba Booey) . Gary known to be an avid Mets fan, was one of the guest celebrities of the draft and had the first pick. A huge baseball fan doesn't equate to knowing anything about football, but lucky for him he had a whole posse giving him tips.

After the wrap-up show was over, we had a quick interlude from South Side Johnny. Now the fun begins…

All the celebrities were shuffled to the red carpet where we were waiting to pounce with questions out the wazoo.

Our first taste of blood was with "America's Running Back" Maurice Jones Drew. MJD (@Jones_Drew32 ) immediately recognized TheFantasyFix.com (@thefantasyfix) because we had been tweeting with him all morning.

He was gracious and somewhat soft-spoken and gladly answered every question we had. Drew told us that he had been doing fantasy football ever since he joined the league five years ago and won two championships so far. When we asked what he was planning on doing with the number eight pick, he basically told us he was going to make every effort to trade-up for the three or four pick, that way he could get himself. Seeing as how Jay Thomas had the third pick and Chris "Mad Dog" Russo had the fourth pick, neither being fantasy experts, he seriously had a chance to make that happen.

Maurice had previously just told us he didn't mind having a pick closer to the turn, but who could blame a man for wanting yourself on your own team. James and I, sadly realized that this would never be the case for us. After all, the chances of two scrawny white boys from the NJ burbs, ever playing more horseshoes or bocce ball was close to nil. But hey, at least we get to write about them and that's pretty rewarding in itself.

Our last question to Jones was "Now that Lindsay Lohan is behind bars, do you feel safer at night?" This cracked him up, and he said in return "How is that news??". Nothing better in life than making a pro athlete laugh…
SEE THE FULL INTERVIEW WITH MAURICE JONES DREW HERE
Our next guest was the one and only Chris "Mad Dog" Russo . Chris was a treat to talk to since I listen to him almost daily on Sirius Mad Dog Radio. He always has something to say and his voice is just as charismatic in real life as it is on the radio.

Chris admitted he really didn't know the first thing about not only fantasy football, but fantasy sports in general. He told us that he was a "sports purist" and took issue to the fact that people were rooting for individual players instead of rooting for the team itself. But regardless of whether "Mad Dog" likes Fantasy Football, he knows his sports. Hell, a good portion of my daily sports knowledge comes from him!

I told him that if he was good with statistics and keeping up to date on all injuries (which he does), then he would do just fine. We may have another addicted fantasy player after this league. I also gave him a link to the The Fantasy Fix "Quick Fix", in case he ever needed our help on a last minute decision.

Scott Ferrel (host of the Scott Ferrel Show on Howard 101) was again, as nice as peas. You'd think we were at a "nice convention". Scott told us that he has been playing fantasy football for around 12 years and got hooked while in Vegas. When asked if he would take a QB in the first round, he hands down said "No way". When asked if he liked Drew Brees or Aaron Rodgers, he said Rodgers because of his amazing running capabilities. So not to spoil the draft results below, but Brees was drafted number seven overall and Scott was able to get his boy Rodgers number 16, which was a steal.

Jeremy Roenick gave us a few minutes too and a nice insight into his thoughts for the season. "I think there are a lot of good players who will fall short this year." Roenick quickly touched on Hockey having a lot to offer for Fantasy Sports but admitted it wasn't the monster that Football has become.

Talking to Jay Thomas (Emmy award-winning actor & host of the Jay Thomas Show on Sirius XM) was like talking to an old friend. He showed up a little later than the rest of the celebrities but still gave us a good few minutes of sports talk right before the draft started. We spilled the beans about MJD possibly wanting to make a trade and Jay joked "He better have a big bag of money".

The event was like being in a candy store. The event was catered and there was probably no more than 200 people there. The celebrities we right in front of us at all times and had I been smart I would have stolen MJD's gum and sold it on ebay. There's always next year…
Draft analyis to follow in next article...
We'd love to tell you more about the draft. Hit us up on Twitter.
Twitter.com/thefantasyfix
Here are some more articles to help you win your fantasy baseball league:
More Good Reads from the Fix Fellas!
This article is
What is the duplicate article?
Why is this article offensive?
Where is this article plagiarized from?
Why is this article poorly edited?

Jacksonville Jaguars: Like this team?