Detroit Tigers Proving They Are Pretenders, Not Contenders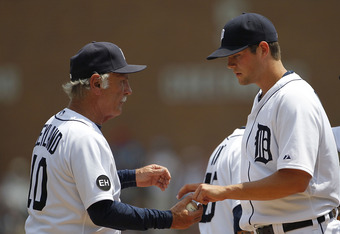 Leon Halip/Getty Images
Hate to say it, but it's the truth.
The Detroit Tigers aren't winning the AL Central.
It's been a nice smoke and mirrors run so far, but now the warts on the Tigers roster are starting to rear their ugly heads, and the boys from the Motor City are about to find their level.
Let's be honest, no real division contender drops four straight to Cleveland.
The signs have been there for a while, but in the first half of the season, the boys of summer kept doing just enough to eek out wins against the league's bottom feeders to give fans a glimmer of hope.
But now the facts and this latest downswing have made the truth impossible to ignore: the Tigers simply aren't good enough.
For starters, since Jim Leyland took over in 2006, they have yet to play over .500 ball over the second half of a season.
An 0-5 start to this second half doesn't exactly inspire confidence that it will be any different this time.
The bottom of the lineup sucks so hard that to call it a black hole doesn't even cut it. I mean, occasionally even a black hole lets a bloop of radiation out past the astronomical infield.
To put it in perspective, here's the RBI production from the 7-8-9 hitters of all the teams in the AL Central (as of July 18th):
1) Minnesota - 117 RBIs
2) Chicago - 114 RBIs
3) KC - 107 RBIs
4) Cleveland - 96 RBIs
5) Detroit - 74 RBIs
Yeah, the bottom of the batting order is driving in less than one run a game.
And if Ordonez, Cabrera, and Boesch are cold with the bat, like they were against Cleveland last weekend, this team might as well not take the field.
Of course, it helps when the career under-.500 manager, that gets a free pass from every media outlet in the region, continues to find ways to put Gerald Laird in the lineup. He of the .183 batting average.
Do you understand this, Mr. Leyland? Mario Mendoza feels bad for this guy, okay?
Neifi Perez wants you to put Laird out of his misery like Ol' Yeller.
Yet, you not only keep penciling him into the lineup, you keep bringing him in for clutch situations.
Are we sure Leyland's not dyslexic, and thinks that reads .381?
The bottom of the lineup will only be made worse with the news that Brandon Inge has a broken hand that will sideline him for four to six weeks. I know, Inge wasn't exactly an offensive powerhouse, but let me tell you a little secret—Don Kelly makes Inge look like Albert f'in Pujols, okay?
Umpires are going to look at the bottom of the Tigers batting order, look at Leyland, and say, "if it's okay with you, I'd just like to get on with the next half inning."
The pitching staff hasn't been much better. The Tigers can't get anyone to pitch consistently enough to secure the third, fourth, or fifth starters. Hell, Porcello's been having trouble locking down the number two role.
Even Verlander will tell you he's been shaky at times.
Meanwhile, the bullpen that has survived through what amounts to used chewing gum, Popsicle sticks, and duct tape has finally started showing their cracks. Losing Zumaya for the season has only exacerbated the problem that these bullpen hurlers really can't get the good batters out when they need to.
Valverde has been the quality of closer that the Tigers have been looking for since near forever, but it's becoming increasingly hard to hand him the ball with the lead. And it's only going to get harder as the season progresses.
It was a fun ride, Tigers fans, but I think it's time to turn out the lights. Not even being in a very mediocre division is going to help them.
They're pretenders, not contenders.
Accept it, move on, enjoy the train wreck, and hope they'll find some answers next season.
This article is
What is the duplicate article?
Why is this article offensive?
Where is this article plagiarized from?
Why is this article poorly edited?

Detroit Tigers: Like this team?