Steinbrenner's Passing: Reactions From Around The Country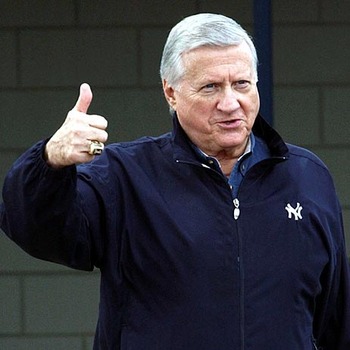 Arguably the best owner in the history of sports has passed away. He was a great man.
Here are reactions from around the country
Bud Selig (Commissioner of Major League Baseball)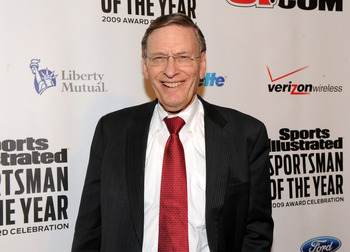 "On behalf of baseball, I am very saddened by the passing this morning of George Steinbrenner. George was a giant of the game and his devotion to baseball was surpassed only by his devotion to his family and his beloved New York Yankees. He was and always will be as much of a New York Yankee as Babe Ruth, Lou Gehrig, Joe DiMaggio, Mickey Mantle, Yogi Berra, Whitey Ford and all of the other Yankee legends.
"I have known George ever since he entered the game in 1972. He was my dear friend for nearly four decades. Although we would have disagreements over the years, they never interfered with our friendship and commitment to each other. Our friendship was built on loyalty and trust and it never wavered. We were allies and friends in the truest sense of the words.
My wife, Sue, and I pass on our deepest sympathies to the Steinbrenner family, to the New York Yankees and to all of his friends. We will miss him, especially tonight when the baseball family will be gathered at Angel Stadium for the All-Star game."
Yogi Berra (Former Yankee Hall of Fame Catcher)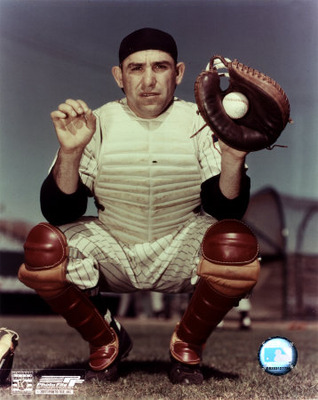 "George was 'The Boss,' make no mistake. He built the Yankees into champions and that's something nobody can ever deny. He was a very generous, caring, passionate man. George and I had our differences, but who didn't? We became great friends over the last decade and I will miss him very much."
Lou Piniella (Former Yankee player and manager)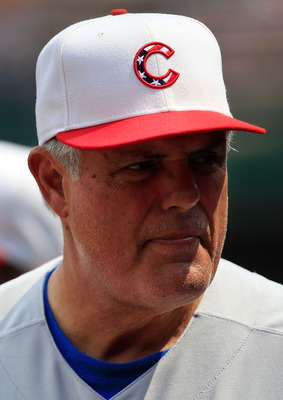 "George was like a father figure to me. He treated me well, he treated me fair and he gave me a wonderful opportunity to play and manage the game we all love. George will be remembered as one of the most influential and renowned owners of a franchise in sports history. He leaves a legacy of winning and an unwavering passion for success. My wife Anita and I send our heartfelt thoughts and prayers to the Steinbrenner family and the Yankees organization. George was very special to me and I loved him."
Michael Bloomberg (Mayor of New York City)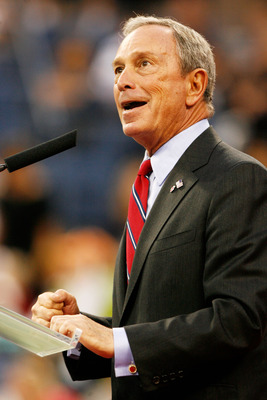 "George invested his heart and soul into the Yankees, and his competitive fire helped usher in new eras of Yankee greatness, reclaiming the team's long tradition of excellence and its position as the most successful franchise in the history of American sports. He was a champion who made New York a better place, and who always gave back to the city he loved. He has left an indelible legacy on the Yankees, on baseball, and on our city, and he leaves us in the only way that would be appropriate: as a reigning world champion.
"We will be lowering the flags in City Hall Plaza today in honor of his achievements. George was a larger than life New York figure whose passion and drive to succeed will forever be missed."
Michael Weiner (Executive Director of MLB Players Association)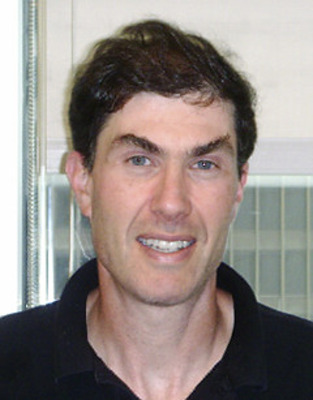 "George Steinbrenner's passion for the game of baseball helped revive one of the game's most storied franchises, and in the process ushered in the modern era of baseball business operations. Mr. Steinbrenner understood and embraced the power of the players, and he put this knowledge to good use in establishing the Yankees as one of the sports world's most iconic brands."
Jerry Reinsdorf (Chicago White Sox Owner)
"George Steinbrenner was too complex a person to adequately describe in a short statement, but he was a great friend of mine and he will be missed. His impact on the game cannot be denied."
Rudy Giuliani (Former Mayor of New York City)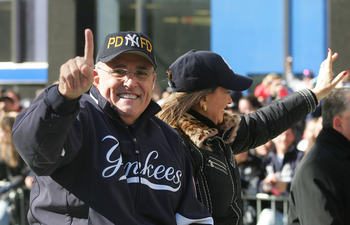 "George was a friend of mine for over 30 years. He was truly the most influential and innovative owner in all of sports. He transformed baseball and sports broadcasting with the YES Network and brought New York seven World Series. Beyond that, he made the Yankees a source of great pride in being a New Yorker. George Steinbrenner's Yankees represent the will to overcome all odds which is precisely the will New Yorkers display when meeting every challenge they face. George will be greatly be missed but his legacy will carry on in the hearts and minds of all baseball fans."
Jerry Jones (Dallas Cowboys Owner)
"I admired his willingness to promote and support all sports at all levels. I appreciated his understanding of the invaluable asset of involving his family in the management of the Yankees. I took pride in calling him a friend, an advisor, an inspiration and later, a business partner.
"We have lost a true leader in sports—someone who not only saw the big picture but helped create the scene on the canvas."
Peter Angelos (Baltimore Orioles Owner)
"The Orioles are saddened to learn of the passing of George Steinbrenner. As an active participant in the organizational direction and operations of the New York Yankees, his name is as synonymous with that franchise as any of the legendary athletes who have played in pinstripes. On behalf of the Orioles organization, I extend my deepest condolences to his wife, Joan, and the members of his family."
Tom Hicks (Texas Rangers Owner)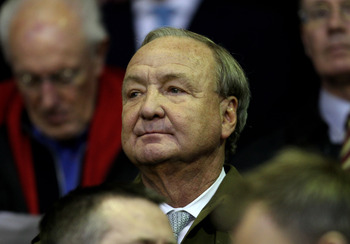 "In his own unique style, George Steinbrenner built one of the finest Major League Baseball teams in the league, and he did it with tenacity as well as total allegiance and commitment to put the Yankees in a position to compete every year for a championship. I know the franchise and especially New York baseball fans will miss him greatly. He promised them a winner, and he delivered."
Michael and Marian Ilitch (Detroit Tigers Owner & Red Wings Co-Owners)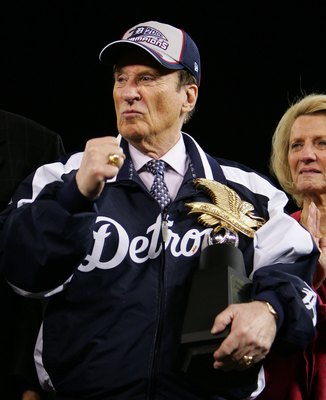 "George was a tremendous competitor. His passion for winning motivated all of us in baseball. When George took over the ballclub, he reinvented the Yankees. He did everything within his power to put a championship team on the field.
"George was personable, friendly and truly cared about his franchise and the fans. We always admired his drive to be the best."
Joba Chamberlain (Yankees pitcher)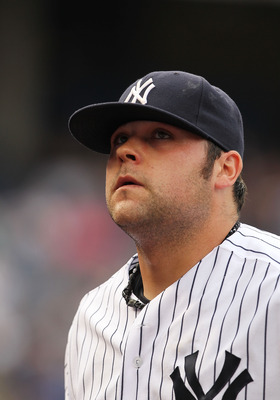 "We all suffered a huge loss today! Mr. Steinbrenner was a great man, great owner, that did so many amazing things. You will truly be missed!" (Twitter)
Tim Raines (Former Yankee Outfielder)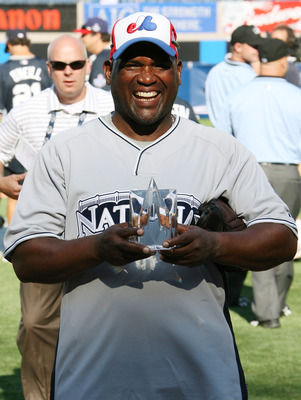 "He was 'The Boss.' He wanted to win and I admired him for that. He might not have done things the way people expected them to be done, but he wanted to win. It's one of the main reasons why I wanted to come to New York, because he made sure his teams had an opportunity to win."
Steve Tisch (New York Giants co-owner)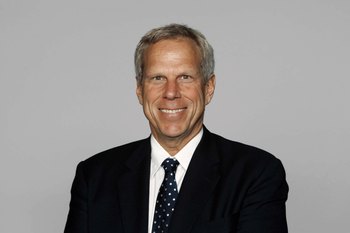 "George Steinbrenner was a dynamic personality in sports and in business. He was the ultimate competitor in both worlds. All of us in the business of sports want to win; that is the objective. George personified that ambition. He and his good works will be missed dearly. George and my father had a special relationship; they were both good businessmen, and George loved the Yankees and my father loved the Giants."
Woody Johnson (New York Jets owner)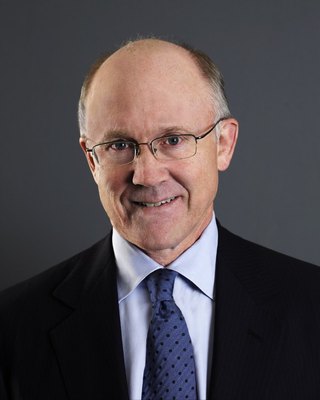 "George Steinbrenner is an American icon and was one of the pre-eminent owners in all of sports. A true champion with his own unique style, he held his team to the highest standards and demanded a title for Yankees fans each and every season. I will remember him as a winner whose passion and enthusiasm became part of the fabric of New York City. He was an inspiration and represented the essence of leadership."
Archie Manning (Former NFL QB)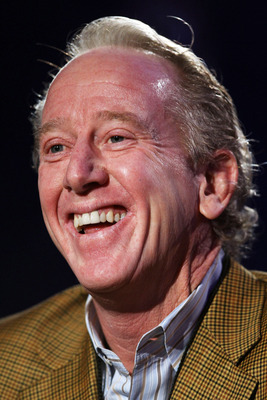 "I had the privilege of serving on the National Football Foundation board of directors with George Steinbrenner for many years, and his service and commitment to our organization played a significant role in our ability to touch the lives of countless young student-athletes. From his playing days at Williams College to his coaching days at Purdue and Northwestern, it was clear that George Steinbrenner was a product of the gridiron. We will miss his passion for giving back to our sport, and our thoughts and prayers are with his family and friends."
Larry Probst (U.S. Olympic Committe Chariman)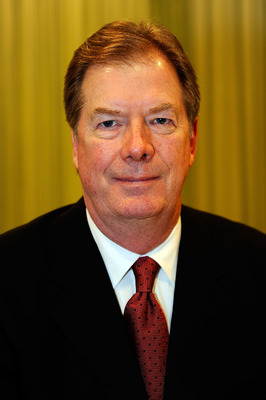 "Today we mourn the loss of one of this country's most iconic sports figures. His impact on sports supersedes baseball and the New York Yankees. His work on behalf of the U.S. Olympic Committee and in particular U.S. Olympic athletes continues to affect the way the USOC conducts business today. The Steinbrenner report in 1989 revolutionized the USOC's sport performance philosophy, and a generation of Olympians have benefited as a result. His influence on the U.S. Olympic Movement, his devotion to sport and the pursuit of excellence will forever be remembered."
Charlie Crist (Governor of Florida)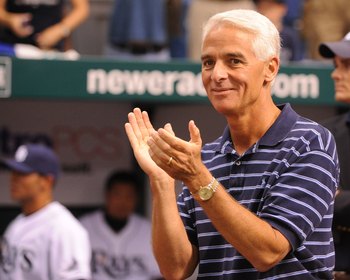 "Florida joins the New York Yankees and Major League Baseball in mourning the loss of unparalleled baseball icon George Steinbrenner. As the principal owner of the New York Yankees, George redefined the description of a chief executive. During his tenure, the Yankees won 11 American League pennants and seven world championships. He loved his family, his team, New York City and his home in Tampa, where he brought the Yankees to train each spring and his family's shipbuilding business, providing employment to many families.
"While the public face of George Steinbrenner was a demanding owner, he was extremely generous to others. Many acts of kindness were bestowed to those in need, with most of those acts going unnoticed except by those who benefited."
Al Leiter (Former Yankee Pitcher)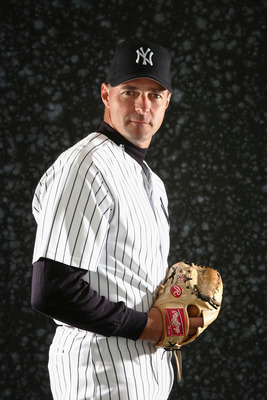 "You couldn't ask for a better owner than George Steinbrenner. He always provided everything you needed to win a championship. His passion, intensity and his attention to detail were legendary, and he expected nothing but the best from you. No one outworked him, and no one wanted to win more than he. He had a unique aura, a unique presence about him. When he walked into a room, his presence was felt immediately. I thoroughly enjoyed my times with the Yankees. It was, and is, a sports franchise like no other."
Don Mattingly (Former Yankees 1bmen)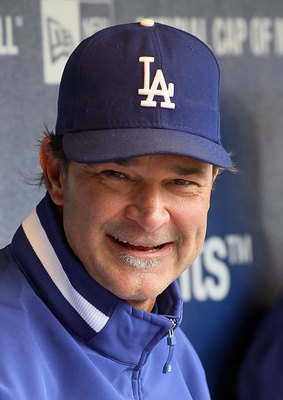 "His vision, passion and commitment to winning, recharged the New York Yankees and revolutionized the game. I remember a man driven to succeed. He was the owner, "The Boss" and number one fan of the Yankees. Our relationship was built on mutual respect. I will never forget and always be grateful for how he treated me and my family both during my playing days and after I retired."
Dave Winfield (Former Yankee Hall of Fame Outfielder)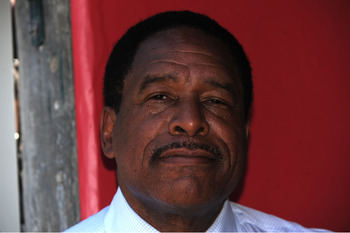 "He didn't want to lose at all. A [player] had to come in there and want to win, know how to win, and lay it all on the line. Otherwise, they were in trouble ... they'll have to look at him as one of the top owners in sports."
Donald Fehr (Former Executive Director of the MLB Players Asssociation)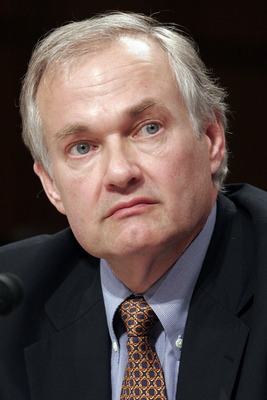 "Everyone involved in the game had great respect for what the Yankees accomplished during his tenure, both on and off the field. George Steinbrenner shared the players' competitive drive: his goal was for his team to win. I also had the privilege to work with him on matters involving America's Olympic athletes. He was extremely well regarded for his efforts on their behalf over the years. I am glad that I had a chance to be a part of baseball while George Steinbrenner was on the scene."
John Henry (Red Sox Owner)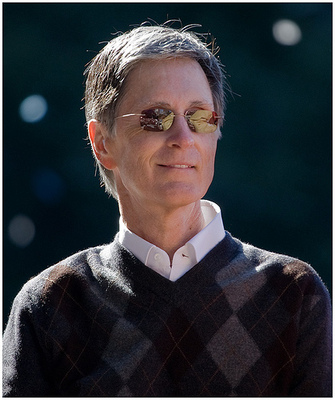 "I had the good fortune to call George Steinbrenner both partner and friend. I had the privilege to watch George as he built a system that ensured his beloved Yankees would have a strong foundation for sustained excellence. And then we fiercely competed in the American League. George Steinbrenner forever changed baseball and hopefully some day we will see him honored in baseball's Hall of Fame as one of the great figures in the history of sports."
Tom Werner (Red Sox Chairman)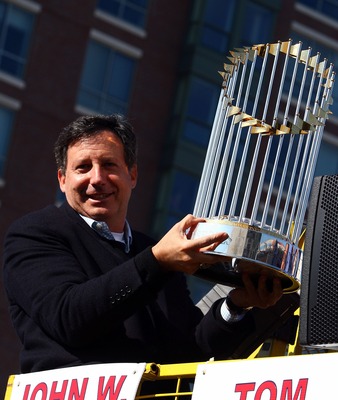 "George Steinbrenner was a formidable opponent and baseball's greatest rivalry will not be the same without him. As the longest tenured owner, he left an indelible mark on the game. I worked with George in my position as the owner of two Major League franchises and saw first-hand his passionate leadership style, his zeal for winning, and his love for the game. Above all, I knew George as a competitor and today Red Sox Nation lost a person who truly relished the prospect of facing the Red Sox and doing all he could to make sure his beloved Yankees would come out victorious."
Larry Lucchino (Red Sox President / CEO)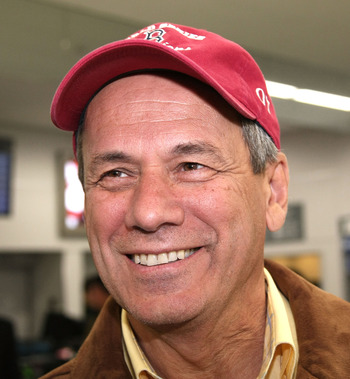 "George Steinbrenner was one of the most important people in the history of the game, and his impact touched all aspects of the business of baseball. His vision for the Yankees turned around a once struggling franchise and manifested itself in the form of seven World Series championships and 11 American League pennants. My respect for George went beyond the baseball field because of his sincere and longstanding commitment to charity, and to people in need. He had a giant heart, often well hidden from public view. Part of his legacy here in Boston will be the profound kindness he showed to numerous local philanthropic causes, especially as a regular and generous contributor each year to the Jimmy Fund of the Dana Farber Cancer Institute."
Fred and Jeff Wilpon (Owners of the New York Mets)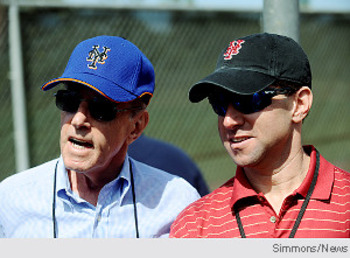 "The passing of George Steinbrenner marks the end of an era in New York City baseball history. George was a larger-than-life figure and a force in the industry. The rise and success of his teams on the field and in the business marketplace under his leadership are a testament to his skill, drive and determination."
Tommy Lasorda (Former Dodgers Manager)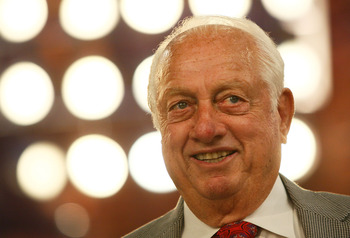 "George was a friend who I admired very much. He was a giant in our game and he built an empire. All he was was a winner. He wanted to give the fans a winner, and that's exactly what he did."
Jerry Seinfeld (Comedian)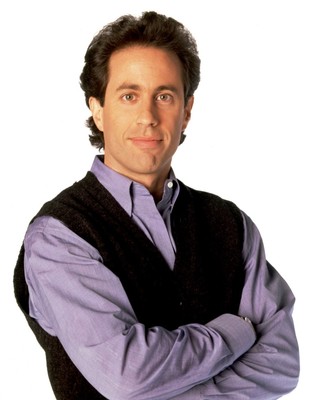 "Who else could be a memorable character on a television show without actually appearing on the show? You felt George even though he wasn't there. That's how huge a force of personality he was."
Jason Alexander (Comedian)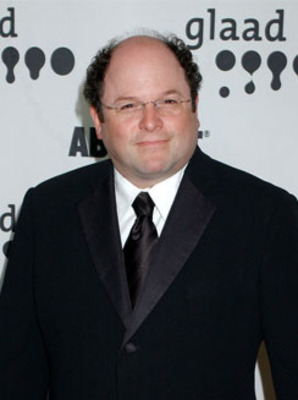 "I met the real George Steinbrenner on only one occasion when he actually came and played himself on an episode of "Seinfeld." He seemed to really enjoy himself. I did not get to know him but the fact that he allowed himself and his beloved team to be satirized on our show is an indication to me of his true character. He was certainly a legend and I am pleased to have been associated with him, even if only in fiction."
Mario Cuomo (Former New York Governor)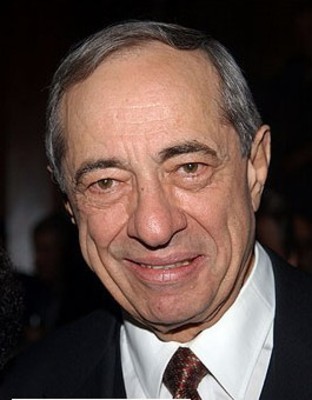 "Everyone knows George Steinbrenner went from loser to legend by taking a second division team with a struggling franchise in 1973 and turning it into a champion again. But he was much more than a winner and a celebrity. There was no falseness in him. He did everything with his heart: His family, his friends, his team, his nation and his community. I'm not surprised that in the end he died by wearing it out."
John Mara (New York Giants President)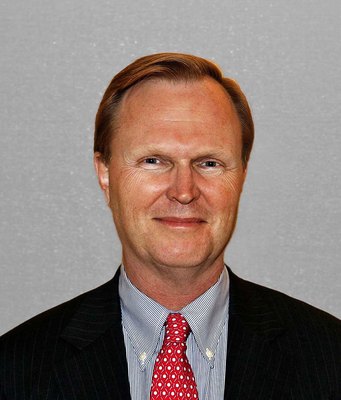 "George's energy and his commitment and devotion to the Yankees were unmatched, and he was as generous and charitable a person as has ever been in sports. His was a unique, special and unforgettable presence."
The Glazer Family (Own Tampa Bay Buccaneers)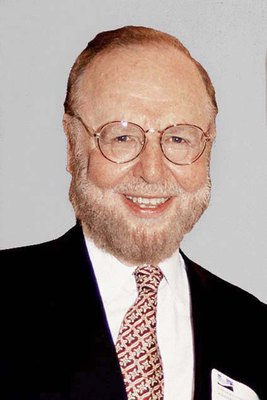 "The sports world and Tampa community have lost a legend and a friend. George was one of the most consequential and colorful executives in sports history. He helped restore his proud franchise to its unique place in sports and society. However, his greatest contributions weren't those that graced the sports page. He was a caring, gentle giant in our community. George will be sorely missed."
Bill Hybl (U.S. Olympic Foundation President and Former USOC President)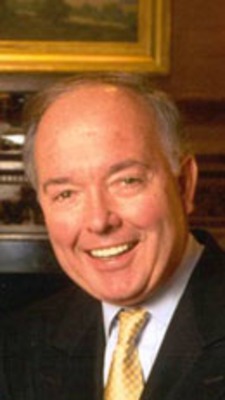 "His impact on sports supersedes baseball and the New York Yankees. His work on behalf of the U.S. Olympic Committee and in particular U.S. Olympic athletes continues to affect the way the USOC conducts business today. The Steinbrenner report in 1989 revolutionized the USOC's sport performance philosophy, and a generation of Olympians have benefited as a result."
Charles Schumer (New York Senator)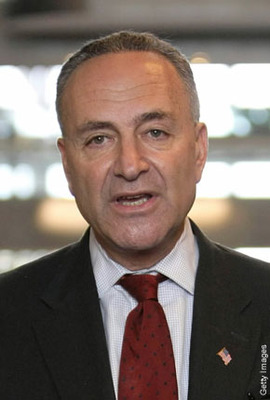 "Like New York and like the Yankees, George Steinbrenner was a champion. He was someone about whom you can truly say that there will never be another one like him. When he bought the Yankees in 1973 the franchise was moribund and he quickly restored them to greatness. I, along with millions of Yankees fans, am thankful for the countless hours of joy we have experienced watching his team at the Stadium or following them on television and radio. He was a true New York icon."
Doc Gooden (Former Yankee Pitcher)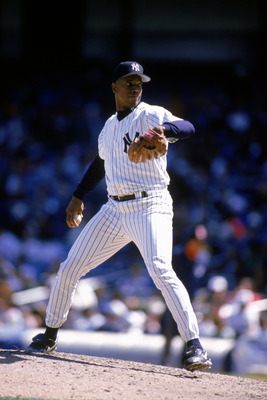 "George was like a second father for me. It's definitely been a tough day. I woke up this morning - I'm like three hours behind, in Vegas with my daughters - and my cell phone started going off out here around 4 this morning.
At first I was told he had a heart attack, but when I put the TV on the reports were that he passed away. I was just in shock. George was always there for me, no matter what.
George gave me a chance to join the Yankees when most people had turned their back on me. But he welcomed me with open arms," Gooden said. "We used to fly, just me and him, back and forth from Tampa and we'd talk about everything, not just baseball and the Yankees, but about my life and my problems.
There were times he actually gave me a tongue-lashing, which I definitely deserved. But at the end of the day, I knew he was always in my corner. I loved and respected him so much for everything he's done for myself and my family."
Darryl Strawberry (Former Yankee Outfielder)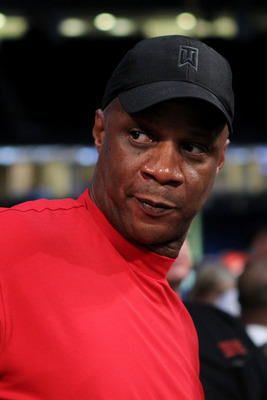 "We had a very personal relationship. Sometimes that's what people don't understand about him - he cares about people. He has had a huge impact on me. The thing that I learned from him more than anything is to never quit. That's what I learned about him. No matter the circumstances, be a fighter, be a winner.
He was like the father I never had that encouraged me to be there and when I got knocked down he was there to pick me up. I have nothing but respect and praise for him. I will always be grateful for him for the opportunities to be part of the Yankees family."
(George) is a die-hard New Yorker. He believes what New York is all about … When people finally look back at what he built for New York Yankees it is remarkable.
The impact he's had on baseball, young people. There is a man that is resting in peace today knowing that he took his greatness and gave it back to people to impact them in a positive way."
Joe Torre (Former Yankee Manager)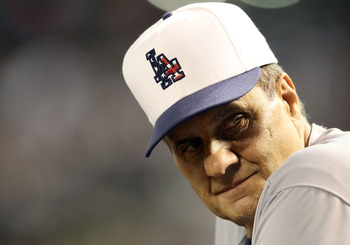 "I will always remember George Steinbrenner as a passionate man, a tough boss, a true visionary, a great humanitarian, and a dear friend. I will be forever grateful that he trusted me with his Yankees for 12 years. My heart goes out to his entire family. He will be deeply missed in New York, Tampa and throughout the world of baseball. It's only fitting that he went out as a world champ."
Don Zimmer (Former Yankee Coach)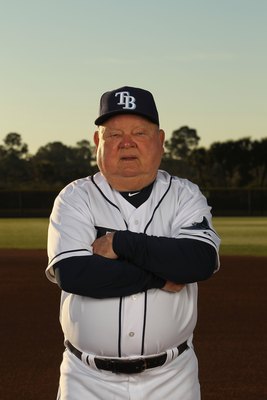 "Baseball will miss him. He did a lot of great things - and some not so great - but it's a sad day for baseball, no doubt about it. He was a winner, and he made the Yankees a winner. Any Yankee fan had to love George Steinbrenner because he put the best team on the field."
Mikhail Prokhorov (New Jersey Nets Owner)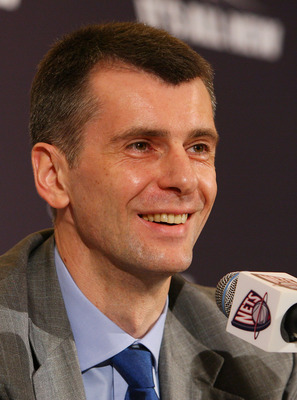 "I would like to express my deepest condolences to the Yankees organization and the Steinbrenner family on the passing of George Steinbrenner. He was more than a legend in the world of baseball, he was a man with true global impact. Mr. Steinbrenner was also a co-owner of the Nets during their most successful period in the NBA. For new franchise owners like myself, he was a model of how to build a dynasty team and what can be achieved if you have enough heart and vision. He was an absolute original."
Ruben Diaz (Bronx Borough President)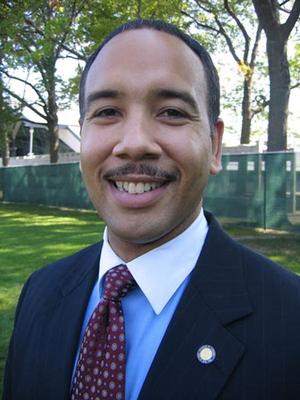 "Today I join 1.4 million Bronxites, and Yankee fans across the world, in mourning the passing of a great man, 'The Boss,' George Steinbrenner. During his tenure as owner of the New York Yankees, Mr. Steinbrenner did everything in his power to create his own winning tradition in the Bronx, an effort that resulted in seven World Series championships. While other baseball fans were jealous of his success, Yankee fans, like myself, loved him for it. Both the Bronx and New York City have lost a giant today-in baseball and in charity-and my deepest condolences go out to the Steinbrenners and the entire New York Yankees family."
George Will (Baseball Writer)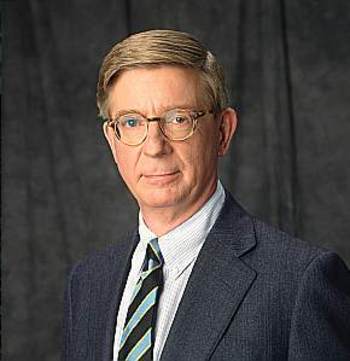 "He was a buccaneer. He was a throwback to the entrepreneurs of the later 19th century. It wasn't always pretty what they did, but they helped build America."
Aaron Boone (Former Yankee 3bmen)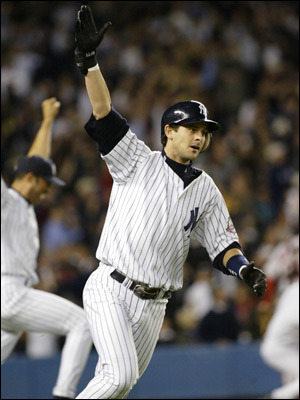 "A giant in our sport has passed on. Today is a sad day for many close to him, for his family, but hopefully it will also be a celebration of a giant of our industry.
He was the most important owner in our history. He may have been the most significant owner in the history of sports, and hopefully we will celebrate this great figure in our industry.
I had come over at the trading deadline (from Cincinnati), and my wife and I were living at the Regency Hotel, which is where he lives when he was in the city. We were going out to some of the celebrations, and we were getting out of the elevator as he was getting in. He said, 'Congratulations, son, I'm happy for you.' He sounded just like the Steinbrenner character from 'Seinfeld.' It was neat.
It was the second of my two face-to-face interactions with Mr. Steinbrenner. The first time, I was with Reggie Jackson and we ran into him as we were getting into the elevator. He said, 'Welcome to the team, son, we're happy to have you aboard.' Just like 'Seinfeld.'
One thing I found really interesting was that when he came to Yankee Stadium, the word would spread very quickly. You'd be on the field or in the locker room and people would start talking: 'The Boss is here, the Boss is here.' It added to the Yankee mystique."
Ray Negron (Steinbrenner Assistant)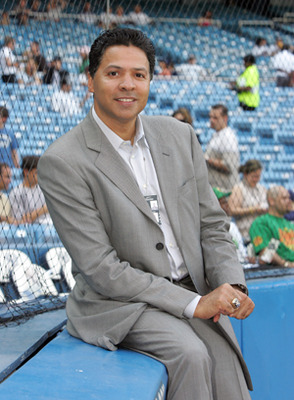 "How can you describe working for one of the most powerful men in the world? You can't. Him saying, 'Hey pal' to me on a consistent basis, means the world to me. He was the Babe Ruth of owners. As a historian of the game, I can tell you that's how Babe Ruth greeted kids too.
The pain is instantaneous, because you know one of your best friends in the world you're never going to see again.
I felt pain for not only me, but people like me that he took care of for a long time.
To a lot of us he represented a father, a brother, an uncle and a friend all wrapped into one.
He gave me life. He gave me life. Seeing his compassion for the less privileged let me know that I had a shot as a minority."
Michael Ian Black (Comedian)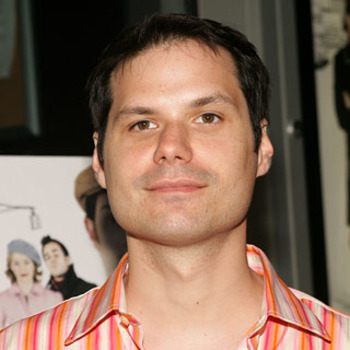 "Somewhere in heaven, Billy Martin just got fired. RIP George Steinbrenner."
Bill Giles (Philadelphia Phillies Owner)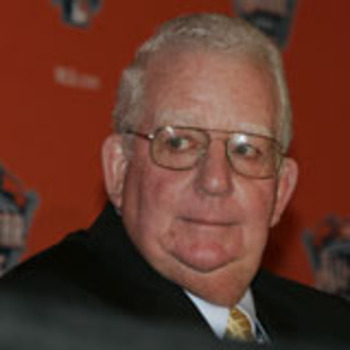 "I was not particularly surprised. I knew he had been ill. He probably had more of an impact on a baseball team than any other owner that lived. He took a franchise that was hurting under CBS and now its the no. 1 brand in all of sports. I think he was the greatest PR man that ever lived. I was always amazed by his ability to get the Yankees in the paper every day."
Pam Iorio (Tampa Mayor)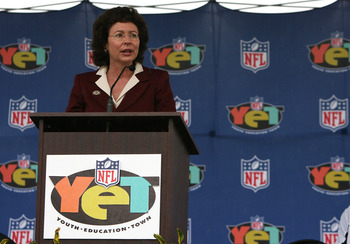 "I am deeply saddened by the death of George Steinbrenner. Our community has lost a grand and generous person who made a difference in ways large and small. With a larger-than-life personality, he leaves a lasting legacy in sports, business, and philanthropy. Many times he worked behind the scenes to help individuals and institutions - all to make Tampa a better place to live. He was a true community leader. By making Tampa the home for his family and the spring training home for the New York Yankees, he forever changed our community for the better. He cared about law enforcement and their families and his establishment of the Gold Shield Foundation will continue to positively impact lives. His dedication to the betterment of the youth in our community was unmatched. Mr. Steinbrenner's passing is a great loss to our city and to his family and friends. On behalf of the city of Tampa, I offer condolences and I ask our community to keep them in your thoughts and prayers. He will forever be missed."
Jim Kolesar (President's Asst for Public Affairs at Williams College)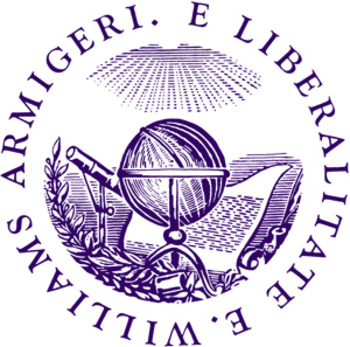 "The thoughts and prayers of people at Williams are certainly with Mr. Steinbrenner's family, especially his son Hal, who also graduated from the College, in 1991."
Harvey Schiller (Former USOC Executive Director)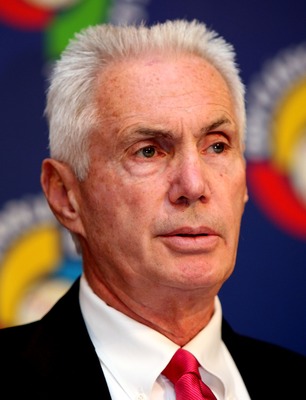 "Through 25 years of service to the U.S. Olympic Movement, Mr. Steinbrenner's contributions to athletes and Olympic fans are second to none. From his work on the Steinbrenner Report, and his volunteer service on the USOC Board, to his Chairmanship of the U.S. Olympic Foundation, George has left an everlasting impact on the USOC, the athletes and American public."
Damien Woody (Jets Tackle)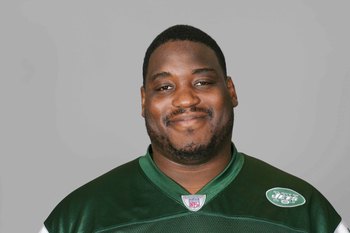 "No matter what people thought of 'The Boss', he was the best owner in sports.....PERIOD!" (Twitter)
Dick Ebersol (NBC Sports and Olympics Chairman)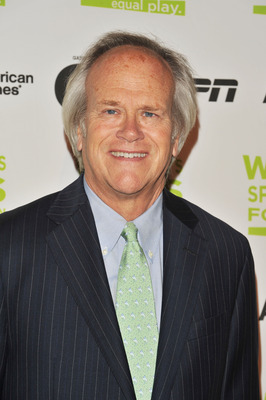 "As much as people rightfully today will give George Steinbrenner tremendous accolades for the almost 40 years of New York Yankees success, I hope no one will overlook or forget the immense impact that he has had on the development of some of the most successful U.S. Winter and Summer Olympic teams in history."
Keep Reading

New York Yankees: Like this team?