Pittsburgh Steelers: Top 10 Free-Agency Signings, 1993-Present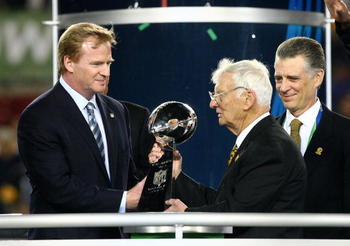 With a new CBA currently being negotiated, this is a look back at the Steelers best veteran free agency additions since 1993. We are going back to 93 because that is when free agency as we currently know it really began. They don't make a ton of moves in free agency, believing that building through the draft is still the best way to go. But more often than not, when they have made an addition, they picked the right man for the job. The runners up here are Will Wolford and Erric Pegram. Here is what I think is their best ten additions in that period. This list is guys who were veteran free agents, guys who were starters or contributors both for their former teams and the Steelers. Those requirements leave standouts like James Harrison and Yancey Thigpen off the list.
10. Norm Johnson
In 1995, the Steelers lost long time kicker Gary Anderson to free agency. Norm Johnson came along and the Steelers never missed a beat. Johnson wasn't even the Steelers plan A, but when it became apparent that Dean Biasucci wasn't going to work out, Johnson's arrival was very welcomed. Johnson lead the league in field goals made his first season, helping the Steelers reach Super Bowl 30. He had three more solid seasons for the Steelers and has certainly been their best veteran free agent addition in the kicking game.
9. Wayne Gandy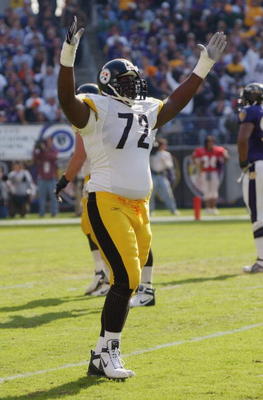 With the retirement of Will Wolford after the 1998 season, the Steelers were left with a big hole at left tackle. That hole was filled with former Rams tackle Wayne Gandy. Gandy gave the Steelers four solid seasons starting at LT, missing only one game in that period. He was allowed to leave after the 2002 season as the Steelers were pretty sure Marvel Smith was ready to move to the left side.
8. Mike Tomczak
In 1993, the Steelers signed journeyman QB Mike Tomczak. Tomczak gave the Steelers 7 seasons as a sometime starter and solid back up. In his one full year as the starter, he led them to the playoffs where they advanced to the second round before losing to eventual conference champion New England Patriots. He ended his career with a 16-13 record as a starter for the Steelers.
7. Ray Seals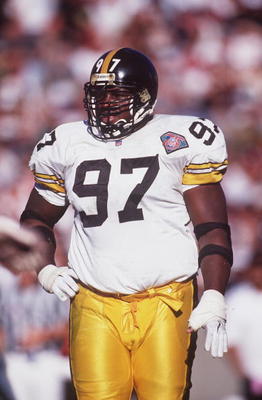 In 1994, the Steelers signed defensive linemen Ray Seals to a three-year deal. I don't think anyone at the time realized the contribution he would make over the next two seasons. In just 27 starts, he contributed 15.5 sacks, 61 tackles and six turnovers. The 15.5 sacks is the highest two season total by a defensive end since the Steelers have switched to a 3-4 alignment in the 1980s. Unfortunately, Seals' third season never came to be as he was put on IR during training camp. Seals was part of the push to Super Bowl 30 and even though he only spent 25 percent of his career there, he still highlights those seasons as his best and is still part of Steelers Nation.
6. Ryan Clark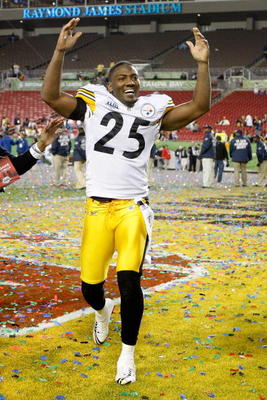 Clark's 2009 season was disappointing as the entire defensive backfield seemed to play below their talent level, but overall he has been a solid contributor since he came here in 2006. His punishing blows have made every receiver in the league think twice before going over the middle on this defense. He has started 47 games in his four seasons, contributed 183 tackles and five interceptions and was part of the Super Bowl XLIII Championship team.
5. Duval Love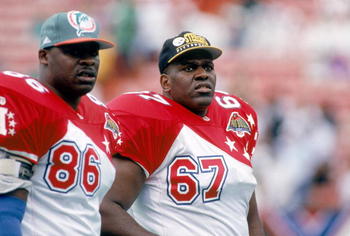 In 1992, the Steelers signed guard Duval Love to a three year contract. Love proved to be an excellent run blocker with a mean streak that often took defenders off their game. It was no coincidence the Steelers run game saw some of their best seasons of that decade during his time here. He started all 48 games during his contract and was a Pro Bowler after the 1994 season.
4. Kimo von Oelhoffen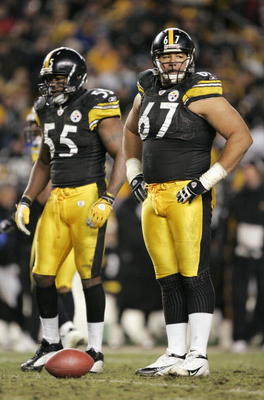 In 2000 the Steelers signed Kimo von Oelhoffen away from division rival Bengals. Kimo started that 2000 season at NT before spending the next five seasons as the starting RDE. Many seem to remember his biggest contribution as taking carson Palmer out of that 2005 Wild Card game in Cincinnati. But Kimo was a solid starter for six seasons only missing one game during that time. He was of course a member of the Super Bowl XL Championship team.
3. Kevin Greene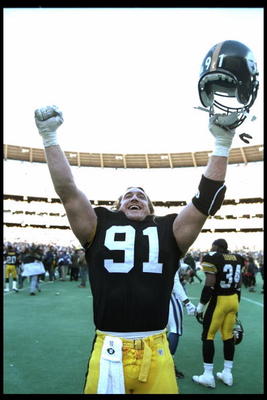 In 1993, the Steelers signed Kevin Greene and he became an instant fan favorite. During his three seasons here Greene started all 48 games, had 35.5 sacks, went to two Pro Bowls, was a first team All-Pro and helped the Steelers reach Super Bowl 30. Had he spent a couple of more years here he would have probably been higher, but the Steelers were ready to move on with Jason Gildon and were never disappointed with their decision.
On a side note, I waited outside Three Rivers along with a thousand or so other people trying to get playoff tickets in 1994. It was freezing cold and not a comfortable situation. At one point during the night Kevin Greene showed up with a few dozen pizzas in his truck driving around handing them out and thanking people for being such dedicated fans. It was easy to see why he was so beloved.
2. Jeff Hartings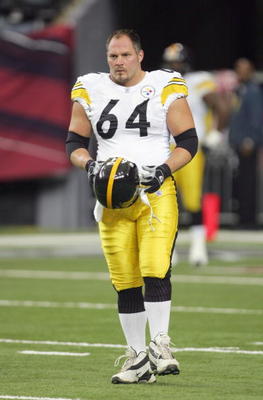 In 2001, the Steelers were looking to replace future Hall of Fame center Dermontti Dawson. They took a bit of a risk signing Lions' guard Jeff Hartings, but he made the transition very easily and helped continue the Steelers center tradition for another six years. During his time here Hartings started 89 games, was a two-time Pro Bowler and was a first team All-Pro following the 2004 season. He was of course part of the Super Bowl XL Championship team.
1. James Farrior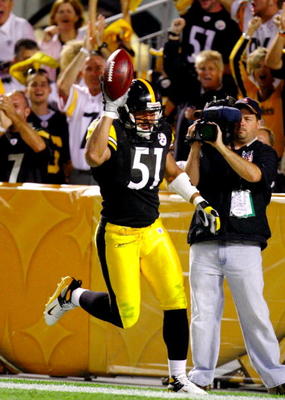 In 2002, the Steelers signed former Jet James Farrior. Farrior had been considered somewhat of a bust in NY, starting only 43 games over five seasons after being drafted 8th overall in the 1997 Draft. Farrior's impact was felt in Pittsburgh immediately, he has been a starter and the quarterback of the defense for eight seasons here, missing only four starts in that time, going to two Pro Bowls and helping the Steelers win two Super Bowls. He was a first team All-Pro in 2004 and was runner up for the DPOTY award.
Keep Reading

Pittsburgh Steelers: Like this team?