The NFL's Top 50 Players: Will They Get Better or Worse in 2010?
If there is one thing that can fill a little time during a slow and boring offseason, it is a good list.
So far we've seen many players either scrutinized for their lack of performance, or praised for the exceptional 2009 campaign.
However, here we are facing a new season, and more importantly a new decade in the NFL, and as much as I love to reminisce old 2009 memories, it is time to move on and focus on the future.
So what players will get better this season, and what players will disappoint more than a few people in 2010?
It's a tough call, but it is one that I am willing to make.
Therefore, without further ado I present to you not only the Top 50 NFL Players, but also a little prediction on how their 2010 campaign will go this year.
Begin Slideshow

»
-Eli Manning
-Champ Bailey
-Greg Jennings
-LaDainian Tomlinson
-Donovan McNabb
-Clay Matthews
-Carson Palmer
-Hines Ward
-Chad Ochocinco
-Michael Turner
2009 Stats: 51 tackles, 7 sacks, 1 interception.
For anyone that doesn't already know, Darnell Dockett is perhaps one of the most forceful defensive ends in all of football.
Not only is he strong, he is also speedy in just about every move he makes, making him the ultimate weapon for the Arizona Cardinals' ever-improving defense.
In 2009, his stats speak for themselves. Not only is he a fantastic tackler, he is also a sack machine, which has earned him a respectable spot on this list, considering how underrated he truly is.
In 2010, expect Darnell Dockett to excel. The Cardinals are now in a mild rebuilding phase particularly on offense, so expect head coach Ken Whisenhunt to have already addressed the teams defensive leaders this offseason.
Will Darnell step up to the plate and improve himself one again? You bet your house he will, he is simply that exact type of player.
2009 Stats: 984 yards, 5 touchdowns.
Lately I've been reading a lot of NFL Top 50 lists, and have noticed that Calvin Johnson has been left off quite a few.
Quite frankly, this is a total travesty. Sure his 2009 stats could have been a little better, however when it comes right down to it, he is the absolute lifeblood of the Detroit Lions at this point in time.
Therefore, Calvin Johnson makes this list, but he does have some obvious room to improve.
Next season, expect Calvin Johnson to perform extremely well, or perform extremely poorly. The time has come for him to establish himself among the league's elite, and if he fails to post an above 1000 yard season again, he will most likely be categorized with the garden variety receivers of this league.
With this said, people do need to appreciate No. 81. He is young, and if he does excel, expect the bandwagon to grow immensely.
A good season in 2010? Let's hope so, he certainly is one of the most exciting guys to watch in the NFL.
2009 Stats: 1,117 yards, 7 touchdowns.
Like Calvin Johnson, we focus on yet another underrated player in the NFL.
When you look at DeAngelo Williams' stats, it's hard to figure out why this guy fails to receive much credit as an elite running back. He always posts consistent yards, he is a stable running back, and for the most part he gets the job done nine times out of 10.
However, for some odd reason DeAngelo Williams is still categorized as an "almost there" type running back.
As much as a setback as this may seem, it does appear that DeAngelo himself thrives off of this underestimated attitude.
In 2009, he was still a force, even though it wasn't well documented. In 2010, I can't see any real reason why DeAngelo will fail, unless of course Matt Moore collapses into a smoldering heap early in the season.
If the inevitable doesn't happen though, expect DeAngelo to keep pounding away. Sure the Panthers are a new team, but maybe if DeAngelo can perform exceptionally well in a new look roster, he may finally be awarded some real credibility.
2009 Stats: 77 tackles, 2 forced fumbles, 6 interceptions
Some people have decided to label Leon Hall a 'one hit wonder' in past year.
Unfortunately for the doubters though, Hall's 2009 performance of six interceptions shut their mouths fast, and let everybody know that the Cincinnati Bengal cornerback is a force not to be messed with.
I guess the one concern for Leon Hall is his youth. He is now entering his fourth season in the NFL, and despite a fairly consistent career, one could ask the question as to whether or not he will fall of the bandwagon some time soon.
Right now though, that is a question that has no real answer, and until that does happen, all we can do is praise No. 29 for his consistent work in a rather rocky Cincinnati Bengal defense.
However, in 2010 I do feel that Leon Hall may struggle a little. Before you all bite my head off, allow me to explain.
Right now the Cincinnati Bengals have converted themselves into an offensive team. This isn't to say that the defense is irrelevant, but perhaps the demand for Hall to perform well may be alleviated a little this season.
Therefore, just expect him to have an easy season. A few picks, a few handy tackles, and Hall may call it a successful year.
As impressive as he has been, he is far from a defensive MVP-type cornerback, and that may hold his performance back a little in 2010.
2009 Stats: 1,156 yards, 9 touchdowns.
Ah, controversial DeSean Jackson. It appears now that DeSean has stirred a few things up this season in The City of Brotherly Love, and some fans feel that he may be on the path to becoming the next Terrell Owens.
Aside from his new-found outspoken ways though, DeSean Jackson is perhaps the future elite wide receiver in the NFL. Aside from his catching ability, it is DeSean's well-noted speed that allows him to constantly act as a target for the Eagles passing game.
However, now DeSean Jackson's world has been rocked a little. He has lost his trustworthy quarterback Donovan McNabb, and now stares right down the barrel of the Kevin Kolb questionable era.
Although Kevin Kolb does look to excel, perhaps DeSean's stats may suffer a little, particularly if Kolb lacks the deep ball that Donovan McNabb was so capable of throwing down the field to No. 10.
In 2010, expect DeSean to struggle a little, but not much. He may have a rocky start, after all adjusting to a new quarterback is never easy. But expect him to come good again toward the midway point of the season.
To me, DeSean Jackson is like a race horse. He may have an off day or two, but we all know that he can explode at any given occasion.
2009 Stats: 1,139 yards, 7 touchdowns.
Although Ray Rice has slowly emerged as one of the games top running backs, there is no denying that his future looks extremely promising with the Baltimore Ravens.
Not only is Ray Rice a young running back, he also has the rare ability to pound away, but build a tremendous amount of speed at the same time.
Looking at Ray Rice's stats, no criticism emerges. He is great in just about every area, and is on the right track to becoming a possible future Frank Gore-type running back in the league.
The one remaining criticism is postseason football. Rice's experience is low in the playoffs, but it would be nice if he stepped it up into fifth gear, and really became a threat on the ground for Baltimore.
2010 equals Ray Rice's breakout year. He's accomplished just about every milestone now, and finally the time has come for him to just play well. If any running back can do it, it's this guy. He is pure talent.
2009 Stats: 40 tackles, 6 sacks, 2 forced fumbles.
Stats aside, Jay Ratliff is the epitome of a great nose tackle. He is disciplined, he is strong, he is fast, and above all else, he is reliable.
However, although it appears we know just about everything there is to know about Jay Ratliff, it is Ratliff's team leadership that goes unnoticed.
For you see, Jay Ratliff is the go to guy for the Dallas Cowboys offense. Just about everybody looks up to him, and when it comes time for a big play, he will deliver nine times out of 10.
Speaking of 10, 2010 should be yet another outstanding year for Jay Ratliff. He isn't always the talking point of the Cowboys offense, but he does act as a quiet achiever as he posts year after year of brilliant stats.
A new decade, and a new season, who cares? Jay Ratliff makes the old saying of "Everything is bigger in Texas" totally true.
Some may argue with Joe Thomas being above the likes of DeSean Jackson and Jay Ratliff, but I believe that he is one of the most elite offensive lineman in all of football.
Right now, it is hard to find a Cleveland Browns player to feature on this list. Although the team looks promising, realistically talent is a little hard to come by.
Therefore, luckily for the Dawg Pound, Joe Thomas has earned Cleveland a respectable spot in most peoples Top 50.
The thing that is worthy of mentioning with Joe Thomas is his stability. Despite Cleveland's woeful quarterback ways, he is a solid pocket protector and doesn't show any signs of weakening anytime soon.
2010 will act as a possible weaker year for Joe Thomas, as a new roster could act as a weakness for the entire team. However, expect him to continue to plug up and open holes, as he is as experienced as they come.
2009 Stats: 1,120 yards, 10 touchdowns.
For those that still have a grudge against Brandon Marshall, it is time to move on. As much controversy as this man has stirred up during the offseason, there is no denying that he is a great wide receiver.
2009 was yet another fantastic season for Marshall, as he saw his yardage mark once again creep over the 1000 line toward the end of the season.
Now though, Brandon is with a new team, and has a new but impressive quarterback in Chad Henne to become accustomed to.
For some people, this duo looks exciting. While others choose to believe that Brandon Marshall will ultimately fail, and have a Terrell Owens in Buffalo style season.
Personally, I see Brandon Marshall excelling. Not only should he suit the wildcat formation well, he also appears rejuvenated and happy in Tunatown, which is a nice change from the disgruntled character we saw in Denver.
Perhaps Marshall's stats won't differ to much from his past years, but expect him to remain consistent. No negativity can do funny things to a talented player, so don't be surprised if Brandon Marshall becomes a standout week in and week out this season.
2009 Stats: 450 yards, 2 touchdowns.
Okay, so Marshawn Lynch's stats were dismal last season. 450 yards and 2 touchdowns doesn't exactly spell "greatness" in the world of NFL, but it does spell off-field drama in Buffalo right now.
Aside from the Bills as a team though, Marshawn Lynch is still a Top 50 player in many peoples eyes. Looking through his career stats, it is notable that he hasn't struggled to post an above 1000 yard season, and is in fact a delightful running back to have when he isn't disgruntled.
Unfortunately for Buffalo faithful though, the Marshawn Lynch of old appears to be almost extinct.
The circumstance that now faces Lynch is C.J Spiller, oh, and Fred Jackson, both of whom are challenging Lynch for the starting role in 2010.
As much as I would like to believe this will spark Marshawn Lynch to greater heights, realistically it will set him back, and may cause him to leave the Bills in general.
Four-hundred and fifty yards to even less in 2010? Who knows, right now it is anyone's guess. But if history is noteworthy, an upset player often under performs when they are unhappy with a team.
2009 Stats: 829 yards, 5 touchdowns.
From one Bill to a former Buffalo player, we now focus on Terrell Owens.
Recently in the media, Terrell Owens' homeless situation has become a little amusing. Maybe it's due to Terrell's previous boastful ways, but it does appear that all of his controversy and criticism has finally come back to bite him.
Still, are we really ready for a league without T.O?
I doubt it, after all Brett Favre is still going strong. Therefore, let's just assume for now that Terrell will sign somewhere in the near future.
When it comes to performance, Terrell has slipped a little. Given, he is growing a little long in the tooth, his overall stats and yardage has dropped significantly from what it once was.
This season? Expect much of the same.
Terrell is no longer the speedy guy he once was in his San Francisco years, and he is no longer the number one target for quarterbacks. Failure is a bit of a stretch for Owens right now, but he may struggle once again to hit the 1000-yard mark.
2009 Stats: 1,106 yards, 10 touchdowns.
Years ago, I used to think that Jeremy Shockey was the best tight end in all of football. That was until I learned who Dallas Clark was, and my opinion changed instantly.
When you look at Dallas Clark, you automatically see the entire package. A complete player with both experience, talent and a set of sticky hands that never fail to deliver when needed.
To top it all off, is there any better combination in all of football than Peyton Manning and Dallas Clark? I think not.
To say that Dallas Clark will have a bad season in 2010 would be ludicrous. It simply isn't in his makeup, and unless he somehow goes down with a crushing injury, he will be the same old guy that we see week in and week out each and every year.
2009 Stats: 62 tackles, 13.5 sacks, 1 forced fumble.
You didn't think I could have a list without featuring a Pittsburgh Steeler did you?
Ah, LaMarr Woodley. A vastly underrated player who posts such fantastic stats it's almost a shame that not everyone recognizes him.
Fortunately for all of us, LaMarr Woodley is here to stay. He's a big guy as we all know, yet acts as one of the Steelers' most dominant defensive players, behind Troy Polamalu of course.
Looking at LaMarr's 2009 stats, it's hard to find any real criticism. He seeks out the quarterback like a missile, and more often than not rattles the passer to the ground in a attempt to loosen the ball.
Of course, this is typical Pittsburgh Steeler football, and there is no reason for it to end. As long as LaMarr is in black and gold, he is in good hands.
Falling off the wagon doesn't seem to be very likely at this point in time, therefore, LaMarr is a player to keep a close eye on in 2010.
2009 Stats: 42 tackles, 10.5 sacks, 5 forced fumbles, 2 interceptions.
From one defensive powerhouse to another, we focus on Julius Peppers, the newest member to the Chicago Bears lineup.
Fortunately for Bears fans, Julius Peppers is still continuing along his dominant path in the NFL. Although Julius is entering his ninth season, his stats continue to be impressive as he looks to rebuild the once dominant Chicago Bears defense of past years.
However, as promising as this all seems, some concern does arise when looking at Julius in black and orange. Firstly, Julius is now free from what appeared to be his firm hometown in Carolina.
Not only does this act as a concern, it also raises the question as to whether or not Julius will truly fit in in Chicago, and make himself comfortable in Lovie Smith's system.
Until September roles around the corner, these questions will be left unanswered. Fortunately though, Julius' history is great, and his performance shouldn't suffer to much, as long as he works hard in Chicago.
2009 Stats: 1,030 yards, 2 touchdowns.
Remember when I said that Dallas Clark was the best tight end in all football? Meet the second.
Criticizing Jason Witten is like winning the lottery, extremely hard to do. It seems when it appears he may not play a factor in a game, he comes out with a bang and gifts the Cowboys with yet another fantastic performance.
As we are all aware of, Jason Witten's stats in 2009 were great. The fact that he has outdone some great wide receivers statistically says a lot, and his blocking and catching skills are simply uncanny.
2010, expect an even better Jason Witten. Tony Romo finally has his head in the game, and is now a well rounded passer.
Aside from this factor, with each season, Jason Witten grows in both performance and experience. Struggling simply isn't in his vocabulary, enough said.
2009 Stats: 1,391 yards, 15 touchdowns.
In many Top 50 rankings, Maurice Jones-Drew has been ranked rather low, and I'm afraid in my list, there is no exception.
Although Maurice has managed to post fantastic stats given the Jaguars unimpressive ways in past years, he has also slipped down the rankings a little in terms of the top rushers in the league.
For the most part, much of this isn't his fault, belonging to a below .500 team will do that to you. However, it appears that Maurice has taken his foot off the gas a little, and is now that extra step back from an offensive MVP-style player.
In past years, this hasn't held Maurice back at all. But wouldn't it be nice to see him finally achieve his true potential, and show everyone why he simply isn't just an ordinary back with a great pair of legs?
I know I'd like to see it. So now, maybe 2010 is Maurice's year. David Garrard has been working hard, and the Jaguars do have the slightest bit of confidence heading toward 2010.
Perhaps a 2008 Miami Dolphins turnaround story lays ahead, and perhaps Maurice Jones-Drew will topple Chris Johnson and Adrian Peterson. I guess this remains to be seen though.
If one thing is for sure, Maurice Jones-Drew will perform, and he will perform well. No matter how much pressure is applied, he stands up to the task, and at the end of the day, is still a great running back to have.
2009 Stats: 134 tackles, 3 sacks, 2 forced fumbles.
As much as I'd like to rank Ray Lewis high in this list, I do feel that his performance has lacked a little in the past year or two.
Firstly, Ray Lewis' stats have taken quite a shot. Compared to players such as Julius Peppers, Ray Lewis' 3 sacks in 2009 were dismal compared to his career records.
Secondly, Lewis failed to step up when needed in the playoffs. Not only did he give away a crucial penalty that cost him quite a bit of money, he also made many people realize that he does make mistakes, and isn't the greatest linebacker on Gods green earth today.
2010 marks many new beginnings for the Baltimore Ravens. Anquan Boldin steps into the team, and the ever-growing Joe Flacco needs to step up this season if the Ravens are to make it a Super Bowl year.
As for Ray Lewis, if anything fuels him, it is under performing and a ton of criticism. We know how fired up he gets, so expect him to be a mad man during Week One of the regular season.
A sack fest this season for Ray? It's a high possibility. Trust me, you won't like Ray when he is mad.
2009 Stats: 1,320 yards, 11 touchdowns.
Many analysts have chosen to leave Miles Austin off their Top 50 lists. I have chosen to go out on a limb, and credit this young man for such a great 2009 season.
Prior to last year, not many people knew of Miles Austin. Sure he was on the Cowboys roster, but when it came right down to it, he wasn't a receiver that was noted for his brilliance.
Boy, how things have changed. 1,320 yards later and a few handy touchdowns, Miles Austin is perhaps the most feared young wide receiver in all of football to date.
How will Miles do in 2010?
Easy, he'll do well. He has found his feet, and knows what it takes to excel. Tony Romo is now aware of Miles Austin's presence, and is set to target him even more this year.
Things look up for any Miles Austin fans out there, as he truly is a joy to watch. Lets hope he doesn't become a one hit wonder, as his career has only just taken off.
2009 Stats: 45 tackles, 9 interceptions.
When it comes to defensive standouts, Jairus Byrd struggles to be mentioned with the Charles Woodsons and Darrelle Revises of this league.
Weirdly though, Byrd did post just as many interceptions as Charles Woodson in 2009, yet fails to receive any real credit for his contributions in Buffalo.
Fortunately, many people have recognized him in lists this offseason.
What Jairus Byrd does on the field is quite uncanny. He isn't the fastest guy about town, yet manages to stay on receivers like glue, and normally has surefire hands when the ball comes his way.
As for this season, well it is a little unpredictable. The Bills aren't the most stable team right now, and it isn't that hard to predict that Jairus Byrd may struggle a little this year.
If all goes well, Byrd may excel, however if the Bills defense collapses early and fails to gain any real motivation, then expect Byrd to become an afterthought in 2010.
2009 Stats: 982 yards, 7 touchdowns.
A broken arm and a ton of criticism, Steve Smith finds himself in quite a tough time in his storied career right now.
Unfortunately for the Carolina Panther veteran, his 2009 stats don't make life any easier, as he failed to reach the 1000-yard mark last year.
Not to fear though, Steve Smith is still the talented wide receiver that we once knew. His speed is still there, and God knows that his ability to catch just about any pass is there.
The remaining concern though is of course Matt Moore. Can he deliver accurate passes to Steve Smith? And more importantly, can he find him when necessary?
Nobody really knows for sure, however Steve Smith has adapted to quarterbacks well in the past, and should handle Matt Moore quite well.
An above-1000-yard season is needed tor Steve Smith, as he is starting to slip in wide receiver rankings. However, if anyone can step it up, it is Steve Smith, he is simply that talented.
2009 Stats: 4,328 yards, 26 touchdowns, 12 interceptions.
Although Big Ben's stats have been impressive in past years, he has struggled at times to really put himself into the category of the Peyton Mannings and Drew Brees of this league.
More importantly though, Ben Roethlisberger has done wrong by his team. Not only have the recent allegations set him back a peg in many people's minds, he has also failed to step up for the Steelers when they have truly needed him.
With this in mind, Ben Roethlisberger still is a good quarterback to have. He's strong and near impossible to wrestle to the ground, and his persistence to always win a game has helped the Steelers on several occasions in the past.
Still, I find it hard to rank Ben Roethlisberger to high in this list. He sometimes struggles with decision-making skills, and his interceptions could have been a little lower in 2009.
No one knows for sure how the suspension will impact Ben and the entire Steelers team, but for now Big Ben has a lot on his plate as September rolls around the corner.
2009 Stats: 20 tackles, 3 interceptions.
If were to build a "dream team," Troy Polamalu would be one of the first defensive backs I would take.
Funnily enough, unlike many athletes who go down with near season-ending injuries, Troy Polamalu is still being recognized as a Top 50 player.
I guess it is a little hard to argue with his on field brilliance that he consistently portrays and the fact that he simply is an interception machine when he is 100 percent healthy.
At the end of the day, Troy Polamalu will probably never struggle in this league. He is entering his eighth year in NFL football, and hasn't shown any real signs of slowing down just yet.
The thing to remember is, when Troy Polamalu is healthy, the Pittsburgh Steelers are a fantastic team. Let's hope ole' number 43 is back in tip top condition this year, as another year with him on the sidelines is almost unimaginable.
2009 Stats: 49 tackles, 17 sacks, 4 forced fumbles.
When I look at the photo of Elvis Dumervil, all I can think is "wow". Seventeen sacks last season means that Elvis Dumervil averaged just over a sack a game, and solidly improved his repertoire along the way.
However, is this really anything different from the Elvis Dumervil we have come to expect in recent years?
After all, his past seasons have seen him rack up nearly equally high sack numbers, while he continues along his path of destruction in a Denver Broncos uniform.
I guess not, but when it comes to predicting how Elvis Dumervil will go in 2010, I think most people are confident in his ability.
Sure the Denver Broncos have become a struggling team, and sure there are serious concerns on the offense, but has the held Dumervil back in the past?
Of course not. Therefore, the logical answer is that Elvis Dumervil will do well in 2010. He may not have such high number as he did in 2009, but he should be able to wreak havoc once again on opposing quarterbacks.

2009 Stats: 71 tackles, 0.5 sacks, 9 interceptions.
As much as I would like to believe that Drew Brees is the lifeblood of the New Orleans Saints, surely people realize that Darren Sharper is just as important on the defensive side of the ball.
Last season was simply Darren Sharpers year. He was good in just about every game, and although he did miss a couple of appearances, he made up for it by finishing the year with 9 total interceptions.
Now we focus on the new Darren Sharper. He has remained in New Orleans, and appears to be happy and comfortable as a Super Bowl Champion.
But what should we expect from?
To me, this is a very tough call, as Darren Sharper is the type of player that strives off of how the team as a whole is performing.
Although his career interception numbers are high, if New Orleans has a struggle filled year, perhaps the explosive Darren Sharper of today may die a little this season.
On the other hand, if New Orleans continues along its fantastic path, then expect Sharper to be his usual self.
It really does depend on the Saints as a team, in regards to Sharpers performance in 2010.
2009 Stats: 40 tackles, 1 forced fumble, 9 interceptions.
As much as the Eagles may struggle in 2010, I can't figure out why Asante Samuel is such an underrated defensive back.
His stats are good, he is consistent, and is perhaps the most talented man in Philadelphia football right now.
Still, for some odd reason Asante Samuel fails to receive much credibility in the NFL.
While this is totally disappointing, it is important to focus on Asante's future career with the Eagles.
For the most part, everyone is quite happy with how he has performed. While others think that he may struggle a little this year, given the Eagles setbacks this offseason.
In my opinion, I think we will see a half in half Asante Samuel. If the Eagles strive in the early going, then the confidence will be high around the locker room.
But if the Eagles struggle to maintain any victory in the NFC East, then Asante himself could struggle a little against potent passing attacks.
Perhaps we will see the same old Asante Samuel, but with a few less interceptions. Let's keep in mind that Samuel has had a few years where has has struggled, so 2010 may not be so kind as people have predicted.
2009 Stats: 1,264 yards, 13 touchdowns.
He's Tom Brady's go to guy, and he's one of the main reasons that the Patriots continue to be contenders in the AFC East.
Whatever your opinion is of Randy Moss, put it aside, it isn't important here.
What is important is to recognize how consistent Moss has been recently, given his age and the toll of the game that is surely affecting him in the later stages of his career.
While I don't like comparing Randy Moss to others, when we put him next to a guy such as Terrell Owens, a significant difference is realized when looking at the two's performance in the past two years.
Therefore, Randy Moss in 2010 should be his usual self. He has the best passer in the game throwing bullets to him, and he also has young star Wes Welker to back him up.
Providing that an injury bug doesn't bite Moss, he should be his usual explosive self this year.
2009 Stats: 1,157 yards, 8 touchdowns.
Finally a San Diego Charger cracks this list, and rightfully so.
Ah Antonio Gates, what would the Chargers do without you?
2009, Antonio Gates was tremendous as usual. Eight touchdowns to finish the year and a bunch of great yards left everybody well aware that the Antonio Gates of now is here to truly stay.
Still, I can't help but worry about Gates' future. Firstly, both LaDainian Tomlinson and Antonio Cromartie have left the team, which is not only a huge talent loss, but also a huge leadership loss.
Secondly, the Chargers are a very new-look team. Philip Rivers is still a solid passer, but he may not target Antonio this year as much as he has in the past.
So is it reasonable to assume that Antonio Gates will have an underachieving year?
Probably not, but he may struggle a little to be his usual stable self purely due to the new roster and loss of players. His stats may not be affected totally, he may just be a little inconsistent at times.
2009 Stats: 1,264 yards, 10 touchdowns.
It's weird to not have an Indianapolis Colt on this list up until now, but between you and me, there are a few more guys in blue and white coming up later.
So, what to say about Reggie Wayne? I think I can sum it up in one word, great.
Like Tom Brady and Randy Moss, Reggie Wayne has become Peyton Mannings go to guy. If it isn't a one handed catch, it's a brilliant after the play run that results in yet another Colts touchdown.
Stating that Reggie Wayne will struggle in 2010 is almost unimaginable. When you have Peyton Manning passing to you, its safe to say that your stats will be padded day in and day out until the cows come home.
Expect Reggie Wayne to have another Pro Bowl year, he's just that type of player. He will most likely be a step away from any kind of MVP award, but he will continue to act as a solid wide receiver for number 18 this season.
2009 Stats: 1,416 yards, 4 touchdowns.
When I was creating this list, I found it hard to think of any Rams player to feature, but then I remembered Steven Jackson, and had to fit him in somewhere.
Unfortunately for us as fans, we haven't been treated to the usual Steven Jackson show that we have in past years.
Instead, he's acted as a rather quiet achiever, and hasn't posted fantastic stats given his true talent.
Much of this does have to do with age, and a whole ton of it has to do with the Rams poor performance, but for the most part, Steven Jackson has died just a little in past year.
However, all is not lost. Now that Sam Bradford is the firm starter in St. Louis, perhaps Steven can resort back to his old ways, and find some holes and exploit defenses like we are all used to seeing from him.
My prediction, Steven Jackson will have a breakout year. He's poised for it, and God knows he is due for it. He may not break the 2,000 yard mark, but he should be able to achieve some great highlights and a handful of touchdowns.
If there's one thing that the Denver Broncos are good at producing, it is offensive lineman. Unfortunately for Bronco fans, Denver still doesn't have a great quarterback to protect just yet.
For those of you that aren't familiar with Ryan Clady, let me act as your teacher. He is a young guy who is entering his third season in the NFL, and has enormous talent given his inexperience and youth.
He's fast off the line, and is an immovable object when he engages in contact with a defender.
At the end of the day, Ryan Clady probably won't be recognized for his efforts, but many analysts have him ranked fairly high in Top 50 lists.
This season expect him to continue along his impressive ways, blocking is about as natural as breathing to Ryan Clady.
2009 Stats: 39 tackles, 1 interception.
As much as I love Nnamdi Asomugha, his stats have been disappointing. Only one interception in all 16 games last season leaves a lot to be desired from this fantastic cornerback, and he does need to step up his game if he is to match Darrelle Revis and Charles Woodson in this league.
Still, all criticism aside, we know what Asomugha is capable of. He's a fantastic shut-down corner who is a pure rounded athlete, and can stay on a wide receiver quite easily.
For the Oakland Raiders, Nnamdi needs to be at his best this season. Although there are still concerns in Oakland, things could just turn out quite nicely, if the stars align and everyone plays well.
Like other players, Nnamdi Asomugha should have a bigger and better year. He definitely needs it.
2009 Stats: 142 tackles, 4 sacks, 3 forced fumbles, 3 interceptions.
It's high tide a San Francisco 49er made this list, and without further ado I present to you Patrick Willis.
If you'll look above at Willis' stats, I think you'll agree we all know exactly what he is about. He is the true team leader of the 49ers along with Frank Gore, and his impressive ways have kept San Francisco in the hunt in the NFC West on several occasions.
What Patrick Willis does exceptionally well is his ability to locate the receiver or quarterback. Once he knows who has the ball, just watching him make his way to the player is like watching Pacman eat one of those yellow dots.
2010, expect the same Patrick Willis to show up. He's dominant both on and off the field, and is quite an intelligent player when it comes right down to it.
If anything, Patrick Willis is my pick to be the most improved player this season. The 49ers look good on paper right now, and are set for a big season.
Let's hope Patrick Willis is, too.
2009 Stats: 74 tackles, 2 sacks, 4 forced fumbles, 9 interceptions.
In 2009, Charles Woodson stood up as a fantastic player. He was the defensive player of the year, and his total of nine interceptions was outstanding for a player of his age.
Still, Charles Woodson seems to be a little hard done by, especially in the media. As much as everybody truly loves his work, it appears that most people aren't willing to recognize his defensive talent, and would rather label him an "almost there" defensive player.
Why this happens, I am not totally sure, but if one thing is true, it is that Charles Woodson is a shark that smells blood.
2010 is his year to once again shine and lead the Packers to what many people believe to be their best chance at a fourth Super Bowl ring.
As hard as it will be to outdo nine total interceptions this season, Charles Woodson is quite capable of it. With Al Harris still listed as questionable, Charles Woodson becomes the defensive leader from here on out.
It's no real question as to whether or not he will step up, as he pretty much has his entire career.
2009 Stats: 50 tackles, 3 forced fumbles, 3 interceptions.
From one defensive standout to another, we take a look at Ed Reed.
2009 probably wasn't the kindest year to Ed Reed, after an injury cut his season short to 12 games.
Still, as much as people argue with his high rating on this list, when he is healthy, he simply adds a new dimension to the Baltimore Ravens.
Looking at Reed's career stats, it is obvious that he is a game changer, and 2010 should be no exception. He has had successful hip surgery, and is now 100 percent healthy.
Welcome back Ed Reed, we've missed you.
2009 Stats: 4,483 yards, 26 touchdowns, 9 interceptions.
Love him or hate him, Tony Romo is finally displaying the signs of a true quarterback.
After researching many Top 50 lists, I came to the conclusion that a lot of people don't recognize everything Tony Romo has done throughout his young career.
Firstly, his stats aren't all that poor. Secondly, his work ethic is definitely not in question. He has impressed the Cowboys staff at OTAs this offseason, and is finally looking like his head is in the game, and focused on winning.
Therefore, Tony Romo is set to strive in 2010. He's tasted playoff victory (finally) and now knows what it takes to get the job done. Not only that, he has new wide receiver Dez Bryant to test out, which should help the passing game immensely this season.
It's safe to say now that we shouldn't see the old Tony Romo this year. He's ready, he's mature and he's experienced. Let the ride begin.
2009 Stats: 4,254 yards, 28 touchdowns, 9 interceptions.
Philip Rivers is another quarterback that slips under the radar a little. He has had his past controversial ways, but in my mind is still a solid quarterback for the San Diego Chargers.
Fortunately for us as fans, Philip Rivers doesn't struggle statistically. He always posts extremely high figures, and always manages to heat up in time postseason football.
Therefore, maybe we might just see the real Philip Rivers stand up this season.
To me, the key problem for Rivers is consistency. He doesn't always play exceptionally well all year round, and therefore the Chargers do have periods where they hit a rough patch in their season.
2010 is Philip's time to shine. No more poor mistakes, no more playoff losses. Just get the job done, and take it one game at a time.
I won't go as far as to say that Philip will have a MVP year, as that is realistically still a ways off. However, he should be a little more consistent, considering the pressure that is on his shoulders this year.
2009 Stats: 24 tackles, 13.5 sacks, 1 forced fumble.
I think just about everybody is a huge Dwight Freeney fan. He is like the humble giant, that is a monster on the field, but a real delight to watch off the field.
2009 saw ups and downs for Dwight. He played only 14 games, and sustained a crucial injury right before the Super Bowl back in February.
Luckily for us though, he is back fit and healthy, and ready to kit up again and hit some quarterbacks, hard.
To say that Dwight Freeney will struggle isn't the most ludicrous thing. We all know that some of the best defensive ends can struggle at times, and have a few poor performances.
This year, Dwight Freeney may fall victim to that. The Colts defense has changed a little due to the Draft, and they may not have the same cakewalk to the playoffs what with Houston and Tennessee both breathing down their neck.
Dwight should still post decent stats, maybe just a little lower than we are used to. Nothing significant, just a much more physical season.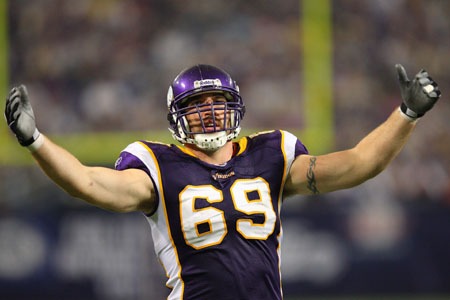 2009 Stats: 51 tackles, 14.5 sacks, 5 forced fumbles, 1 interception.
I know you've all been waiting for a Viking or two to crack this list, and finally we arrive at Jared Allen.
As a fan, I'm all to familiar with this guy. I think he's sacked just about everyone of our favorite team's quarterbacks in past occasions, and he isn't showing any signs of weakening anytime soon.
The thing about Jared Allen is pure dominance. If he isn't hitting the quarterback, he has his hands up ready for a swatted ball or a half throw to pick off and recover for the Vikings.
2010 we should see the same guy return. He does it year in and year out, and is truly a replica of Brad Childress' coaching style.
Therefore, Jared Allen will continue along his dominant path. The mullet may be gone, but the man is still in town.
2009 Stats: 4,434 yards, 30 touchdowns, 7 interceptions.
If you haven't been impressed with Aaron Rodgers, I suggest you get your head checked.
Many believed that in 2009, Aaron Rodgers could have sneaked into the MVP votes. Unfortunately for Packer fans though, this wasn't the case, and we will have to wait until this season.
Right now, it's pretty obvious that Aaron Rodgers is a future star. He has a great arm, he's learned from the great one Brett Favre, and just always appears totally confident.
The one concern though is of course decision making and his high number of sacks. If these kinks can be ironed out, move over Peyton Manning, Aaron Rodgers is stepping up.
Not only will the new decade bring great things for the Packers, it should also feature Aaron Rodgers heavily. If he doesn't win the MVP anytime soon, it would be quite a travesty.
Still, this guy is the real deal, and will continue to excel given the Packers fantastic offensive roster.
2009 Stats: 4,770 yards, 29 touchdowns, 15 interceptions.
Can you tell we're entering quarterback territory? I hope so.
From Aaron Rodgers, we now take a look at Matt Schaub, who has impressed a ton of people in a short amount of time.
Not only was Matt Schaub one of the best passers in 2009, he is also one of the main reasons why Houston are a playoff contender heading into the 2010 season.
The point worthy making here is this, Matt Schaub has an all around arm. He can throw a deep ball, a short ball, a bullet pass, or a lob just about anywhere on the field.
Not only does this make him such a great weapon to have, it should equal even more success this year. He has Andre Johnson by his side, and also has a great young running back in Ben Tate stepping in.
All signs point to yes for a successful season for Matt Schaub, sit back and enjoy the ride.
2009 Stats: 1,569 yards, 9 touchdowns.
Speak of the devil, here is Andre Johnson now.
He's had his controversies with his contract this offseason, but has said he is happy in Houston, and would like to remain a Texan for as long as possible.
Luckily for us, Andre Johnson is a fantastic athlete to witness. His stats are always consistent, and his ability to move so quickly for a much larger receiver is uncanny.
As previously mentioned, Andre Johnson is the perfect option for Matt Schaub. Not only should this combination delight in 2010, it should post significant numbers, as the Texans hope to make the playoffs for the first time in their team history.
2009 Stats: 1,092 yards, 13 touchdowns.
I think you'll agree that Larry Fitzgerald has become the best receiver in the league.
He steps up when needed such in the NFC Wildcard Game against the Green Bay Packers, and is always there for a touchdown pass or two.
In fear of getting shot, I won't say that Larry Fitzgerald will struggle this year, as it simply won't happen. However, he may feel a little out of place, seeing as though his trusty teammate Anquan Boldin is now in Baltimore.
This shouldn't worry Larry to much though, as he is the type of receiver that strives off of excellence. Sure Matt Leinart steps in as the starter, but having a guy such as Larry there to coax a young quarterback into the league, should alleviate the pressure a little.
More than 13 touchdowns this season?
It's arguable, but we should still see Larry Fitzgerald tearing it up game in and game out.
2009 Stats: 57 tackles, 11 sacks, 5 forced fumbles.
If your going to make a Top 50 list, I suggest you don't leave DeMarcus Ware out of the Top 10, as he deserves some true recognition.
Not only is DeMarcus Ware a fantastic outside linebacker, he along with Jay Ratliff really run the Cowboy defense in every shape and form.
At times, DeMarcus Ware can be a little outspoken, especially on the field, but there is nothing wrong with a little passion, right?
Of course not, therefore, all of the passion and anger should result in another great season.
Ask Donovan McNabb how it feels after being hit by Ware, and I don't think he'll hesitate to say that it hurts. Expect the same in 2010.
2009 Stats: 1,383 yards, 18 touchdowns.
Not many running backs have been featured on this list, but it wouldn't be complete without Adrian Peterson.
Last year, Adrian Peterson looked his usual great self, but did have a few hiccups along the way.
In case you are unaware, Peterson now has a problem, and it is one that many Viking fans would like to rid of before the season starts. I am talking of course about fumbling.
If Adrian Peterson can stray away from this issue, he should challenge Chris Johnson once again for the top rushing spot in the league. But if he does fumble and stumble his way through another year, then we may be left with quite a problematic Adrian Peterson by this time next year.
My solid prediction is that Adrian will fumble a bit in the opening weeks. The nerves will be high, but he will come good again by midseason.
If the Vikings make the playoffs, expect him to be more of a force this year, as Peterson knows what it takes to win now.
2009 Stats: 54 tackles, 6 interceptions.
It's not everyday that we see a cornerback of Darrelle Revis' caliber. But here we are, focusing on one of the most promising young athletes in all of football.
Stats wise in 2009, Darrelle Revis wasn't the top of the class, but he helped the Jets immensely in the long run.
Now, he has become Rex Ryan's main man, and looks to improve himself in 2010, and help carry the Jets to a possible Super Bowl-winning season.
Before we can go ahead and crown New York champs though, they must play some very crucial games. Some tests stand in front of Darrelle Revis, especially against some great passing attacks.
Should he withstand them, crown him the new defensive king, he deserves it. Right now, my prediction is that he will perform well, but not to the extent that everybody thinks.
He is only young, and he will make a mistake or two. Give him three more years and he will be the player that we all desire.
2009 Stats: 4,202 yards, 33 touchdowns, 7 interceptions.
Will he stay or will he go? That's the question that needs an answer.
Unfortunately, I know as much as you guys, so until we reach a verdict, Brett Favre's 2010 season is still a mystery.
However, if he does return, he should play just as well if not better than he did in 2009. Brett has had successful ankle surgery, and is still passing rather well.
More importantly, he now has some revenge to dish out. A last minute interception in overtime won't be the way he wants to go out, and it is more than likely that he will want to reinvent himself and help out the Vikings in 2010.
As we all know, Brett is a great passer, so expect the very best once again in 2010. He will probably still throw many interceptions, as this is what he is known for, but his consistency should be on display.
Right now though, there are a lot of "shoulds" and until Favre makes a decision, his 2010 season is still a guessing game.
2009 Stats: 2,006 yards, 14 touchdowns.
He's the man that everyone wants on their team, and he is arguably the best running back in the league.
2009 saw Chris Johnson amaze just about everybody. He is speedy, he is strong and he takes it to the house on any given opportunity.
Unfortunately though, Chris Johnson's offseason hasn't been that laid back. He's seen his fair share of scrutiny after not showing up to OTAs, and looks to be a little unhappy in Tennessee right now.
As for his performance, he should be as good as gold. As long as the Titans as a team function well, Chris Johnson should excel at his usual rate.
He is a natural athlete, and is unstoppable both on Madden video games and real life, No. 28's dominance is here to stay.
2009 Stats: 4,398 yards, 28 touchdowns, 13 interceptions.
I hesitantly rate Tom Brady at the No. 3 spot. Although he has been his usual brilliant self, he has taken his foot off the gas a little, and isn't as dominant and explosive as he once was.
Much of this could be due to his 2008 knee injury, or it could be due to the Patriots lesser impressive ways as of late. Whichever one it is, Tom Brady is in danger of slipping a little in peoples quarterback ratings.
Still, with Tom Brady, you know what your getting. He may not be exceptionally great all the time, but he will never play extremely poorly.
It's safe to say the Patriots would be lost without him, and with Bill Belichick possibly nearing the end of his days, he is a vital part of this team.
2010 should bring the old Brady back to the norm. No more half decent games, we want the old gunslinger back in tip top form.
Will it happen?
Hopefully, but he should still post great stats as usual.
2009 Stats: 4,388 yards, 34 touchdowns, 11 interceptions.
Since Drew Brees has won the Super Bowl, his status has taken off. Everybody now loves him, and has 100 percent faith in his overall ability.
As much as I do love Brees though, some ludicrous statements have been made. I have seen a few Saints fans state that Drew Brees is better than Joe Montana, which is quite puzzling.
However, aside from that, Drew Brees is a fantastic player. He has a range of great options with the Saints, and his quick passing ways makes him a top five quarterback in my books.
His performance this year should be great. Unless the Saints collapse totally and fall victim to other team, Brees is in safe hands. An MVP year is a stretch just yet, but if plays like he did in 2009, who knows, it may just happen.
2009 Stats: 4,500 yards, 33 touchdowns, 16 interceptions.
I hate being predictable, I really do, but I just can't argue with Peyton Manning's brilliance.
As soon as he steps on the field, he is working hard. Organizing the offense, changing the play, and of course delivering as a final result.
Recently the Colts hired a new offensive coordinator, although that probably doesn't mean much, as Peyton Manning himself acts as his own coordinator in many ways.
If you asked me last season how Peyton Manning would do in 2009, I would have said exceptionally well. This year is no exception. He performs to his best, and truly is the Michael Jordan of today's era of football.
An MVP year?
I wouldn't bet against it, he's a true mastermind of the modern day game, and he isn't going away anytime soon.