Tennessee Titans: 53-Man Roster Predictions Part 2 of 11- Runningbacks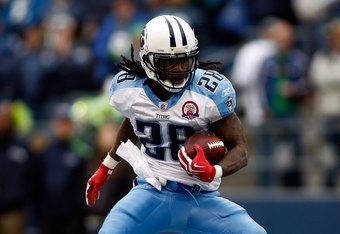 Jonathan Ferrey/Getty Images
Assuming the Titans do not sign any more free agents this off season, they will have an 85 man roster to cut down to 53 before the season starts. Every year position battles add excitement to the preseason, and this year the Titans have many to be excited about.
In this series I will attempt to break down into detail each player on the team, and decide whether or not they will make the cut.
In the second edition of this series, I will take a look at the many runningbacks on the team. This year the Titans have more options at runningback than ever. Though Chris Johnson has locked down the main roster spot, the rest of the depth is completely open. Here is a look at the runningbacks for the Titans.
LeGarrette Blount
Blount was one of the biggest stories of the NFL Draft. Coming into his senior year at Oregon, he was projected as a potential first round draft pick if his numbers held up from the previous year.
In his first game of the season, Blount made the worst decision of his career. After being taunted by one of Boise State's defenders, Blount turned around and hit the opposing player in the face.
The controversy that surrounded Blount can not take away from the fact that he was an excellent runningback for the Oregon Ducks. Blount amounted over 1,000 rushing yards and 17 touchdowns in 2008 despite sharing carries with four year runningback, Jeremiah Johnson.
Blount is considered a power runningback and should become a valuable asset to the Titans after they traded away LenDale White. If Blount makes the cut, he will be used primarily in short yardage situations.
Ahmard Hall
Hall has been the fullback for the Titans for the past four years. Hall's job could be in jeopardy due to his two fumbles on 13 touches last year. He is a very solid blocker and is part of the reason for the Titans' successful running game.
Chris Johnson
The Titans' 2,000 yard rusher is causing quite a commotion this offseason with his holdout. Johnson seems pretty serious about the holdout, but Vince Young said it best, "He's gotta pay his bills." If Johnson continues to hold out, the team can fine him up to $16,000 daily for missing mandatory activities.
Expect Johnson to play this year, because he probably does not have enough money left to hold out all year, and with a potential lockout coming next year, it could be a while before he gets a shot at a lot of money.
Stafon Johnson
If you have not heard the story about Stafon Johnson, you are about to. Johnson was in the same boat as Blount coming into the season. Joe McKnight and C.J. Gable split carriers with Johnson in 2008. Johnson was favored to be the premier back in 2009 before tragedy struck.
Early in the season, Johnson was on the bench press when the bar slipped out of his hand and crushed his neck. Doctors worked for hours and managed to save his life. Doctors took it one step further, and were able to expand Johnson's crushed windpipe so he would be able to breathe well enough to play football again.
Johnson went undrafted because he is one of those high risk players. He is very unproven, but could end up being a draft gem.
Alvin Pearman
Pearman is the dark horse in this position battle. While he may not have the running skill of Blount or Stafon Johnson, Pearman is a five year veteran and is pretty good on special teams. Pearman already knows the special team strategies and will actually be used from game to game.
Javon Ringer
Ringer is currently Chris Johnson's backup. If CJ2K refuses to play this year, Ringer is going to be the starter. Throughout college and even in the draft, the knock on Ringer was his small stature.
During OTA's, Ringer has tried to show he can carry the load. While the focus will still be on Johnson this year, Ringer will become a solid backup.
William Rose
Rose is the least known of all the runningbacks on the team. He played at Florida Atlantic with Rusty Smith as a fullback. Rose never was the star of the team, but he was recognized as one of the best fullbacks in college football.
There is no fullback spot on the All-American team, but at heismanpundit.com they voted Rose as the pre-season All-American fullback last year. Rose could very well give Ahmard Hall a run for his money at the fullback position.
William Rose Florida Atlantic Highlights
The Starter
Chris Johnson is guaranteed the starter position as long as he stops holding out. If Johnson does continue to hold out into the season, Javon Ringer should have the starter position.
At the fullback position, Ahmard Hall should keep his starter position. William Rose is very good, but that was against low level college teams. Switching Hall for Rose would be trying to fix something that is not broken.
The Backups
There are four guys, and most likely three runningbacks will be kept for backups and special teams. Ringer will be the first backup on the team. When Johnson is winded, Ringer will be the guy relieving him.
LeGarrette Blount will most likely be the next backup on the roster. He is the only runningback on the team who would be considered a power back. Blount may get a lot of playing time on short yardage situations.
The final backup will be the hardest decision for the team to make. Both runningbacks are very good, but it will come down to special teams play, and Alvin Pearman is able to do that for the team.
The Cut
Stafon Johnson will end up being the odd man out in this position. All is not lost for him as he will be put on the practice squad to get ready to try again next year. Johnson could be a very good back in the future, but he is still recovering from his life threatening injury.
Check back soon for the next edition of Cutting the Roster for the wide receiver position battle. Follow me on twitter @Titan_Touchdown to get updated about new posts.
Other Parts
1. Quarterbacks
2. Runningbacks
3. Wide Receivers
4. Tight Ends
5. Offensive Line
6. Defensive Ends
7. Defensive Tackles
8. Linebackers
9. Cornerbacks
10. Safeties
11. Special Teams
Keep up to date with our Preseason Roster Updater
This article is
What is the duplicate article?
Why is this article offensive?
Where is this article plagiarized from?
Why is this article poorly edited?

Tennessee Titans: Like this team?