Clint Barmes, Jason Hammel are What the Colorado Rockies Are All About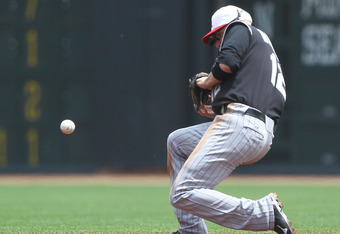 Jed Jacobsohn/Getty Images
The Colorado Rockies are not a team that is built around one or two superstars.
The club won their second straight game against the San Diego Padres on Tuesday 6-3, thanks in large part to two players who few would refer to as superstars.
Clint Barmes and Jason Hammel combined to lead the Rockies to a huge June victory.
Barmes, a popular target for fan criticism, hit a three-run home run in the seventh inning to give the Rockies a 4-0 lead.
In the ninth inning, with the Rockies up 4-3, Barmes once again came through, delivering a run-scoring single that started a two-run inning for Colorado.
Hammel continued his phenomenal run. He pitched six innings, giving up three runs on seven hits. The three runs all came in the seventh inning, two of which scored after he was lifted from the game.
Through six innings, he was extremely impressive. He held a first-place Padres team to just two hits and no runs going into the seventh. In June, Hammel has given up just eight runs in 39-1/3 innings.
With the exception of his last time out against a great hitting Red Sox team, who knocked Hammel around for four runs in four innings, the right-hander has been nothing less than dominant.
The Rockies are a team that relies heavily on their role players coming through for them. Their middle-of-the-road payroll does not allow them to fill their entire roster with superstars.
The club has done a great job of filling the roster with talented players, but being competitive means many of their top players are young and therefore, affordable.
While those young players develop, the Rockies need a guy like Clint Barmes, who can play second base as well as anyone in the league, to be able to carry the team on his shoulders from time to time.
In addition to pulling his weight at the plate, the Rockies also need Barmes to be a guy who can do what he has been doing.
After Troy Tulowitzki went down, the Rockies asked Barmes to slide over to shortstop and help the team stay in the race.
Without missing a beat, Barmes has been everything that the Rockies could have hoped for. Hitting primarily out of the eight hole, Barmes is second on the team in runs batted in with 38.
Hammel is another success story for the Rockies. He is a castoff from the Rays after losing out on their fifth starter battle in 2009.
The Rockies signed him as an option to be either a long man out of the bullpen or to slide into the rotation if they needed him in that role.
The tall right hander went out and won 10 games for the Rockies in 2009, ensuring himself a spot in the rotation for 2010. Hammel is technically the team's fifth starter.
However, the way he has pitched has been far from the type of pitching that is normally expected from a fifth starter.
When a club throws their fifth guy out there, his job is basically to limit the damage as much as possible in order to keep his team in the game. Not many people envision winning 1-0 games with their fifth starter on the mound.
The difference is that Hammel does not pitch like the average fifth starter. He mixes an impressive curveball with a fastball that can touch 96 mph.
Hammel will never be confused with Ubaldo Jimenez, but having a guy at the back end of the rotation who can be depended on for six solid innings every single time he takes the mound is a pretty big luxury for a team to have.
The Rockies go for their first road sweep of the season on Wednesday afternoon in San Diego. A win would put them just three games back of the Padres in the National League West and would be a huge statement about how good this Rockies team actually is.
For more on the Rockies visit RockiesReview.com
This article is also featured on INDenverTimes.com
This article is
What is the duplicate article?
Why is this article offensive?
Where is this article plagiarized from?
Why is this article poorly edited?

Colorado Rockies: Like this team?