Pittsburgh Steelers: Who Will Replace Willie Colon?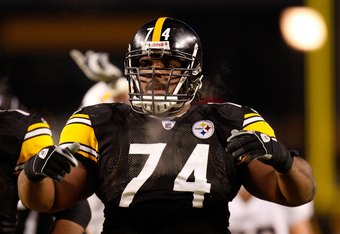 Gregory Shamus/Getty Images
The Pittsburgh Steelers suffered a big blow to their offensive line Monday when Willie Colon was possibly lost for the 2010 season with an injury to his Achilles tendon.
Many people wondered before Colon was injured if the Steelers offensive line would be good enough for the Steelers to make the playoffs. Now things look even bleaker. So what will the Steelers do now that they have lost one of their key components?
Here is the list of potential replacements.
Logan Mankins, New England Patriots.
Logan Mankins is an amazing guard for the New England Patriots. He has been to numerous Pro Bowls and has demanded a trade from the Patriots.
Mankins would be a great addition to any offensive line, but a guard does not necessarily have the skill set to be able to move over to tackle. Not only that, Mankins is a restricted free agent, and if the Steelers were to trade for him, he is going to want to be paid as one of the top offensive linemen in the game.
Add to that, the Patriots, who tagged Mankins with a first- and third-round tender, are probably going to be looking for more in a trade than the Steelers are going to be willing to pay.
Do you take the chance of paying a first-round pick and a massive contract for someone that you hope will be able to switch positions and still be as good? I don't think so.
Trai Essex
Essex has done a decent job with the Steelers as a back up. For the last two years, Essex has pushed Colon for the starting job on the right side of the Steelers line.
The problem lies in that he has not been able to take the job from Colon. If the Steelers are to just hand him the job, it is going to obviously be a step down from Colon, and the Steelers are not good enough to overcome that big of a step down.
Kraig Urbik, Maurkice Pouncey and every other guard currently on the Steelers roster.
No, no, no, no, no, and one more time, no.
As I explained above, just because you can play guard does not mean you can play tackle. Tackles must be faster than guards for the simple fact that they go against speed-rushing defensive ends and outside linebackers.
Guards handle interior defensive linemen and blitzing line backers, who are running up the middle.
Occasionally, you get a guard that is fast enough to make the transition, like Alan Faneca, but there is no one on the Steelers roster at guard that has that skill set. This is an accident waiting to happen and a terrible mistake that could cost the Steelers a lot of games.
Ramon Foster
Foster is entering his second year in the NFL and came to the Steelers as an unrestricted rookie free agent.
Though he did play pretty well as a rookie, are you willing to bank the season on him? I would say probably not. The Steelers need to bring is someone that can push Foster, and make him earn the starting role. And, NO, Essex is not the one to push him.
Tony Hills
Hills has been with the Steelers for the last three years. He has not even had the ability to push for even the main backup spot, let alone compete for a starting job. He is not a real option.
Chris Scott
Scott joined the Steelers in the fifth round of the 2010 NFL Draft. Though he has potential, he is not really an option at this point. He has not even put pads on, so odds are, he is not going to be lining up in the starting role.
Jonathan Scott
Jonathan Scott joined the Steelers this year on a one-year contract. He was a free agent from the Buffalo Bills. Scott was brought in to compete for a backup role more so than that of a starter.
He will be given a shot to prove that he has the ability, but honestly, if he were that good, would Buffalo have just let him walk away with out even a restricted free agent tender? Best guess is no, so he probably won't be good enough to earn the starting job on the Steelers right side.
Jared Gaither, Baltimore Ravens
The Ravens have done almost everything they can to get rid of Gaither this off season. He is no longer in the Ravens long-term plans with last year's drafting of Michael Oher.
Though the Ravens would not normally be in the market to make a trade with the Steelers, this could be a win/win situation for the Ravens and the Steelers. The Ravens don't want Gaither anymore because at the end of the 2010 season, he will become an unrestricted free agent. They are not going to pay him at the end of the year, and have been wanting to get rid of him all season.
If the Ravens would be willing to give up Gaither for a third-round pick (most compensation offers I have heard of, have been for a fifth-round pick or later), the Steelers could solidify the right side of the offensive line.
What do you think, Steelers Nation? Who do you want starting on the right side of the offensive line?
This article is
What is the duplicate article?
Why is this article offensive?
Where is this article plagiarized from?
Why is this article poorly edited?

Pittsburgh Steelers: Like this team?