Southpaw Special: The 10 Best Left-Handed Relievers In MLB History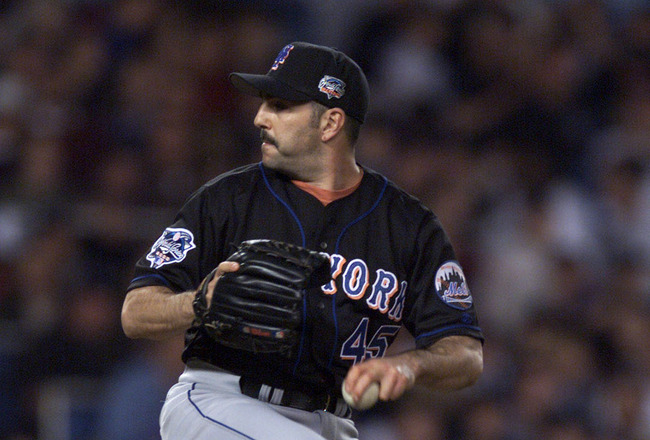 Many baseball fans might not realize it, but left-handed relief pitchers have always been a hot commodity. Whether its to secure a lefty specialist role or bring the heat from another angle, southpaw relievers have played a vital role on many successful teams, and some have put up intriguing career numbers.
Back in June 1994, New York Mets closer John Franco recorded his 253rd career save to lead all left-handed relievers in career saves. A lot has changed in 16 years, and many lefty relievers have left a mark on baseball between then and now, and even beforehand.
To honor John Franco and the many dominant left-handed relievers in MLB history, here are the top 10 left-handed relievers of all-time.
Missed the List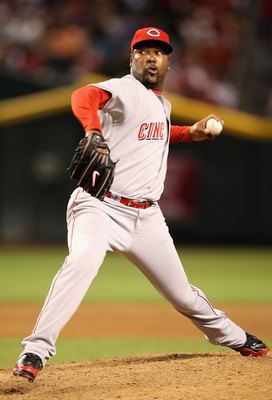 Here are several lefties that just barely missed the top 10 but still deserve the honorable mention.
Darold Knowles, 1965-1980
Ron Perranoski, 1961-1973
Arthur Rhodes, 1991-Present
Mike Stanton, 1989-2007
Wilbur Wood, 1961-1978
10. Gary Lavelle, 1974-1987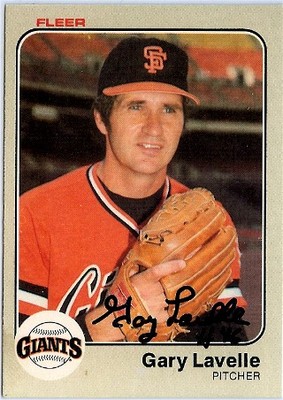 It seems as though long-time San Francisco reliever Gary Lavelle rarely gets acknowledgment for the consistency that he brought to the Giants bullpen. In 11 years with the Giants, Lavelle's seasonal ERAs never exceeded 3.84, having posted an ERA in the mid-twos in eight of those seasons.
A two-time All-Star, Lavelle finished off his career having appeared in 745 games. He amassed 136 saves and won double digit games in three different years.
His excellent consistency is evidenced by his career 2.93 ERA and 1.33 WHIP, and having walked just 440 in his career. Lavelle is remembered as a workhorse and one of the most reliable southpaws the Giants bullpen has ever seen.
9. Dave Righetti, 1979-1995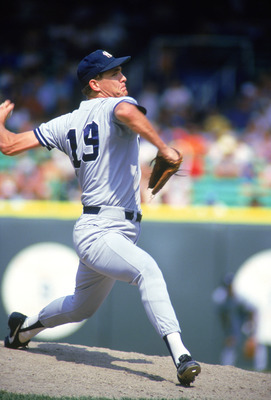 Dave "Rags" Righetti spent the bulk of his years as a reliever with the New York Yankees and San Francisco Giants before retiring from baseball as a starter with the Chicago White Sox.
Brought up with the Yankees, Rags was initially a starter. He won Rookie of the Year in 1981, going 8-4 with a 2.05 ERA for the Yanks. He followed that up by tossing a no-no against the Boston Red Sox on the fourth of July in 1983.
Overwhelmed with starters, the Yankees moved Righetti to the bullpen in 1984, where he began to dominate as their closer. Rags was an All-Star in 1985 and 1986, saving 46 and 31 games each year respectively. Those 46 saves led the league in 1985.
Through his 16 year career, he saved 252 games, a record for left-handed relievers that he held briefly following the 1993 season until John Franco broke it in June 1994. Rags won 82 career games and struck out 1,112 batters in 718 games. He ranks 29th on the all-time list of saves leaders.
8. Dan Plesac, 1986-2003
Dan Plesac isn't just an MLB Network analyst. A dominant lefty setup man throughout his career, Plesac had an immediate impact early in his career bursting onto the Milwaukee Brewers staff in 1986 and evolving into their closer.
His first four seasons for the Brewers were some of his most memorable. During those years, appearing in 210 games, Plesac recorded 100 saves. His ERA never exceeded 2.97 in first four years as a Major Leaguer. He was an All-Star from 1987-1989 as well.
Plesac won a career-high 10 games in his debut season and struck out a career high 89 in 1987.
"The Sac Man" hit a rough patch in 1991, in which he started some games. Since then, he moved on from Milwaukee and pitched for the Cubs, Pirates, Blue Jays, Diamondbacks, and Phillies as a reliable setup man and lefty specialist.
Plesac retired from an 18 year Major League career in 2003 having pitched in 1,064 games while recording 158 career saves with a 3.64 ERA and a respectable 1.28 WHIP.
7. John Hiller, 1965-1980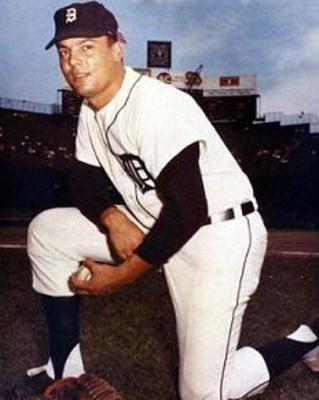 Hiller has an interesting story behind his name. The career Detroit Tiger won the AL Comeback Player of the Year Award in 1973, returning to baseball after suffering a heart attack in 1973.
In that comeback year, he returned to form in impressive fashion. He led the league in games pitched with 65, and lead with 38 saves, a career high. Hiller's ERA that year was an amazing 1.44, and he posted a 1.02 WHIP as well.
Hiller also won the Hutch Award in 1973, an award designated in honor of former pitcher and manager Fred Hutchinson, who died of cancer. Hiller was a member of the 1968 World Champion Detroit Tigers as well.
Throughout his career with the Tigers, he won double digit games on three occasions, and was an All-Star in 1974, a year in which he went 17-14 with a 2.64 ERA.
The Tigers legendary lefty reliever retired after the 1980 season having serviced Detroit with 545 games in which he posted a career 2.83 ERA and 1.26 WHIP. He went 87-76 in his career and piled up 1,036 strikeouts and 125 saves.
6. Jesse Orosco, 1979-2003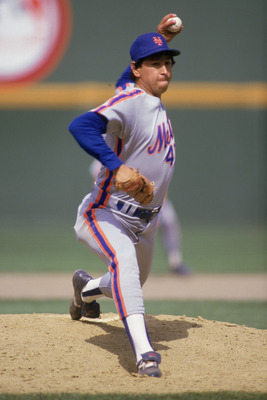 The record holder for career games pitched is none other than Jesse Orosco. To say that the lefty specialist is a longtime relief pitcher would be a vast understatement. Over the course of his 24 season career, he pitched in a record 1,252 games, 74 more games than fellow lefty relief pitcher, Mike Stanton.
His first significant Major League stint was with the Mets between 1981 and 1987, in which he was a member of their World Champion team in 1986, and an All-Star in 1983 and 1984. He spent most of his Mets days a reliable left-handed option out of the pen, and served as closer, having saved 31 games in 1984.
Throughout his career, Orosco made stops at 10 different franchises, including the Mets, Indians, Orioles, Dodgers, and he retired from baseball in 2003 following eight appearances with the Twins. He finished his career with a 87-80 record with an ERA of 3.16, 144 saves, and 1,179 strikeouts.
5. Tug McGraw, 1965-1984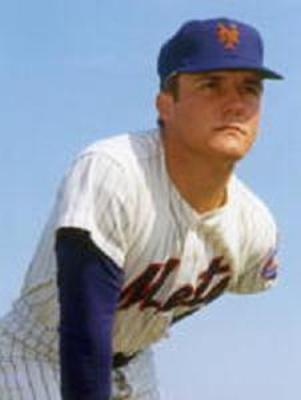 A key component to the 1969 "Miracle Mets," McGraw had an illustrious 19 year career with the New York Mets and Philadelphia Phillies. The two-time All-Star is also very much remembered for recording the final out in the 1980 World Series, striking out Willie Wilson of the Royals, helping the Phillies earn their first championship.
McGraw really broke out with the Mets in 1971 and 1972, having recorded a 1.70 ERA each year. He proved to be a reliable closer, and ended up saving 180 games over the course of his career.
Tug has a special place in the hearts of Mets fans, as he coined the phrase: "Ya Gotta Believe!" Mets fans today still live by those words of wisdom.
Tug finished off his career with a 96-92 record, having struck out 1,109 and maintaining a career 3.14 ERA. Even after nine years with the Mets, and 10 with the Phillies, fans will always remember his winning mentality and valuable lefty stopping power in the bullpen.
4. Randy Myers, 1985-1998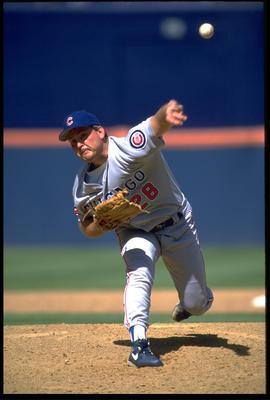 Randy Myers is arguably one of the most underrated closers of all-time. Myers in ninth on the list of career saves leaders with 347. Another member of the Mets 1986 World Championship team, he began closing games with the Mets in 1987 and proved to be lethal against left-handed hitting.
His best years as a closer came with the Chicago Cubs and the Baltimore Orioles in the mid-90s. He led the league in saves three times between 1993 and 1997. He saved a career high 53 games for the Cubs in 1993, a single season record for left-handed relievers.
Myers had a notable playoff impact at as well. He was a member of the 1990 World Champion Cincinnati Reds. He saved 31 games that season and followed it up by being named the NLCS MVP.
Statistically, Myers's all-around best season came in 1997 with the Orioles, a year in which he saved 45 games while going 2-3 with a minuscule 1.51 ERA and 1.15 WHIP.
The four-time All-Star finished off his career with a 3.19 overall ERA and only 396 walks in 884.2 career innings pitched.
3. John Franco, 1984-2005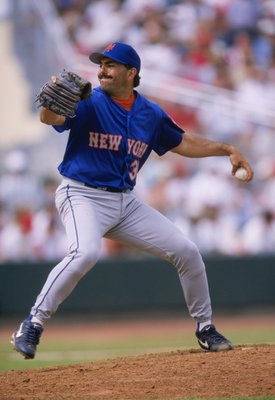 With 424 career saves, John Franco has more than any other lefty reliever in Major League history. Out of his 21 big league seasons, Franco spent his first six with the Cincinnati Reds and moved on to the New York Mets where he would serve as a team captain. He finished off his career in 2005 after a brief stint with the Houston Astros.
Franco was named to four All-Star teams. Interestingly enough, Franco was dealt to the Mets in 1989 for fellow dominant southpaw closer Randy Myers. He saved at least 30 games in a season eight different times. He stuck around with the Mets as their closer until 1999 when he became Armando Benitez's setup man.
John Franco retired from baseball with 424 career saves and currently ranks fourth on the list of all-time saves leaders. He finished his career with a 90-87 record with a 2.93 ERA. He pitched in 1,119 career games, good for third in major league history and for an NL record.
2. Sparky Lyle, 1967-1982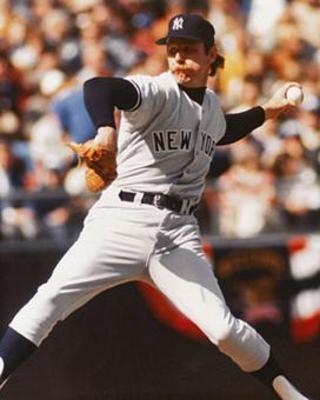 Sparky Lyle spent the majority of his big league career in a Boston Red Sox and New York Yankees uniform. In his debut season in 1967, he was almost instantly named the Red Sox closer, a position he would maintain with the team and into his years with the Yankees.
As a reliever, he worked over 100 innings in six different seasons. The three-time, All-Star put up his most dominant numbers with the Yankees between 1972 and 1978.
In fact, he became the first AL reliever to ever win the Cy Young Award. He did so in 1977, in a year in which he led the league in games pitched and finished with 72 and 60 respectively.
He went 13-5 with a 2.17 ERA over a career high 137 innings of work. He received heavy MVP consideration as well, as he did in 1972 when he led the league with 35 saves.
His cumulative numbers only show how much of a hard worker he was. Never starting a game, Sparky Lyle pitched in 899 games and 1390.1 innings during his 16 seasons.
He won 99 career games, the most among the major lefty relievers. His career ERA was also an impressive 2.88. He recorded 238 saves. The notorious clubhouse prankster and dominant southpaw also won two championships with the Yankees in 1977 and 1978.
1. Billy Wagner, 1995-Present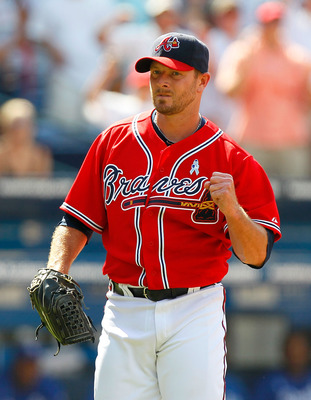 Absolutely no lefty out of the bullpen brings the heat like Billy Wagner. He's struck out 1,138 and counting, hoping to overcome the 1,179 that Jesse Orosco struck out throughout his career. Wagner's career high for strikeouts in a season came in 1999 when he struck out 124 batters in 74.2 innings.
Out of his 15 seasons as a Major Leaguer, his yearly ERA exceeded 3.00 only once in an off year in 2000. Other than, his consistently low ERA's earned him six All-Star nods. He's a big finisher, leading the National League in games finished in 2003 and 2005 with 67 and 70. Wagner has saved 40 or more games twice in his career, and 30 or more eight times.
The most outrageous number on his career stat line is definitely is WHIP. He doesn't give up hits easily and can avoid the walks, therefore explaining his career 1.00 WHIP. In 2003, he walked just 23 batters in 86 innings.
Wagner is also interesting because he isn't a natural-born lefty. He grew up right-handed, but after breaking that arm several times, he taught himself how to pitch lefty. His ability to bring the heat with an arm he began developing on his own like that is astonishing.
"Billy the Kid" just became a member of the 400-save club, planting him fifth on the list of all time saves leaders, second most by a left-hander. He needs just 25 more to surpass John Franco to hold the most by a lefty. Time will tell if that's possible. He's got 15 in Atlanta already this year, but his Major League career beyond this season is uncertain.
To this point in his career, his overall numbers are the most striking out of any southpaw relievers. He is 45-38 with 400, and a 2.34 ERA in 813 appearances.
Either way, through his phenomenal numbers and rocket arm, Billy Wagner is the best all-around left-handed reliever the MLB has ever seen.
Keep Reading