Why the Rest of the New York Mets' Season Starts Today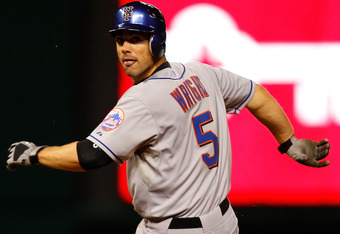 Jared Wickerham/Getty Images
Here we are, New York Mets fans. It's nearing the midway point of the season, and the team we love is a half-game out of first, and 10 games above .500.
Who would have thunk it? Certainly not me.
I went into this season with mixed feelings about this team.
I felt that if they could stay healthy, they could put up a fight, and maybe sneak into the playoffs via the Wild Card.
I felt the pitching staff would be a major issue. I felt the team still lacked the "chemistry" that seems to be important when making a run at a championship.
I was really questioning the offseason moves the Mets made—not going after some of the top free agent pitchers, picking up a plethora of catchers, and not really adding any of the speed and defense they talked about being important to win at Citi Field.
I'm happy to admit (for now at least) that I was wrong.
Since May 21, when the first Subway Series of the season kicked off, the Mets are on fire.
The team is 18-6 since then, going from last place to the verge of first, all while playing the best baseball I've seen the Mets play since 2006.
They've taken advantage of a lot of things, especially a soft schedule, to make this run and get back into the mix to the delight of fans everywhere.
I won't criticize the Mets for beating up on teams such as AL bottom feeders Baltimore Orioles and the Cleveland Indians, because that's what winning baseball teams are supposed to do—they beat the bad teams and try and at least break even against the good teams.
In his post on metsblog.com, Matt Cerrone points out something that I couldn't agree with more:
…it's not just that, it's so many other moves that we were all yelling for, that initially didn't happen, but now are happening and the team is winning, like Chris Carter on the roster, not Mike Jacobs … no Gary Matthews Jr … removing Oliver Perez from the rotation… promoting Ike… not hitting Jose Reyes third… etc… i'm not saying we know best, but i think it's important that people understand that just because we're fans, and just because we don't travel with the team or work behind the scenes, it doesn't make us wrong… sometimes, like this season, we're a whole lot of bowl of right …
Mets management has put a team on the field that's easy to get behind. They're a young group of guys that goes out and plays the game the right way. They hustle, they have fun, and they seem to have each other's back out there.
All that being said...
The real test for the Mets starts today, as their schedule takes a sharp turn and puts them up against some much better competition. The team's next three opponents, the Yankees, Tigers, and Twins, have a combined record of 115-82. All three are legitimate playoff contenders.
Seeing how the Mets fare on the road at Yankee Stadium and at home against good teams will be a very strong indicator of how the rest of the season might go.
I'm most worried about playing the Yankees at The House That Jeter Built as the Mets have up until recently struggled on the road. Taking one out of three will make for a very successful road trip taking seven out of nine, but the way this team is playing I'm hoping for more.
I'm enjoying my new found confidence in the Mets, and I hope they continue to play the kind of baseball I can get behind for the rest of the year.
This morning, I'll be busy getting behind my country rooting for USA soccer, but tonight it's all about the Mets.
This article is
What is the duplicate article?
Why is this article offensive?
Where is this article plagiarized from?
Why is this article poorly edited?

New York Mets: Like this team?