New York Mets Score Plenty Of Runs for Jonathon Niese in Sixth Straight Win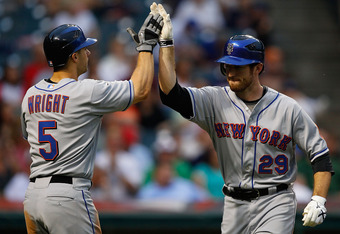 Jared Wickerham/Getty Images
CLEVELAND- The Mets are going from a team that can stay in the race to a team that may be elite. Now, let's not get carried away; they have won five of their last six against the Orioles and Indians, but who cares? If the Mets weren't winning these games, people would be all over them.
The Mets won their sixth straight game tonight, beating the inept Cleveland Indians, 8-4, and improving to nine games over .500.
Jon Niese was on the mound looking for his third straight win coming off the disabled list and he was good enough. He wasn't as dominant as his last start, his complete game, one-hit shutout, but he pitched seven quality innings, holding the Indians to three runs.
The Mets backed him up, as they continue to score early and often. For the third straight game, the Mets put together a five-run inning. It's the first time they've done that since August 2004.
They got the five runs in the third inning to go up 5-0. They stringed together six straight hits, including the last four being doubles from the nine through five hitters. David Wright was part of the big rally again with a two-run double, giving him an NL-high 52 RBI on the season.
The Mets have been helped all series by the Indians defensive follies, and in that big third inning it held true. Ike Davis hit a ball to fairly deep left field where Shelley Duncan misplayed a catchable ball, having it bounce behind him, allowing a run to score. It was the first of two doubles in the game for the suddenly hot Davis.
The Indians started to chip back at the deficit in the fourth and fifth innings. They scored two in the fourth on a Duncan two-run home run, his second in two games.
In the fifth they scored a run on a Carlos Santana RBI single, but he ended the inning by oversliding the bag at second on a double.
Only up 5-3, the Mets got all three runs back in the sixth off of Mitch Talbot. Jeff Francoeur singled in a run and Angel Pagan singled in two runs, as the Mets extended their lead to 8-3. Pagan went 3-for-5 with 3 RBI and a stolen base.
Niese then pitched a scoreless sixth and seventh inning to be in line for his third straight win. Things got a little tight though regarding the Mets bullpen.
In the eighth, Jenrry Mejia walked the first two batters he faced, and Elmer Dessens came in and walked the first guy to face him to load the bases. The Indians would get a sacrifice fly, but Duncan hit into an inning-ending double play with the Mets up 8-4. Elmer Dessens would get the final three outs in the ninth, as the Mets held on to beat the Indians, 8-4.
The Mets offense put together an impressive showing, getting eight runs on 13 hits against Mitch Talbot, who had been 7-4 with a 3.59 ERA.
Jason Bay hurt himself beating out a ground ball in the second inning, as he tripped and spun around on the ground. He left the game later on with a right quad contusion.
The Mets, with the win, are now 37-28, still one-half game behind the Braves for first place. They are 11-2 in June, 17-5 since May 22, and will go for a 6-0 Baltimore/Cleveland road trip tomorrow night with R.A. Dickey on the mound, trying to improve to 10 games over .500.

NL East standings (top 3 teams)
Atlanta 38-28
NY Mets 37-28 (1/2)
Philadelphia 33-30 (3 1/2)

Series probable pitchers:
June 17
New York: R.A. Dickey (2010: 4-0, 2.78 ERA) vs. Cleveland: Jake Westbrook (2010: 4-3, 4.62 ERA)

Upcoming schedule:
New York Mets:
June 17 @ Cleveland Indians
June 18-20 @ New York Yankees

Cleveland Indians:
June 17 vs. New York Mets
June 18-20 @ Pittsburgh Pirates
This article is
What is the duplicate article?
Why is this article offensive?
Where is this article plagiarized from?
Why is this article poorly edited?

New York Mets: Like this team?