49ers Ultimate Showdown: (No. 3) 1994 49ers 28 (No. 5) 1988 49ers 21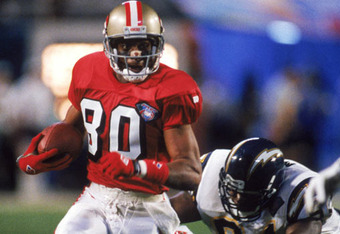 The second game of the second round is complete and one very interesting fact has been revealed: Neither team in the final game will be coached by Bill Walsh. Surprising? Yes. Blasphemous? I think not.
By virtue of a 28-21 victory over a fiery 1988 49ers team, the 1994 49ers (a team with one of the greatest offenses in NFL history) punched their ticket to the final game, giving them a shot at the ultimate prize.

This game featured two teams with impressive offenses and underrated defenses. The 1994 team had an offense that was a thing to behold, scoring more than 500 regular-season points, while the 1988 offense was headlined by legends like Joe Montana and Roger Craig.
Neither defense was stifling, but both were talented and both had big play ability.
Line Score – 1988 49ers 21, 1994 49ers 28

QTR 1

QTR 2

QTR 3

QTR 4

FINAL

1988

7

7

7

0

21

1994

7

7

7

7

28
Scoring Summary

QTR

Team

Event

1988

1994

1

1994

Jerry Rice 14 Yd TD catch from Steve Young (Brien kick)

0

7

1988

John Taylor 12 Yd TD catch from Joe Montana (Cofer kick)

7

7

2

1988

Roger Craig 17 Yd TD rush (Cofer kick)

14

7

1994

Ricky Watters 7 Yd TD catch from Steve Young (Brien kick)

14

14

3

1988

Jerry Rice 38 Yd TD catch from Joe Montana (Cofer kick)

21

14

1994

Jerry Rice 21 Yd TD catch from Steve Young (Brien kick)

21

21

4

1994

Steve Young 7 Yd TD rush (Brien kick)

21

28
Both defenses flexed their muscles early on, as neither team reached the 50-yard line on their first two possessions. A solid return by Dexter Carter set the 1994 49ers up on their own 37-yard line.

Mike Shanahan, offensive coordinator for the 1994 team went to work crafting a drive against the last defense coordinated by 1994 head coach George Seifert.
Blending runs from emerging young running back Ricky Watters with passes to tight end Brent Jones and wide receiver John Taylor, Steve Young showed the skills that helped him set an NFL record for passing touchdowns in Super Bowl XXIX and led his team into the red zone.

Shanahan wasted no time going for the big score and on second down, following an incompletion, Steve Young found Jerry Rice in the right corner of the end zone for a 14-yard touchdown.
Doug Brien's point after gave the 1994 team a 7-0 lead with 6:42 remaining in the first quarter.

The 1994 team looked poised to increase their lead quickly, when cornerback Deion Sanders intercepted a Joe Montana pass on the ensuing drive.
Montana saved face by chasing Sanders out of bounds, but the 1994 49ers were set up with another possession, this one starting just shy of the 50-yardline.

George Seifert found a way to equalize Mike Shanahan's game plan on this drive and the 1988 defense held on for a three-and-out. On the ensuing drive, it was the 1988 team's chance to get on the board.
Montana caught the 1994 defense off guard with swing passes to RB Roger Craig and fullback Tom Rathman, and ultimately found WR John Taylor for a 12-yard score. Mike Cofer's extra point evened the score at seven with 1:17 remaining in the first quarter.

The ensuing drive for the 1994 team was ended by way of a fumble. Defensive end Kevin Fagan stripped the ball from RB Ricky Watters and linebacker Keena Turner scooped it up. Time expired in the first quarter with the 1988 team holding the ball and the score tied at seven.

Bill Walsh's 1988 squad capitalized on the turnover eight plays later when Roger Craig stretched an off-tackle run into a 17-yard touchdown. The Mike Cofer extra point made the score 14-7 for the 1988 team with 10:43 to play before half time.

The 1994 49ers would equalize six minutes later with a screen pass to RB Ricky Watters for seven yards. Doug Brien's point after tied the game with just 2:10 before half time.

The 1988 49ers had the chance to take the lead at the half when a strong drive led by Joe Montana bogged down and led to a last second chip-shot field goal try. Cofer's attempt sailed wide, however, leaving the game tied at 14.

The game swung in favor of Bill Walsh and the 1988 49ers once again early in the second half. Joe Montana crafted a drive highlighted by a 12-yard scramble for a first down, and a 16-yard completion on a swing pass to RB Roger Craig.

Eric Davis, CB for the 1994 team, nearly ended the drive with another interception, but was not able corral the ball.
Joe Montana did not waste the second chance, hitting Jerry Rice over the middle for a 38-yard touchdown. Mike Cofer connected on the extra point to give the 1988 team a 21-14 advantage with 12:14 remaining in the third.

Defense tightened on both sides over the next eight minutes with several near-miss interceptions. Ultimately a turnover came by way of a fumble once again, when LB Gary Plummer forced the ball loose from FB William Floyd, and LB Ken Norton Jr. fell on the loose ball.

The play gave the 1994 the chance to equalize the score, with a golden opportunity starting a drive on their own 42-yard line. Steve Young executed Mike Shanahan's drive to perfection and found Jerry Rice open down the left sideline for a 21-yard score.
Doug Brien connected on the extra point to tie the game 21-21 with just 1:55 to play in the third quarter.
The quarter came to a close with the score still tied, setting up an exciting finish.

Defense again clamped down for both teams initially. Neither offense could find success moving the ball, but that would change when an aggressive ploy by 1988 defensive coordinator George Seifert left an opportunity open for Steve Young and the 1994 offense.

Following a second-down sack completion to Jerry Rice, the 1994 team had third-and-four from their own 39-yard line. Not wanting to concede the first down and a shot at a go-ahead field-goal, Seifert dialed up a blitz, hoping for a sack to force a punt.
Instead, the 1994 team read it perfectly, and RB Ricky Watters dropped back in protection, giving Steve Young time to roll out and find an open TE Brent Jones for 22 yards.

Three plays later, Young took the ball into the end zone himself on an eight-yard QB option roll out run for what proved to be the game-winning touchdown. Doug Brien connected on the extra point making the score 28-21 with 7:36 to play.

After forcing a punt, the 1994 49ers had the chance to essentially ice the game with a field goal at 3:05 remaining, but Brien's 44-yard attempt sailed wide-right.

This opened the door for Joe Montana to lead another last-minute drive to tie the game and force overtime.
The offense moved the ball effectively across mid-field, but when rookie defensive tackle forced an errant throw from Joe Montana, free safety Merton Hanks came down with the interception.
The chicken dance signaled defeat for the 1988 squad, as with just one timeout remaining, they could not stop the 1994 team from running out the clock.

Time expired and the 1994 team walked away a winner 28-21. This earns them a date with the 1989 49ers in the championship game, in a battle between the perpetrators of two of the biggest beat-downs in Super Bowl history.

Stay tuned and as always check out more info on my blog soon!
This article is
What is the duplicate article?
Why is this article offensive?
Where is this article plagiarized from?
Why is this article poorly edited?

San Francisco 49ers: Like this team?