Top Five Cheerleading Scandals Of All Time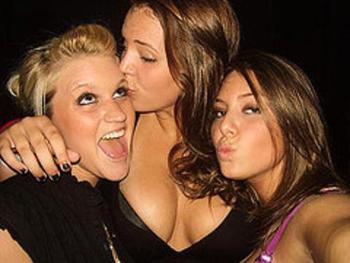 On the field cheerleaders portray the All American girl with there toned bodies, big smiles and short skirts. They jump, scream, tumble and cheer their team to victory while enticing fans to join along and get into the spirit of the game.
Off the field many cheerleaders are anything but what they portray on the sidelines in the public eye.
While cheerleaders don't make the headline news nearly as often as the athletes playing the game, when they do....It's usually big!
From sex to drugs to murder, cheerleaders have an odd tendency of making the front page for all the wrong reasons.... And like a true All American society we love to hear about it.
Here are my Top Five Cheerleading Scandals of all time.
#5 Caitlin Davis: The Drunken Van Gogh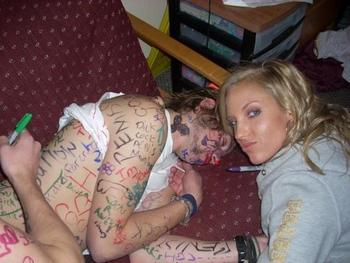 Caitlin Davis a former New England Patriots cheerleader, posted some pictures on her facebook profile of her holding a marker over her drunk friend.
Among some of the unflattering art work someone had written swastikas and penis drawings all over that particular friend. While Davis claims it wasn't her, the Patriots were not amused by it and cut her from the cheerleading squad anyway.
It is rumored that Caitlin is currently persuing a career in graphic arts and photo journalism.
#4 Indiana University: Cheering Commando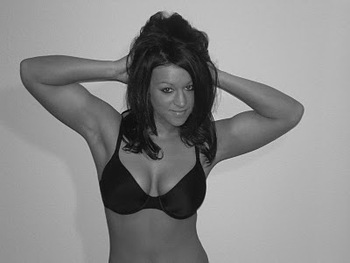 Nude photos of this Indiana University cheerleader were either stolen from her hard drive, or posted online by an ex-boyfriend, depending on which story you believe.
According to the girl's mother, she was consequently harassed so much that she had to leave Indiana for California.
Although her name was never revealed I am quite sure that nobody really cared so long as other parts of her were.
#3 Arizona State University Six: The Pajama Party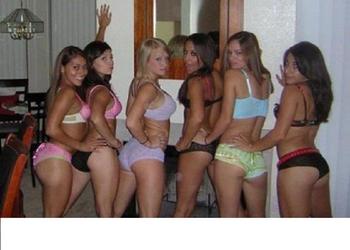 When this photo (among others) popped up all over the web showing six Arizona State University cheerleaders in the underwear, University officials took a hard stand.
Instead of just cutting the six ladies in the photos the University decided it would be best to just shut down the entire cheerleading program that year.
Some believe that the reason the program was shut down was due to a previous incident which is also my number 2 pick in my top 5 cheerleading scandals of all time. It makes women in there underwear look like childs play and puts ASU on the map for greatest cheerleaders ever!
#2 Courtney Cox: From Pom Poms To Pornos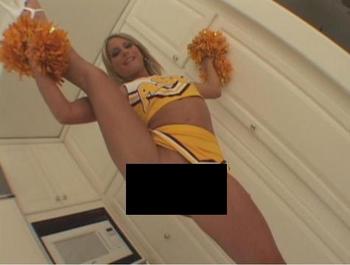 Courtney Cox might be the first cheerleader to go from the cheer squad to the bang squad.
A member of Arizona State Universities cheerleading team as a freshman Courtney would later drop out and move to California where she would take on the name Courtney Simpson.
Although no longer a student Cox still wound up causing a huge cheerleading controversy that involved ASU.
That's because she appeared in an adult film wearing her ASU cheerleader uniform, and she was featured on the movies box cover in the uniform as well.
Arizona State University looked into suing over the box cover, but her uniform was changed on the cover from ASU to USA although she is wearing the ASU uniform in the actual movie.
Simpson (Cox) would appear in hundreds of adult films in the coming years and is believed to be the sole reason Arizona State University came down so hard on my #3 pick The Arizona State University Six.
#1 Angela Ellen Keathley and Renee Thomas: Bathroom Buddies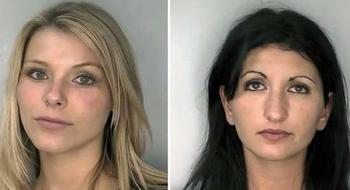 Angela Ellen Keathley and Renee Thomas were Carolina Panthers cheerleaders who made national news after reports they were having sex with each other in a bathroom stall at a Tampa, Florida night club.
Aside from reportedly having sex with one another, Thomas later struck another woman who was complaining about the amount of time the women had spent in the bathroom.
Thomas and Keathley were apparently so drunk that they struggled to walk out of the bar while being escorted by police. Renee Thomas who was under the legal drinking age capped off her evening by presenting the identification of another cheerleader to police and claiming it was her.
Both women were removed from the Topcats (Carolina Panthers cheerleading squad) and are rumored to have started a bathroom remodeling business together called Tampa Johns "what happens in a Tampa John stays in a Tampa john."
Keep Reading

Carolina Panthers: Like this team?