Top 10 Bizarre, Stupid, Terrifying, and Uncomfortable Mascots in the MLB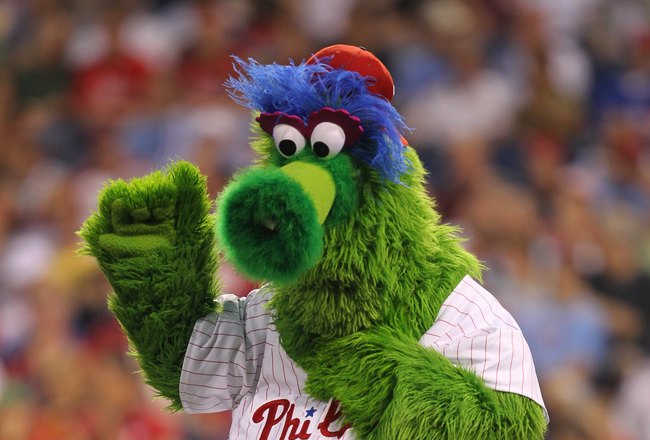 The mascots of Major League Baseball all hold a special place in the hearts of all baseball fans. Some of them, however, should be shunned from society because they are either too strange, too dumb, too creepy, or too uncomfortable to comprehend.
Here are 10 Major League mascots that stand out among the rest for all the wrong reasons.
In the end, it may seem more fitting to refer to this list as "The Top 10 Different-Colored Blobs in Major League Baseball."
Honorable Mention: Phillie Phanatic, Philadelphia Phillies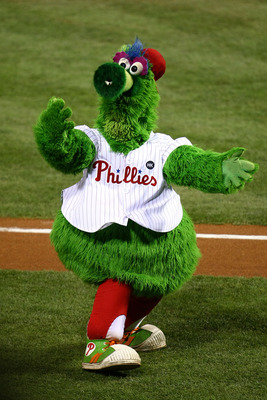 The Phillie Phanatic technically cannot appear on a list of the worst mascots in baseball, as it is often regarded as one of, if not, the best in baseball.
It does deserve a mention, because, look at it. Nobody knows what it is.
The issue with the Phanatic is that since it was introduced in 1978, it set a disgusting precedent for the rest of baseball. It allowed for Major League teams to get very creative in generating unidentifiable mascots.
Many teams got way too creative, as will be seen throughout the actual top 10 list.
10. Sluggerrr, Kansas City Royals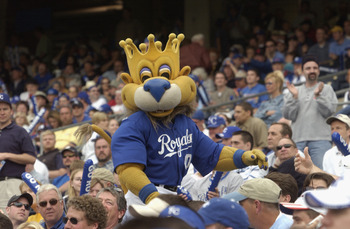 Sluggerrr is not a terrible mascot, aside from its dopey name. The big issue here is the crown. It literally looks like a part of Sluggerrr's head, making it perplexing to look at.
Maybe if it was more obvious that Sluggerrr was a lion, it would not be as strange as it appears.
9. D. Baxter the Bobcat, Arizona Diamondbacks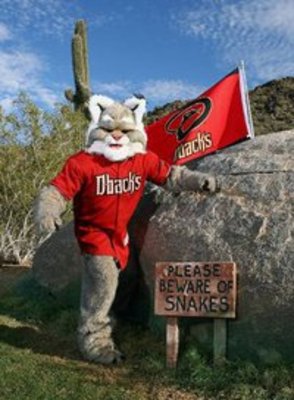 First of all, mascots tend to be kid friendly. Baxter is a bobcat. A bobcat is a scary wild animal, not the kind anyone would want to be trapped out in the Arizona wilderness with.
The idea of a bobcat mascot is terrifying enough, Baxter's look is not even dumbed down; he looks like a real bobcat.
Second of all, the Diamondbacks got the idea for a bobcat from the ballpark they play in, Bank One Ballpark, which has since been renamed Chase Field.
Good to know the Arizona masked is derived from the former name of their home venue.
8. Wally the Big Green Monster, Boston Red Sox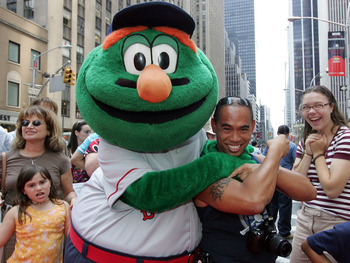 At least Wally's name makes sense, fitting in with Fenway's Big Green Monster wall in left field. But otherwise, what a peculiar character.
Wally the Big Green Monster looks like the end result of Gumby being placed on a steady, Jose Canseco prescribed diet of steroids.
It would be understandable for Red Sox fans to find the mascot lovable, but to everyone else, The Incredible Muppet Hulk must seem rather uncomfortable.
7. Southpaw, Chicago White Sox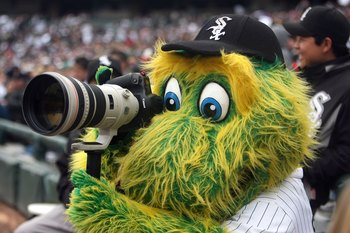 And now for the arrival of the mascots that might as well be Pokemon, Sesame Street characters, or both.
From here on out, most of the mascots on the list simply elicit a reaction as follows: "What the hell is it?" The mascots Twitter account profile says it best: "Hey! It's me Southpaw, the official White Sox Mascot. I sleep, breathe, eat (well...maybe not eat..that would be weird) the White Sox." What?
Southpaw might be cute and cuddly, but it does not seem to relate to anything in any way. Southpaw is best suited for appearing at kids birthday parties, as it does.
6. Gapper, Cincinnati Reds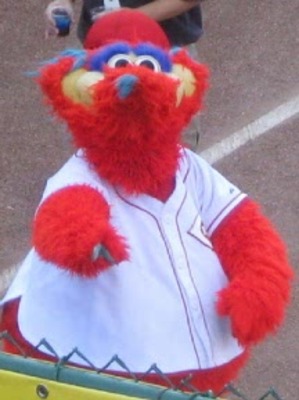 Essentially, the same that was said about Southpaw can be said here.
The best way to describe Gapper is that there is no best way. Gapper looks like Elmo's dad; that is the best way to describe him.
Don't stare at Gapper too long, he is fairly creepy. He looks like the kind of creature that appears in those bad dreams where you are running and you can't really tell what kind of creature is chasing.
5. Homer, Atlanta Braves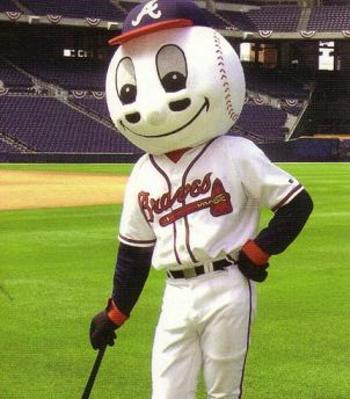 That grin on Homer's face...he's clearly smiling because he knows how big of a Mr. Mets ripoff he is. The way he smiles, he seems like the last mascot any parent would let near their children. Those big eyes are equally frightening.
His full name is Homer the Brave, a different take on the last line of the national anthem. It doesn't get any cheesier than that.
4. Slider, Cleveland Indians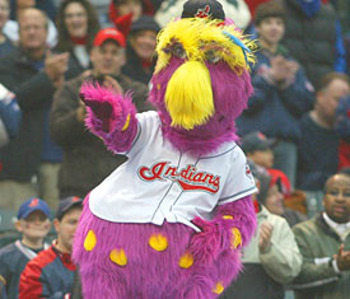 Again, see Southpaw and Gapper for more. However, Slider is the weirdest of them all. At least Gapper is red for the Reds. And at least Southpaw isn't ugly.
Slider looks like something out of a horror film, terrorizing the same people who are afraid of clowns and such.
Not only is Slider one of the strangest looking mascots in sports, its base colors are pink and yellow. Not only do those colors not relate to the Indians franchise, they barely can come close to relating to any Major League organization.
Children everywhere are probably blaming Slider for their nightmares.
3. Dinger, Colorado Rockies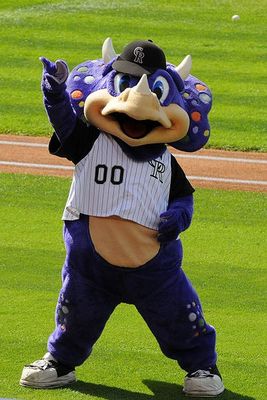 Seriously, if anyone wanted to relive their childhood, they can find a better way to do it than support this Barney wannabe. Dinger literally belongs on Barney and friends.
Dinger has probably been mistaken as a Barney character before. He's purple too!
The Rockies could have come up with anything else, and it wouldn't look as stupid as a triceratops dinosaur. What a stupid looking mascot.
Prehistoric creatures and America's pastime should never be ties together.
2. Screech, Washington Nationals
Screech wins for having the most complete and corny back story. On the Nationals website, there is an elaborate story that goes on about how the Nationals grounds crew found a large egg nestled under the stands. And it continues to mention how zoologists came from around the world to examine the egg.
Thats just too much information. Check out the full story here: http://washington.nationals.mlb.com/was/fan_forum/mascot_history.jsp
They have even had Screech grow from a baby bald eagle into a bird. It may seem cool, but there is such a thing as putting too much effort into a mascot.
Its definitely cool that America's bird is represented through the Washington mascot, but seriously, did the Nationals really need to concoct a tale about the bird? That only makes the mascot more annoying.
1. Youppi, Montreal Expos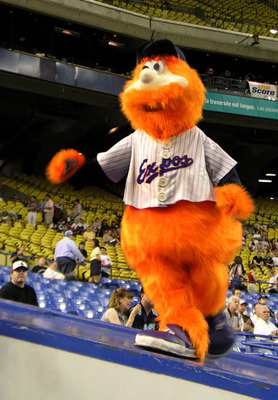 The good news is that the Youppi no longer is exists in baseball because of the Expos move to Washington.
The bad news is that it existed. And it continues to exist for the Montreal Canadiens.
Youppi can be translated as the French world for "yippee" or "hooray!" Its a decent name, but when one gets a look at, they must question everything about it.
First of all, who could have come up with this? It is the biggest, blobbiest, brightest, and ugliest of any MLB mascot ever. Its bright orange, so it could have easily been distracting to players on the baseball field.
Additionally, it was the first mascot to be thrown out of a game, as that happened in 1989 upon an in-game complaint from Tommy Lasorda.
Youppi has to be number one on the list because it fits all of the criteria flawlessly.
It is bizarre. There is no way of knowing what it represents on sight, if it represents anything.
It looks stupid.
It certainly must have scared its fair share of children.
And Youppi probably has made, and continues to make plenty of unsuspecting fans uncomfortable.
Keep Reading