Steelers Favorite Pass Time: Formula For Success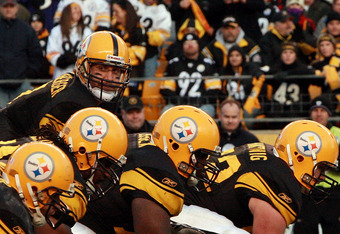 Karl Walter/Getty Images

"We have a pretty good formula here how to win," said Troy Polamalu, "That doesn't change from year to year or from decade to decade. We've had our formula here and it's been good to us."
There was an old formula and there is a new formula. The old formula included a rock solid defense. Troy, come on man, trying to spin last season's issues, as the result of an offensive problem is quiet offensive to me, and that is the last thing I expected to hear from you bra.
"But, with the smothering defense, you can't have a pass-happy offense. For example, you would think you could take a great defense and mesh them together, but our defense would not work well with a New England Patriots offense or Indianapolis Colts offense. They may put up a lot of points, but it takes a lot more energy to play our defense than a Tampa 2-type defense." said Palamalu
Someone needs to make Troy aware of the fact that the Patriots run a 3-4 as well. And with the 3rd ranked passing offense the Patriots ranked 1st last season in time of possession, Steelers ranked 3rd in Time of possession. So assuming just because you are a pass happy team your defense will be out on the field longer is quiet simply not true.
Ranked 12th in rushing, the Patriots had more success with the run, compared to the Steelers who ranked 19th. The difference in regards to play calling was that the Patriots managed to run the ball 2 more times a game while also passing it 3 more times a game on average than the Steelers did last season. All in all the models of the schemes on paper appear to be nearly identical. Talk about your copycat dynasties!

I think the concept of having balance on offense in regards to the run/pass ratio is an outdated ideology.
However knowing when to run and when to pass is not. Steelers and Patriots run to pass ratio being nearly identical pretty much outline the formula for success. It is not about balance, it is rather a proper run to pass ratio model...
Steelers did not emerge as a passing offense overnight, this emergence started as soon as Ben got of the Bus when he retired after the 05 season. Steelers passing offense ranked 9th in 06. Troy you need to face the facts, there is no Bus to get back on, if this team is going to make it to the Super Bowl this season, it will have to travel the ball through the air to get there.
In 06 & 09 the Steelers had the 9th ranked passing offense. Better yet still, in 08 the Steelers took the 9th ranked passing offense to the Super Bowl, this mind you while dragging the Steelers 23rd ranked rushing offense along with it.
The difference a season can make? Well it was a passing defense that went from being ranked #1 in 08 to being ranked 19th in 09. It is bad enough for the offense to try and drag the 19th ranked rushing offense along, but adding the weight of the 19th ranked passing defense was clearly asking too much of it last season.
The Steelers offensive line is not the strongest in the league, as a matter of fact there is a school of thought that suggests the O-line may very well indeed be the Steelers weakest link or at least a close runner up to the secondary. Question remains which unit will be more improved this season?
What I didn't like hearing in OTA's was a 6th RND WR Antonio Brown coming in and saying how he "hasn't met his match yet" among Steelers defensive backs in practice.

I honestly can't believe that Steelers can get away with trying to lean on the run as their primary weapon, especially with trying to keep up with Drew Brees and Tom Brady on the scoreboard this season. Then you have deal with the 7 games against opponents whose run defenses ranked in the top 10 against last season.
Hey Troy lets just get this straight. The Steelers scoring offense was ranked in the top ten, scoring defense was not. The Steelers passing offense was ranked in the top 10, passing defense was not. This is a cut and dry matter.
Nothing new happened last season, outside of the formula of the secondary going from being rock solid to mediocre. Seriously Troy, why not just focus on getting the secondary back up to par and stop projecting your units woes on the offense that actually held its own last season.
The Steel Curtain was a 4-3 defense: new formula for success is a 3-4. So if the offense wants to reformulate its strategy from the run to the pass, all you have to do is remain focused on doing what you do best, for indeed that is the secret of the Steelers success. The Steelers favorite pass time: is the formula for success, and that formula has always been the defense~!!
This article is
What is the duplicate article?
Why is this article offensive?
Where is this article plagiarized from?
Why is this article poorly edited?

Pittsburgh Steelers: Like this team?