'95 Cleveland Indians: The Best Hitting Lineup of the '90s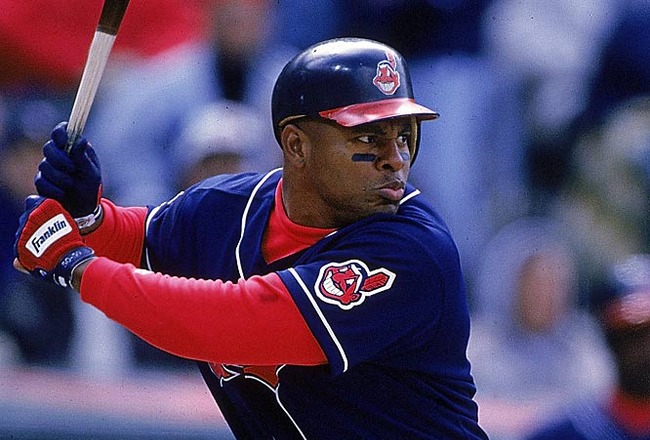 1995 Record: 100-44
Most people would argue that the Atlanta Braves and the New York Yankees were the teams of the 1990s, frequently winning their division titles and also appearing in and winning several World Series Championships.
However, some may forget that the Cleveland Indians were also one of the most consistent teams in the '90s, almost always winning the AL Central.
The Indians had two World Series appearances in 1995 and 1997 and lost both to the Braves and Marlins, respectively.
Despite not winning any titles and having mediocre pitching, the Indians maintained one of the best hitting lineups during this era.
Specifically, in proper batting order, I am going to highlight the batting lineup of the 1995 Cleveland Indians - arguably the single best hitting lineup of the 1990s.

***NOTE: This article does not take potentially corked bats or steroid use into consideration.
No.1- Kenny Lofton, CF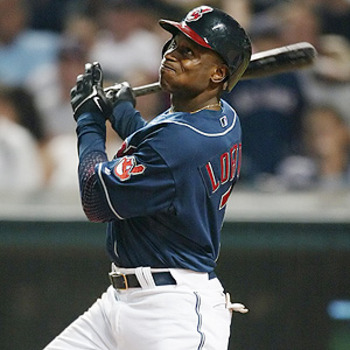 Stats at a Glance:
Batting Average: .310
Hits: 149
Stolen Bases: 54
Summary: Kenny Lofton was one of the best lead-off center fielders of the '90s, both offensively and defensively. This multiple-time gold glove winner also was a speedster who made pitchers constantly aware of his presence on base.
No.2- Omar Vizquel, SS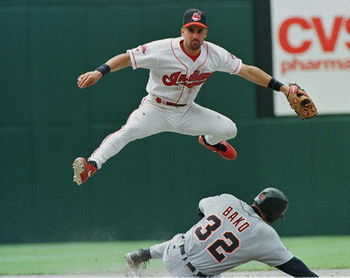 Stats at a Glance:
Batting Average: .266
Summary: Omar Vizquel didn't have too many bragging rights based on his batting, but he was a decent hitter, and arguably the best defensive shortstop of the 1990s.
No.3- Carlos Baerga, 2B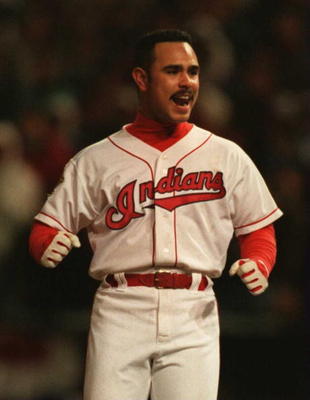 Stats at a Glance:
Batting Average: .314
Home Runs: 15
RBI: 90
Summary: In addition to being a stellar second baseman defensively, Baerga was a very solid hitter with decent power numbers for a second baseman.
No.4- Albert Belle, LF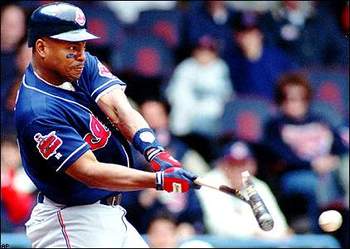 Stats at a Glance:
Batting Average: .317
Home Runs: 50
RBI: 126
Summary: Assuming his bat wasn't always corked, Belle was undoubtedly one of the best power hitters of the mid-late 1990s.
No.5- Eddie Murray, DH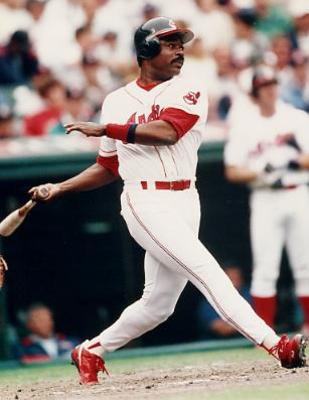 Stats at a Glance:
Batting Average: .323
Summary: Quite simply, Eddie Murray, along with Edgar Martinez, is one of the best DHs of all time. It was not a mystery when Murray entered the 3,000 hit club, considering his consistently high batting averages.
No.6- Jim Thome, 3B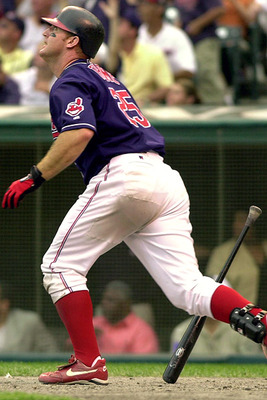 Stats at a Glance:
Batting Average: .314
Home Runs: 25
Summary: Jim Thome was a solid power hitter throughout the mid-1990s and early 2000s. Always had a solid mixture of batting average and power.
No.7- Manny Ramirez, RF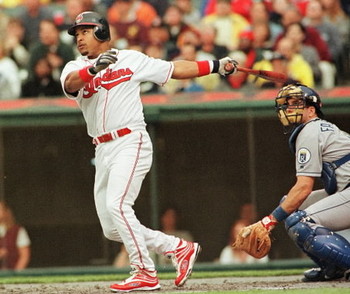 Stats at a Glance:
Batting Average: .308
Home Runs: 31
RBI: 107
Summary: Before his superstar status at Boston and LA, Ramirez was an incredible hitter all-around for the Indians, always hitting for both power and average. Who would want to face Ramirez seventh in the lineup? Jeez.
No.8- Paul Sorrento, 1B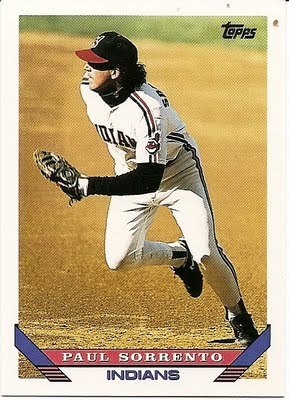 Stats at a Glance:
Batting Average: .235
HR: 25
Summary: Despite hitting a decent amount of HR, Sorrento was definitely the weakest link in the Indians' hitting lineup.
No.9- Sandy Alomar/Tony Pena, C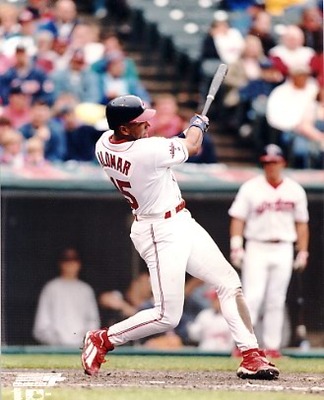 Stats at a Glance (Alomar):
Batting Average: .300
Stats at a Glance (Pena):
Batting Average: .262
Summary: Even though Pena played more games for the Indians that year, Alomar played later in the season and was definitely a solid hitter.
Keep Reading

New York Yankees: Like this team?