2010 MLB Mock Draft: Bryce Harper Becomes a Pro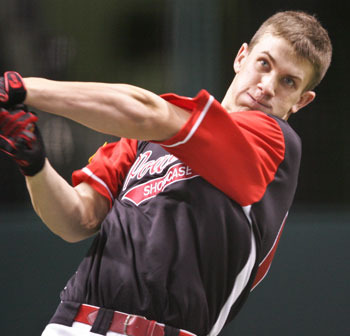 The 2010 MLB Draft is just days away. Come Monday night, a new generation of players will see their names called and their journeys to their career ambitions begin.
A year ago, it was then-collegiate pitcher Stephen Strasburg who rocked the draft. This year, it is a position player named Bryce Harper that is gaining all the attention leading up to Monday night's first round.
The MLB Draft is a 50-round affair with players drafted from places you've never heard of. However, all 30 MLB teams hope these players they select in the first round will be household names sooner rather than later.
1. Washington Nationals: Bryce Harper (C) - College of Southern Nevada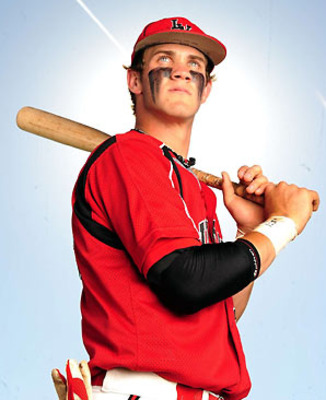 If it was possible for one player to attract more hype than Stephen Strasburg a year ago, it is Bryce Harper. Harper is already considered the best hitting catcher prospect in history. He would have entered the MLB Draft a year before had he not needed to turn 18 years old.
Every superlative under the sun has been used to describe Harper's game. The Nationals must already be drooling over the notion of a Strasburg/Harper battery for years to come.
2. Pittsburgh Pirates: Manny Machado (SS) - Brito Private HS (FL)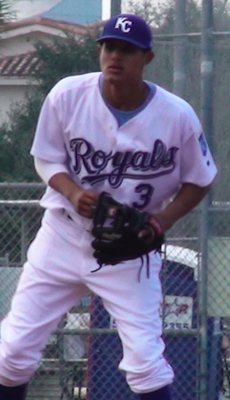 Machado is a big shortstop who projects to hit for average and power. He is rated in numerous circles as the best prep prospect in the country. Machado is a Scott Boras client, which could be enough to dissuade the frugal Pirates. If the Pirates don't take Machado, they will select...
3. Baltimore Orioles: Jameson Taillon (RHP) - The Woodlands HS (TX)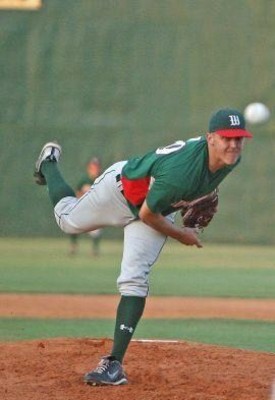 Taillon is the third of the undisputed top three prospects in this year's draft. At 6'7", big and strong with a mid-90s fastball and a plus curveball, Taillon could have otherwise been the top pick if not for the talent in front of him. He is a virtual steal for the Orioles at number three.
4. Kansas City Royals: Drew Pomeranz (LHP) - Mississippi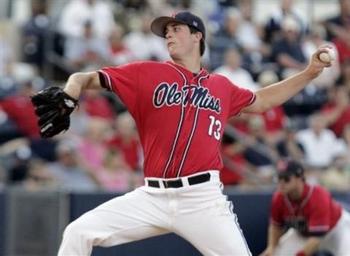 Pomeranz's name regularly pops up as the top pitching prospect in the draft, but he's just on the outside looking in of the top three.
Pomeranz, a 6'5", 235-pound left-hander, throws a fastball in the mid-90s with a plus 12-6 curveball. He finishes off his repertoire with an established changeup.
He pitches with power but mixes well on both sides of the plate. Pomeranz likely will spend little time in the minors.
If the Royals are serious about returning to a consistent winning form, they need to build around pitching.
5. Cleveland Indians: Chris Sale (LHP) - Florida Gulf Coast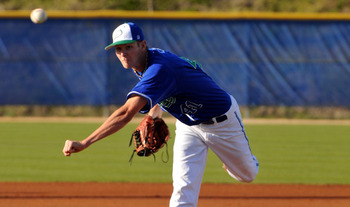 The Indians, like the Royals, need to rebuild their pitching and Sale is as good of a bet as any pitcher this high in the draft. He offers the Indians some experience as he is a college arm. Sale packs a low to mid-90s fastball and a well-advanced changeup. Currently, he doesn't possess much of a breaking ball, but mid-90s from the left side is too hard to pass up.
6. Arizona Diamondbacks: Matt Harvey (RHP) - North Carolina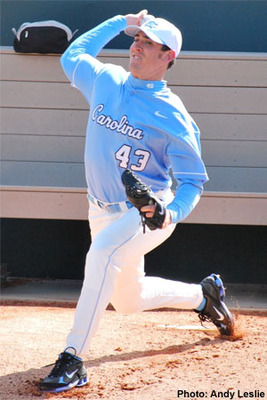 Three years ago, Harvey was one of the biggest prep prospects in the country.
Harvey regained that mojo with a strong junior season during which he showed off a mid to high-90s fastball.
Harvey still has work to do with his two breaking pitches, neither of which he's wholly committed to, and there are still some delivery inconsistencies to iron out.
At 6'4", Harvey is a big, strong right-hander who should be durable at the next level.
Reports indicate Harvey is not a "bonus baby" looking to go overslot. That combined with his physical tools should be enough to entice the D-Backs to go for a fairly polished collegiate arm.
7. New York Mets: Yasmani Grandal (C) - Miami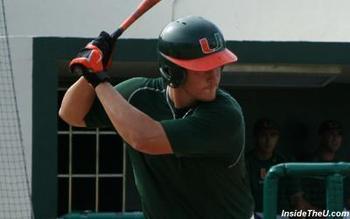 In baseball, unlike any other major sports draft, teams do not always pick to need. That should be different for the Mets this year. Grandal is the second best catching talent in the draft and the Mets very much need to build catching depth on their farm.
Grandal still has mechanical parts to his game to iron out, like his throwing and receiving.
However, no other catcher in the draft (aside from Harper) has Grandal's offensive potential. He boasts plus raw power and in 2010 demonstrated the ability to use the whole field.
8. Houston Astros: Zack Cox (3B) - Arkansas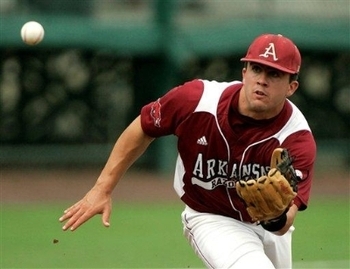 Cox is an interesting commodity. He is a left-handed hitting third baseman that, for the moment, lacks traditional home run power for a corner infielder.
He boasts a short, quick stroke that leads to line drive, gap contact though he has shown the ability to turn on inside pitches for home run power.
Defensively, he has plenty of arm for third base but needs to work on his footwork and reaction time to improve his playmaking ability. Cox is sound value at this spot for the Astros.
9. San Diego Padres: Josh Sale (OF) - Bishop Blanchet HS (WA)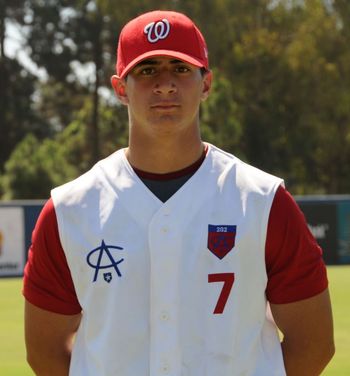 At this point on the board, it's about taking the best value remaining. Sale, a prep outfielder with power potential, is the best talent left on the board. If Sale falls to the Padres, it should be a pretty easy choice.
10. Oakland Athletics: Christian Colon (SS) - Cal State-Fullerton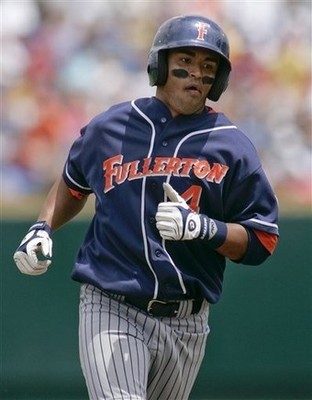 How Colon fits in is a bit of a mystery, but the Cal State Fullerton shortstop should find himself in the middle of the first round.
At 6'0", 180 pounds, his physical stature doesn't leap off the page, and he does not have much room to add size.
He remains a line drive, gap hitter with minimal pop so don't expect home runs from Colon. Defensively, he's got solid to above average range and a good enough arm. He is not a base-stealing shortstop and has to make the most out of the speed he has.
None of Colon's tools jump off the page, but he puts them together to make himself a quality across the board commodity with excellent makeup and leadership skills.
Colon is a value selection at this point for a team that needs to revamp its infield.
11. Toronto Blue Jays: Michael Choice (OF) - Texas-Arlington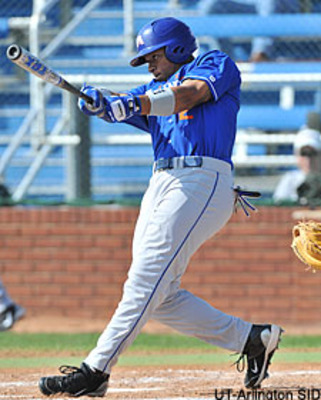 The Blue Jays young pitching is starting to come around, so Toronto will look for a bat. Choice is a good choice here (excuse the pun) given that he has collegiate experience and his learning curve will not be as steep. A right-handed hitter with plus power and a good outfield arm should give the Blue Jays a future corner option.
12. Cincinnati Reds: Alex Wimmers (RHP) - Ohio State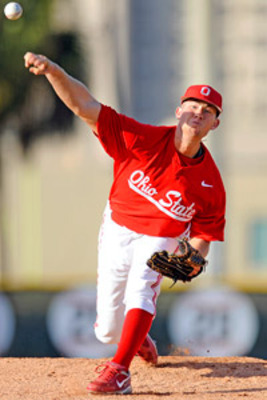 The Reds have a recent trend of leaning towards collegiate talent for the sake of cutting down development time and gaining more experienced players. Wimmers is solid value at the back end of the first round.
Wimmers doesn't overpower with his fastball, but his full complement of pitches give the Reds a nice complement to the power arms already on their staff.
13. Chicago White Sox: Deck McGuire (RHP) - Georgia Tech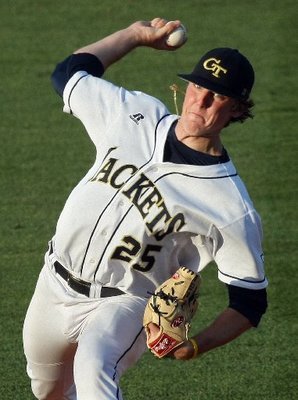 McGuire, a 6'6" right-hander, lacks a viable third pitch (changeup) at the moment, but he attacks hitters with a 92-94 MPH fastball. He smartly pitches off his fastball with a power curveball and slider that is made more difficult given the excellent downward angle he generates with his height. McGuire slipping past the Top 10 will be a surprise.
14. Milwaukee Brewers: Brendan Workman (RHP) - Texas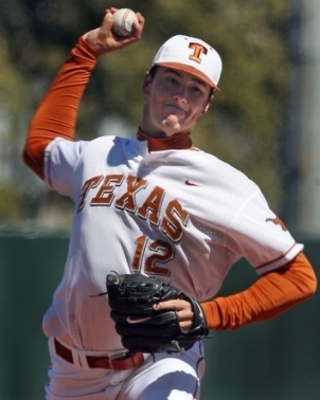 Workman is another power arm that figures to be in the discussion for the Top 10 come next week.
Workman is a big (6'4", 225 pounds) right-hander with five pitches including a power two-seam fastball and plus cutter. He backs up his fastball/cutter combination with a good curveball with excellent command.
Workman was the third round pick of the Phillies in 2007 as a prep entrant. A good decision to go to a collegiate powerhouse should land him in the middle of the first round.
15. Texas Rangers: Nick Castellanos (3B) - Archbishop McCarthy HS (FL)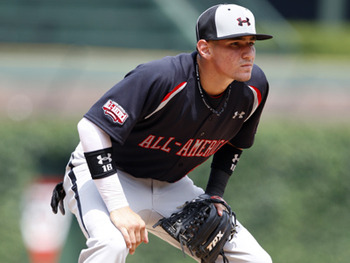 Nick Castellanos is one of the highest rated remaining prep stars on the board at this point. Castellanos has plenty of potential with the bat, but there are some concerns he may have to move across the diamond in future seasons. However, that's an advantage the Rangers get with his age as they can work with him.
16. Chicago Cubs: Stetson Allie (RHP) - St. Edward HS (OH)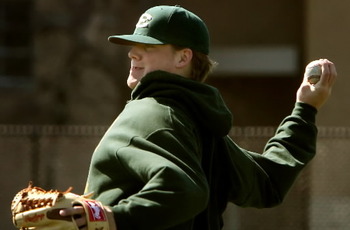 This is a tricky spot to pick for the Cubs. The Cubs know there is pressure to get a draft pick that will not take a long time to develop, but there are also questions in the pitching staff long term.
Allie's fastball was clocked anywhere from 92-97 MPH this season. He possesses some of the highest velocity in the draft. However, he will need work developing the rest of his game. This is a potentially high-risk/high-reward pick here for the Cubs.
17. Tampa Bay Rays: Bryce Brentz (OF) - Middle Tennessee State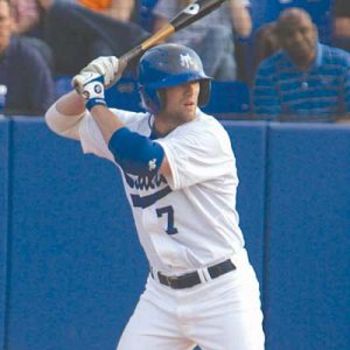 The Rays are going to experience some turnover in the outfield over the next few seasons, so it makes sense to go with the highest rated outfielder left on the board. Brentz is not a burner like Carl Crawford, but he has a strong complement of tools across the board that should make for a fairly quick ascension.
18. Los Angeles Angels: Dylan Covey (RHP) - Maranatha HS (CA)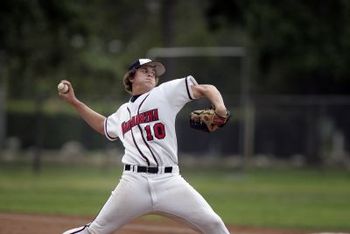 Covey is all projection at this point as a prep pitcher. Yet, at 6'0", 200-plus pounds he's got a very strong frame and a durable look for a high school pitcher. Throw in a low-90s fastball and an established curveball and he offers enough for the Angels to jump on the local product.
19. Houston Astros: Asher Wojchiechowski (RHP) - The Citadel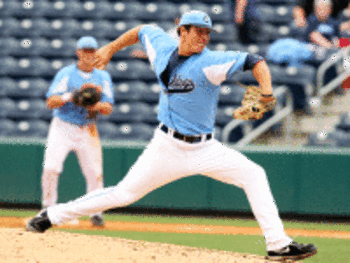 Wojchiechowski is an interesting commodity. Despite very raw breaking pitches and a low-90s fastball without much movement, Wojchiechowski is good value at this point because he stands 6'6" with a durable frame.
He's got the velocity already and a changeup he uses confidently to hitters on both sides of the plate. Throw in the fact that he's a college arm and he's a guy the Astros should jump on in this spot.
20. Boston Red Sox: Anthony Ranaudo (RHP) - LSU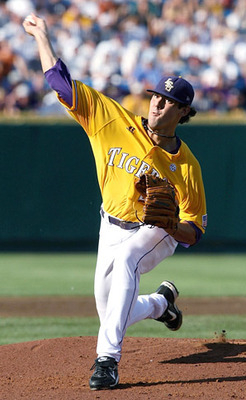 Ranaudo's projection will vary depending on what teams find out regarding his elbow.
Ranaudo endured some structural pain and that sapped some of the life off his fastball during the last few weeks leading up to the NCAA Tournament.
When right, Ranaudo features a 92-95 MPH fastball, a power curveball with plus potential and a rapidly improving changeup.
That elbow, and teams access to his medical records, could determine Ranaudo's final stock. However, the Red Sox are stocked in their rotation for the foreseeable future so they can afford to take a bit of a flier on Ranaudo.
21. Minnesota Twins: James Paxton (LHP) - Kentucky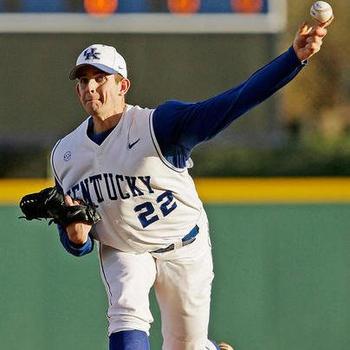 Paxton is a big, tall, hard-throwing left-hander with good collegiate pedigree. That should be enough to persuade the Twins. The one sticking point for the usually tightly belted Twins is that Paxton is a Scott Boras client.
The positive economic windfall of Target Field could be enough for the Twins to punch a ticket for Paxton.
22. Texas Rangers: Brett Eibner (RHP) - Arkansas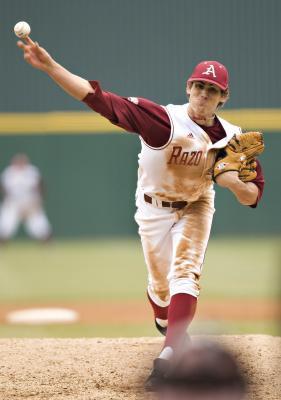 Eibner's stock moved up this season thanks to greater fastball consistency both in command and velocity.
Eibner sits 92-93 MPH with his fastball and showed the ability to touch 94. His low-80s slider shows the potential of becoming a plus pitch in the future. His changeup remains a work in progress.
Eibner is an interesting case because he spent plenty of time in center field as well. That makes his pitching skills comparatively underdeveloped to the rest of the list. The Rangers have shown they will not stand down to a project.
23. Florida Marlins: Jesse Hahn (RHP) - Virginia Tech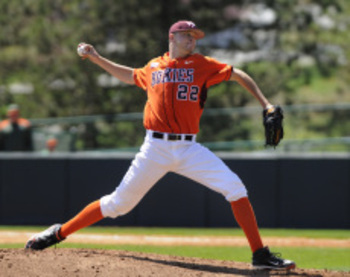 Hahn lit up Cape Cod League guns in 2009 when he hit 99 MPH on a few occasions. Since then, Hahn has helped his draft stock by pitching more than trying to blow his fastball by hitters.
As a result, he now sits 92-95 MPH with excellent movement on his heater.
He backs it up with two variations of a breaking ball that he can throw with more of a loop or tighter break.
24. sChristian Yelich
24. San Francisco Giants: Christian Yelich (1B/OF) - Westlake HS (CA)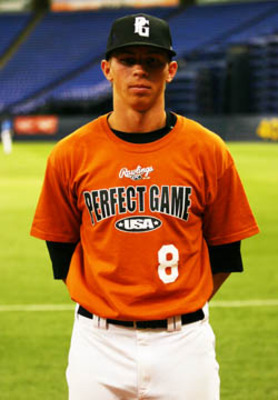 Yelich is committed to the University of Miami so it could take some serious convincing to get him to turn pro, but the California native could be persuaded enough that the Giants pick him here.
Yelich projects as an above-average contact hitter with good power. There are some concerns about his arm strength, but he is an above-average runner with good range.
25. St. Louis Cardinals: Kevin Gausman (RHP) - Grandview HS (CO)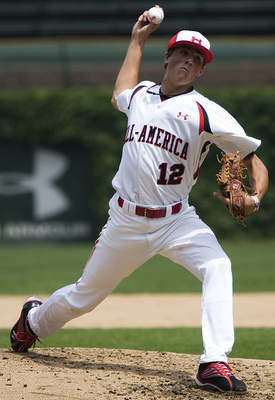 Gausman is all project and projection at this point. His fastball sits 91-94 MPH but he lacks a viable secondary pitch at this point. He needs to add core and leg strength to generate more power from his delivery. Simply, he needs work. But he'll land in the right organization for developing pitchers.
26. Colorado Rockies: Kaleb Cowart (3B/RHP) - Cook County HS (GA)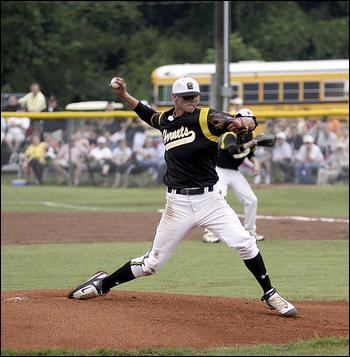 Cowart is a very interesting pick in that he can stick at either third base or on the mound. He possesses good power and a plus arm on the hot corner. Or, the Rockies could put him on the mound where he reaches 94 MPH. Either way, as a prep prospect, the Rockies have plenty of time to figure it out.
27. Philadelphia Phillies: Delino DeShields Jr. (2B/CF) - Woodward (GA)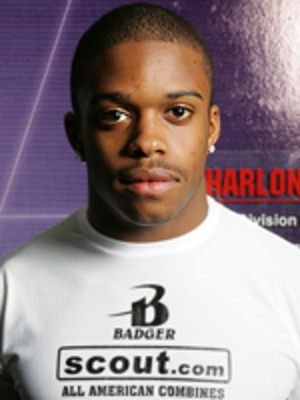 The Phillies can roll the dice on DeShields in this spot and take him as an "athlete." He makes solid contact with plenty of speed to play center field and/or the agility to handle second base.
Standing 5'8" could be a bit of a turnoff, but he projects plus-plus speed with enough stick to hang around. The only question is whether the Phillies could get him out of his football commitment to LSU at this spot. His father being a former big leaguer could be a boost in that discussion.
28. Los Angeles Dodgers: A.J. Cole (RHP) - Oviedo HS (FL)
Though a prep prospect, Cole has good size and strength. He already touches the mid-90s which should become more consistent when he adds size, especially in the lower half.
If he falls this late in the round, signability could become sticky especially with the Dodgers current financial situation. They may need to bank on the Dodgers brand.
29. Los Angeles Angels: Justin O'Connor (C) - Cowan HS (IN)
O'Connor's swing needs some work and his power is iffy with the transition to wood, but his defensive skills are well beyond his years. He has a very strong arm and boasts the touch and feel of receiving. Given his stock as a catcher, this would be a major score for the Angels at this spot.
30. Los Angeles Angels: Gary Brown (OF) - Cal-State Fullerton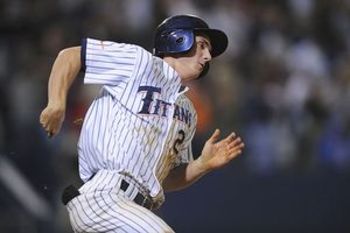 The Angels are certainly well aware of Brown who played his college ball just up the road from Angel Stadium. Brown doesn't have much power, but he boasts excellent contact skills and is a plus runner. The pedigree of playing at Fullerton should help expedite his development. He could be a base running weapon much like Chone Figgins was for the Angels.
31. Tampa Bay Rays: Kolbrin Vitek (2B) - Ball State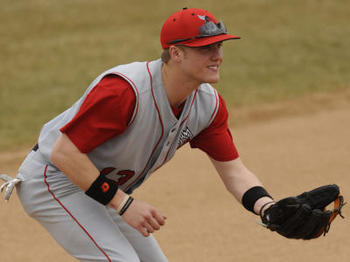 None of Vitek's tools really jump off the page. He possesses good across the board tools that make him a solid, value pick at the back of the first round. He makes consistent contact with comparable power for a second baseman. Good hands and feet allow him to cover above average range.
32. New York Yankees: Sammy Solis (LHP) - San Diego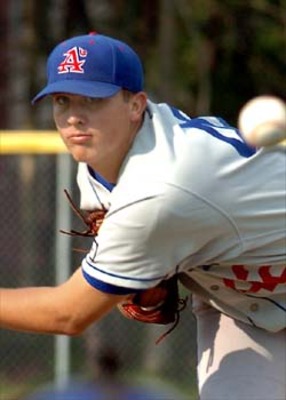 In recent years, the Yankees have shown no hesitancy to roll the dice in the first round (Gerritt Cole). Brown is likely the guy they want, but with him off the board, the Yankees go with a solid, value, collegiate left-hander.
Solis lacks that overpowering fastball for a left-hander, but he does possess a very good changeup which can be just as tough to come by from the left side.
Keep Reading