San Francisco Giants Notes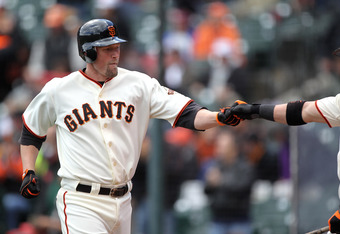 Jed Jacobsohn/Getty Images
Matt Cain threw a one-hitter tonight and was absolutely masterful. He had great command, particularly of the fastball, and there wasn't much the Diamondbacks could do.
The Giants are apparently on the verge of signing Pat Burrell to a minor league deal. One report (from Fox's Ken Rosenthal) has it that Burrell will get an option to opt out of the contract after two weeks, presumably if he hasn't been called up to the major league club by then.
That seems kind of stupid to me, at least as far as the Giants are concerned. Burrell has utterly failed to hit since the start of the 2009 season, and if it takes him more than 14 days to get his swing back at the Triple-A level, the Giants should have a little more time to let Burrell work out the kinks, if he can.
Thirty days, or at least 21 days, before Burrell has a right to opt out makes more sense to me.
SF Chronicle sportswriter Henry (now Hank) Schulman doesn't like the idea of the Giants trading for Prince Fielder because he'll cost a lot of prospects and because Fielder isn't a good long-term bet, given his body type. I certainly agree with those points, but I don't know that I agree with the conclusion that the Giants shouldn't at least consider trading for Fielder if the circumstances are right come the All-Star Break.
A player of Fielder's caliber will always cost a lot of prospects, particularly if, like Fielder, he still has until the end of next season before he becomes a free agent. If the Giants are in contention come July 10, but still in a pack of contenders (seems likely), then Fielder would be exactly what the Giants need if they are serious about winning this year or in 2011.
Getting Fielder to hit behind Pablo Sandoval would solve a whole lot of the Giants' offensive problems. That might be worth Madison Bumgarner, Waldis Joaquin, and one other legit prospect.
The Giants have young pitchers, and the Brewers need young pitchers. The Brewers have Prince Fielder, and the Giants could sure use Fielder for the last two months of 2010 and all of 2011.
Just because you give up prospects for a bona fide star doesn't mean you have to be the team to shell out the bucks when the star becomes a free agent. The Giants could offer Fielder arbitration after 2011 and get a late first-round pick in 2012 from the wealthy team that signs him. Brian Sabean doesn't like those late first-round picks, even though Matt Cain was one of those late first-round picks (25th in the 2002 draft).
The Giants have four starters right now that are as good as any team's top four in MLB. What they don't have is a second top slugger to pair up with Pablo Sandoval.
I would not give up the idea of a possible Prince Fielder trade, unless the Giants clearly don't have a reasonable chance of making the postseason come late July. The Giants' aces aren't going to be at the top of their game forever, and sometimes you have to trade away part of your future for a real shot to win now.
Call it the Fred McGriff Rule. In 1993, the Braves traded away some pretty legit looking prospects (at least Melvin Nieves looked pretty good) to the Padres for two months of Fred McGriff. McGriff hit like a fool those two months, and the Braves won 104 games, just beating out the Giants, who finished with 103 wins.
None of the prospects the Padres got ever really amounted to much.
Sometimes you have to throw caution to the wind and go for it. With the pitching the Giants have now, it might be the time for the Giants to do just that.
This article is
What is the duplicate article?
Why is this article offensive?
Where is this article plagiarized from?
Why is this article poorly edited?

San Diego Padres: Like this team?