Week-By-Week NFL Predictions: Philadelphia Eagles Will Go 9-7 in 2010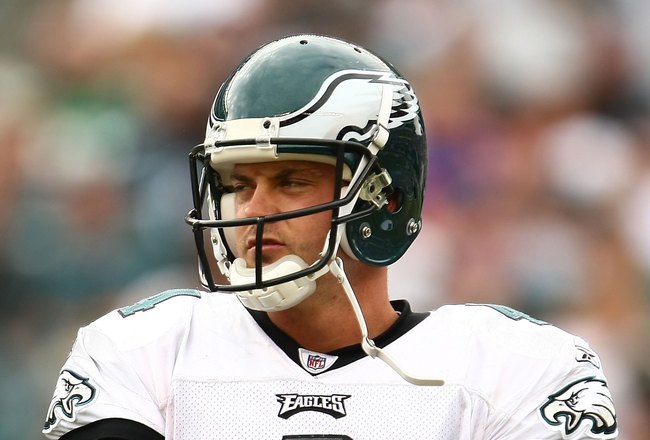 I know what you're thinking: This is ridiculous. I know it is. It's May. But, as any fan would have to admit, it's fun.
There's always something outrageously fascinating about studying your team's schedule and trying to predict wins and losses months before your guys put on the pads for real.
So here is this author's take on the Eagles week-by-week outlook for 2010.
As for the pictures, I did the best I could.
Week 1, September 12: Green Bay (4 p.m.)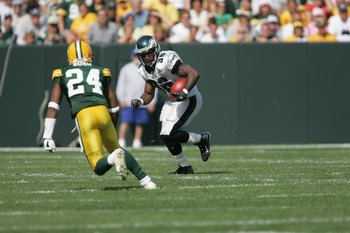 The Packers and Eagles are so similar. Unfortunately, the Packers are slightly better.
This author fully expects Green Bay to push Minnesota for the NFC North title before eventually settling for a wild card in 2010, but the Eagles' undersized defense could have trouble containing Greg Jennings and the Packers dynamic wide receiving corps.
What to look for:
Can the Eagles pass rush generate pressure against the Packers' suspect offensive line? Either way it'll be great to see the Birds break out their vintage Kelly Green uniforms in honor of the 1960 championship team.
Prediction:
Packers 31, Eagles 27
Eagles 0-1
Week 2, September 19: at Detroit (1 p.m.)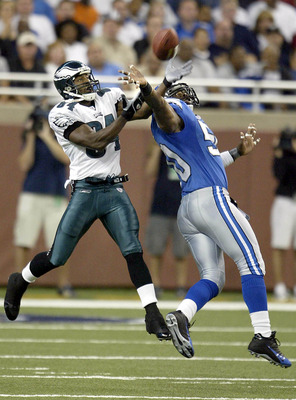 If Kevin Kolb and the offense struggled in the Week 1, they're almost guaranteed for a bounce-back performance in Detroit.
The horrendous Lions have surrendered over 1,000 points combined in the past two seasons (!!!). This is the Eagles' first game against Detroit since their 56-21 thumping of the Lions in 2007 (remember those UCLA-like replica uniforms?).
What to watch for:
There's something wrong if the Eagles don't win this game by at least 20 points. The Lions are finally heading in the right direction, but still going nowhere fast.
Prediction:
Eagles 45, Lions 17
Eagles 1-1
Week 3, September 26: at Jacksonville (4 p.m.)
The Jaguars really stink. But this game won't be easy, at least not as easy as a victory of the Lions was in the previous week. History, at least, is not on the Eagles' side. The Birds are 0-3 all-time against the Jaguars dating back to 1997.
What to look for:
Donovan McNabb played two games in Jacksonville during his Eagle career, first against the Jaguars in '02 and then two years later in Super Bowl XXXIX. He lost his lunch on the field both times.
Hopefully Kolb won't follow suit.
Prediction:
Eagles 24, Jaguars 14
Eagles 2-1
Week 4, October 3: Washington (4 p.m.)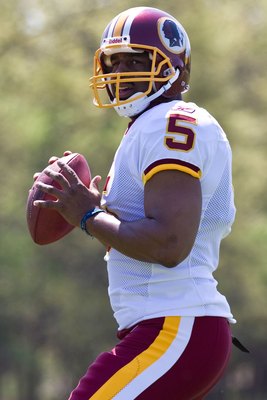 Speaking of Donovan...
Well, wait. Don't forget that the Phillies play their regular season finale at Atlanta today.
What to look for:
Sadly, lots of boos raining down at the Linc...directed at one guy. Regardless of the outcome, national media outlets everywhere will be reminding their audiences how Philadelphia has the worst sports fans in the country.
Remember, our city threw snowballs at Santa Claus back in the day...
Prediction:
Eagles 23, Redskins 21
Eagles 3-1, and feelin' great.
Week 5, October 10: at San Francisco (8:20 p.m.)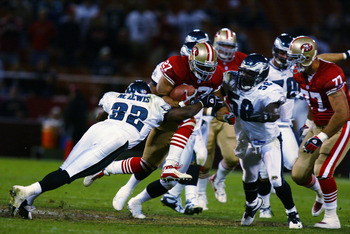 The Niners will likely be a hot pick to win the NFC West. They finished 8-8 last season and have played extremely well on defense since Mike Singletary took over at head coach midway through 2008. Containing running back Frank Gore is the key. But the Eagles might not be able to...
What to look for:
This has trap game written all over it. A cross-country trip after what promises to be an emotional previous weekend against the Skins. Redzone trouble for the Eagle offense?
Prediction:
49ers 16, Eagles 9
Eagles 3-2
Week 6, October 17: Atlanta (1 p.m.)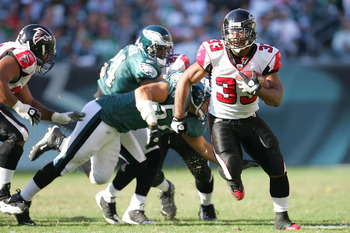 The Falcons are a good team, and this author's pick to be the NFC's sixth and final playoff team in 2010. Atlanta is coming off back-to-back winning seasons for the first time in franchise history. But thankfully this game is in Philly, so the Eagles will win.
What to look for:
Atlanta had the fifth-worst pass defense in the league last year, which translates into lots of air-it-out time for Kevin Kolb. You know DeSean will be motivated to have a huge day opposite Atlanta's Roddy White.
Prediction:
Eagles 27, Falcons 21
Eagles 4-2
Week 7, October 24: at Tennessee (1 p.m.)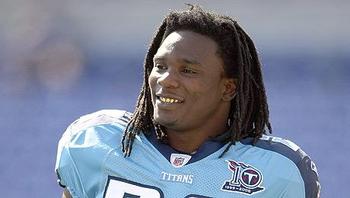 Titan coach Jeff Fisher has beaten his former team in each of their last three meetings dating back to 2000.
What to look for:
2000-yard rusher Chris Johnson and his Titans will be coming off a Monday night game in Jacksonville.
Hopefully Johnson's legs are tired after running all over the Jaguars. The Eagles will do their best to neutralize the Titans' star runner and dare Vince Young to beat them through the air. Kolb should have a nice day passing, but it might not be enough if Tennessee can control the clock with their fantastic running game.
Prediction:
Titans 31, Eagles 20
Eagles 4-3, and heading into their bye.
Week 9, November 7: Indianapolis (4 p.m.)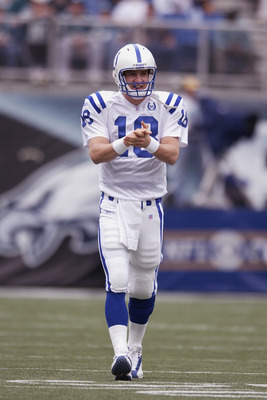 History is really not on the Eagles side here. They've lost four straight games to the Colts dating back to 1996 by a ridiculous combined score of 161 to 61.
The last time the Eagles beat Indianapolis was in 1993 when Jeff George was the Colts' QB. That's frightening.
What to look for:
The law of averages says this game has to be more competitive. Right?
Indy will be coming off a tough Monday Night game the previous week, and the Colts could be looking ahead to their annual showdown with Tom Brady's Patriots two weeks after their trip to Philly.
By the way, Andy Reid has NEVER lost a regular season game when coming off a bye.
Prediction:
Eagles 32, Colts 28
Eagles 5-3, Donovan who? Oh wait. Shouldn't have said that because...
Week 10, November 15: at Washington (8:30 p.m.)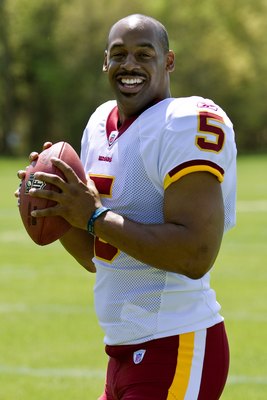 The young Eagles come crashing back down to reality on a Monday Night in the nation's capitol.
Donny, with that perpetual smile that drew so much criticism in Philly, will have lots of reasons to show off those pearly-whites in this one.
No, the Skins aren't sniffing the playoffs in 2010. But by this time, head coach Mike Shanahan should be starting to get results...
What to look for:
Donovan looks like a champ while Kolb and the offense struggle big time. Just one of those nights.
Prediction:
Redskins 27, Eagles 17
Eagles 5-4, and suddenly missing McNabb.
"Careful what you wish for, Philadelphia."
Week 11, November 21: NY Giants (8:20 p.m.)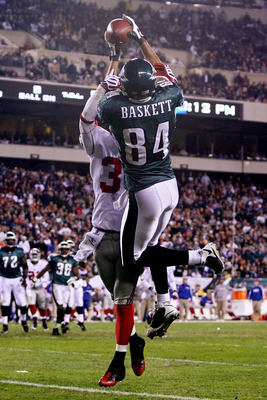 Second consecutive prime-time NFC East game.
The Eagles have very quietly had the Giants number over the past two seasons, putting up a gang of points while winning four straight.
What to look for:
The Giants' defense will be better than it was last season (how could it be worse), but that shouldn't stop DeSean from still having a big night. Kolb can earn some serious points with a win here.
Prediction:
Eagles 31, Giants 17
Eagles 6-4
Week 12, November 28: at Chicago (1 p.m.)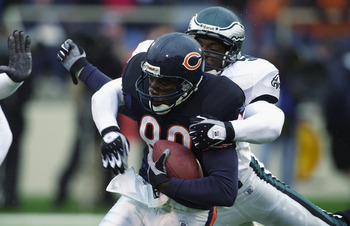 A post-turkey day matchup in the Windy City. Third straight year Eagles visit Chicago.
What to look for:
The Bears rushed for 125 yards in last season's November meeting. Thankfully, Chicago has Jay Cutler at QB so the Eagles defense is bound to make a few picks. Eagles pass-catchers need to watch out for Charles Tillman and his tendency of forcing fumbles!
Prediction:
Eagles 37, Bears 21
Eagles 7-4, playoffs?
Week 13, December 2: Houston (8:20 p.m.)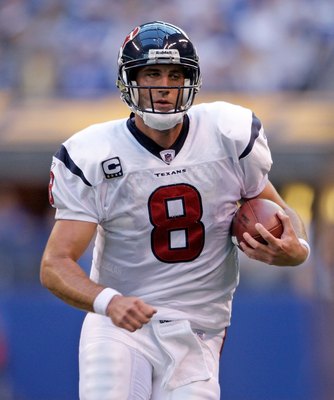 This Thursday night NFL Network Special gives the Eagles' their first of several late-season tests. The Texans are an extremely talented team and this author's pick to make the AFC playoffs as a wild card in 2010.
What to look for:
Houston's Matt Schaub always puts up numbers when healthy and Andre Johnson continues to get no publicity despite being flat-out awesome.
Kevin Kolb will need to get rid of the ball as quickly as ever to keep Mario Williams and an improved Houston pass-rush off his tail, but it won't be enough. Birds finally fall flat at home.
Prediction:
Houston 38, Eagles 27
Eagles 7-5, with four more big tests remaining.
Week 14, December 12: at Dallas (8:20 p.m.)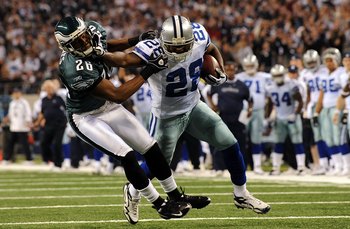 The Eagles in prime time for the fourth time in five weeks. At least they get 10 days off to prepare and rest up for this one.
What to look for:
The Cowboys humiliated the Eagles three times last season and will likely win the NFC East again this year. But Dallas will be coming off a physical game at Indianapolis on December 5 and the Eagles will actually show up this time...
Kevin Kolb will have to do his best Jeff Garcia Christmas Day 2006 impersonation. In other words, the offense will have to control the clock and keep Dallas' O off the field. That's the only chance the Eagles have at making this competitive.
Prediction:
Cowboys 27, Eagles 20
Eagles 7-6 and fading fast...
Week 15: December 19: at NY Giants (1 p.m.)
The Eagles stunning string of success against the Giants finally comes to an end in the Meadowlands, as do their playoff hopes.
What to look for:
Kevin Kolb's honeymoon, if there was any one to begin with, is definitely over. The people who have sided with him all along will continue to insist on his terrific upside, while the Donovan loyalists will insist that McNabb would have led this team to the postseason.
Not the merriest of Christmases in Philly...
Prediction:
Giants 28, Eagles 23
Eagles 7-7, and two games behind the wild-card winning Packers and Falcons.
Week 16, December 26: Minnesota (1 or 4 p.m.)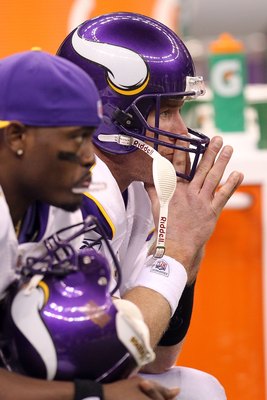 At 12-2, the Vikings will have already secured the NFC's top seed.
That, of course, is assuming Brett Favre does return. But he's 0-4 all-time at Lincoln Financial Field and 2-5 all-time versus his former coach Andy Reid. Philly has beaten Minnesota four straight times dating back to 2001.
What to look for:
Brett will play sparingly before giving way to Tavaris Jackson, as Minnesota sends out its second-stringers early.
The Eagles, refusing to play out the string, give one of their finest performances of the season.

Prediction:
Eagles 29, Vikings 10
Eagles 8-7...just one more game to play.
Week 17, January 2: Dallas (1 or 4 p.m.)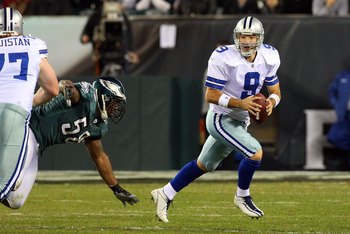 For the third straight year, the Eagles and Cowboys meet in the season finale. Not as much on the line in this one as in years past tho...
What to look for:
Having already wrapped up the NFC East but with no first-round bye as a possibility, the Cowboys rest their starters for the final three quarters and the Eagles, once again playing hard, take advantage.
No playoffs this year. But the young Eagles give their fanbase lots of reason for hope in 2011. Kolb is good enough to stick around for another season.
Prediction:
Eagles 20, Cowboys 6
Eagles finish 9-7, with 420 total points scored and 353 allowed.
Keep Reading

Philadelphia Eagles: Like this team?