Detroit Lions Offensive Line: The Key To Success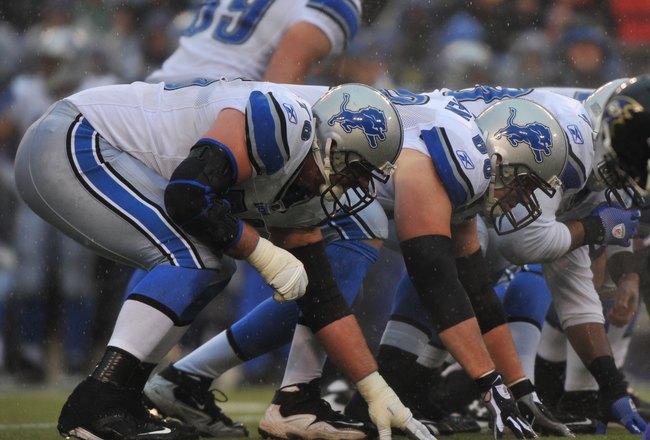 Larry French/Getty Images
Over the past few days, I've been reading a lot of articles and posts about how excited Detroit Lions fans are about the upcoming season.
Don't get me wrong, this season will be a marked improvement over recent, dismal train wrecks that have occurred over the last nine years.
The Lions haven't had a real good offensive line since the days of Barry Sanders running wild back in the 1990's.
The last offensive lineman to make the Pro-Bowl was Kevin Glover in 1997. Glover played center for most of his career with the Lions from 1985 to 1997.
The last left tackle to make the Pro-Bowl for the Lions was the great Lomas Brown in 1995. Brown was a six-time Pro-Bowler.
Since then, a dry spell of 12 years of no lineman making the Pro-Bowl. Not even as an alternate.
For just about every successful team that has won championships on a consistent basis, it starts with the line. I've pleaded with the Lions to draft and pickup high-caliber linemen for a while now, most notably at left tackle.
The Lions have surrounded franchise quarterback Matthew Stafford some great weapons in Calvin Johnson, Nate Burleson, Brian Clark, Jahvid Best, Kevin Smith, Brandon Pettigrew, Will Heller and Tony Scheffler to name a few.
But it will all come down to the pass protection and run blocking skills of the current offensive line.
Here are the projected starters and my evaluation of each:
Right Tackle: Gosder Cherilus
This is a make or break year for Cherilus. Drafted in 2008 in the first round, Cherilus won the starting job over George "False Start" Foster in his rookie season.
But his development has been slow and he's allowed 15.25 sacks in his short career. Cherilus needs to step up his game if he wants to keep his job.
If not, Jon Jansen or Kirk Barton will need to step in.
Right Guard: Stephen Peterman
A solid, steady player at the right guard spot. Peterman is coming off a season ending ankle injury last year.
He held his own against rookie defensive tackle Nadamukong Suh in a May practice session. Peterman needs to stay healthy for the Lions running game to succeed.
Kevin Smith and Jahvid Best don't need much daylight for big gainers but the last half of the season, the inside running game was non-existent.
Center: Dominic Raiola
For a supposed undersized center at 295 pounds, Raiola has managed to play at a consistent level in his nine years with the Lions. He gained the starting role in 2002.
With Peterman and left guard Rob Simms, if all three can stay healthy, they should provide some decent running lanes for Smith and Best. Plus, I like the nasty streak Raiola has.
Left Guard: Rob Simms
Lions traded defensive end Robert Henderson to the Seattle Seahawks to get Rob Simms. I think Martin Mayhew got the better end of the deal.
Sims is 26 years old, 6'3" and 312 pounds. In 14 games last year, Sims was called for one penalty and it wasn't a false start, it was for holding.
That tells me he knows his plays and has great technique. In fact, in his four year career, Sims has been flagged only four times, one false start in his rookie season and then one holding penalty per year since then.
An excellent pick up, he should take a lot of pressure off Jeff Backus and improve pass protection on the left side.
Left Tackle: Jeff Backus
I've been screaming for the Lions to replace Backus for the last three years. I wanted them to draft Joe Thomas in 2007.
Granted, Calvin Johnson was taken then but at the time, I felt we didn't need Johnson. I'm glad we have him though.
In 2008, they drafted Cherilus and let Sam Baker go to Atlanta...and we all know how that turned out.
Last year, the Lions had the chance to pick up Jason Smith or Michael Oher but instead took quarterback Matthew Stafford.
In retrospect, it was a smart draft since the 2010 QB class wasn't as good as expected. Backus somehow remains.
I disagree with head coach Jim Schwartz that Backus should have made the Pro-Bowl, not with nine sacks allowed for over 62 yards.
If there is a weak point in the line, it is here. I hope that with the upgrades to the inside takes the pressure off Backus and he improves, but his numbers just don't give me a good feeling that he will.
Overall, the offensive line is adequate at best. Stafford will get better protection than he did last year, and the improved defense should keep the Lions in games longer to avoid playing catch up so much.
If the play-calling isn't as predictable as it was last year, with Stafford having a year under his belt, working well with Calvin Johnson and Jahvid Best being the home run threat, the weakness of the offensive line can be mitigated.
Here's to an 8-8 season with a pint of the Beer Thinker's favorite, Deschutes Black Butte Porter out of Bend, Oregon.
This article is
What is the duplicate article?
Why is this article offensive?
Where is this article plagiarized from?
Why is this article poorly edited?

Detroit Lions: Like this team?