Could Prince Fielder Save the Seattle Mariners' 2010 Season?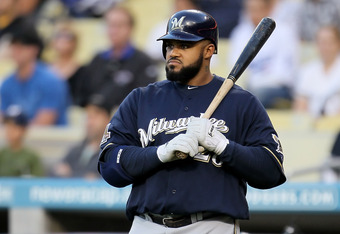 Jeff Gross/Getty Images
Both Prince Fielder and the Seattle Mariners are off to very slow starts in 2010.
While slow starts have become the norm for Fielder, the Mariners were picked by many to win the AL West, but they are already 11 games behind first-place Texas. Only the Orioles are off to a worst start in the American League.
After so many signings and trades in the offseason, expectations were sky-high for a team that surprisingly won 85 games in 2009. General Manager Jack Zduriencik made the moves he thought would ensure a division title.
Even with all the moves that were made, critics still said Zduriencik and the Mariners lacked the big bat in the middle of the lineup needed to power the offense. He could solve all his problems by acquiring Fielder, the player he drafted with the Brewers in the first round of the 2002 draft.
On the surface, the Brewers and Mariners seem to be perfect trading partners. The Brewers need pitching, the Mariners need hitting, and Zduriencik knows the Brewers' roster and farm system as well as anyone in the game.
The two teams were almost trade partners last season as the Brewers tried to acquire Jarrod Washburn at the trade deadline. However, Zduriencik's asking price of either Alcides Escobar or Mat Gamel was simply too much for Brewers GM Doug Melvin to part with for a three-month rental.
The Mariners currently have several pitching options that could be sent to Milwaukee for Fielder, despite the fact that they traded away their top pitching prospect, Phillippe Aumont, to the Phillies in the Cliff Lee trade this past winter.
Ryan Rowland-Smith and Jason Vargas are each under team control until after the 2013 season. Rowland-Smith has struggled this season with a record of 0-4 with a 7.62 ERA after putting together two solid seasons in Seattle in 2008 and 2009. Vargas is 3-2 with a 2.93 ERA in seven starts this year.
Both pitchers are lefties, but even though the Brewers have a number of lefty options, either would be better than what the team currently has been sending to the mound.
Doug Fister is a 6'8" righty that has been dominant so far in 2010. Fister is 3-1 with a 1.72 ERA in seven starts. He has gone at least seven innings in five of his seven starts this season. This is Fister's first full season in the majors, and he's only given up nine earned runs in 47 innings pitched.
The Mariners could give the Brewers a built-in replacement for Fielder by sending Casey Kotchman to Milwaukee. Kotchman is off to a horrible start in 2010 but is a far superior defensive player to Fielder. He's making just over $3.5 million this year, and he is under team control until after next season.
Although the Mariners don't have a top-ranked farm system, they do have several players that could be sent to Milwaukee in exchange for Fielder.
The team's top prospect is Dustin Ackley. Ackley was the second overall pick in last year's draft. He is struggling this season at Double-A West Tennessee. In 34 games this year, he's hitting only .198 with one home run and 10 RBI. He has been converted to a full-time first baseman, and that fact could be very appealing to Melvin.
Michael Saunders was recently called up by the Mariners. The 23-year-old outfielder is hitting .235 in 54 career big league games. He is considered by many scouts to be a five-tool player, and he could possibly make the switch to first base in the future, although he is a solid defender in the outfield.
The teams seem to be quite logical trade partners. A trade proposal such as Fielder and Gamel for Kotchman, Saunders, and Fister could help both teams salvage this year as well as build for the future, even if Fielder departs via free agency after the 2011 season.
With the continued struggles of both teams, something needs to be done soon before the season is lost for both teams. Each is still very much alive for its division, and if the deal is right, a trade could help both clubs head back towards the top of their respective divisions.
It wouldn't be out of the realm of possibility that Fielder could sign long-term with the Mariners. After 2011, the only long-term deals the team has belong to Felix Hernandez, Franklin Gutierrez, and Ichiro. Ichiro is able to become a free agent after the 2012 season, so other than Hernandez, the Mariners will need someone to step in as the face of the franchise.
Could Prince Fielder be the perfect fit?
To read more by Jesse Motiff, click here.
This article is
What is the duplicate article?
Why is this article offensive?
Where is this article plagiarized from?
Why is this article poorly edited?

Milwaukee Brewers: Like this team?