Green Bay Packers Rewind: From Rodgers First Year To 2009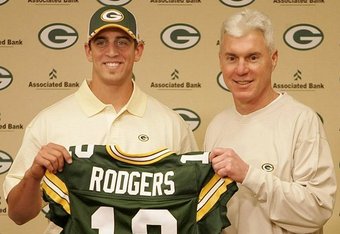 The 2007 season ended as badly as anyone can imagine. The Packers had the ball late in the fourth quarter in a tie game. Old No. 4 was under center for the Packers. After launching the franchise record 90-yard pass to Donald Driver, Favre had the Pack on the move again.
Not once, but twice did Giants kicker Lawrence Tynes miss a field goal to give us an opportunity to get to a Super Bowl. Well, then it was our turn to screw it up. "Reliable" Brett threw yet another post season interception that sealed our fate. Tynes then booted a 43 yard field goal in overtime to go to the Super Bowl against the New England Patriots.
That proved to be the last time Favre threw on a Packers uniform. The divorce from Green Bay was nasty one after the retirement-unretirement talk. Brett was shipped to the Jets and it was now the young No. 12 turn to lead the Pack, Aaron Rodgers turn.
The 2008 season was Aaron's first full season as the Packers next franchise quarterback, but it could have went a little better.
After coming off a 13-3 campaign in the 2007 season, the expectations for Rodgers couldn't have been bigger. Living under Brett's shadow was one thing, but playing his way out was another thing.
With a 2008 record of 6-10, the Ted Thompson's bashers came full steam ahead. Mainly everyone was furious that we traded Brett Favre, arguably the best quarterback in Packers history. With the 6-10, it wasn't exactly what everyone hoped.
But let's look at Rodgers stats from the 2008 season: 4,038 passing yards, 28 TD's, completion percentage of 63.1 percent and a passer rating of 93.8. Aaron had a very good season as a rookie, but the defense let him down, a defense that ranked 20th in the league.
Still, people hated the fact that we traded away the Great Brett Favre. Brett went on to play for the New York Jets and was shut down by a shoulder injury.
In the 2009 campaign, the Packers took huge strides with one of the great young quarterbacks, Aaron Rodgers. Finishing at 11-5 and a new 3-4 defensive scheme that can only get better, the Packers also solidified a line that was shaky to say the least the beginning of last year.
After a 4-4 start with an injured LT Chad Clifton and unsigned RT Mark Tauscher, the Packers looked to be dead in the water. But with a healthy Chad Clifton and a re-signed Mark Tauscher, Aaron Rodgers and the Packers soared to a 7-1 finish with an unfortunate loss to the Cardinals in a gun-slinging playoff game.
Brett went on to do very well with the Minnesota Vikings, but he has to be close to the end of the road, doesn't he?
So, in essence, we traded a 17-year veteran for a young gun named Aaron Rodgers. Turned out to be a very good trade.
With an improved offensive line, A-Rod could destroy records in 2010. Not to mention he is the only quarterback to throw for over 4,000 yards in his first two seasons. To go with the offensive prowess, the 3-4 defensive scheme can also improve in it's second year, thus leaving the No. 5 preseason ranked Packers a team to fear.
All of this was caused by a trade of the aforementioned Brett Favre. So Favre fans, how distraught are you now?
This article is
What is the duplicate article?
Why is this article offensive?
Where is this article plagiarized from?
Why is this article poorly edited?

Green Bay Packers: Like this team?