Top 10 Buccaneers of All Time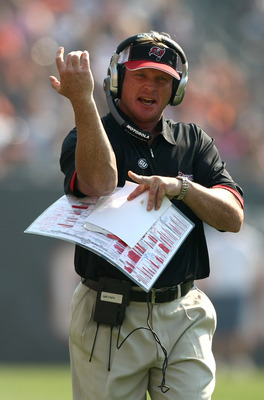 AAARGH! ARE YOU READY FOR SOME FOOTBALL?!?!
Unfortunately in recent times, the Bucs haven't. Raheem Morris, the worst coach in the history of football, has released Antonio Bryant, Joey Galloway, Phillip Buchanan, Jeff Garcia and most insane of all, Derrick Brooks.
To cheer up some Bucs fans, and to get over these evil times, I have decided to make a little ranking, of the best Buccaneers of all time. Oh yeah, there's a video link at the end. Enjoy!
No. 10: Hugh Green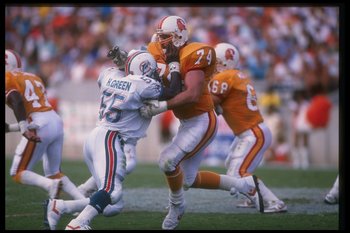 One of the best and most underrated linebackers of all time. In 1983, the monster had 2 INTs, 3 sacks and 2 touchdowns. He had incredible strength and power, and was a Demarcus Ware at the college level.
No. 9: Mark Carrier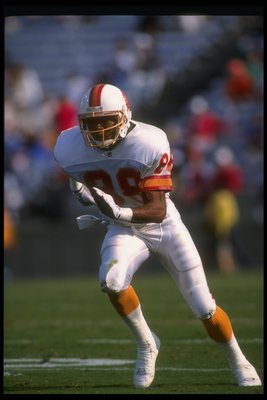 The first major Buccaneers wide receiver, Carrier was a star in the NFL. He wasn't a speedster, but he had great hands and superior agility. He had 8,763 receiving yards, 48 TDs and 569 receptions in his career. One of the greatest receivers of all time.
Number 8: John Lynch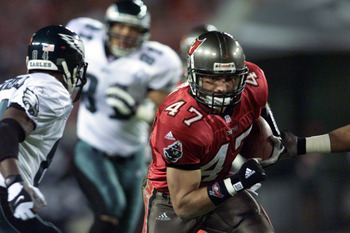 One of the greatest safties of all time, and in my opinion the greatest hitter of all time. When Lynch came at you, It was like a truck. In 1999, he had 81 tackles, 2 INT's and 0.5 sacks. A dominating player, who wasn't even afraid to hit his own brother.
No. 7: Simeon Rice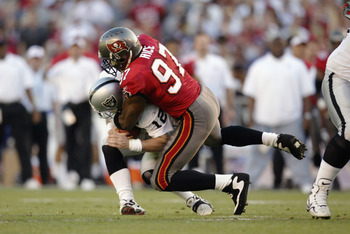 A warrior on the football player if there ever was one. He was extraordinarily dedicated to the game, and to bringing pain to offensive players. Simeon Rice was probably one of the meanest players in the NFL and in 2002, he posted 15.5 sacks, 1 INT and 6 FF. He was one incredible pass rusher. The next year, he had 15 sacks, 2 INTs and 6 FF. He had the attitude, personality and skills of a Jack Lambert.
No. 6: Keyshawn Johnson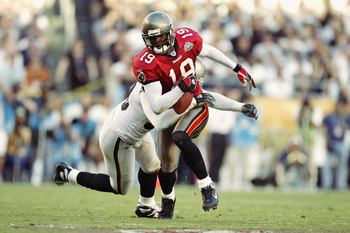 Keyshawn was the "Key" to the Bucs offense in their Super Bowl run. A hilarious, cocky, and entertaining player, he let you know when he was playing well. In 2002, he had 1,088 receiving yards and 5 touchdowns.
JUST MISSED THE CUT
Mike Alsott
Tony Dungy
Chucky Gruden
Doug Williams
Anthony McFarland
Jeremy Trueblood
Keynatta Walker
Warrick Dunn
Brad Johnson
Antonio Bryant
Barrett Rudd
No. 5: Ronde Barber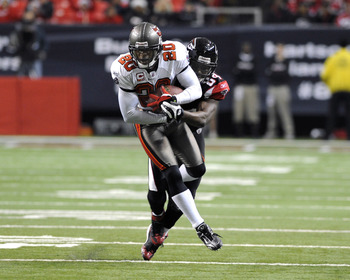 The last major star on this list that is still on the team. Barber was as much a speedster as his brother, and was GREAT against the rush AND against the pass. In 2001, this all-around corner had 10 INTs, one TD, one sack and 58 tackles. He is what keeps our modern Bucs interesting.
No. 4: Lee Roy Selmon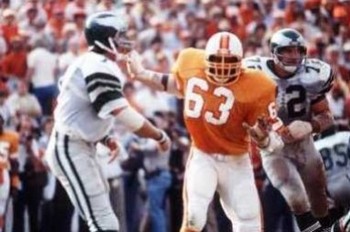 In my opinion, the greatest defensive end of all time. Lee Roy was the face of the Bucs franchise. In 1979, he had 11 sacks and 117 tackles. He loved the Buccaneers and put on a show for Bucs fans. A team player, and on of the Bucs most beloved players.
No. 3: Hardy Nickerson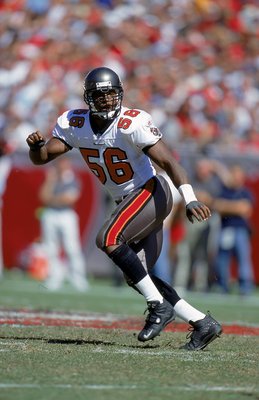 HARDY! HARDY! HARDY! This is not an exaggeration at all, but Hardy Nickerson was to the Buccaneers what Ray Lewis was to the Ravens. A ferocious tackler who let you know it when he was playing well, especially against rivals. In 1993, he had 214 tackles, one FF, one INT and one sack. He was one of the greatest tackler's in the NFL and was very good to the Buccaneers. In addition, he also mentored Derrick Brooks.
No. 2: Warren Sapp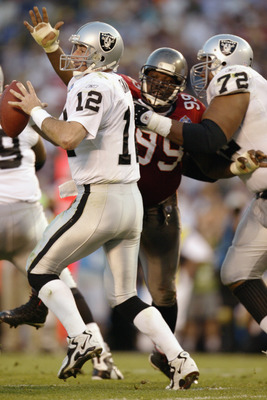 QB KILLAH! In my opinion, the greatest defensive tackle of all time. He was a excellent trash talker, and was always there to remind you that he was a star.n In 2000, he won Defensive Player of the Year, posting 16 sacks, 1 FF and 43 tackles. In 2002, he had 7.5 sacks and 41 tackles. He is a true competitor and will be in the HOF, VERY soon. QB KILLAH!!!
No. 1: Derrick Brooks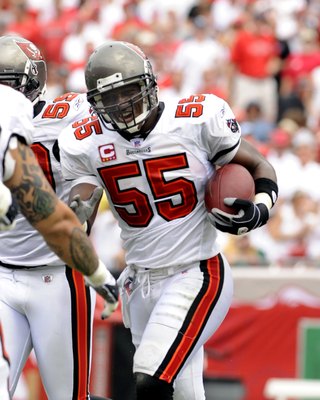 The greatest right linebacker of all time. OF ALL TIME! A first ballot Hall of Famer. Brooks was the perfect role model, who was almost as good a football player as he was a person. Brooks has tons of charities, is a very humble person and is a team leader. He has even won the Walter Payton Award. In 2002, he won Defensive Player of the Yaer, with five INTs, three TDs, 88 tackles, one sack and one FF. In 1999, he had four INTs, two FF, 118 tackles and two sacks. He was an absolute ball hawk, who picked of balls like an elite safety, yet a ferocious tackler. A great player and an even greater person he will be missed. When he was released by Raheem Morris, I was devastated. In fact, I even made a video about my anger towards the incident. If you are a Bucs fan, you HAVE to check it out.
http://www.xtranormal.com/profile/2467185/
Keep Reading

Tampa Bay Buccaneers: Like this team?