2011 NFL Mock Draft: No. 1 Might Surprise You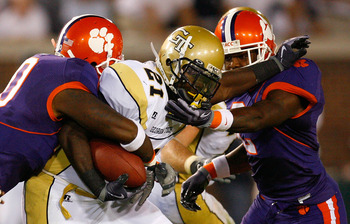 It's way, way too early to be speculating. But it's fun, so why not?
Here are a few wild projections about what Thursday night might look like 51 weeks from now. This senior class is laden with defensive talent, and the conference from which it hails isn't the usual.
By the way, if you're a bit shocked by the draft order, fear not. Your team might not be as bad as their position suggests. They may have just traded their pick. Or, they could be even worse. Nothing stays the same in the NFL.
By the way, this one is in reverse order. It's just to build suspense.
32) Dallas Cowboys take Pat Devlin QB, Delaware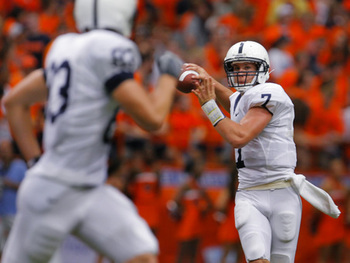 Just who is Delaware's quarterback's coach, and why is he still there? One would think a promotion is due at some point.
The system that brought you Joe Flacco now presents Pat Devlin. Of course, Devlin was at Penn State prior to becoming a Blue Hen, but that's not the point.
Devlin could become a backup to another signal caller from a lightly-regarded school in Tony Romo.
31) Baltimore Ravens take John Moffit G, Wisconsin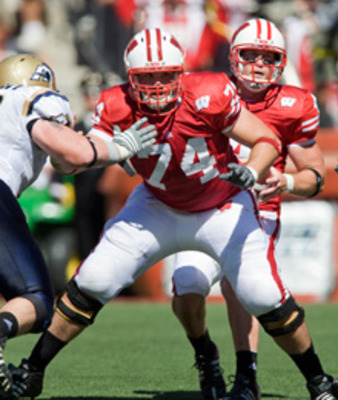 Depth on the offensive line is an issue for virtually every NFL team. You just can't have enough meat in the middle.
Moffit is a proven leader, and can play both guard and center. He was an All Big-Ten selection in 2009. Expect great things for this beast in 2010. A late-first round pick will be the prize.
30) Green Bay Packers take Austin Pettis WR, Boise State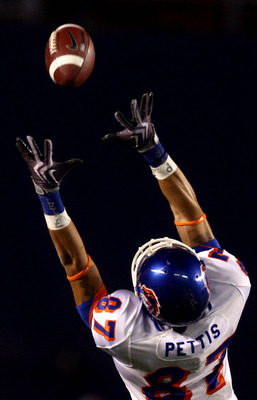 Two BCS bowl wins and no players selected in the first round?
Well, that's about to change with Austin Pettis. He's as physical as a wideout at his size can be, and he doesn't lack for speed. It might take a second to get him acclimated to the next level, but it will happen.
Chris Petersen's players tend to have a chip on their shoulder. That's what has led to the unblemished seasons and major bowl wins. That same chip should help Pettis out at the next level.
29) Miami Dolphins take Kendric Burney CB, North Carolina
Kendric Burney did the right thing by returning to Chapel Hill for his senior season. There were a lot of highly regarded defensive backs in the ACC headed out. This will be his year to shine.
With five interceptions a year ago, Burney has a great opportunity to improve in 2010, especially if the Tar Heels pass rush is half as good as advertised.
With Miami, expect to see Burney make a mark in the nickel package. Take a picture. He'll be a starting corner in two years.
28) Carolina Panthers take Leonard Hankerson, WR Miami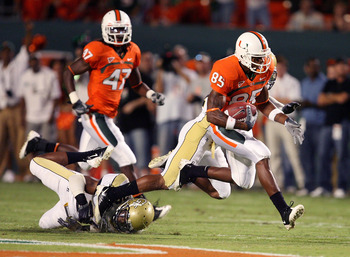 If Jacory Harris can cut down on his ill-advised throws, Leonard Hankerson is primed to have a monster senior season. He has a chance to shine in the national spotlight with an early showdown in Columbus. Expect a big game from Hankerson and a minor upset by the U.
You have to hand it to the Carolina Panthers. They have tried everyone under the sun as a complementary receiver to Steve Smith. They have raided the draft, free agency, and the retirement home.
Hankerson will be the next attempt. He might be the one.
27) Indianapolis Colts take Ryan Williams RB, Virginia Tech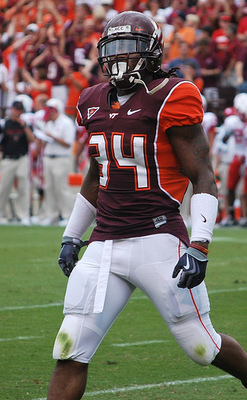 Yeah, he's probably coming out early.
Ryan Williams had a monster freshman season in Blacksburg. He'll have another big one in 2010. Don't expect him to last past the first round.
This is a win/win situation. Williams will head to a contender, and Indy will have a true workhorse back for the first time since The Edge left for the desert.
26) San Francisco 49ers take Michael Morgan OLB, Southern Cal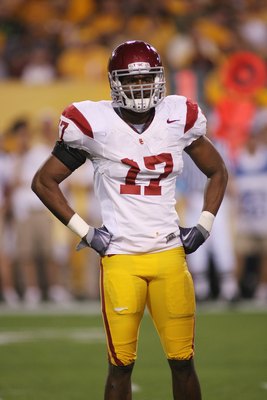 The best players are at their best in big games.
Morgan is a big game player. His seven tackles (two for losses) helped USC squeak out their signature win of 2009 at Ohio State.
Morgan also excels on special teams. He's half a step quicker than most of the prospects at linebacker.
The 'Niners make a solid, versatile pick here.
25) Denver Broncos take Stephen Paea OT, Oregon State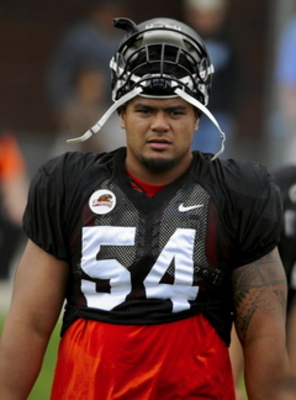 Endurance won't be a problem for the Tongan offensive lineman. He has a background in rugby.
Every coach who has worked with Paea has described him as extremely coachable. This bodes well for his draft stock.
This could well be an All-American year for Stephen Paea. It should lead to a first round selection as well.
24) Atlanta Falcons take Quan Sturdivant ILB, North Carolina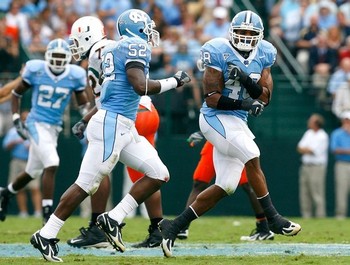 North Carolina is going to be nasty on defense this year. Lots of talent that could have come out in 2009 is back for another edition and a shot at the ACC title game.
Sturdivant is the rare linebacker who is as comfortable is pass coverage as he is blitzing. Speed kills, folks.
Is anyone starting to see a pattern here?
23) New England Patriots take Noel Devine RB, West Virginia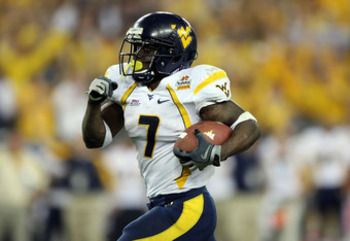 Is there a better possible fit for the pocket speedster than the Patriots?
There are a lot of knocks on Noel Devine. Most have something to do with his size. Nothing wrong with his explosive nature or cutting ability.
Devine will find a home in the northeast as a third down back and occasional highlight film contributor. It will work out just fine for him and the Pats.
22) New York Jets take Jermale Hines S, Ohio State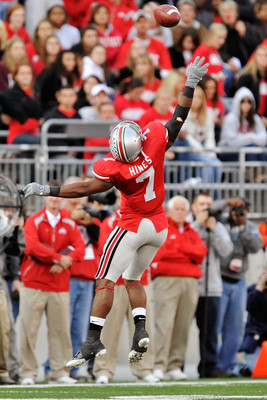 The Jets already have the best corner tandem in the league, between Revis and Cromartie. Why not add a stud safety as well.
Jermale Hines can play either safety position, but he really excels in supporting the run game. Playing in the ground-game heavy Big Ten has seen to that.
There will be some adjustment to the speed of the NFL, but that's true for just about every player. Hines could well be a contributor to the Jet's secondary within a few years.
21) Minnesota Vikings take Anthony Costanzo OT, Boston College
Only a two-star recruit headed to Boston College, Anthony Costanzo has elevated his game.
He's also increased his size. 6'7'' and a hair under 300 pounds will work out nicely for the Vikings.
It will also mean a nice check for this overachiever, who was an all-ACC selection in 2009.
20) New Orleans Saints take Von Miller ILB, Texas A&M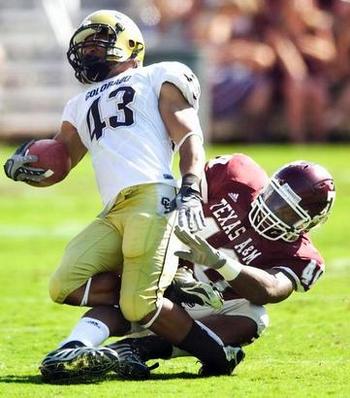 Sideline-to-sideline speed is what makes the case for Von Miller. He's a demon on special teams as well.
Nearly half of Miller's tackles in 2009 were for losses.
He should be a stabilizing force on the Saints often erratic linebacking corps.
19) Tennessee Titans take Allen Bailey DE, Miami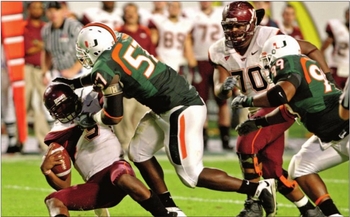 If the Miami Hurricanes didn't have at least one top-tier prospect on their defensive line, it would be a shocker.
Bailey was a steadying force throughout 2009. With former coach Rick Petri returning to the Hurricanes, he should be set up to have a stellar senior campaign.
The ACC is stocked with defensive line talent this year. Bailey is one of the best.
18) San Diego Chargers take Cameron Heyward DT, Ohio State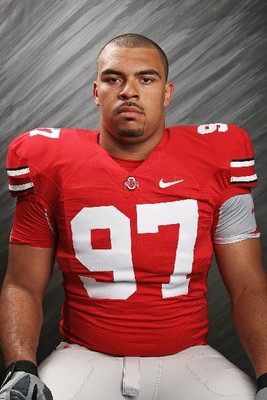 Cameron is bigger than his father, who played for the Falcons and was nicknamed "Iron Head".
The younger Heyward has played both end and tackle on the defensive line. He'll be facing huge expectations for 2010 on a Buckeye team that is expected (in Columbus) to contend for a national title.
While a Rose Bowl berth is a more realistic goal than a BCS Championship game trip, Heyward should be in line for a decent signing bonus.
17) New York Giants take DeMarco Murray RB, Oklahoma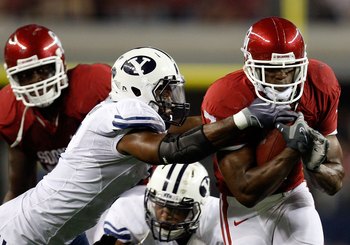 It's not a running back's league anymore. That being said, Sooner DeMarco Murray is the best running back coming out in 2010.
Tom Coughlin would love to keep the ball on the ground as much as possible and just allow Eli Manning to manage the game. Murray would be a great asset to him in that regard.
Expect Murray's athleticism to make him the first true running back taken in next year's draft.
16) Philadelphia Eagles take Weslye Saunders TE, South Carolina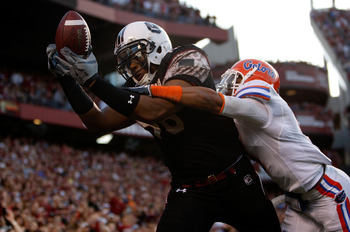 If South Carolina's program was run by anyone other than Steve Spurrier, then Weslye Saunder's suspension probably would have been a big deal.
However, Darth Visor would probably bench his own son for making a bad read in a Pop Warner game, so you can't take it too seriously.
Saunders fits the mold of an NFL tight end with his size and blocking ability. He's not a bad safety valve, either.
However you look at it, he's the top tight end in the 2011 Draft.
15) Pittsburgh Steelers take Terrance Toliver WR, LSU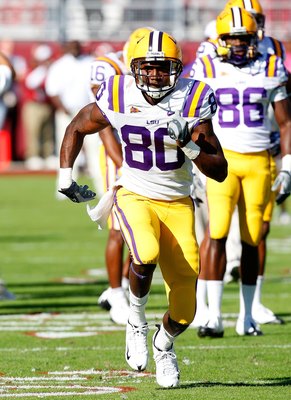 If LSU had a semi-capable quarterback, you would have heard a lot more about Terrance Toliver in 2009.
Even with the Tiger's passing woes, Toliver still put together enough 100 yard games to establish himself as the top senior wide receiver headed into the 2010 campaign.
With the recent arrest for his role in a bar fight, Toliver should have no problem fitting in with the team culture in Pittsburgh.
14) Cincinnati Bengals take Greg Jones ILB, Michigan State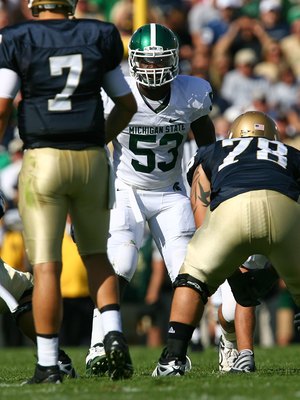 Poor Greg Jones. He's always being confused with that guy that used to play at Florida State.
Don't worry too hard about this inside linebacker. He'll soon be making a name for himself by terrorizing Big Ten backfields in 2010.
After that, it's onto the NFC North.
13) Arizona Cardinals take Bruce Carter OLB, North Carolina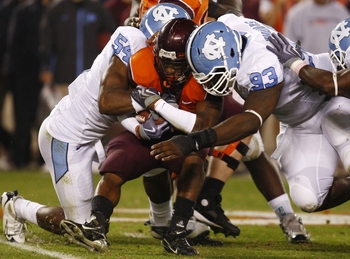 Butch Davis had better hope that his offensive unit improves in 2010. They were pitiful last season.
If it doesn't, he may just have to win games by a score of 2-0. With the defense he has assembled, that may not be too much of a stretch.
Bruce Carter leads the Tar Heel linebackers in this draft. He's still not the most promising UNC defensive player. Keep an eye on this defense, folks.
12) Houston Texans take Rodney Hudson G, Florida State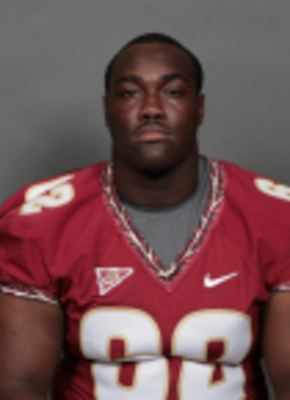 He's a bit on the short side at 6'2'', but that's the only knock on this offensive lineman.
Rodney Hudson had a stellar 2009 in protection of Christian Ponder, despite being nagged by injuries the entire way.
One interesting note about Hudson: He has gone over 1,000 snaps between penalties. False starts and holding calls ruin drives. This prospect won't make the mental errors that drive head coaches bonkers.
11) Kansas City Chiefs take Deunta Williams S, North Carolina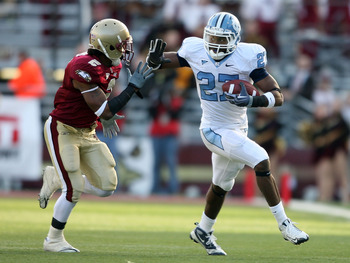 A six-interception season will turn the heads of any scout, at any level.
Deunta Williams is the type of player that studies game film late into the night. He should be a very safe, dependable pick.
By now, Eric Berry has moved to the strong safety position. With Williams playing deep, the Chiefs have a tandem that will take them a decade into the future.
10) Chicago Bears take Mike Pouncey OL, Florida
No, you haven't been seeing double for the last few years. Maurkice had a twin on Florida's defensive line, and his name is Mike.
How do you think Tim Tebow had all those lanes to run in? With those two studs in front of him, he didn't need to develop a quick release.
9) Seattle Seahawks take DeAndre McDaniel SS, Clemson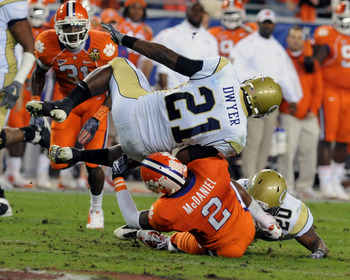 There's an old joke about Clemson University. YOU may not know where it is, but every NFL scout sure does.
If DeAndre McDaniel doesn't win the Thorpe Trophy next year, then something is wrong with the voters. Of course, they didn't even send C. J. Spiller to New York, but this is 2011 we're talking about now.
McDaniel is a rare, rare blend. He's a strong safety that is always called upon for run support, yet he managed eight picks in 2009. He can cover any gap or zone, and hits like a freight train. His instincts are second to none.
If Clemson got the national coverage that Tennessee gets, McDaniel would get more press than Eric Berry. At the very least, he'll get paid.
8) St. Louis Rams take Clint Boling OT, Georgia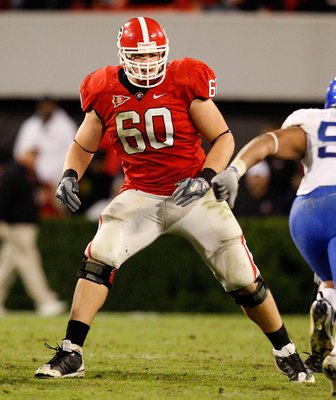 Now the Rams have a franchise quarterback. Time to get him some protection.
Boling could be the anchor of a St. Louis line for a generation. Right now he projects as the second best tackle in the draft. Mel Kiper and Todd McShay both have him in their top eight.
Several New England Patriot's publications have them already making moves to get Boling for their aging offensive line. They had better either miss the playoffs or trade up. He won't be on the board for long.
7) Jacksonville Jaguars take Prince Amukamara CB, Nebraska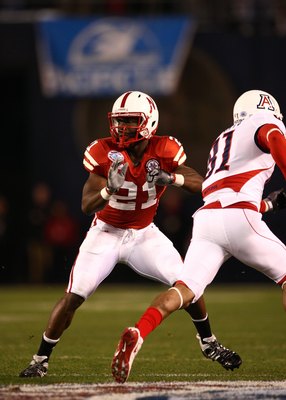 The best name in the draft.
The best corner, too.
6) Tampa Bay Buccaneers take A. J. Green WR, Georgia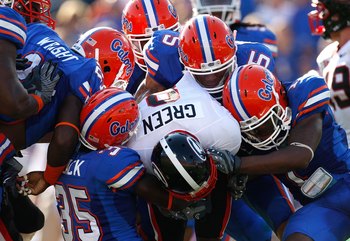 If you thought A. J. Green was going to hang around Athens for four whole years, you were dreaming. He's headed to the 2011 NFL Draft.
He'll be a top 10 pick, too. Green has the size and the swagger to make a dent at the professional level.
Wide receivers are always a gamble in the first round. Green is no different. Rest assured that someone will be blinded by the flash and take him early on Thursday night.
5) Detroit Lions take Marvin Austin DT, North Carolina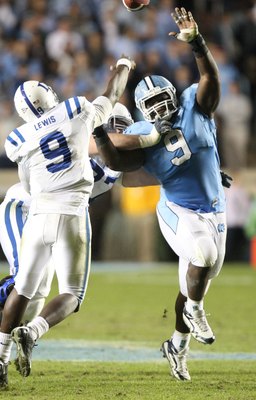 Come on. You knew there had to be at least one more Tar Heel in this draft.
Austin's size and mobility make him as close to a "can't miss" as you get. Like the rest of the defense, he made the right decision to return to school for another shot at collegiate glory.
His reward will come when he's the first defensive tackle selected in 2011.
4) Washington Redskins take Gabe Carimi OT, Wisconsin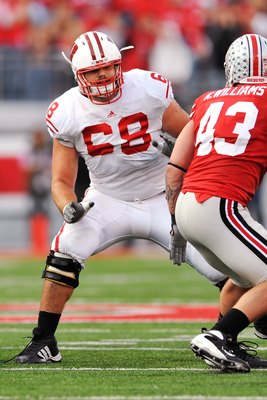 6'7'' and 325 pounds? Yeah, he's got the size to dominate.
Gabe Carimi looks to improve on a 2009 where he was a consensus All Big Ten selection. The sky is the limit for this monster of the midwest.
If the knees stay together, Carimi is a lock for the top five in this draft.
3) Buffalo Bills take Adrian Clayborn DE, Iowa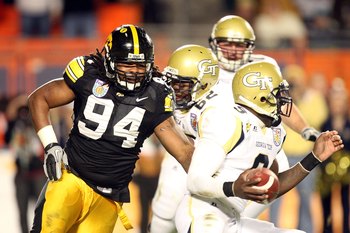 You have to hand it to the Bills. They aren't going to use their first round pick to take a quarterback. But with Clayborn available, can you blame them.
Someone found an answer to Georgia Tech's triple option attack. Send Adrian Clayborn into the backfield (just like in this picture).
Clayborn's speed off of the end will translate almost instantly into success in the NFL. Taking him with the third pick is a no-brainer, even if you still don't have a signal caller.
31) Oakland Raiders take Jake Locker QB, Washington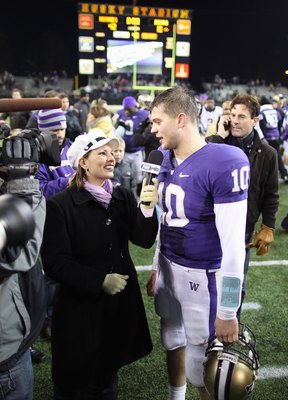 By 2011, it's official. JaMarcus Russell is a bust. So what does Al Davis do?
It's simple. He drafts Jake Locker out of Washington, who is even more highly regarded than Russell was when he left LSU.
While Locker can make every throw, he still may be a work in progress. Defenses in the NFL are a bit tougher to read than in the Pac-10. Actually they're about a thousand times tougher. They also react quicker and hit harder.
The good news is that doesn't have to be a Pro Bowler. He just doesn't have to be terrible. Raider fans will forget about Russell. They just won't win any playoff games in the near future.
1) Cleveland Browns take Christian Ponder QB, Florida State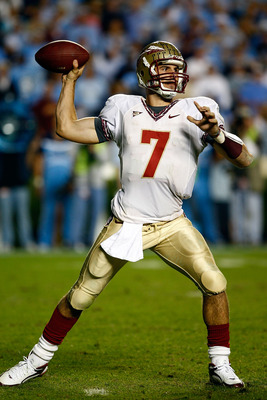 You heard it here first. Christian Ponder will emerge in 2010 as the best quarterback in the nation. He'll also be the first player chosen in the 2011 NFL draft.
Like Locker, Ponder can make every throw in the book. He's also a lot tougher. He made it through 58 minutes of the Seminoles loss at Clemson with multiple broken ribs and continued to run for positive yards.
He's also seen a lot more than Locker. Florida State isn't known for a cream puff schedule. Out of conference games in 2009 with BYU (win) and Florida (loss) have only hardened his game and resolve.
Florida State may not win the ACC in Jimbo Fisher's first year as head coach. They will have the best player in the nation.
Ponder will put FSU in position to win games that they probably shouldn't in 2010. Very shortly, he'll be doing the same thing for the Browns.
Keep Reading