2010 NFL Mock Draft: The Definitive Mock the Day Before the Actual Draft
The 2010 NFL Draft is only a day away and after readers have had their share of a ton of mock drafts to read, this is the definitive day before the draft version.
After months of research and speculation, NFL fans everywhere are finally going to get the answers they have been looking for once NFL Commission Roger Goodell steps behind the podium and utters those famous words...
..."and with the first pick in the 2010 NFL Draft, the St. Louis Rams select..."
No. 1—St. Louis Rams—Sam Bradford, QB, Oklahoma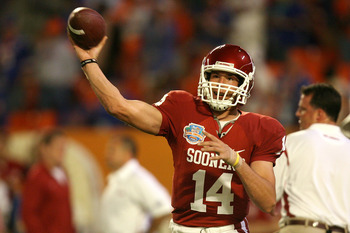 Bradford said he does not want to sign a contract before draft day, which keeps a high level of mystery as to who will be the first overall pick.
The Rams cannot pass on a chance to draft their future leader, since they currently do not have a leader under center right now.
Previous: Bradford
No. 2—Detroit Lions—Ndamukong Suh, DL, Nebraska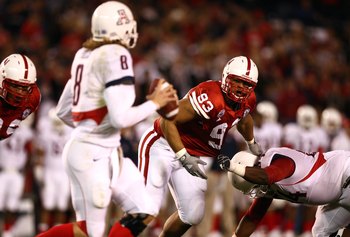 A revamped defensive line this offseason does not prevent the Lions from taking Suh, who could be the best defensive lineman since Warren Sapp.
Previous: Suh
No. 3—Tampa Bay Buccanneers—Gerald McCoy, DL, Oklahoma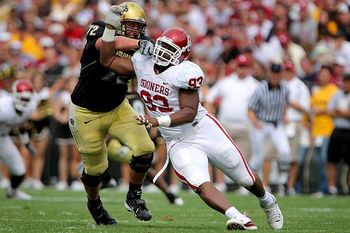 The Bucs get a big body to build their defense around and who will help disrupt both the running and passing games of opposing offenses.
Previous: McCoy
No. 4—Washington Redskins—Russell Okung, OT, Oklahoma State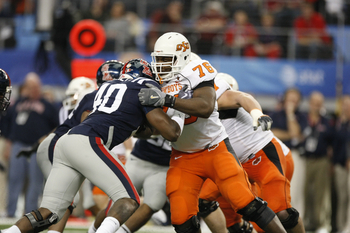 This is the Redskins only pick until the fourth round, and they need to not only protect new quarterback Donovan McNabb, but find a replacement for tackle Chris Samuels.
Previous: Okung
No. 5—Kansas City Chiefs—Eric Berry, S, Tennessee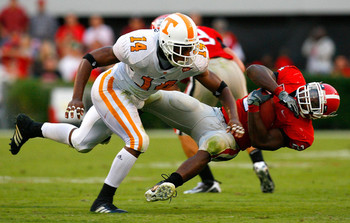 It has been reported that the Chiefs are looking to move down from No. 5, but that they also like the offensive line talent in the second round as well.
Since I do not predict trades in my mocks, I will go off the fact they like an offensive tackle in the second, and therefore they pick Berry who is a playmaker for their defensive backfield.
Previous: Berry
No. 6—Seattle Seahawks—Trent Williams, OT, Oklahoma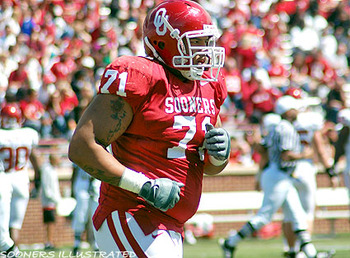 The Seahawks have the luxury of two-first round picks and can address their need of replacing Pro Bowl tackle Walter Jones with Williams right away.
Previous: Bulaga
No. 7—Cleveland Browns—Earl Thomas, S, Texas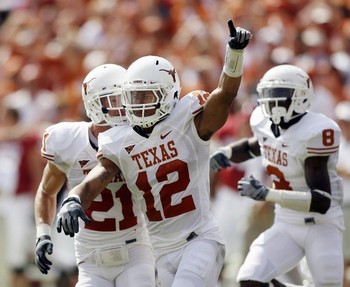 No C.J. Spiller, no Derrick Morgan, no offensive tackle, and no Joe Haden.
The Browns do not have a starting free safety and even though Berry is off the board, they still pick Thomas who may be a bit small for a safety, but so is Troy Polamalu.
Previous: Thomas
No. 8—Oakland Raiders—Dan Williams, DT, Tennessee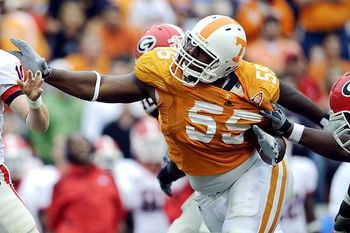 Everyone knows that owner Al Davis loves "freakish" and athletic players who are fast and even though every other mock says the Raiders pick an offensive lineman, there is a very good chance that Bruce Campbell will drop to them in the second round in my opinion.
Williams is a much needed piece in the center of their defensive unit and even though he does not fit the mold of freak that Davis likes, he still fills a huge need.
Previous: T. Williams
No. 9—Buffalo Bills—Bryan Bulaga, OT, Iowa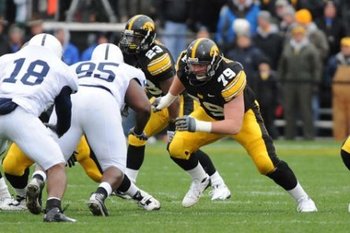 There is a slim chance that the Bills pick quarterback Jimmy Clausen here, but instead they choose one of the top lineman, who they had their eyes on all along.
Previous: Bryant
No. 10—Jacksonville Jaguars—C.J. Spiller, RB, Clemson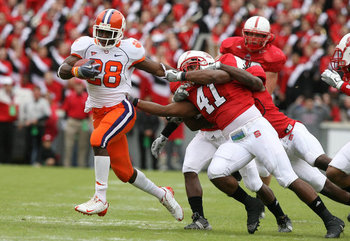 Unless the Jags want to completely burn out running back Maurice Jones-Drew in the next couple of years, then they do not need to add another runner, but the truth in the matter is that they do indeed need another back.
Spiller brings his explosive talents to the Jags and his dynamic playmaking ability will help begin to fill those empty stadium seats.
Previous: Haden
No. 11—Denver Broncos—Rolando McClain, ILB, Alabama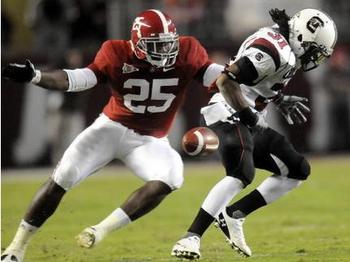 McClain instantly becomes the inside starter and new leader of the Broncos's defensive unit.
Previous: McClain
No. 12—Miami Dolphins—Brandon Graham, LB, Michigan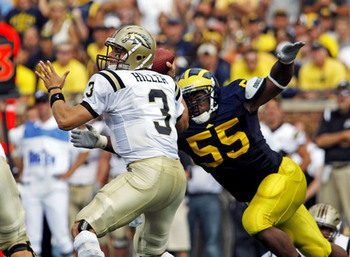 The Dolphins need a pass rusher at outside linebacker and Graham is a much better fit than Derrick Moran who is better in a standard 4-3 scheme.
Previous: D. Williams
No. 13—San Francisco 49ers—Joe Haden, CB, Florida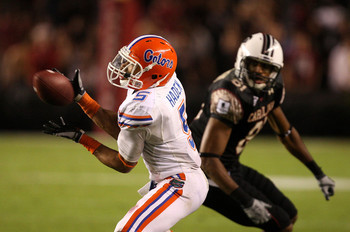 The Niners are thrilled that Haden falls into their lap and immediately becomes their starting cornerback in a secondary that needs that help.
Previous: Iupati
No. 14—Seattle Seahawks—Dez Bryant, WR, Oklahoma State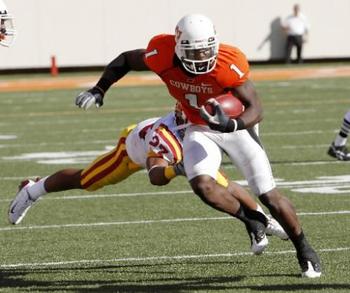 All possible character concerns aside, the Seahawks need playmakers and even though they could not get Spiller, they still have a good shot at getting a back in the second round.
Bryant brings much need ability on the outside and is a brand new weapon that quarterback Matt Hasselbeck gets to target often in 2010.
Previous: Spiller
No. 15—New York Giants—Sean Weatherspoon, LB, Missouri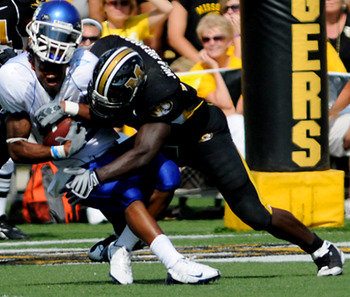 Weatherspoon is an immediate replacement for Antonio Pierce in the inside.
Previous: Weatherspoon
No. 16—Tennessee Titans—Derrick Morgan, DE, Georgia Tech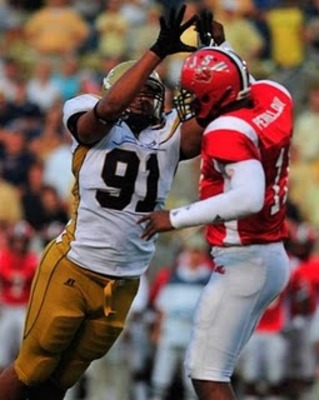 Morgan slips right to the Titans whose defensive line has been torn apart this offseason and he is the first piece of the rebuilding puzzle.
Previous: Morgan
No. 17—San Francisco 49ers—Mike Iupati, OL, Idaho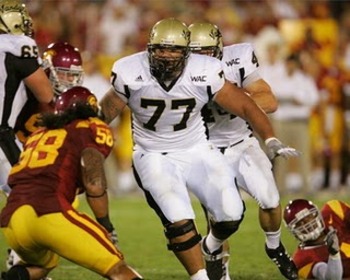 Iupati is not the offensive lineman the Niners intially targeted, but he is raw enough with talent that he can play either guard or tackle with the proper coaching.
The Niners need to protect their quarterbacks and Iupati will help with that and in paving the way for running back Frank Gore and the running game as well.
Previous: Mays
No. 18—Pittsburgh Steelers—Kyle Wilson, CB, Boise State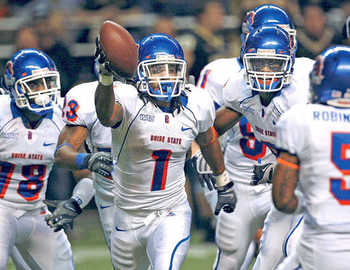 Another year, another Steelers first round where they do not pick a much needed offensive lineman.
Word on the street is that the Steelers covet Wilson to fill a spot at cornerback and to help improve their return game as well.
Previous: Wilson
No. 19—Atlanta Falcons—Maurkice Pouncey, OG/C, Florida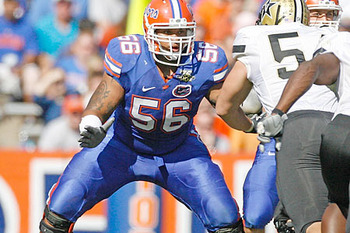 Even though the Falcons need to improve their pass rush, they also need to help get Michael Turner and their running attack back on track and beefing up the front line is key to that.
Previous: Pierre-Paul
No. 20—Houston Texas—Kareem Jackson, CB, Alabama
Running back may be a bigger need to help out Steve Slaton who had a horrible sophomore season, but with the departure of Dunta Robinson, the Texans need a cornerback and Jackson has been moving up the charts and lands in Houston.
Look for the Texans to find a running back somewhere in rounds two or three.
Previous: Matthews
No. 21—Cincinnati Bengals—Taylor Mays, S, USC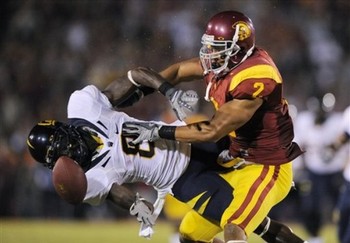 The Bengals are a team that had horrible luck at the tight end position in 2009 with multiple players getting injured, but that did not keep them from winning the AFC North title.
Free safety is a high priority and they cannot pass up on the chance to land a top safety in a division that already has Troy Polamalu, Ed Reed, Earl Thomas (who the Browns drafted earlier in the first) the Bengals get their big name safety too.
Previous: Odrick
No. 22—New England Patriots—Sergio Kindle, LB, Texas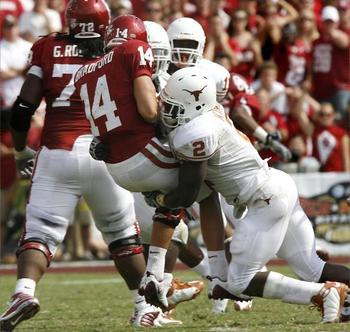 With Graham off the board, who many mocks have the Pats taking, they go with the next best player to fit their system in Kindle to help in the pass rush department.
Previous: Graham
No. 23—Green Bay Packers—Anthony Davis, OT, Rutgers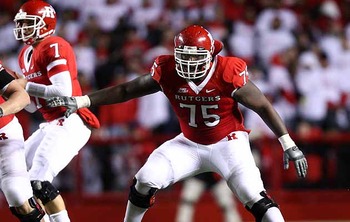 Davis may be getting a bit of a bad rap based on less-than-stellar team interviews, but the Packers need depth on the line in front of quarterback Aaron Rodgers.
Previous: B. Campbell
No. 24—Philadelphia Eagles— Jason Pierre-Paul, DE/LB, South Florida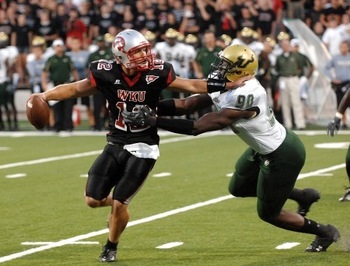 The Eagles need to improve their pass rush and Pierre-Paul is such a raw talent that coach Andy Reid decides to take a chance on developing him.
Previous: Allen
No. 25—Baltimore Ravens—Jared Odrick, DL, Penn State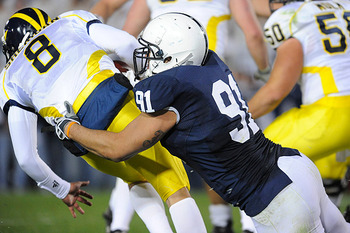 The Ravens need some help on there defensive line a end, and Odrick looks to be a great fit in a 3-4 scheme at end.
Previous: Benn
No. 26—Arizona Cardinals—Charles Brown, OL, USC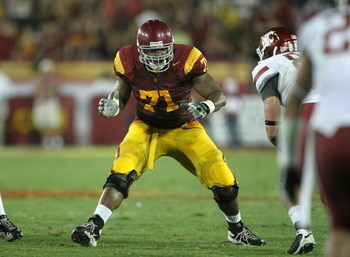 With Matt Leinart now the starting quarterback, the Cards loo to protect him on the line.
Previous: Brown
No. 27—Dallas Cowboys—Bruce Campbell, OT, Maryland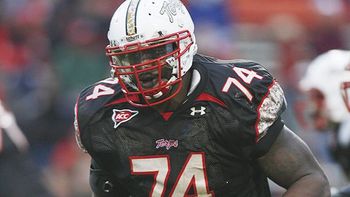 Owner/GM Jerry Jones needs to help his offensive line protect quarterback Tony Romo and even though Campbell has been seen dropping in the first round, his potential is too much for Jones to pass up.
Previous: A. Davis
No. 28—San Diego Chargers—Terrence Cody, DT, Alabama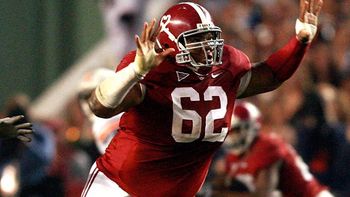 The Chargers do not have a big mountain of a man in the middle of their defensive line with the departure of Jamal Williams.
Enter Mt. Cody.
Previous: Cody
No. 29—New York Jets—Jerry Hughes, LB, TCU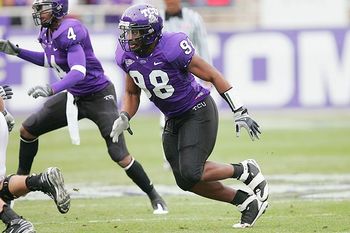 Hughes helps upgrade the Jets' pass rush at outside linebacker.
Prevous: Price
No. 30—Minnesota Vikings—Jahvid Best, RB, California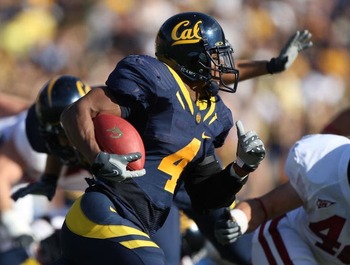 With the loss of Chester Taylor via free agency, the Vikings need to help out Pro Bowler Adrian Peterson.
Best is fast and explosive and will help keep Peterson fresh and healthier during games, the season, and for his career as well.
Previous: Clausen
No. 31—Indianapolis Colts—Brian Price, DL, UCLA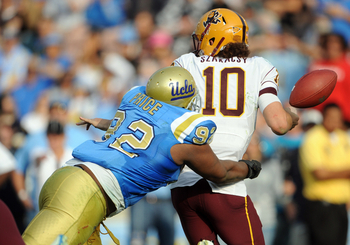 Price brings the ability to disrupt offenses and he can get into the backfield as well having more tackles for loss than all other top defensive lineman other than Suh.
Adding Price in between the Colts' deadly pass rushers will only increase the amount of defensive sacks in 2010.
Previous: Pouncey
No. 32—New Orleans Saints —Tyson Alualu, DL, California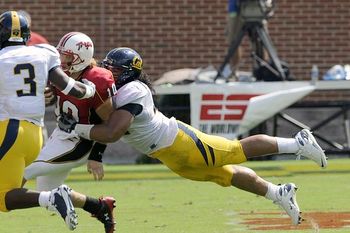 Needed depth on the defensive line is a priority and Alualu brings a non-stop motor that will help cause chaos to offensive lineman from the defensive end position.
Previous: Hughes
Keep Reading