2010 NFL Draft: Is Sam Bradford This Year's Jim Plunkett?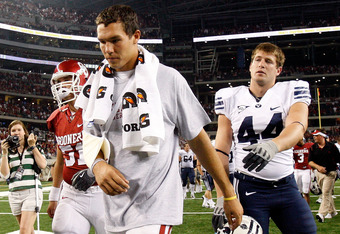 Ronald Martinez/Getty Images
Jim Plunkett won the Heisman trophy in 1970. He had been a revolutionary passer at Standford University. In his day, he set records for passing yardage, touchdowns and total offense.
According to many sports historians, he ushered in the era of Pro-Style offenses in the PAC-10, which continues to this day.
He had a beautiful throwing motion that was praised by one and all. In his time, he was considered one of the most accurate passers in NCAA history
For these reasons, Jim Plunkett became the No. 1 overall pick in the 1971 draft. He was selected by the New England Patriots, a team with a poor offensive line.
Things started out well enough. He won the A.P. Offensive Rookie of the Year award in 1971.
He had some brilliant games, passing the Patriots to victories over the Oakland Raiders, Miami Dolphins and Baltimore Colts—the cream of the crop in the AFC at the time.
Then the injuries began piling up.
Plunkett struggled with a shaky line and pain for the rest of his time in New England. He was traded to the destitute San Francisco 49ers in 1976, and there things got a lot worse.
Plunkett suffered a serious neck injury against the Los Angeles Rams when Jim Youngblood flipped him head over heals. He landed on his head, in one of the ugliest falls I've ever seen. Plunkett was released by the 49ers in 1978, believed to be washed up, a medical bust.
The Raiders quickly signed him as a backup for Ken Stabler. Plunkett waited and healed for some two years.
At the beginning of the 1980, Stabler was traded to the Houston Oilers for Dan Pastorini, a QB selected two slots below Plunkett in the 1971 draft.
Plunkett was not expected to play, but Pastorini suffered a broken leg against the Kansas City Chiefs and he got his chance.
He was a bit shaky at the start, but given one of the finest offensive lines in league history, Plunkett made rapid improvements.
Everyone realized what was happening when he passed the Raiders to victory over the mighty two-time defending World Champion Pittsburgh Steelers on Monday night. It was an offensive shoot-out, and Plunkett was outstanding.
The Raiders won the Super Bowl that year, and Plunkett's excellent QB play was the most important reason why and they went on to win another a few years later with Plunkett at the helm.
Karl Marx is frequently paraphrased as saying, "History repeats itself: The first time as tragedy, the second time as farce." Consult the The 18th Brumaire of Louis Bonaparte for the actual quote.
Folks, there are so many parallels between Plunkett's story and the trajectory Sam Bradford is on, it isn't even funny. History is set to repeat itself. This time it will be a farce.
Just like Plunkett, Sam Bradford has set NCAA passing records, has a beautiful throwing motion, won the Heisman, and is acclaimed as one of the most accurate passers in NCAA history.
If the present trajectory holds true, he will be selected as the No. 1 overall pick, just as Plunkett was.
Hold on to your hats folks, it gets worse.
Plunkett was no frail passer. He never had a significant injury prior to joining the Patriots, and he had never undergone orthopedic surgery to repair damages incurred in a game.
The same cannot be said for Sam Bradford.
We have noted the presence of the orthopedic knee brace, the cast on his left hand in Heisman photos, and the Arthroscopic procedure to repair torn ligaments in the AC joint of his passing shoulder.
The Rams offensive line is terrible. Its a line with only two solid starters. Two starters from last season will not be returning. Replacements have not been acquired (yet).
Whilst company shills declare that the Ram O-Line is solid, the truth is entirely different. The Ram line is far worse than the one Plunkett lined up behind in 1971.
Just to put the cherry on top, we should note the Rams do not have a No. 1 receiver threat to aid Sam in his quest to stay alive.
So the Rams are set to draft a frail passer, put him behind a terrible line, and without benefit of a legit No. 1 receiver to help him.
Now, doesn't that sound like pure genius?
This is a recipe for disaster if ever there was one.
If the shadows of "Christmas Present" are left unaltered, all of the things that happened to Jim Plunkett will happen to Sam Bradford in "Christmas Yet-to-Come."
After he is traded/released by the Rams as a medical bust, we can only hope that Bradford will find a home behind a quality offensive line that will protect him, and allow him to fulfill all his potential.
This article is
What is the duplicate article?
Why is this article offensive?
Where is this article plagiarized from?
Why is this article poorly edited?

St. Louis Rams: Like this team?