2010 NFL Mock Draft 4.0: Rounds 1 & 2—Dez Bryant to the Giants?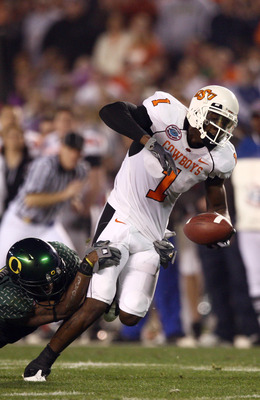 With less than a week to go until the draft and a few trades going through, it was time to do a fourth version of my mock draft.
I can only do 50 slides so the last half of the second round is all contained on the last slide. In this latest version, the offensive tackles fly off of the board early and a couple of high profile players fall.
Pick 1: St Louis Rams - Sam Bradford QB (Oklahoma)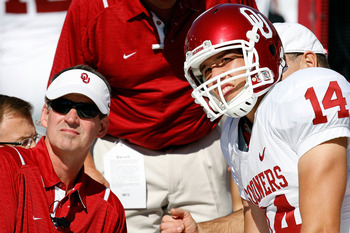 The Rams have shown a lot of interest in both Sam Bradford and Colt McCoy. Whether the interest in Bradford is sincere or to entice a team like Cleveland to move up to the top spot is yet to be seen, but either way it looks like Bradford is the likely first pick.
Pick 2: Detroit Lions - Ndamukong Suh DT (Nebraska)
I was almost tempted to put Dez Bryant here just to get a laugh. The Lions are in a win-win situation at number two, because no matter what happens at one they get a great player at DT. In this case they get the player that most people think is the best in the draft.
Pick 3: Tampa Bay Buccaneers - Gerald McCoy DT (Oklahoma)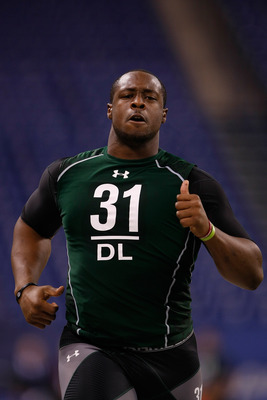 At this point the Bucs are hoping that the Rams or whoever is at the first spot takes Bradford so they don't have to make a decision.
Most people have McCoy and Suh neck and neck for best player in the draft. By choosing one of them, the Bucs get another cog in the young defense they are building.
Pick 4: Washington Redskins - Russell Okung OT (Oklahoma State)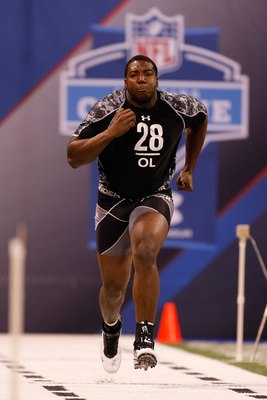 There have been some rumors that Washington likes other OTs as much or more than Okung, but it is hard to believe anything said in the weeks before the draft.
Okung has been everyone's top OT for months now and will be Washington's pick.
Pick 5: Kansas City Chiefs - Bryan Bulaga OT (Iowa)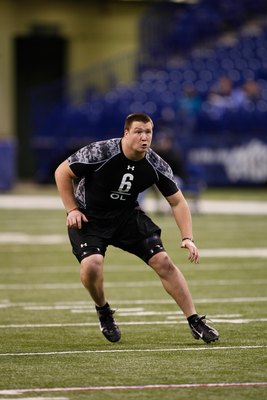 It is hard to know what the Chiefs will do at number five, but I believe Pioli when he says that he would not take a safety that high. Last year, KC shocked people by reaching for Tyson Jackson, and this year they will reach again to get a guy they like in Bulaga.
Pick 6: Seattle Seahawks - CJ Spiller RB (Clemson)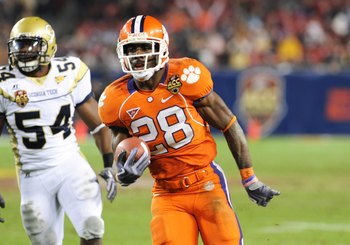 From Reggie Bush to Joe McKnight, Pete Carroll likes having a back to let his offensive coordinator play around with. Six may be a little high, but Carroll will want to make sure that he lands Spiller.
Pick 7: Cleveland Browns - Eric Berry S (Tennessee)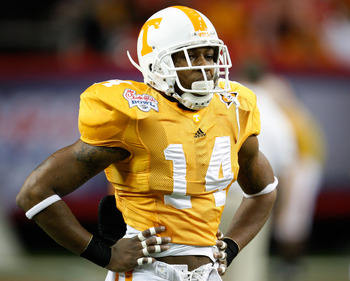 If the Browns don't move up to pick Bradford, they would have to be very satisfied to get Eric Berry at number seven. Adding Sheldon Brown and Eric Berry to a defensive backfield already containing talented CB Eric Wright will make the Browns hard to pass against.
Pick 8: Oakland Raiders - Trent Williams OT (Oklahoma)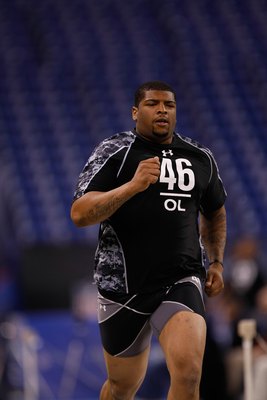 Williams had a very good combine so the people around Al Davis can point to that and talk him into drafting a very talented OT.
There were concerns about Williams, but his combine performance and interviews have seemed to have made those disappear.
Pick 9: Buffalo Bills - Anthony Davis OT (Rutgers)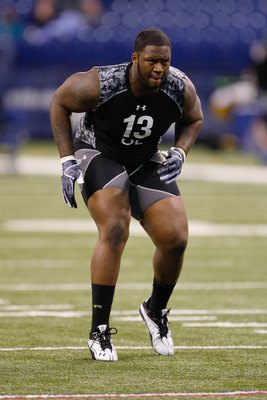 Davis was once very highly regarded, but concerns about his work ethic caused him to fall. In this case, the Bills' desperate need for an OT makes him jump back into the top 10.
Pick 10: Jacksonville Jaguars - Joe Haden CB (Florida)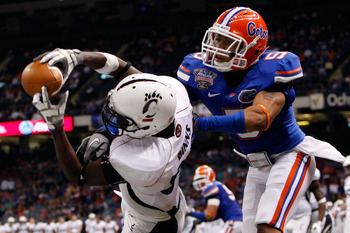 In the Jag's division, you need to have talented CBs. Haden's pro day did a lot to calm scouts fears about his speed and Haden going to Florida doesn't hurt his cause.
Pick 11: Denver Broncos - Dan Williams DT (Tennessee)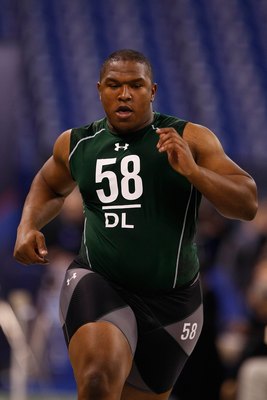 The Broncos make the decision to draft a NT which is a main cog in running the 3-4. Williams is a space eater who also gets good penetration recording 8.5 tackles for losses.
Pick 12: Miami Dolphins - Earl Thomas S (Texas)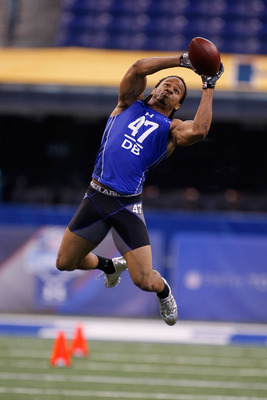 Thomas is a ball-hawk who would be a great fit in Miami to replace Gibril Wilson.
Also, the Dolphins have already interviewed him three times, so there must be some interest.
Pick 13: San Francisco 49ers - Mike Iupati OG/OT (Idaho)
All of the top tackles are off of the board, so the 49ers go with the best O-lineman with upside. Iupati has the best footwork of any of the lineman in the draft and at worst is a great run blocking LG and at best a RT.
Pick 14: Seattle Seahawks - Charles Brown OT (USC)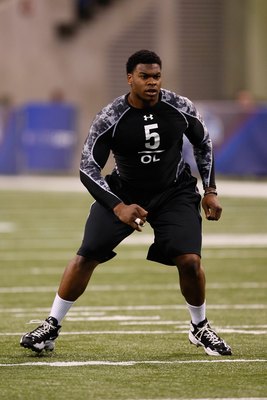 Pete Carroll takes a player who he is familiar with, who also happens to be the best OT left on the board.
Brown knows the blocking system Carroll's staff will be implementing, giving him a head-start in the battle to earn a starting job right away.
Pick 15: New York Giants - Dez Bryant WR (Oklahoma State)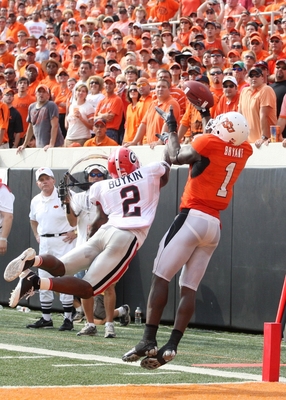 The Giants make the most shocking pick of the draft and take Bryant at number 15. Right now the Giants have a lot of good receivers but no great ones since the loss of Plaxico.
Pick 16: Tennessee Titans - Derrick Morgan DE (Georgia Tech)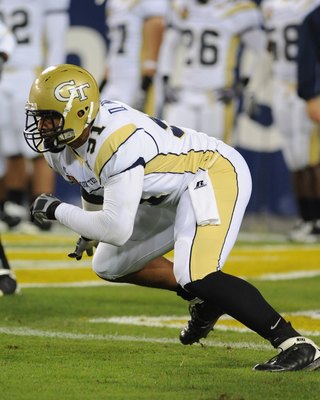 Losing Albert Haynesworth and Kyle Vandenbosch in consecutive years causes a large void on the D-line. Morgan fills Vandenbosch's spot here and is a very good value at 16.
Pick 17: San Francisco 49ers - Rolando McClain ILB (Alabama)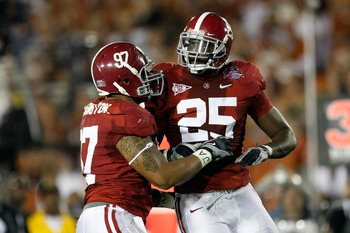 McClain falling to 17 is just too good to pass up. He can be the eventual replacement for Takeo Spikes or move to the outside depending on what the Niners want to do with him. He is familiar with the 3-4 and brings good leadership to the team.
Pick 18: Pittsburgh Steelers - Maurkice Pouncey OG (Florida)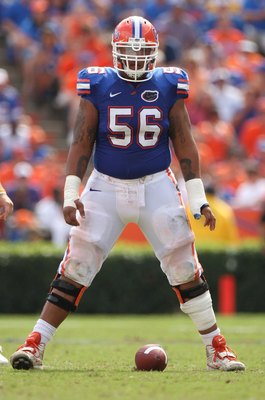 The Steelers have shown some interest in Mike Iupati but he is off the board, so they take the best offensive lineman left on the board, who some have rated as high as Iupati as a guard.
Pick 19: Atlanta Falcons - Sean Weatherspoon OLB (Missouri)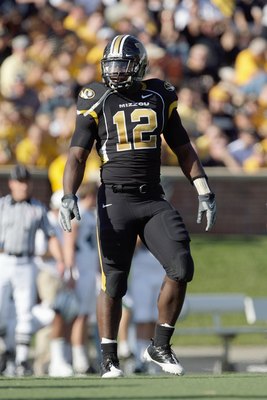 The Falcons need help at outside linebacker and DE but they go with Weatherspoon here because he is the safer pick over Jason Pierre Paul at DE.
Pick 20: Houston Texans: Kyle Wilson CB (Boise State)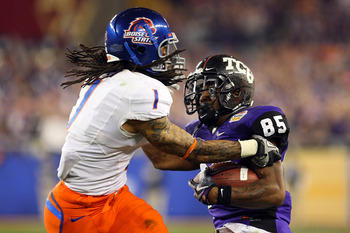 The Texans need a replacement for Dunta Robinson and Kyle Wilson is a very talented CB.
Pick 21: Cincinnati Bengals - Taylor Mays S (USC)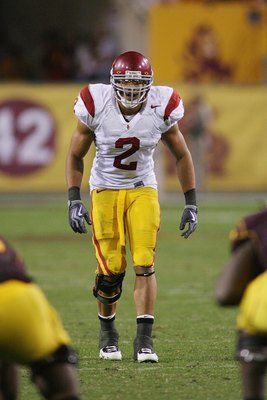 The Bengals get a younger, faster version of Roy Williams. Williams is only on a one-year contract with the Bengals.
Pick 22: New England Patriots - Jason Pierre Paul DE/OLB (South Florida)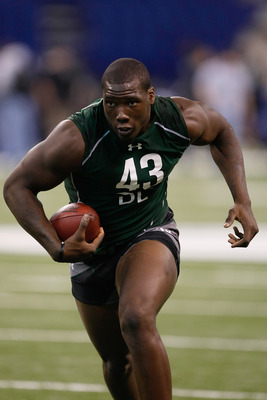 The Patriots need someone to replace Richard Seymor and Pierre Paul has the added benefit of being fast enough to act as a stand up OLB when needed.
Pick 23: Green Bay Packers - Brandon Graham OLB (Michigan)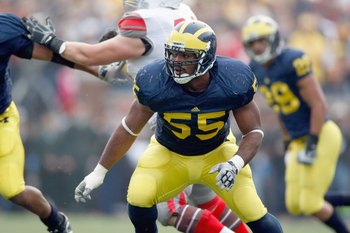 The Packers get the best 3-4 linebacker to replace Aaron Kampman who was never really a fit for the system.
Pick 24: Philadelphia Eagles - Devin McCourty CB (Rutgers)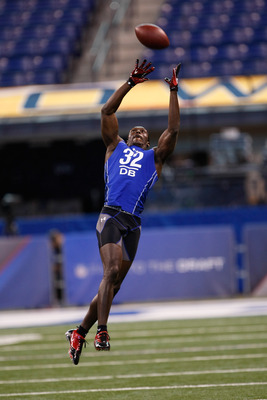 The Eagles get a replacement for Sheldon Brown who they traded to the Browns. They also get a player who can contribute on special teams.
Pick 25: Baltimore Ravens - Jermaine Gresham TE (Oklahoma)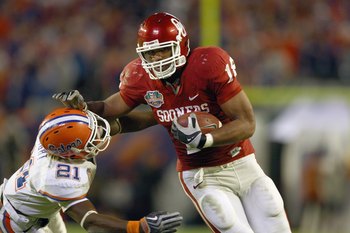 The Ravens have finally stopped ignoring the offense and got Anquan Boldin. Now they get a TE who is a very talented pass catcher and will help keep some coverage off of Boldin.
Pick 26: Arizona Cardinals - Jimmy Clausen QB (Notre Dame)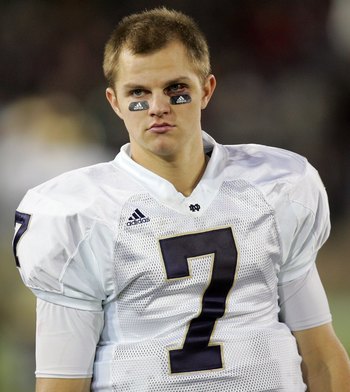 The Cardinals can talk about how they trust in Matt Leinhart to take over for Kurt Warner, but that will be tested when Clausen falls to them. Neither the coaching staff nor his teammates sound like they believe in Leinhart.
Pick 27: Dallas Cowboys - Bruce Campbell OT (Maryland)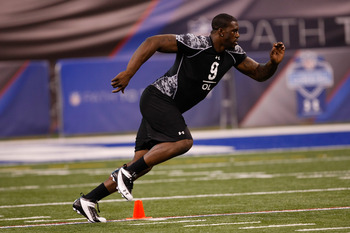 Campbell is an athletic freak who runs like a TE but has the size of an OT. He is raw and relies on his strength instead of technique.
Pick 28: San Diego Chargers - Jahvid Best RB (Cal)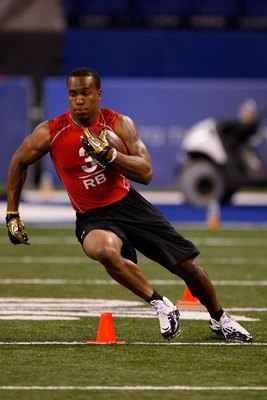 The Chargers surprise everyone here and take Jahvid Best over Ryan Mathews. Best is a more dynamic back who Norv Turner can move around the field. They will look to add a bigger back later in the draft.
Pick 29: New York Jets - Everson Griffen DE/OLB (USC)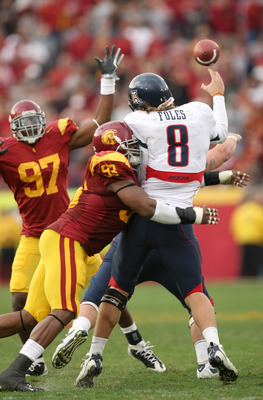 Griffen showed very good speed at his pro day and proved to the scouts that he could play in either a 3-4 or a 4-3. The Jets get a guy who they can move around the field to get pressure on the passer.
Pick 30: Minnesota Vikings - Brian Price DT (UCLA)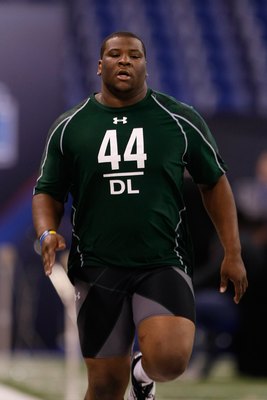 This is Pat Williams' last year and the Vikings will need a DT to replace him and spell him during the year.
Pick 31: Indianapolis Colts - Rodger Saffold OT/OG (Indiana)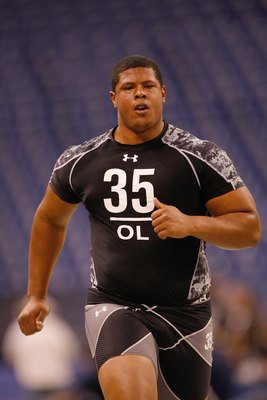 The Colts are very good at finding rookie O-lineman that they can plug in. Saffold can play guard or tackle, giving the Colts some versatility.
Pick 32: New Orleans Saints - Jared Odrick DT (Penn State)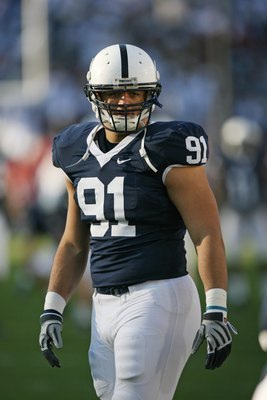 This is an unusually deep draft for DT and the Saints will take advantage by taking the talented DT out of Penn State.
Round Two, Pick 33: St Louis Rams - Carlos Dunlap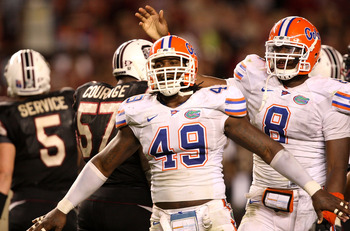 Dunlap has high first round talent but character concerns cause him to fall to the Rams in the second round.
Pick 34: Detroit Lions - Ryan Mathews RB (Fresno State)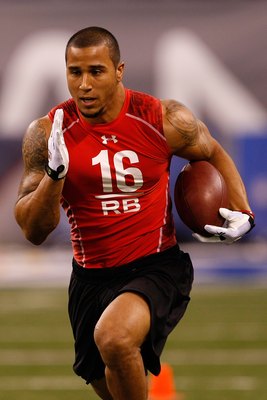 Kevin Smith has been productive but having been looking for more production out of their RB and Mathews falls into their lap.
Pick 35: Tampa Bay Buccaneers - Golden Tate WR (Notre Dame)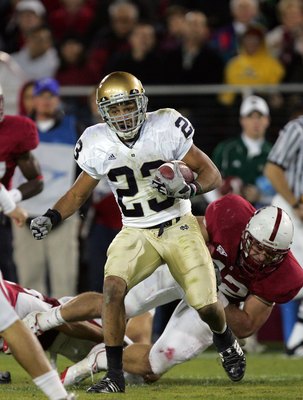 Tate may not be the biggest WR, but he has the speed to open things up for the running game and the other receivers. The Bucs get their young QB another weapon.
Pick 36: Kansas City Chiefs - Terrence Cody NT (Alabama)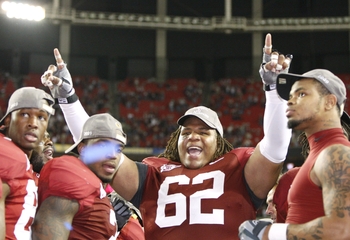 The Chiefs add a big nose tackle who can help free up their DEs on the outside. Cody may be the most talented NT in the draft but his stock has fallen due to concerns over his weight.
Pick 37: Philadelphia Eagles - Corey Wootton DE (Northwestern)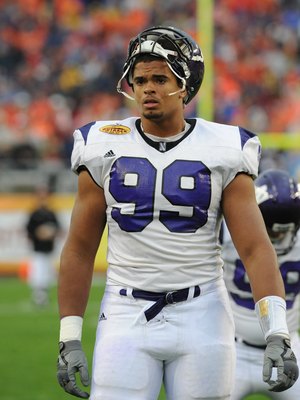 The Eagles need a DE to play opposite Trent Cole. Wootton is going into his second year off of ACL surgery and is improving as time goes by. The Eagles may get a steal here.
Pick 38: Cleveland Browns - Colt McCoy QB (Texas)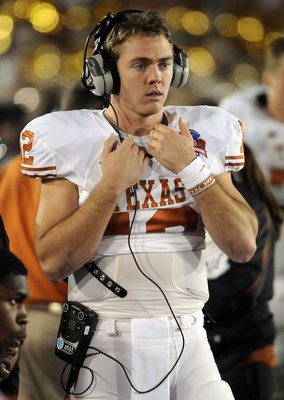 The Browns get a QB that they can develop under Jake Delhomme for the next couple of years. McCoy will need some time to sit and learn a pro system but in time could be a very good QB.
Pick 39: Oakland Raiders - Cam Thomas DT (North Carolina)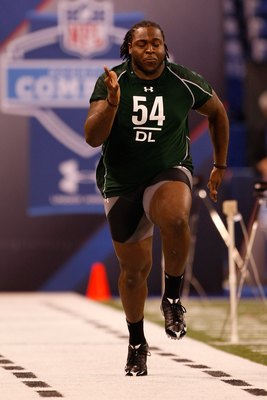 The Raiders upgrade an OT spot in the first round and turn to a DT in the second, Cam Thomas is a big DT who can help Oakland stop the run.
Pick 40: San Diego Chargers - Sergio Kindle OLB (Texas)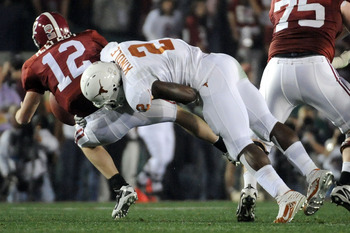 The Chargers get a great OLB who drops into the second round because there are only a limited number of teams who need 3-4 linebackers.
Pick 41: Buffalo Bills - Damian Williams WR (USC)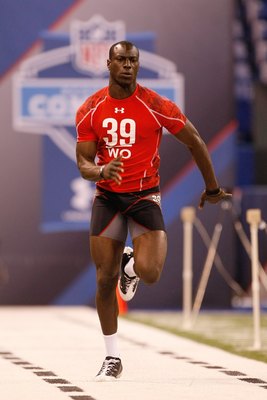 Not the fastest WR but he runs good routes and is quick off of the line. Will be a good replacement for T.O. and fits nicely next to the speedy Lee Evans.
Pick 42: Tampa Bay Buccaneers - Patrick Robinson CB (Florida State)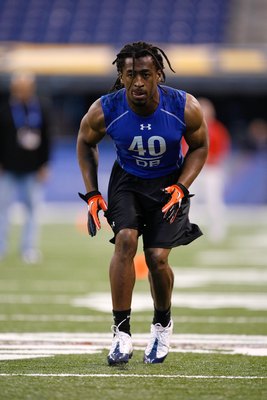 Robinson is an athletic CB who fits well in a cover two system. He can come in and play nickel and be a replacement for Ronde Barber.
Pick 43: Denver Broncos - Brandon Spikes ILB (Florida)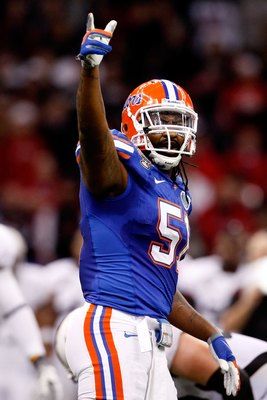 Spikes had a bad combine but the film doesn't lie and Spikes has good intangibles and is a good value in the second round.
Pick 44: New England - Jerry Hughes OLB (TCU)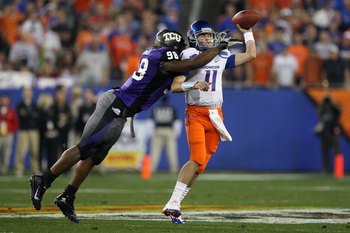 The Patriots get a steal in the second round with Hughes. They improve their defensive front with both of their first two picks.
Pick 45: Denver Broncos - Vladimir Ducasse OG (UMass)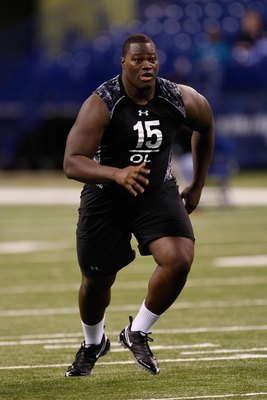 Ducasse can step in right away and play at guard and may eventually develop into a tackle.
Pick 46: New York Giants - Daryl Washington ILB (TCU)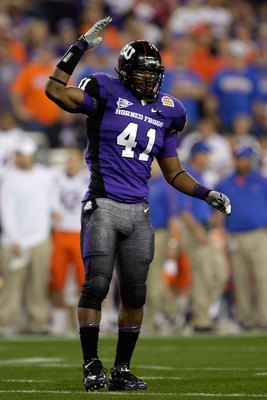 The Giants need to get an upgrade over Antonio Pierce and Daryl Washington is a good value at this point in the second round.
Pick 47: New England Patriots - Tim Tebow QB/TE (Florida)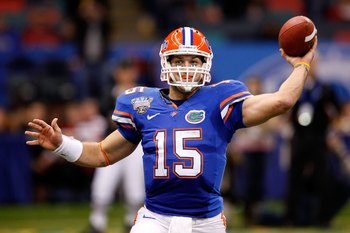 The Patriots will find a way to use Tebow in their offense while they let him learn from one of the all time greats, Tom Brady.
Pick 48: Carolina Panthers - Ricky Sapp DE (Clemson)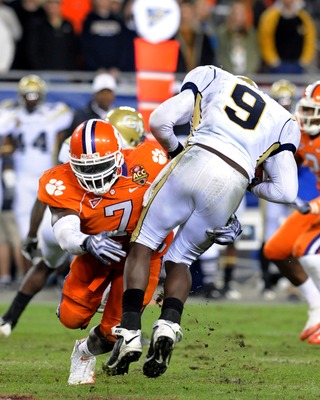 The Panthers need to begin looking for a replacement for Julius Peppers and Sapp will be a start. He needs to bulk up to be able to go against powerful NFL tackles.
Pick 49: San Francisco 49ers - John Jerry OG/OT (Mississippi)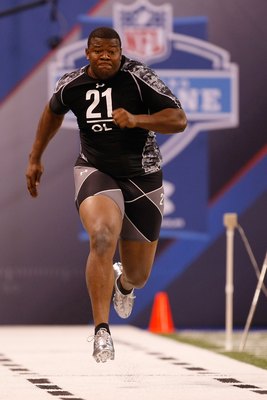 Jerry played guard but at the senior bowl he played some RT and looked good doing so. He could be a big, run blocking RT that Singletary would like.
Pick 50: Kansas City Chiefs - Koa Misi OLB (Utah)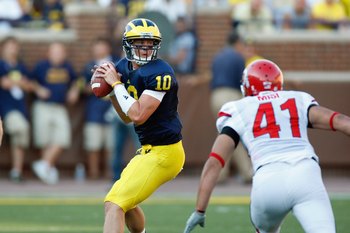 The Chiefs get a rush linebacker who will help get pressure on the QB and free up, with Terrence Cody, Tyson Jackson, and Glenn Dorsey.
Pick 51: Houston Texans - Jon Asamoah OG (Illinois)
Pick 52: Pittsburg Steelers - Brandon Ghee CB (Wake Forest)
Pick 53: New England Patriots - Demaryius Thomas WR (Ga Tech)
Pick 54: Cincinnati Bengals - Aaron Hernandez TE (Florida)
Pick 55: Philadelphia Eagles - Chris Cook CB (Virginia)
Pick 56: Green Bay Packers - Kareem Jackson CB (Alabama)
Pick 57: Baltimore Ravens - Dominique Franks CB (Oklahoma)
Pick 58: Arizona Cardinals - Navarro Bowman LB (Penn State)
Pick 59: Dallas Cowboys - Nate Allen FS (South Florida)
Pick 60: Seattle Seahawks - Arrelious Benn WR (Illinois)
Pick 61: New York Jets - Alex Carrington DE (Arkansas State)
Pick 62: Minnesota Vikings - Akwasi Owusu-Ansah (Indiana-PA)
Pick 63: Indianapolis Colts - Lamarr Houston DT (Texas)
Pick 64: New Orleans Saints - Rob Gronkowski TE (Arizona)
Keep Reading