NFL Mock Draft 2010: Post-Trades Edition
Santonio Holmes to the Jets. Brandon Marshall is a Dolphin. Ted Ginn Jr. returning kicks for the 49ers.
These trades have really rocked the NFL world this past week, which has really affected how some teams will be approaching the NFL draft.
This is my newest mock draft, post trades this week.
Let me know what you think as always.
Enjoy!
No. 1: St. Louis Rams: Sam Bradford, QB, Oklahoma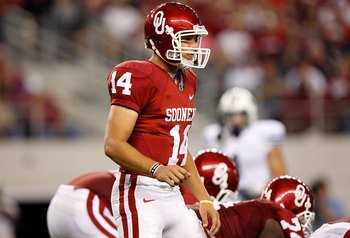 Consensus No. 1 pick if Rams do not trade the pick.
No. 2: Detroit Lions: Ndamukong Suh, DT, Nebraska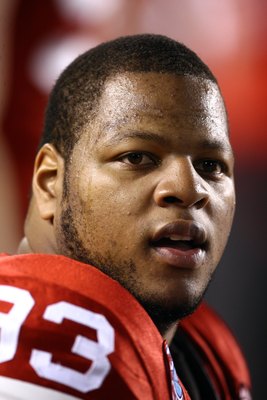 No. 1 overall prospect on my big board. Lions get some needed help on defensive line.
No. 3: Tampa Bay Bucs: Gerald McCoy, DT, Oklahoma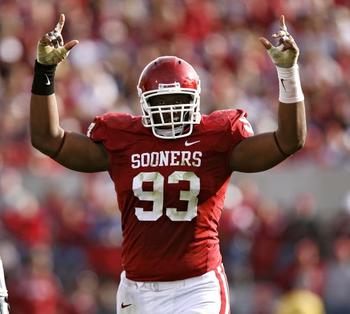 Tampa Bay desperately needs a franchise defensive tackle, and they land one of the best in McCoy.
No. 4: Washington Redskins: Russell Okung, OT, Oklahoma State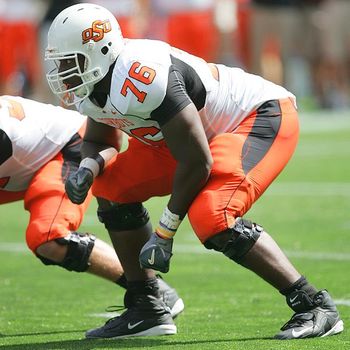 Redskins land franchise left tackle to protect McNabb's blind side, and help bolster the running game.
No. 5: Kansas City Chiefs: Eric Berry, S, Tennessee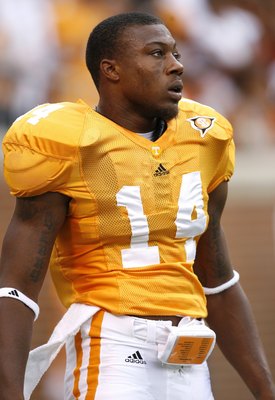 Berry is one of the biggest guarantees of the draft. He should be a Pro-Bowler for years to come.
No. 6: Seattle Seahawks: Bryan Bulaga, OT, Iowa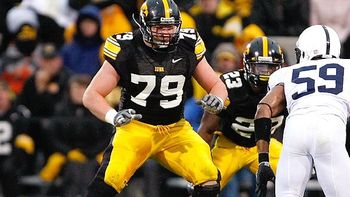 Seattle has question marks on their o-line, and Bulaga's ability to play left or right tackle is just too intriguing to pass up.
No. 7: Cleveland Browns: Joe Haden, CB, Florida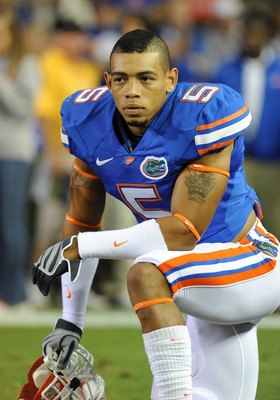 With Berry taken two picks ahead, Browns go for the best shut-down corner in the draft.
No. 8: Oakland Raiders: Taylor Mays, S, USC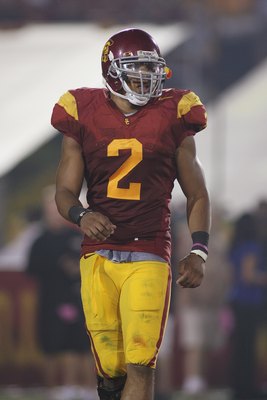 Oakland shocks again! They cannot pass up on the west coast boy and his amazing workouts.
No. 9: Buffalo Bills: Dan Williams: NT, Tennessee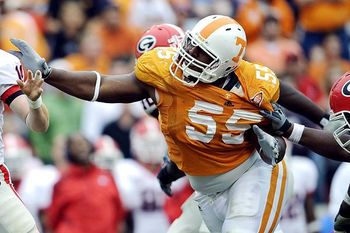 Buffalo passes on franchise quarterback to select franchise nose tackle.
No. 10: Jacksonville Jaguars: Derrick Morgan, DE/OLB, Georgia Tech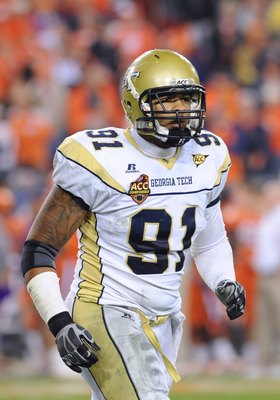 Jaguars get needed pass rusher with unlimited potential and very high floor.
No. 11: Denver Broncos: Rolando McClain, LB, Alabama
McClain would fit in perfectly in Denver's 3-4 scheme and would be an instant starter.
No. 12: Miami Dolphins: Jason Pierre-Paul, DE/OLB, South Florida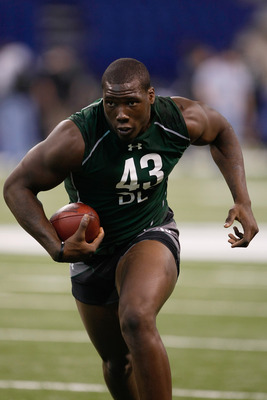 Dolphins get a player with a lot of potential, who will need a few years to learn the system.
No. 13: San Francisco 49ers: Trent Williams, OT, Oklahoma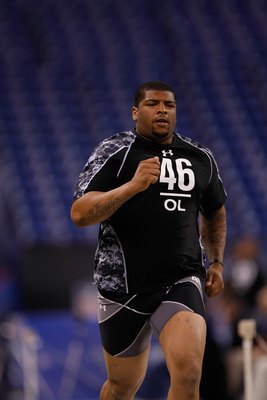 49ers luck out and get one of the best linemen in the draft, filling a needed hole.
No. 14: Seattle Seahawks: Dez Bryant, WR, Oklahoma State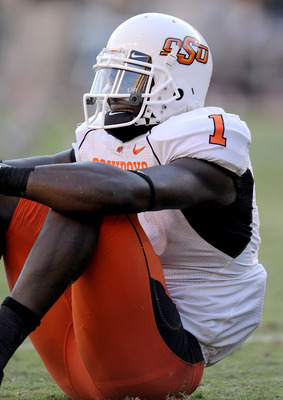 Fills need for No. 1 receiver. Housh and Bryant become legitimate combination.
No. 15: New York Giants: C.J. Spiller, RB, Clemson
Giants take the best player available, and Spiller instantly becomes feared in special teams and third downs.
No. 16: Tennessee Titans: Everson Griffen, DE, USC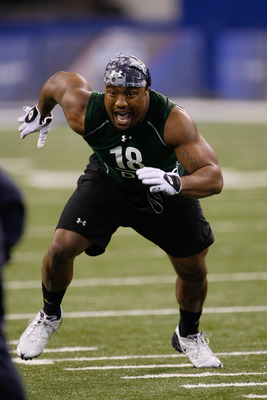 Pure 4-3 defensive end fits Tennessee's needs perfectly.
No. 17: San Francisco 49ers: Earl Thomas, S, Texas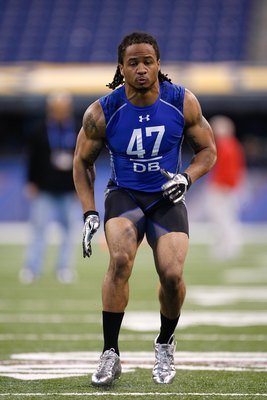 Thomas is a good fit at either safety position and can even play corner if need be.
No. 18: Pittsburgh Steelers: Maurkice Pouncey, G/C, Florida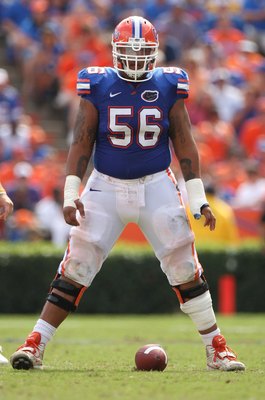 Steelers are weak at both guard and center, and Pouncey can play either position.
No. 19: Atlanta Falcons: Sean Weatherspoon, LB, Missouri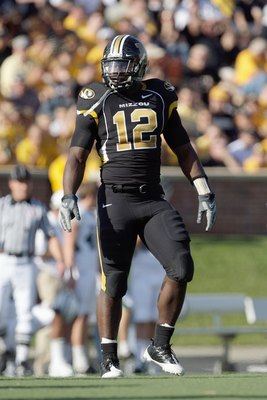 Weatherspoon is a safe pick here, and he will be able to replace aging Mike Peterson in a season or two.
No. 20: Houston Texans: Kyle Wilson, CB, Boise State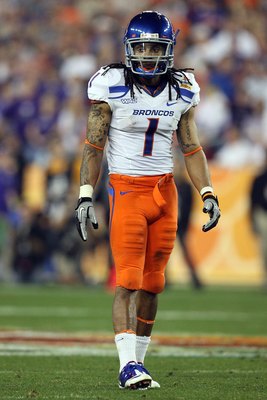 With No. 1 corner Dunta Robinson gone, Texans snag the second best corner on the board.
No. 21: Cincinnati Bengals: Mike Iupati, G, Idaho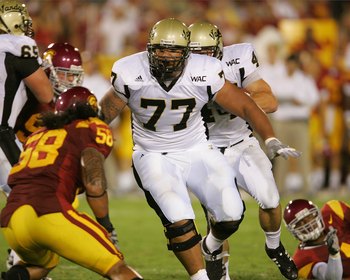 Bengals continue to build their offensive line to protect Palmer and give Benson another 1000 yard season.
No. 22: New England Patriots: Brandon Graham, OLB/DE, Michigan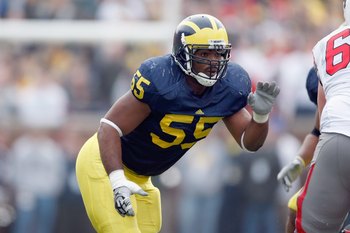 Graham fits in perfectly with the 3-4 system, and he will be able to play all over the field.
No. 23: Green Bay Packers: Anthony Davis, OT, Rutgers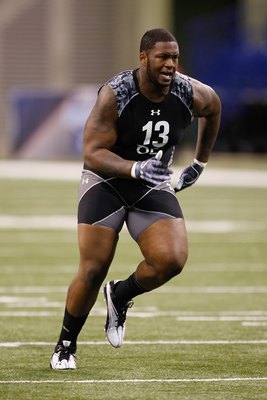 Davis is just too good to pass up, and he will be able to sit for a season or two to mature and improve.
No. 24: Philadelphia Eagles: Patrick Robinson, CB, Florida State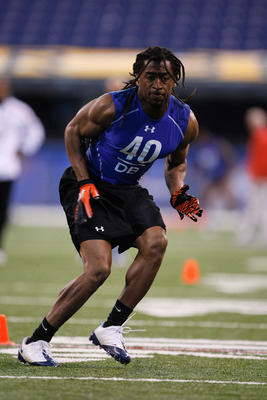 Better pure corner than McCourty, and Eagles have Jackson and Maclin for special teams already.
No. 25: Baltimore Ravens: Jared Odrick, DE/DT, Penn State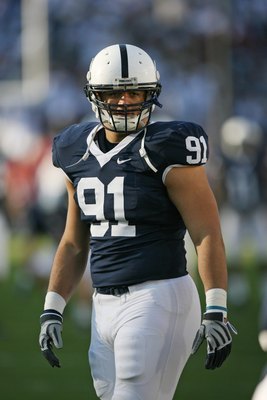 Fits in perfectly with Ravens scheme and attitude. Big time player down the road.
No. 26: Arizona Cardinals: Jimmy Clausen, QB, Notre Dame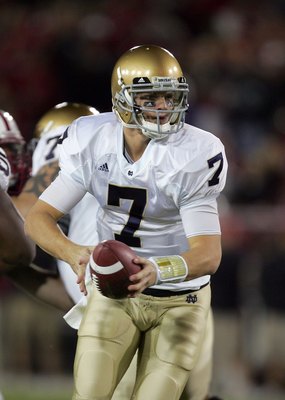 Clausen somehow falls to the Cardinals at No. 26. He will have one or two seasons to watch and learn the game.
No. 27: Dallas Cowboys: Bruce Campbell, OT, Maryland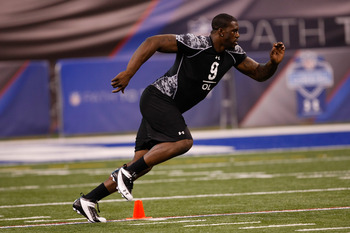 The Cowboys land one of the most athletic offensive linemen of all time. May have to sit for a couple of seasons, but he should blossom into a good lineman.
No. 28: San Diego Chargers: Golden Tate, WR, Notre Dame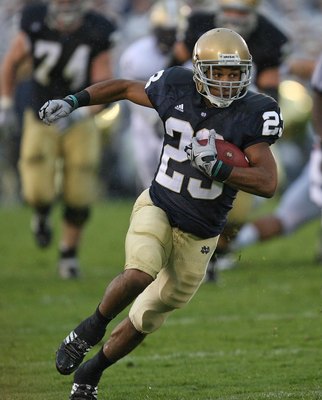 Chargers pass on running back because of depth and trust of Sproles. Tate gives Rivers a legitimate No. 2 target.
No. 29: New York Jets: Jerry Hughes, DE/OLB, TCU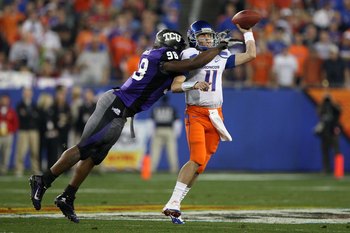 Rex Ryan takes the tougher player in Hughes over the more talented Sergio Kindle.
No. 30: Minnesota Vikings: Devin McCourty, CB, Rutgers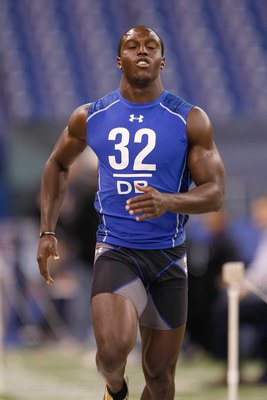 With the injury to Cedric Griffin, secondary becomes a must. McCourty is fast, talented, and much more physical than given credit for.
No. 31: Indianapolis Colts: Charles Brown, OT, USC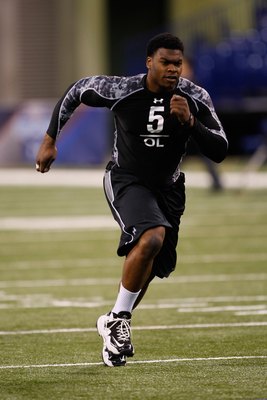 Colts love Brown's amazing athleticism and attitude and have big plans in the future for him.
No. 32: New Orleans Saints: Brian Price, DT, UCLA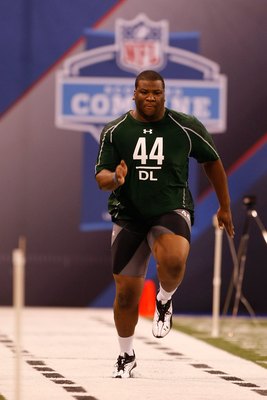 After Sedrick Ellis the Saints become weak at defensive tackle. Price is a solid player, who can contribute immediately.
Keep Reading