2010 NFL Mock Draft: AFC North Edition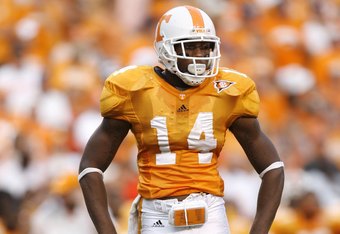 Joe Murphy/Getty Images
2010 NFL Mock Draft: AFC North Edition
The Baltimore Ravens are a few mistakes from becoming AFC Champions, they need depth and definitely need to get younger, and a depleting defensive end core needs some attention.
The Pittsburgh Steelers will look to get the best available on the board, chances are either an interior lineman or a defensive back.
The Bengals really have a chance to make a big push into the playoffs in 2010. Staying away from the injury bug and staying consistent will make a big change.
The good ole Browns will be in a rebuilding year, new personnel in the building usually means big changes to the guys who step foot on the field. The Browns need to draft a game changer, players like Troy Polamalu and Ed Reed are the game changers you want on your team, so why not draft one like them.
7. Cleveland Browns – S Eric Berry, Tennessee
Season Record: 5-11
The Cleveland Browns have made some decent moves this year in the offseason, nothing big, but positional players and some who have a chance to fight for a starting spot on the team.
The Browns have basically two options here—Jimmy Clausen or Eric Berry, if they make it this far.
Berry has the chance to be a top-five player at his position very quickly in the NFL. He also fits an immediate need for Cleveland and is easily the top safety on the board, a player they can plug in from day one.
The signing of Jake Delhomme kind of makes this pick a little easier to address. He sure isn't a long term fix and I personally think he has run out of time in the NFL.
Berry has the talent and experience to make the kind of impact for the Browns that the long lasting Pro Bowler Ed Reed and Troy Polamalu made for their teams early on.
The Browns may get a couple more wins than they had in 2009, but nothing spectacular.
They will look a lot different in 2010 though. New personnel—and good ones on top of that—should show some upside to the Browns.
They have great size and new additions to that 3-4 defense, but still need some extra size up front to possibly replace the troubled Shaun Rogers.
The offense will be the biggest change for the needy Browns. Mike Holmgren will be running the west coast offense, something similar to what the Browns started to have some success with at the end of the year.
Other Possibilities: QB Jimmy Clausen, WR Dez Bryant, NT Dan Williams
18. Pittsburgh Steelers – G Mike Iupati, Idaho
Season Record: 9-7
The Pittsburgh Steelers have made minor pickups this year, but are in line for depth later on.
Pittsburgh's offensive line isn't that great, but Ben Roethlisberger sure doesn't help. He creates way too many sacks for that team than what the offense should get knocked at.
The Steelers are looking to get back to that smashmouth football and who else would you take in this year's draft other than Mike Iupati from Idaho? This seems like a perfect marriage.
Pittsburgh has to address the interior along the offensive line and Iupati has emerged as the best guard in the draft. Iupati is a mauler who could help the Steelers get back to their old ways of running inside.
Iupati fits what Pittsburgh likes as an athletic but powerful guard who should help return the Steelers' running game to the upper half of the league.
The Steelers could even jump at the idea of fixing their secondary; their corners are pretty shaky right now.
The defensive line is another concern for that defense. Those defensive ends can only produce for so long at an old age.
The thought of having to play Pittsburgh is scary in its own way, but I think at this time the offseason may have scratched some games due to the off the field issues.
Other Possibilities: CB Joe Haden, G/C Maurkice Pouncey
21. Cincinnati Bengals – TE Jermaine Gresham, Oklahoma
Season Record: 10-6
Cincinnati made a good move by picking up wide receiver Antonio Bryant, but they still need another weapon for Carson Palmer.
Jermaine Gresham is the best pure tight end in the draft and answered all the physical questions in Indianapolis that was needed.
Gresham has a rare combination of height, weight, and speed. He is a threat to consistently stretch the seam as a vertical route runner. Gresham is also a threat to pick up big chunks of yardage after the catch.
I honestly can't remember the Bengals having a receiving threat at the tight end position.
Carson Palmer and the Bengals offense needs to start opening it up a bit. Since the departure of T.J. Houshmandzadeh that range of their receiving corps has been diminished.
The Bengals have two legit wideouts in Chad Ochocinco and Antonio Bryant, but this offense is based on having three receivers out there. Gresham as a tight end is flashy enough to fill that need.
I really like Cincinnati this year if they make out with a good draft. We all know Palmer needs another target out there.
The way I see it, if Cincinnati can get lucky and stay away from the injury flu, they have a great chance of making it far into the playoffs and making this division one of the tops in the league.
Other Possibilities: WR Dez Bryant, S Taylor Mays
25. Baltimore Ravens – DE Carlos Dunlap, Florida
Season Record: 9-7
The Baltimore Ravens made some good moves this offseason to help shore up their offense.
The new additions of Anquan Boldin and Donte' Stallworth should be the missing pieces they have been looking for on offense since the Ravens came into the league. This should be the best offensive year in the Ravens history.
Baltimore lost Justin Bannan and Dwan Edwards to free agency and Trevor Price is getting older, so look for them to draft a big name player in Carlos Dunlap out of Florida.
Dunlap is quick enough to disrupt plays in the backfield, and shows good lateral mobility when working down the line of scrimmage. Dunlap flashes the ability to collapse the pocket coming off the edge. He has very long arms, time's jumps fairly well and gets hands up when the quarterback is positioned to throw.
The Ravens could even look to draft a player to help the secondary, but injuries have decimated this group, if healthy they have a solid core.
Baltimore's biggest need this year and most likely next year will be fixing up that defense that once was talked about to be one of the best defenses to step foot on the field.
Baltimore needs depth and a couple solid role players to topple the AFC North.
Other Possibilities: S Earl Thomas, WR Demaryius Thomas, G/C Maurkice Pouncey
This article is
What is the duplicate article?
Why is this article offensive?
Where is this article plagiarized from?
Why is this article poorly edited?

Pittsburgh Steelers: Like this team?