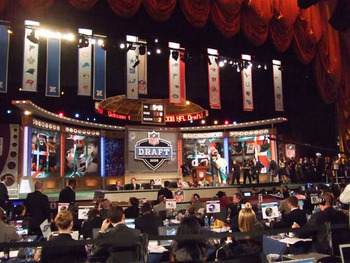 This is a mock draft that is current as of April 13th, 2010.
Just a week away from the draft now anticipation is growing and all teams have thier boards set, one thing is for certain that the unpredictable will happen. Teams always move up and down the draft. While college stars fall like Brady Quinn, and small school players such as Chris Johnson and Joe Flacco go early! And don't forget about the Raiders Al Davis never cease to suprise, the NY Jets always have a clueless contingency of booing fans no matter who they pick.
Pick 1.) St. Louis Rams - Sam Bradford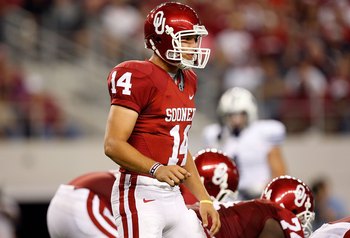 When the Rams released Marc Bulger, they all but signed the gun slinger from Oklahoma. Sam is 100% healthy with the shoulder fully healed and looked electric at his pro-day.
Pick 2.) Detroit Lions - Ndamukong Suh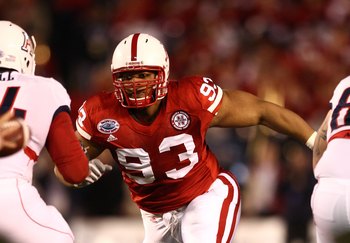 Detroit lucks out and gets the best player in the draft, Suh is a MONSTER with elite skills and strength. Ndamukong has the potential to be a blue-chipper for years to come. Jim Schwartz has his new Albert Haynesworth.
Pick 3.) Tampa Bay Buccaneers - Gerald McCoy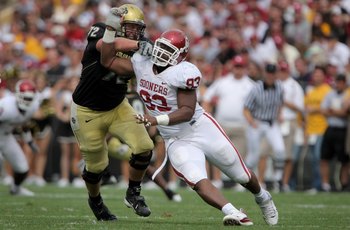 The Buc's like Suh more than McCoy but will not hesitate to pull the trigger on this extremely quick, penetrating and instinctive tackle who is the prototypical three technique or under tackle. Has great potential and rare physical talents.
Pick 4.) Washington Redskins - Russell Okung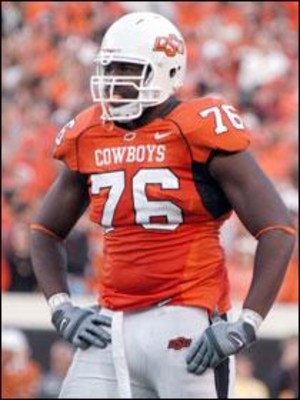 With the signing of McNabb the Skins should address the left tackle position. Chris Samuels retirement leaves last years worst offensive line in football worse than ever. Okung is an elite athletle who is the most pro ready left tackle. Play's with great length but stuggles in run blocking who will be coached up on use of hands.
Pick 5.) Kansas City Chiefs - Bryan Bulaga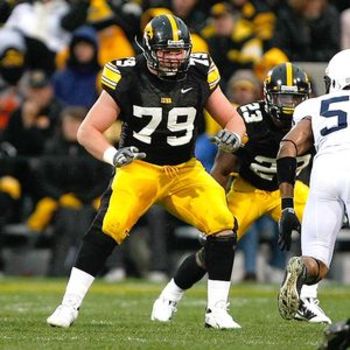 The Chiefs need to protect Matt Cassell or people lose jobs. Bulaga has the quickness, agility and balance desired to play on the left side; along with the toughness, physicality and brute strength to play on the right. Brenden Albert would slide to RT. Iowa coach Kirk Ferentz and Scott Pioli have a connection.
Pick 6.) Seattle Seahawks - Trent Williams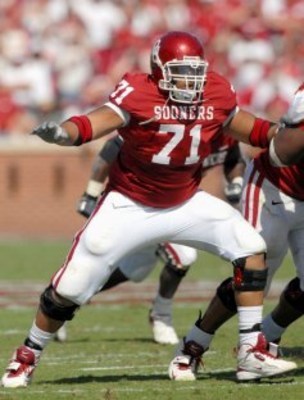 Walter Jones could retire this year, Trent can play LT/RT. Few tackles move as well or physically dominate as Trent, he can play both left or right tackle. Displays a nastiness on the field similar to Jason Smith of Baylor last year and finishes blocks. At times he lapses in technique.
Pick 7.) Cleveland Browns - Eric Berry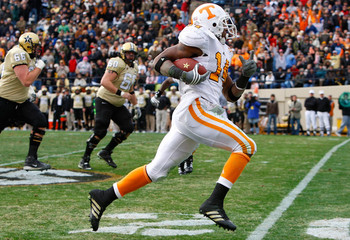 A defensive secondary that used to have Brodney Pool & Sean Jones now has neither. Eric is very instinctive with elite cover skills who can easily match up with a slot receiver though some question his run support. Overall versatility and ball skills are outstanding.
Pick 8.) Oakland Raiders - Anthony Davis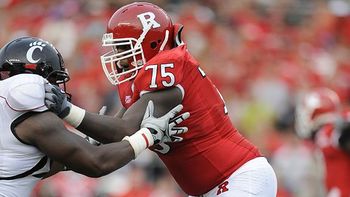 Al Davis is a tough nut to crack, he could draft anyone who knows. Davis fills a hole for the Raiders I am assuming that Al Davis won't draft Scouting Combine warrior Bruce Campbell.
Pick 9.) Buffalo Bills - Jimmy Clausen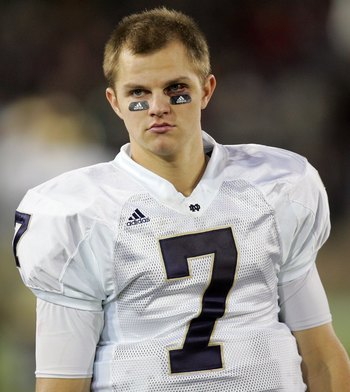 I think the Bills want to draft a left tackle but with none worth the 9 spot left, they fill the second biggest need on the team QB. Clausen has all the tools to be successful, their are some concerns about his leadership and demeanor. They could also draft a NT like Dan Williams.
Pick 10.) Jacksonville Jaguars - Derrick Morgan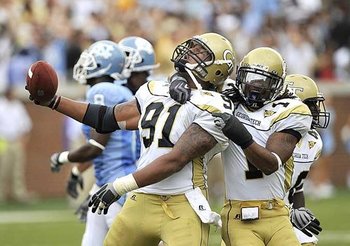 The Jags had 14 sacks all season. Last year John Henderson led the way with 3? So pass rush is a prioriety, Morgan progressed every year in college. Although he lacks elite burst he plays with a high motor. Has good size and a variety of pass rush moves. A solid all-around player. They could draft USF star Jason Pierre-Paul.
Pick 11.) Denver Broncos - Dez Bryant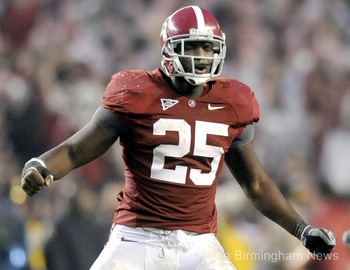 With the trade of Brandon Marshall Denver's most pressing need becomes WR.
Pick 12.) Miami Dolphins - Dez Bryant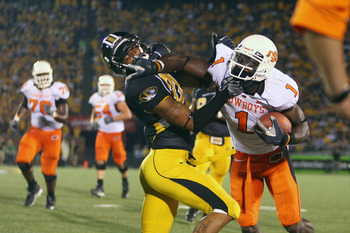 Dez Bryant has maturity concerns but also Pro Bowl like talent. Miami needs to get Chad Henne a big time target period, Ted Ginn is not a true number one receiver. The fins could also take Dan Williams(Ferguson 8 game suspension) or Jason Pierre-Paul(Porter & Taylor are gone).
Pick 13.) San Francisco 49ers - Joe Haden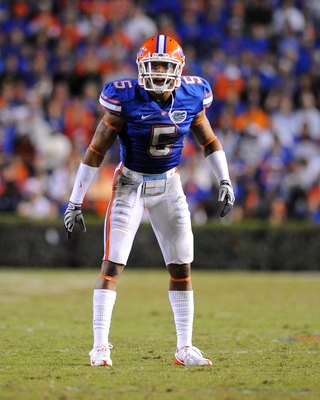 Troy Vincent is not getting any younger and could mentor joe into bcoming a legit top ten corner in the NFL. haden is a long-armed corner who was a tackling machine at UF, showed a poor forty time(lower back injury) at the combine but plays very fast on tape. Aggressive and physical in run support, shows great body control and instincts to break up passes. Haden is not a finished product but leaves it all on the field, Joe has a high ceiling.
Pick 14.) Seattle Seahawks - C.J. Spiller
Seattle lacks play makers on offense bottomline Julius Jones and Justin Forsett are not going to scare defenses. Spiller is an explosive, multipurpose back with game changing ability who adds a dynamic threat to Seattle immediately.
Pick 15.) New York Giants - Dan Williams
Maybe a bit of a value pick here but Dan's big body helps the young linebackers and will free up Justin Tuck and Osi Umenyiora. This guy has a gigantic body to place over the nose, and he isn't easily movable, scrapes well along the line. He isn't a real penetrator, but let him rotate with Canty and Alford. Giants most likely would like to draft Alabama linebacker Rolando McClain.
Pick 16.) Tennessee Titans - Jason Pierre-Paul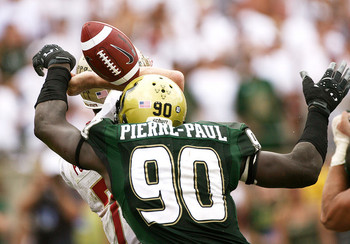 With this same pick in 1999 the Titans selected another raw, physical freak in Jevon Kearse who Pierre-Paul reminds many of. Jason is the ultimate boom or bust pick in this years draft, but could have the highest ceiling of any prospect as well. Only played D-1 football for one season with seven starts but put up gaudy numbers.
Pick 17.) San Francisco 49ers - Earl Thomas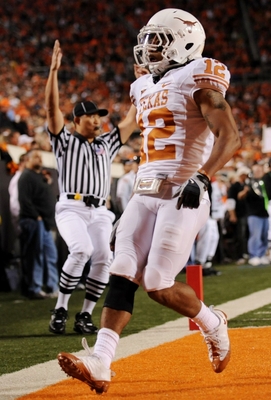 Pure value pick but with Haden at 13 the 49ers totally revamp their secondary. Best instincts out of any defensive player in the draft a total ball-hawk, has a great understanding of offensive schemes. He is undersized and underdeveloped only a two year starter. Has the athletic ability, agility, fluidity and speed to become a standout player.
Pick 18.) Pittsburgh Steelers - Maurkice Pouncey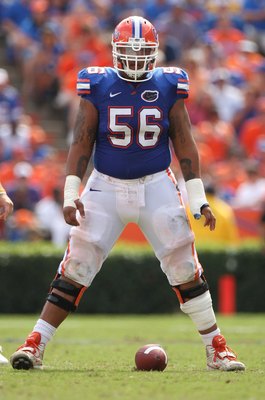 Steelers need to protect Big Ben and they should draft one of the safest prospects in 2010, Maurkice Pouncey who can play both guard or center. Has the skills and toughness to fit in with the Steelers' style of play right away. They might draft Iupati out of Idaho depending on who they like more.
Pick 19.) Atlanta Falcons - Brandon Graham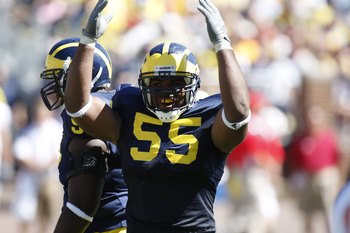 Jamaal Anderson has not panned out for the Falcons and there is even talk of moving him inside to DT. John Abraham needs some help and Graham is a disruptive force who fought through double teams every game and yet still made big plays. Some knock him for being 6'1", but he plays with great leverage and has a variety of pass rush moves. hits another gear when in pursuit and plays with a non stop motor.
Pick 20.) Houston Texans - Ryan Matthews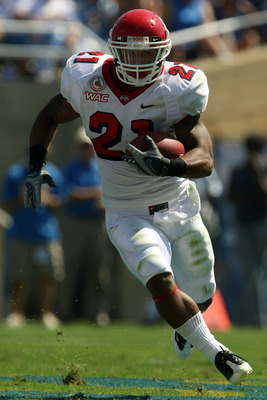 As much of a need the secondary is the Texans feel they are a solid running back away from a prolific offense. Yeah I know they have Steve Slaton but he just had neck surgery, is neck surgery on a tail back ever good. They can find a corner in round two however if they go this route in the first maybe Boise State's Kyle Wilson or Alabama's Kareem Jackson.
Pick 21.) Cincinatti Bengals - Jermaine Gresham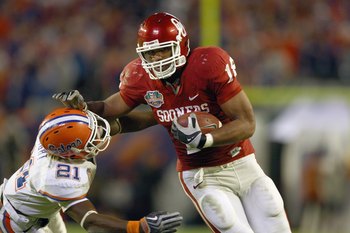 Cincinatti needs to help Carson Palmer regain his form, he looked off in the playoffs, had a horrible game against the Jets. Has no one to check down to when the blitz is on. Jermaine has the core strength and downfield speed to become an every down player, he needs to work on blocking can be coached up. Great upside and a HUGE red-zone target who is great on the move.
Pick 22.) New England Patriots - Jared Odrick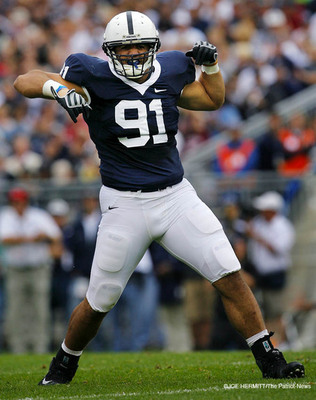 New England has a ton of early picks and could package picks that would allow them tomove around on draft day. The Patriots need help on defense in general, Odrick is a great player who is perfect DE in the 3/4. Jared can get skinny and upfield with ease because he is a natural athlete even with his size. Tough player and sure tackler, makes plays on the perimeter. The Pats might take a 3/4 outside linebacker like Sergio Kindle, Ricky Sapp or Jerry Hughes. Maybe they even draft a WR like Demaryious Thomas, Golden Tate, or Arrelious Benn.
Pick 23.) Green Bay Packers - Mike Iupati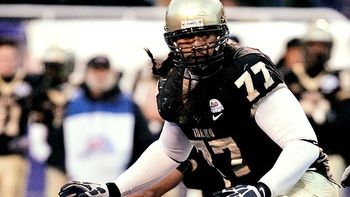 The Packers should protect draft to protect Aaron Rogers one of the best, if not the best young quarterback in the league. They resigned Clifton so I don't think a tackle is the answer, Iupati plays with a mean streak and didn't give up a sack in 807 straight snaps. He has the athletic ability to move to right tackle down the line. Green Bay might take a DB or DE/OLB as well such as Kyle Wilson or Sergio Kindle.
Pick 25.) Philadelphia Eagles - Corey Wootton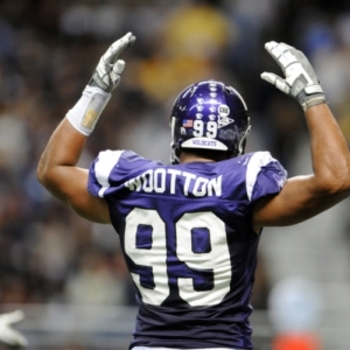 The Eagles have beacoup picks in the draft and are the most likely team to move around. Corey is some what of a forgotten player to the average fan, he played through injuries his senior year at Northwestern and struggleed. His junior year was superb shining in the Alamo Bowl. The Eagles traded for Daryll Tapp but he is not the answer opposite Trent Cole. This would be my suprise pick i think Wootton will be a better pro than both Everson Griffon & Carlos Dunlap.
Pick 25.) Arizona Cardinals - Kyle Wilson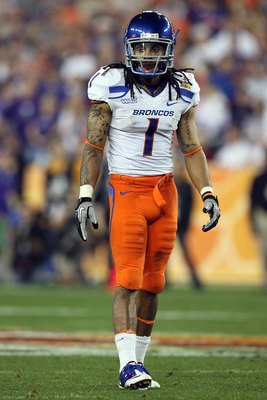 Finally the second corner comes off the board! Arizona has a corner problems to say the least, Dominique Rodgers-Cromartie can't do it himself and was injured in the playoffs. Wilson is a quick, physical press corner who could be a legit second corner Arizona is looking for. Will be an immediate impact on special teams, superb gunner and return man(3 TD's).
Pick 26.) Baltimore Ravens - Demaryius Thomas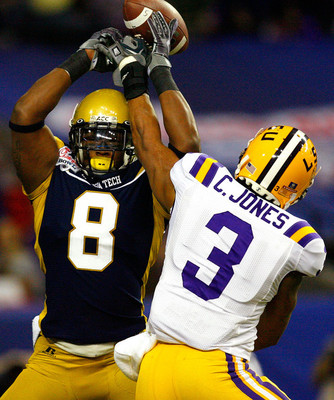 Baltimore could go many ways they have few holes to fill. On defense uprades could be on DE,NT and DB while on offense maybe the Ravens continue to solidify the receiving corps including tight end. Rob Gronkowski is a clone of Todd Heap who they love but has injury concerns. Ultimately I feel that with no worthy five technique left they go offense. Demaryius Thomas can learn from two real pros in Derrick Mason and Anquan Boldin.
Pick 27.) Dallas Cowboys - Taylor Mays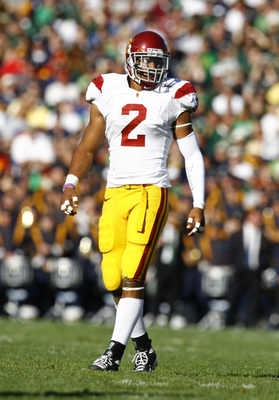 The Cowboys cut both Ken Hamlin and Flozell Adams, Dallas has Doug Free who can start in the place of Flozell. Jerry Jones would like to make a splash after last years ho-hum draft. I think Taylor Mays is just that splash a freak athlete who is not afraid to hit but needs coaching in man coverage. If Jones picks a tackle consider Hoosier Roger Saffold, Maryland's Bruce Campbell and Charles Brown of USC.
Pick 28.) San Diego Chargers - Terrence Cody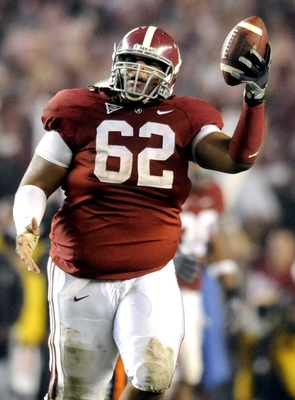 After Jamal Williams release a big hole is left in the middle of San Diego's defense Ian Scott & Ogemdi Nwagbuo are not the answer. Cody is a massive NT that engulfes blockers and could fill the void(and then some) left by Jamal Williams. Another need is tailback, Darren Sproles can't handle the full load. If Ryan Matthews is still on the board i think they run the card to podium! A common misconception is that if your team has a small back they have to draft a power back, not true a combo like Jahvid Best/Sproles or Joe McNight/Sporles is dangerous.
Pick 29.) New York Jets - Sergio Kindle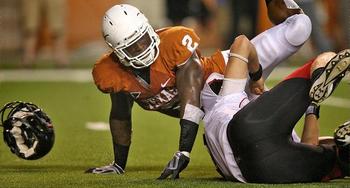 The Jets need another DE/OLB pass rush specialist because Calvin Pace(30) and Bryan Thomas(31) are no spring chickens anymore. Vernon Gholston was a huge bust and set this defensive depth chart back. Kindle is a big, strong, fast and violent hitting hybrid backer who is used to playing on his feet.
Pick 30.) Minnesota Vikings - Devin McCourty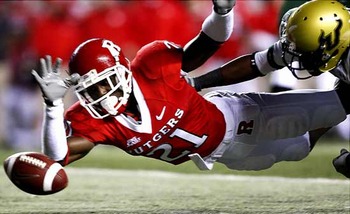 An injury to veteran Antoine Winfield and the ACL injury to fellow starter Cedric Griffin in the playoffs exposed the Vikings lack of depth at corner. Minnesota might be forced to take a cornerback in the first round. With the front seven the Vikes have and an emphasis on special teams(McCourty had multiple blocked kicks) Devin is a great fit.
Pick 31.) Indianapolis Colts - Brian Price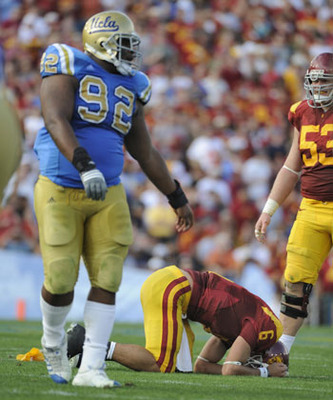 Price has a huge upside as a three technique with the strength to contribute at the nose in a one gap scheme. Shows good hand power and footwork while consistently playing both the run and pass well. Brian can free up Dwight Freeney and Robert Mathis, the other DT in Indy Antonio Johnson who is an over achiever should reap benefits as well. The Colts may draft an offensive gaurd or tackle after a poor showing in the Super Bowl in which Bill Polian called them out. Saffold from Indiana is a local product who can play both positions.
Pick 32.) New Orleans Saints - Sean Weatherspoon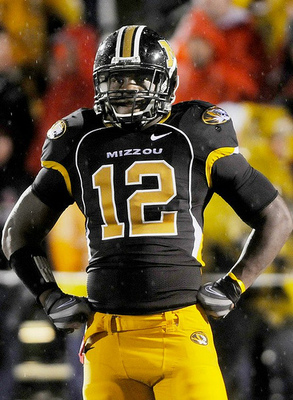 Scott Fujita left town for the Browns leaving a void at the OLB position, the Saints would like to get younger and more explosive on defense. Weatherspoon is a vocal leader and will help inject some much needed youth and tenacity in the defense. Sean will make an early impact as a rookie and is no stranger to dropping back into coverage, but still needs to improve on run defense. I can also see the Saints drafting a safety if one falls or a young DE even though they just signed Alex Brown.
Keep Reading