2010 NFL Draft: Brandon Marshall Trade Market is Quiet...Too Quiet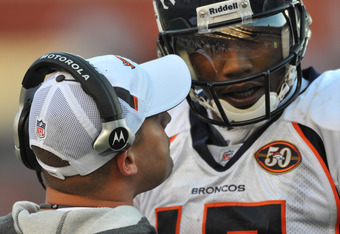 Larry French/Getty Images
The NFL Draft now is 12 days away, as more buzz continues to hit the NFL world.
The top ten has seen a shakeup since the Donovan McNabb trade went down on Easter Sunday, which has led to the hype and criticism quarterbacks Jimmy Clausen and Sam Bradford face.
The Denver Broncos currently own the 11th overall pick, and don't plan on drafting a quarterback. In fact, the plan looks to be a defensive player for the Broncos.
But there is a high profile player on the market that the Broncos are looking to deal, wide receiver Brandon Marshall.
If you aren't aware of why Marshall wants out, then you have missed two controversial offseasons of football.
Up to this point, both sides want to move on. Marshall wants to be paid like the best receiver in football, while Broncos management wants to move on from his headache.
The question is, where? The Seattle Seahawks seemed the team primed to make a splash on Marshall. But after visiting with Seattle, the talks died down completely.
Marshall's trade value has not changed one bit, currently a first round pick is the cost.
Will Denver have to lower it's price if that desperate to move Marshall? At this point, that seems the likely choice.
Rumors have begun of the Washington Redskins showing an interest in Marshall. Owner Dan Snyder throws money and draft picks like the world is coming to an end (it's not 2012 yet).
Though, it is unlikely that the Redskins would give up next year's first rounder with Mike Shanahan running the show, be aware of the Snyder.
However, after reading a few columns today on the Marshall trade market, I have to agree with them.
This is far from over, as these ramblings are too quiet.
We are talking about one of the best receivers in football here. I am quite surprised that Marshall has not been moved.
After all, there are quiet a few teams I see that should make the move.
The Miami Dolphins and Jacksonville Jaguars come to mind. Both of teams have no true number one, and trading a first round pick for a young, impact player could do the trick.
The Cincinnati Bengals could also be a landing spot. They are rumored to be drafting Dez Bryant if he falls to No. 21, so why not trade the first rounder for Marshall?
My biggest wild card in this market is the New England Patriots, especially if the Broncos decide come draft day to lower the price at all.
The Patriots have plenty of draft picks in this year's class, and could move a few of them to land Marshall.
Teams have until April 15 to sign Marshall to a tender sheet. I don't see that occurring, so the rumors will carry out through draft weekend.
There must be some unknown team in all of this. Brandon Marshall is too talented to not have a market, despite his off the field problems.
So expect the Brandon Marshall rumor mill to heat up during draft week, along with the first day of the draft.
The Broncos want to move Marshall, and will be waiting for a suitor who is willing to deal some top draft picks to acquire arguably the most talented receiver in the game today.
Matt Miselis is a NFL Featured Columnist for BleacherReport.com. He will be actively covering the NFL Draft for the next two weeks.
Follow him on twitter: http://twitter.com/MattMiselis
This article is
What is the duplicate article?
Why is this article offensive?
Where is this article plagiarized from?
Why is this article poorly edited?