2010 NFL Mock Draft: Post Donovan McNabb-to-Redskins Trade Edition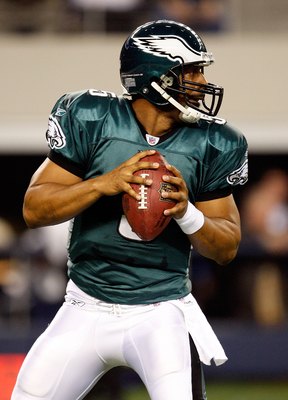 Easter's trade of Donovan McNabb from Philadelphia to Washington changes a lot on the draft board.
The Redskins, who had called Notre Dame's Jimmy Clausen in for a weekend workout in private, probably won't look to take a quarterback early in the draft any more. However, Jason Campbell might be in play for a team not sold on Clausen or not willing to pay Sam Bradford.
The Eagles will now apparently go with Kevin Kolb as their starter.
Let's look at a mock draft in the wake of this enormous trade.
1. St. Louis Rams - Sam Bradford, QB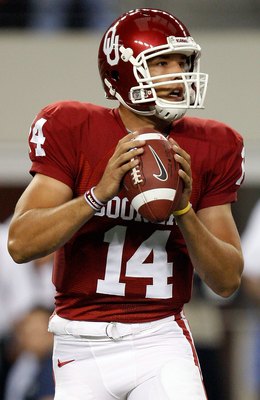 All indications are that Bradford put on a show at his pro day, and the only question for the Rams is how much it will cost to sign him.
2. Detroit Lions - Ndamukong Suh, DT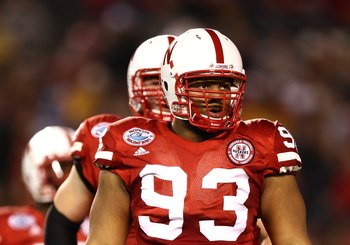 The Lions could use some beef up front, and could use this pick one of three ways:
1. Suh
2. Gerald McCoy
3. Trade down
For my money, Suh is the most dominant player in this draft and appears to ba a character guy as well. Detroit needs people like Suh all over their organization, and would be wise to take him here.
3. Tampa Bay Bucs - Eric Berry, S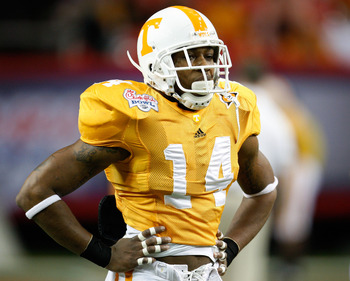 Berry put on a show at the combine, and would bring an Ed Reed-like safety to the Bucs defensive backfield. If it's between McCoy and Berry, I would take Berry in the NFC South.
4. Washington Redskins - Russell Okung, OT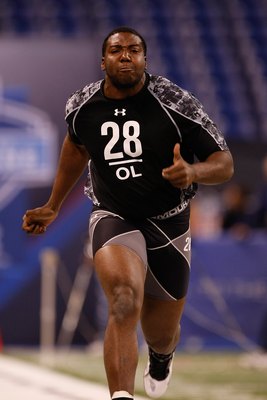 They just traded for McNabb after working out Clausen (bad signs for Clausen). With the depth they've added to their backfield, and the mediocre workouts from top receiver Dez Bryant, it makes sense for the Skins to protect their new QB.
5. Kansas City Chiefs - Gerald McCoy, DT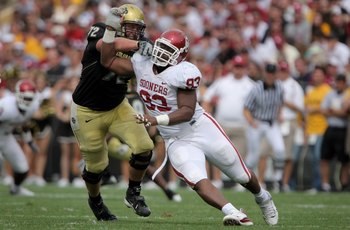 He's good enough to be the top overall selection, but could slide. If he's available, the Chiefs would be fools to pass on him (or trade out of No. 5).
6. Seattle Seahawks - Jason Pierre-Paul, DE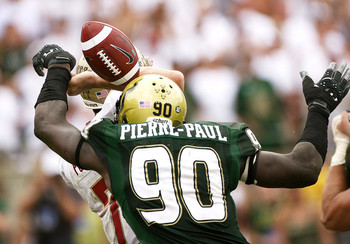 Seattle has two early picks, and while it might be tempting for them to look at Clausen here, they just traded for (and then extended?) Charlie Whitehurst.
The Seahawks need a rush end, and Pete Carroll gets his guy in Pierre-Paul.
7. Cleveland Browns - Jimmy Clausen, QB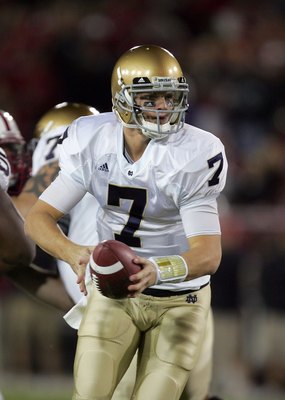 OK, so the Brady Quinn thing didn't work out...
But they've cut bait with BOTH Quinn and Derek Anderson and moved on to...Jake Delhomme? Clausen would be a good pick to mold behind Delhomme for three or four weeks until Delhomme blows up and gets booed out of Ohio.
8. Oakland Raiders - CJ Spiller, RB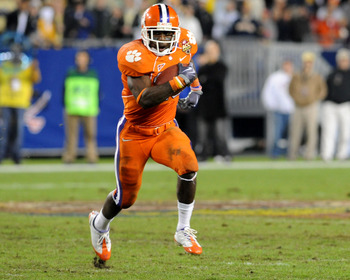 Does anything about the Raiders make sense?
Last year I predicted they would take Heyward-Bey because of his 40 time, and was blasted for it.
This year, I'm going to predict they try to find the explosive ultra-back they failed to get with Darren McFadden. If Clausen slides, he's the guy. But Spiller's a game-breaker and they need that, even if JaMarcus Russell is under center.
9. Buffalo Bills - Joe Haden, CB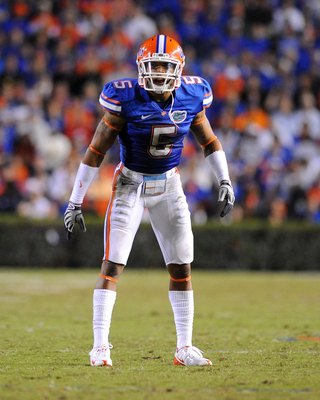 The Bills could use depth in their secondary, and the top corner is Haden.
10. Jacksonville Jaguars - Rolando McClain, LB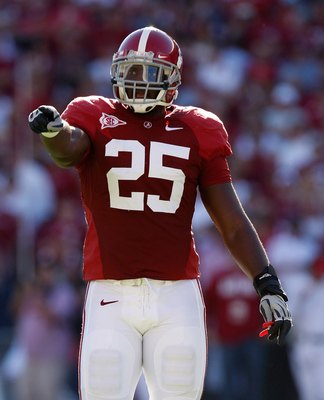 The Jags need a lot, but a force in the heart of their defense would make sense. McClain's a beast.
11. Denver Broncos - Bryan Bulaga, OT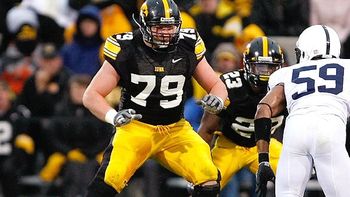 The Broncos have two picks in the middle of the round and could use one to build their offensive line with a solid tackle. Bulaga's a solid building block to protect whoever is in the backfield next year.
12. Miami Dolphins - Derrick Morgan, DE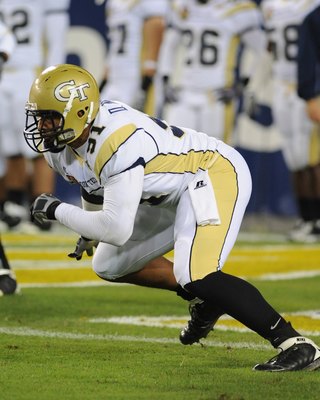 In case you haven't heard, Jason Taylor is old. Morgan's a solid rushing end to replace him.
13. San Francisco 49ers - Taylor Mays, S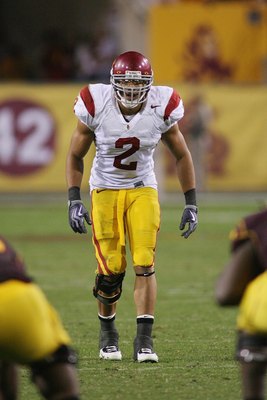 Mays disappointed on the field last year, but made scouts take notice at the combine. Considering the Niners history with Trojan safeties (Ronnie Lott), and Mike Singletary's style, Mays makes sense. This might be high, but with Seattle (and Pete Carroll) picking next, the Niners might need to grab him here while he's still available.
14. Seattle Seahawks - Bruce Campbell, OT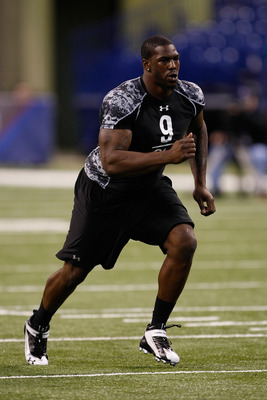 Carroll will be upset that Mays is off the board, but gets a solid tackle here with Campbell.
15. New York Giants - Earl Thomas, S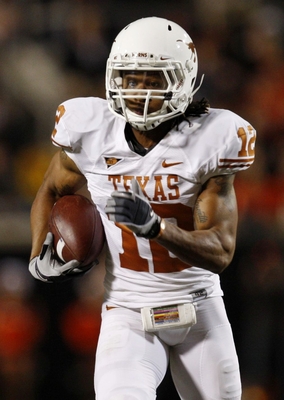 Thomas rates higher than No. 15 on many boards, and could add good depth to the Giants secondary. They would likely prefer a linebacker, but might be able to accomplish that by either trading down or up into the late first.
16. Tennessee Titans - Sergio Kindle, OLB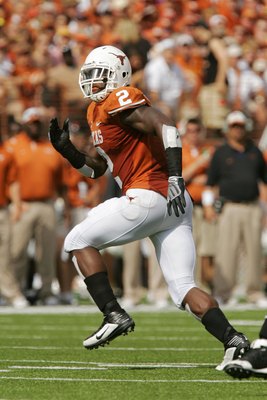 Big and physical, replaces Kyle Vanden Bosch perfectly.
17. San Francisco 49ers - Trent Williams, OT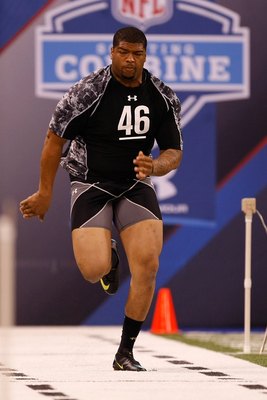 By taking Mays and Williams, the Niners address two needs in a big way. Like I said earlier, the names and picks might feel reversed, but I think the Niners will need to get Mays off the board before Seattle picks a second time.
18. Pittsburgh Steelers - Colt McCoy, QB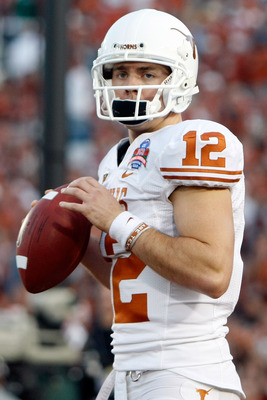 The key to this pick is that I am not assuming any draft-day trades in my mock; I think the Steelers will take a quarterback as a safety because of Ben Roethlisberger's issues off the field, and think the Steelers will try to trade down to get McCoy at a more appropriate place (early second).
I don't see an appropriate player on the defensive side of the ball to add to their scheme, and don't see a lineman they'd be thrilled to jump on here. Dan Williams would make great sense if they didn't have bulk at DT already.
19. Atlanta Falcons - Dan Williams, DT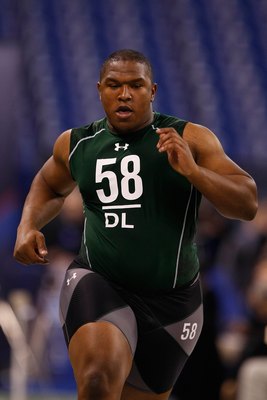 BIG. Lots of talent to pass on at No. 19.
20. Houston Texans - Kyle Wilson, CB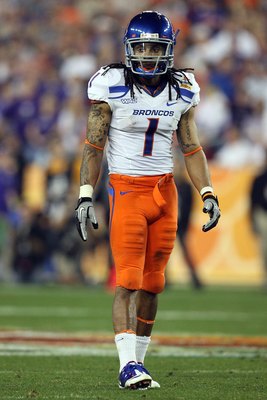 The Texans need a corner. Wilson's a good corner. Need meets remedy.
21. Cincinnati Bengals - Everson Griffen, DE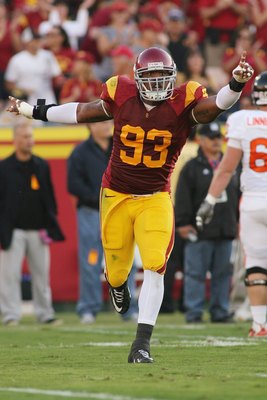 An offensive lineman or wide receiver will tempt, but adding more depth to a defense with momentum makes a lot of sense.
22. New England Patriots - Anthony Davis, OT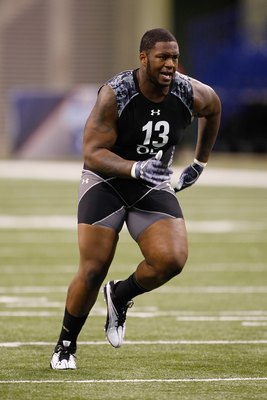 The Pats need to protect Tom Brady, and Davis is the best tackle left on the board.
23. Green Bay Packers - Brandon Graham, DE/OLB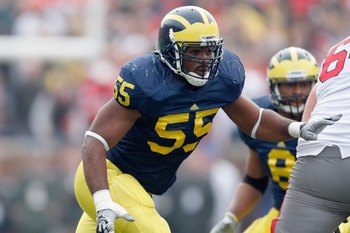 A much better fit in the 3-4 than Aaron Kampmann, Graham would be a nice fit in Green Bay. They need help on their offensive line, too.
24. Philadelphia Eagles - Dez Bryant, WR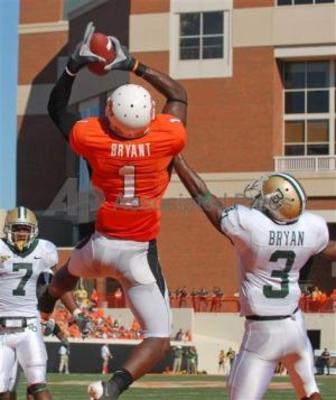 His stock will fall because of his workouts, but he's a nice fit for new starting quarterback Kevin Kolb and has better size than DeSean Jackson.
25. Baltimore Ravens - Sean Weatherspoon, LB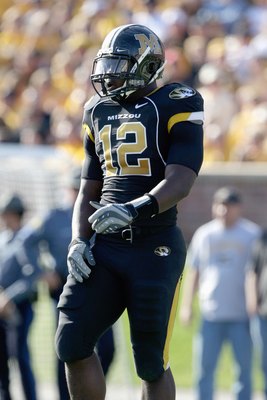 Played outside at Mizzou but could slide inside next to Ray Lewis. He's an intelligent, physical linebacker.
26. Arizona Cardinals - Mike Iupati, G
They'll be sick if Weatherspoon isn't around to replace Karlos Dansby, which is why I think the Ravens jump at him at 25.
Mike Iupati's a safe pick to build the interior of their offensive line to protect Derek Anderson, Matt Leinart or whoever ends up at quarterback in the desert.
27. Dallas Cowboys - Charles Brown, OT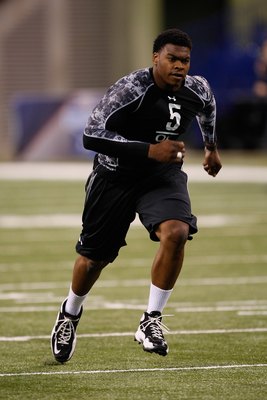 Replaces Flozell Adams ability on the field, but not his mental mistakes. Upgrade.
28. San Diego Chargers - Ryan Mathews, RB
Darren Sproles? LaDainian Tomlinson?
Ryan Mathews.
29. New York Jets - Brian Price, DT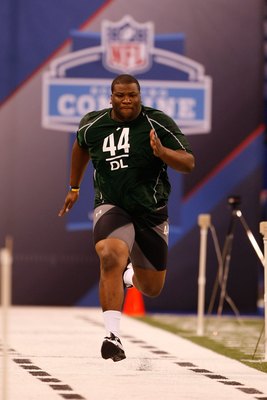 They've added weapons on offense, and have a superb secondary. Price inside their defensive line would be a luxury Rex Ryan would love to have.
30. Minnesota Vikings - Maurkice Pouncey, OL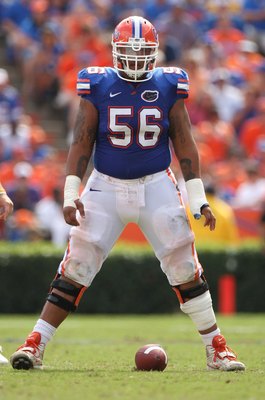 His ability to play center and guard is big, and the Vikings won't see a secondary player worth a pick on the board here. Depth on the offensive line is key when you have an elite running back and an ancient quarterback.
31. Indianapolis Colts - Jerry Hughes, OLB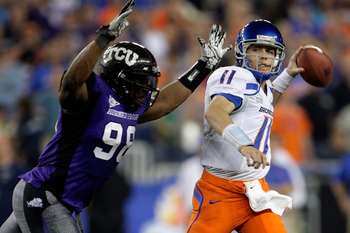 If you watched the Super Bowl, you know that the Colts need defense.
New Orleans Saints - Jermaine Gresham, TE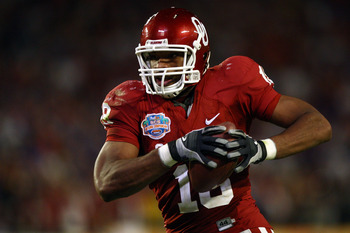 Jeremy Shockey isn't getting any younger. I'm not sure there's a linebacker to replace Scott Fujita here that brings the impact that Gresham does at the tight end position.
Sean Lee and Daryl Washington are options at linebacker, but Gresham's my pick.
Keep Reading