Bobby Ray Murcer Called Safe at Divine Plate: A Yankees Hero Sorely Missed
July 12, 2008
July 12th, 2008
Washington DC
Bobby Ray Murcers' smile was a big as his heart.  After a long battle with brain cancer, which was diagnosed on Christmas Eve in 2006, suffering no more he ascends to meet "his friend Thurm" as Gods' new announcer / all star outfielder. 
Bobby , an Oklahoma native, was a five time All Star Golden Glove outfielder who played for the NY Yankees starting in 1965 at Phil Rizzuto's beloved position- Short Stop.  In 1969 he then took on another Yankee great, and his friend Mickey Mantle's position, in center field.  He was rose to the top at both. 
He left his heart in New York while being obtained by San Fransisco in 1975, then by the Chicago Cubs in 1977, before finally rejoining the Yanks again in 1979.
Upon his return to New York, about half way through the season, he was stricken with grief on August 2nd as Thurman Munson, the then NY Captain, was killed in a plane crash while flying home to see his family in Canton, Ohio. 
His friend stayed at Bobby's house the night prior.  Bobby still had a house in Chicago, so Thurm, and Lou Piniella stayed at Bobby and Kays. Murcer was the last Yankee to see Thurm alive, taking a tour of the plane before take-off. 
Bobby said he watched Munson up there flying in to the black of night, and couldn't believe it was the Yankee Captain.  "He didn't have enough hours in that thing for me," said Bobby.  In sheer wonderment Bobby watched on smiling as Thurm took for Ohio on August 1st.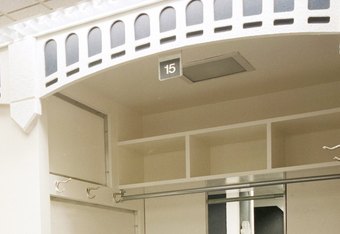 Nick Laham/Getty Images
Being a paper boy in 1979 and from Thumans' farm team home-town, Syracuse, Munson was my guy. I "called" being Munson everyday at Wadsworth Park during the summer.   I was truly shocked having awoken to see the headlines on that day.  
Ironically, I went on to become an air traffic controller and even worked in Ohio, but still could not muster that Murcer type strength to go to Canton.  No-way. Instead I looked into it. 
I's too often said that the crash was Thurmans' fault. He had a meeting at 4pm, and while at the airport at 3 he quickly asked 2 other pilots / friends to go for a ride and make some practice approaches with him. One of them was an instructor pilot.
I wonder what must have happened to distract everyone at the same time, which was the real cause of the crash. 
Just know that Thurman Munson saved two lives the day his plane crash-landed  nearly 900 feet short of the runway.  He never stopped flying, always trying to boost power, and pull up.  
He didn't cower, didn't shirk his responsibility, and didn't dive underneath the seats.  He fought to the very end in an attempt to overcome the overwhelming variables, and then landed as safely as one could.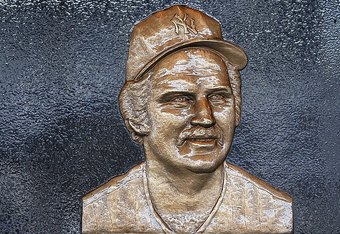 Jim McIsaac/Getty Images
It was an accident and no one is to blame. Mere wind took the Yankee hero home.  Factors added up, and became insurmountable regardless of the fearless Captains' bravery. 
His last words were made our of concern for his friends, "Hey, are you guys okay?"  His friends couldn't get Thurman out, he was pinned in the cock-pit.  
"Thurm, are you alright?" 
"No," he mumbled, "I can't move.  I can't move."  
Engulfed in thick jet-fuel smoke his friends had to get out quickly.  All this happened in mere minutes, and the fire department (located at every airport) sped to the scene in a hurried three minutes time. 
Munsons' landing saved both their lives, but no one could his. It was meant to be.
Later Jerry Anderson said, "Turman did not panic.  He never gave up, he kept on fighting and flew that plane all the way down to the ground.  It was the same way he was at the plate in the bottom of the 9th, game tied 3-3. He saved my life that day."
Three days after the biggest tragedy of all, Bobby Murcer was asked to eulogize Thruman and his words were palpable.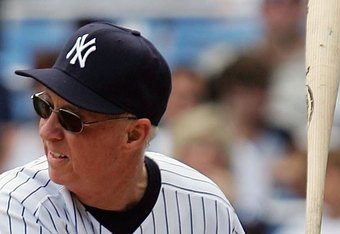 Jim McIsaac/Getty Images
In a cracking voice, Bobby showed strength again, saying  "My friend Thurm, he might have been number 15 on our team, but he will always be number one in our hearts, both in life and in love." 
Bobby gave solace to Diana, and the Munson Family summarizing that Thurman had left the physical life for the one beyond where he will live on forever.  The same remains true now.
After the crushing ceremony, and heroically demanding that the team play that same day, Bobby was asked by Billy Martin to sit it out. 
Bobby snapped too saying that he owed this game to his friend Thurm and instead of sitting it out he hit a shot to the heavens in the 7th, and in the last inning Bobby came through yet again hitting a walk off single for his best friend. 
He never used that bat again, and instead gave it to Diana Munson. That is how much a class act Bobby Murcer is & that is the type legacy he leaves for all of baseball - and its fans. 
No matter the team, Bobby Murcer taught the world that no matter where you come from or what you do that it is your character, most of all, that matters.  We lose that lesson sometimes, whether player or fan - and now Bobby can teach it every single day to those who bother to read into the story - and not just the stats.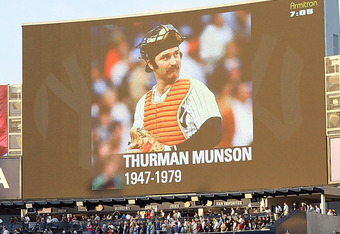 Jim McIsaac/Getty Images
That was the saddest day in my sports fan life, when at the age of 9 watching on as the plate remained clear of anyone before the game.  It didn't hit me until I looked on with an emptied heart as the Yankees had to use a different catcher.  It was gut wrenching, and never the same after that, but somehow Bobby made it better. 
The strength Bobby displayed was dumbfounding, and there was not a dry eye in the house as he collapsed after the game into Lou's arms.  How could that happen - within mere days of losing his best friend and captain, Bobby Murcer had the fortitude and character to reach up and pull a star down from the heavens. 
Without any weakness seeping into his being, he reached down, resolute, and did the thing that dreams are made of - he played for his lost friend.  He won that game that he told Billy that he had to play for his friend - he called the REAL shot like no other before him. 
Bobby made a country sigh and gulp, cheer and cry all at once. He made it alright to be happy again - and isn't that what life is all about?  Picking your chin up, remembering those that have fallen - respect - and the ability to move on in the comfort of knowing that the fallen one lives on in us?
I tell you now - there is no greater example of greatness
These are the things of Legend.
Bobby left the game of life before his time, at age 62. Separately these are two relevant numbers to Bobby. An un-retired number 6 was his friend Mickey's original Yankee number, who didn't care for it because of the pressure of being next in line to Babe, Lou, and Joe Di. Bobby was also from eras that totaled 6 World Series Championship Titles. 
Later, Bobby showed grace as Derek Jeter decided to don the Murcer number 2, who took over Thurms' old title of captain. Bobby dropped his original number 1, which was soon afterwards retired for his coach, Billy Martin-who also tragically was called home before his time.
The Yankees would do well in retiring a number for Bobby, ex-Yankee great player, and announcer.  6 was special to Murcer, who definitely handled the pressure of being next in line well. Or like Bill Dickey and Yogi Berra, who share retired numbers, Murcer could have his # 2 retired in the same respect, while leaving it on Jeters' back for him, and the fans.  Or maybe NY could co-reite # 1, along with his Coach Martin, because both are exactly that with fans old enough to remember.
Bobby is currently number 183 in the all time most career home runs with a career average of .277.  He knocked 1,862 hits and has an on-base percentage of .357.  Murcer was called safe stealing bases 127 times.  During his playing years he was the youngest player to earn 6 figures for good reason.    
Bobby left the baseball field in 1983, and became a color commentator on radio through 1985.  He called the games for WPIX until 1998, and then went with WNYW until in 2001 the YES Network signed the best in the business.  
In 1986 he became Yankee Management, and then in 1987 he entered the world of TV Broadcasting.  Altogether he won 3 Emmys for his announcing skills, ability to be fair, and his expert insight. 
He gave it to the fans straight too; the good, the bad, and the indifferent- fans always got his honesty.  In 1989, being the consummate manager, he went on to become Co-Owner of the Oklahoma 89ers Minor League Baseball Team.
Always with grace he believed Roger Clemens, saying "With all the testing nowadays, if he passed all his tests then I can't convict anybody based on allegations alone.  I can't assume anybody's guilty because of the testimony of a disgruntled ex-trainer."
Being about serving others, Bobby answered baseball's call of duty, and served for 2 years, 1967 and 1968 in the US Army.  Unlike other athletes who cut and run, Murcer was a real Yankee and one of the last of those that found honor, not money, in service.
With strength going into the unknown, he followed the examples of his mentors: Phil Rizzuto, Whitey Ford Joe DiMaggio, and Billy Martin who also took pride in serving society while fighting for democracy, and they all make soldiers proud.
He turned from the tobacco, and became an anti-tobacco activist in the 1990s, even having a bill in Oklahoma named for him, The Bobby Murcer Tobacco Addiction Bill. The YES Network sponsors the NY Smokers' Quit line, undoubtedly due to Bobby. 
His charity was B.A.T, Baseball Assistance Team, which benefits those that played the game whom are down and out. One will not find any owners there.  He sponsored a charity golf tournie, and has raised 1 million dollars for the Cancer Society.
After finding that his tumor was not benign, in true Murcer strength, and humility, he said "My heart remains true to the Yankees fans. I believe that you are the very best in baseball.  It is your steadfast spirit that keeps me so optimistic."  He was operated on 3 days after being diagnosed, on December 28th.  In March, MRIs found he had some scarring. 
He was then interviewed on Michael Kays Radio Showed saying, "I want to thank you fans so much.  I can feel you,  and I can feel your love.  Just know that I am in a good place."
Murcer strength and character to overcome the odds allowed him to make it for opening day, and announce one more inning.  He got a standing ovation.
Diana Kay-his high school sweetie who he married in 1966, and Bobby went on fighting displaying true Murcer strength and class, doing appearances and going to book signings for fans, who were desperate for him, and his book "Yankee For Life: My Forty Year Journey In Pinstripes" 
Never splitting up, nor divorcing Kay and Bobby serve as a model for society, and their love endures.
Players should take a real lesson from Bobby, which is to be humble.
After his victory against Toronto today, Joe Girardi wept heartily, saying "He was such a Great Guy. He was my hero when I was just a kid." Fans join Joe in his sadness, but all must know that he is once again with his friends.
"The Boys of Summer":
Thurman "Our Captain" Munson. Alfred "Bello or Billy" Martin. The Original M&M Boys - Mickey Mantle, and Roger Maris. Joltin' Joe DiMaggio, "The Yankee Clipper."  Charles "Casey- The Old Professor" Stengel. James "Catfish" Hunter.  Bob Lemon.  Phil "The Scooter" Rizzuto.  Elston Howard. Clete Boyer.  Joseph "Marse Joe" McCarthy.  Allie "Superchief" Reynolds.  Charlie "King Kong" Keller.  Herb "The Knight" Pennock.  James "Bob" Shawkey.  Vernon "Lefty" Gomez.  William Dickey.  Charles "Red" Ruffing.  Ludwig "Lou or The Iron Horse" Gehrig.  Urban Shocker.  George Herman Ruth - "The Babe, Bambino, or Sultan of Swat."  Aaron Ward.  Earle "Kentuck Colonel" Combs.  "Long Bob" Bob Meusel.  Tony "Poosh Em Up" Lazzeri.  Miller Huggins.  Clark Griffith.  John McGraw.   Mel Allen. Cory Lidle.
That is only a fraction of stars who summarize the Yankees, who Bobby is now with, featuring "Murderers Row", "The Bronx Bombers", and "The Baby Bombers."
Imagine the smiles passed as Bobby talks on to John McGraw, first of all owners of the Yanks, despite an attempt to keep the AL out of NY by the Giants.  McGraw managed, and owned the then New York Highlanders-originally the Orioles as result of pretensions.  Bobby might tell John that one Tug McGraws' son, Tim, honored him as the 2007 Good Guy of the Year.  Catholics loved him too, naming him 1969 most popular Yankee.
Somehow I think they already know. Maybe Bobby presses them on though about the ex-New York Giants. Despite the snub bhy the Giants, Mr. Gordon allowed the Giants to play at Hilltop Park when their park, The Polo Grounds, burned to the ground in 1911.  In 1913 the Highlanders were welcomed to the New Polo Grounds where the name Yankee became the new nickname used in the press for the team. 
Afterwards the yanks left the New Polo Grounds and built the House where Bobby, Billy, Thurm and Lou all played and all dreamed about those who came before them as they channel the Spirit.
Maybe he is asking Col. Jacob Ruppert and Captain Huston, who brought on Miller Huggins from the Sox, and thus the Babe - about how he exactly accomplished that feat.  Or is prying into the term "Insurrectos", as the Yanks were referred to by some.  He certainly must be curious about the term "Yankee," which were Dutch names for children, Jan and Kee... Yankee.
He must be getting big applauds by all the Boys for the now 26 World Titles, the most of all sports, world wide. Here are some famous quotes by, and for Bobby.
Bobby is holding a mic in one hand, and a bat in the other while with "The Boys," and undoubtedly giving his buddy's a piece of his mind.  Maybe not Billy, but definitely the rest of 'em.  Bobby is probably with an arm around him, griping at Thurm "for getting in that damned plane, and costing us that season!"
To his wife Kay, and his children Tori and Todd- please know that your Dad is smiling, while with the ones in his heart, who will always be there.  As Gods' love is umlimited, and knows no bounds, your Dads' love will be especially with all of you as well.   I know you are strong as well, and God be with you in your time of sorrow.  Don't forget that Big Bobby Smile, nor to smile that exact same way.
Bobby Ray Murcer, you will be missed in the physical world, but will live, play and be loved well beyond - always. 
Born May 20th 1946 - Re-Born with grace July 12, 2008