2010 NFL Mock Draft: Will Eric Berry Make a Late Push for No. 2 Spot?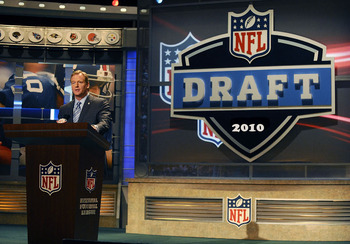 The 2010 NFL draft is less than a month away. It will mark the first time the league extends all seven rounds over three days of live coverage.
Other things will remain the same such as a rowdy group of New York Jets fans in attendance at Radio City Music Hall booing mercilessly or wildly cheering for the newest Jets player.
After Sam Bradford's excellent pro day he's all but locked up the No. 1 pick.
But after that, many of those picks may not pan out according to the majority of mock drafts.
The St. Louis Rams are on the clock......
1. St. Louis Rams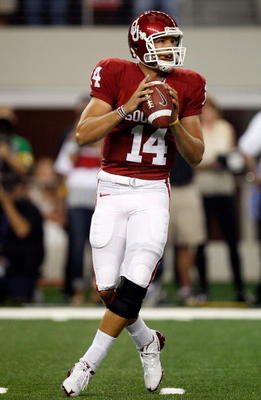 Sam Bradford – QB (Oklahoma)
Teams rarely invest such a high pick and the corresponding contracts that come along on defensive tackles. That and the fact Steve Spagnuolo needs a quarterback to; No. 1, build his team around, and; No. 2, to sell tickets.
Bradford quieted any whispers or rumors of not adjusting well after surgery having, by several scouts' accounts, one of the best quarterback pro days they've ever seen. The 2008 completed 62 of 63 passes and looked like a player worthy of the first overall pick.
2. Detroit Lions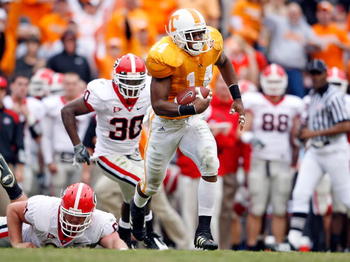 Eric Berry – S (Tennessee)
Almost every mock draft has the Lions taking Ndamukong Suh and for good reason. He's a game-changing cog on the defensive line. And the Lions need a dominating inside force they have lacked since Shaun Rogers and even that's a stretch considering Big Baby could only handle 15-20 plays a game and he barely put forth an effort on half of those! So, why not Suh?
The Lions made a very smart trade for defensive tackle Corey Williams from the Browns—whose willingness to part with the 6-4 320-pound player was more a casualty of schemes than lack of talent.
Williams hasn't missed a game in four years and when he was utilized in the 4-3 (which Detroit runs) he strung together back to back seven-sack seasons for Green Bay.
As mentioned in the Bradford selection, teams generally don't like investing so much money in a high draft pick for a defensive tackle.
Perhaps most importantly from a strategic perspective, the deepest position in this draft is defensive tackle. Considering the Lions will pick again second overall in the following rounds they could still find a starter at this position in the second or even third rounds.
Oh yeah, Eric Berry is the most ridiculously-talented athlete in this draft and defines the term "game-changer". Critics will point out the Lions already have promising second-year free safety Louis Delmas. Berry could play the other safety spot or step in from Day one and be a lockdown cornerback.
3. Tampa Bay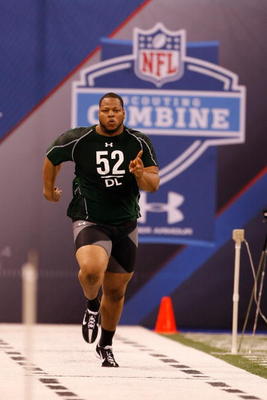 Ndamukong Suh – DT (Nebraska)
The Buccaneers have plenty of needs but none greater than along the defensive line. Chris Hovan and Ryan Sims are not exactly the disruptive, line-clogging workhorses the Bucs need. Second-year tackle Roy Miller showed promise last season and should replace Hovan.
Suh is as good as advertised and will instantly make the entire defense better.
4. Washington Redskins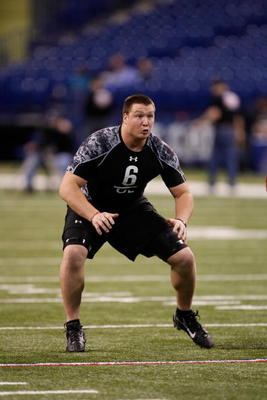 Bryan Bulaga – OT (Iowa)
While some may prefer Jimmy Clausen here the Redskins will do things the right away by first finding their future quarterbacks' best friend in a left tackle.
Mike Shanahan knows how important it is to keep his quarterback healthy and the learning curve on the offensive line—especially at left tackle—is a bit steeper. The majority of mock drafts have Russell Okung as the top-rated tackle but I think the best pro will be Bryan Bulaga.
The former Hawkeye is a tough, country-strong lineman that excels in both run and pass-protection while playing with an old-school, nasty streak in his demeanor that will fit in well for a franchise that used to pride itself on their offensive line.
5. Kansas City Chiefs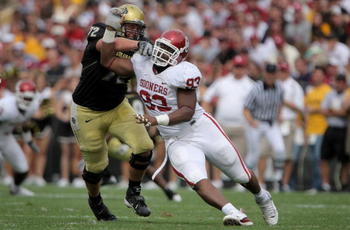 Gerald McCoy – DT (Oklahoma)
It's no secret Scott Pioli would like to improve Matt Cassel's blindside but he probably didn't plan on McCoy still being around.
Kansas City couldn't stop the run last season and Ron Edwards is a marginal interior tackle who would play better as part of a rotation. McCoy is an excellent prospect who can stop the run and generate pressure better than any other player currently on the Chiefs defensive line.
6. Seattle Seahawks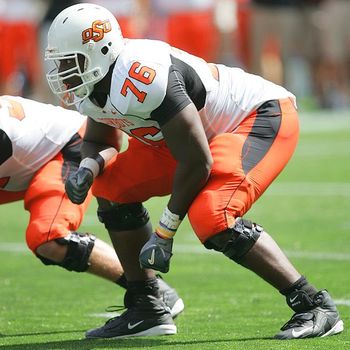 Russell Okung – OT (Oklahoma State)
The Seahawks definitely need help along the offensive line and with there being a high likelihood of two of the top lineman off the board by now, they need to grab one of the next two highest-rated lineman or risk missing out on the upper tier altogether.
John Schneider will also have the No. 14 overall pick but it's hard to imagine both Bruce Campbell and the fast-rising Trent Williams still around then.
I'm a big believer in a team first solidifying the group responsible for protecting their franchise quarterback--which Carroll should be able to find next year.
7. Cleveland Browns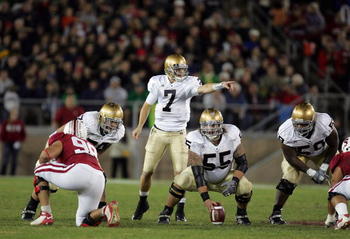 Jimmy Clausen – QB (Notre Dame)
Derek Anderson is gone and Brady Quinn is on the trading block. It seems very suspicious that Mike Holmgren would publicly state that "he wished he could like Clausen more."
Why would "The Walrus" go out of his way to say this?
It looks more like a reverse-Jedi smokescreen to me because the fact remains Cleveland needs a franchise quarterback and after Bradford and Clausen the talent drops off significantly.
This pick could change depending on how well Clausen throws during his April 9 workout in South Bend.
I like Clausen's potential better than Bradford. He's coming from a pro-ready offense and is a big, tough kid with a very quick release and good accuracy.
8. Oakland Raiders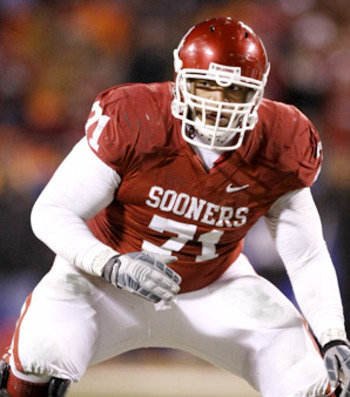 Trent Williams – OT (Oklahoma)
It's at this point in the draft where something happens that makes draftniks do a double-take as the Raiders are likely to overreach.
A couple picks that make perfect sense considering Al Davis' propensity to fall in love with the one year wonder or workout warrior type including Jason Pierre-Paul and Dez Bryant.
But last year's selection of Darius Heyward-Bey No. 7 overall was a head-scratcher and unless Matt Millen is making the call, I don't see Oakland grabbing any skill player in the first round—let alone receiver.
JPP is a definite option and fits the mold as the type of player Davis would scramble to make a Raider. One player that would fill a long-neglected need along the offensive line and satisfy the brash owner's need for the "all-hype" trait is Oklahoma offensive tackle, Trent Williams.
The 6-5 320-pound lineman has played both tackle positions and has very rare athleticism for a player his size. Williams showing in agility, strength and speed (4.81) drills leading up to the draft have been remarkable.
9. Buffalo Bills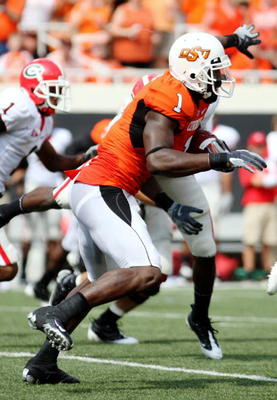 Dez Bryant – WR (DNP 2009 – Oklahoma State)
I think the Bills will look to find Chan Gailey a quarterback and if Clausen is available he just might be their guy. But there are a couple quarterbacks new GM, Buddy Nix, could try and trade for prior to the draft.
Or somebody like Dan LeFevour could be an option later on.
Perhaps they could try and trade down and hope Colt McCoy is around because this is too early to take him. If they stay put, Bryant makes sense to give Buffalo the receiving threat they though T.O. was going to be.
If the Bills weren't switching to a 3-4 defense I'd imagine they would have to also consider Derrick Morgan but the consensus on him is that he should be used as a traditional end in a 4-3.
10. Jacksonville Jaguars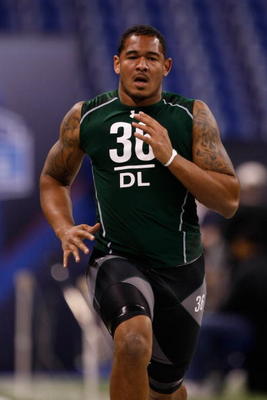 Derrick Morgan – DE (Georgia Tech)
Despite spending early draft picks on defensive ends in recent years with Derrick Harvey and Quentin Groves, the Jags lack of a pass-rush means they miscast or misread those two players.
Perhaps a switch from a 3-4 to more of an attacking 4-3 defense will enable one of them to break out.
Even so, Gene Smith wants to dramatically increase their pass-rushing ability and a 6-3 270-pound athletic anomaly whose combine revealed a 34" vertical, 4.43 shuttle and impressive agility will be hard to pass up.
Look past the 12.5 sacks Morgan tallied last year and you see a player that is surprisingly effective against the run who scouts believe is only beginning to realize the vast potential of this durable (never missed a game) playmaker.
11. Denver Broncos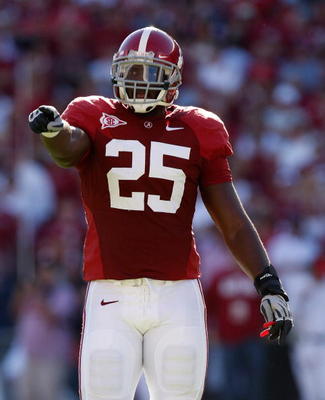 Rolando McClain – ILB (Alabama)
The Broncos among almost every other team are unique in that their draft plans could instantly change on the decision on just one player the insanely talented but equally frustrating malcontent, Brandon Marshall.
Assuming Marshall is many miles away from Mile High Stadium, Josh McDaniels will still have other, equally gaping, holes; such as inside linebacker, center and offensive guard. You can scratch Center off the list of possibilities as they will try to handle that position later in the draft or through free agency.
If Bryant is off the board it's hard to imagine them bypassing linebacker Rolando McClain after the team released Andra Davis.
The 2009 All-American and Butkus Award winner is one of the safest picks in the draft and his combination of size (6-4 250), intelligence and athleticism to go with his hard-hitting style means Denver's defense will enjoy the type of instant success Patrick Willis brought to the 49ers.
12. Miami Dolphins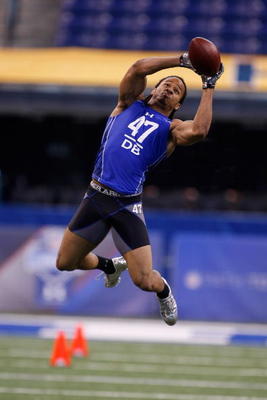 Earl Thomas – FS (Texas)
Bill Parcells likes building up the trenches early in the draft but heading into the 2010 season; Miami's biggest needs are at receiver, nose tackle, free safety and outside linebacker.
Thomas is just a notch below Berry but he possesses the same type of ball-hawking mentality as he roams the secondary like a centerfielder.
He added about 10 pounds of muscle to quiet concerns about his size and durability as an NFL safety. While other teams may consider his best position at cornerback, there's no question he would instantly be one of the Top five or six safeties in the NFL from early in his career.
13. San Francisco 49ers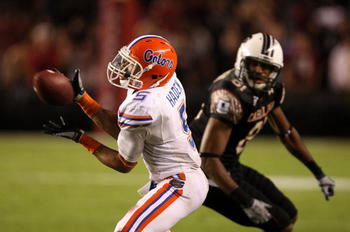 Joe Haden – CB (Florida)
The 49ers biggest needs are in the secondary and along the offensive line.
Before the combine it was hard to imagine Haden being available at this point but his very average 40-time at the combine. While one timed sprint should not be enough to make a talented shutdown corner like him fall out of the Top 10.
Haden did redeem himself weeks later at Florida's pro day running a 4.4.
However, his 18 reps in the bench press should raise questions about his overall strength. Cleveland and a handful of other teams are putting him through private workouts so there's still a chance he goes a few spots higher.
The former prep quarterback is a very good coverage corner who should allow the rest of San Francisco's secondary to provide help elsewhere and leave Haden on an island—but not his first year.
14. Seattle Seahawks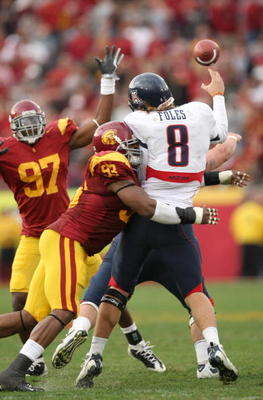 Everson Griffen – DE (USC)
The Seahawks have as many—if not more—holes than the Lions. Among those is an overhaul of talent at the offensive skill positions in this order; wide receiver, quarterback and running back.
However, I seem to be in the minority when it comes to believing Justin Forsett is a very intriguing possibility to be the featured back.
Many mocks have C.J. Spiller going at this spot but there's other needs at offensive tackle and all over the defense—primarily in the secondary and at defensive end.
It's hard to imagine Pete Carroll not convincing management to take one of his former players and on the surface it appears Taylor Mays would be the logical pick simply on the amount of public support Carroll has made about his game.

However, John Schneider and his front office staff know their pass-rush output of '09 must improve as their 28 sacks were good for fifth-worst in the league. Personally, I'm not a big fan of Everson Griffen but he has a track record of pressuring the quarterback in a talented conference.
15. New York Giants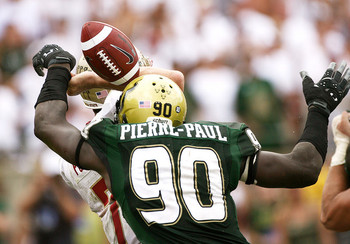 Jason Pierre-Paul – DE (South Florida)
Signing free agent Antrel Rolle to a record contract locks down the G-Men's most glaring weakness at free safety.
They could still use an upgrade at corner and a pass-rushing specialist at defensive end. While running back isn't their biggest need, they also didn't expect the explosive C.J. Spiller to still be on the board. However, I think Tom Coughlin will find the explosiveness and pressure-inducing ability of JPP too much not to lobby management for.
16. Tennessee Titans
Brandon Graham – DE (Michigan)
With the departure of Kyle Vanden Bosch and Jevon Kearse the Titans desperately need an infusion of high-caliber talent at defensive end.
While some think Graham projects more as a 3-4 linebacker, his style of play compares to that of a couple "undersized" NFL ends in Dwight Freeney and Elvis Dumervil—not exactly bad company to be compared to.
He's probably the best pure pass-rusher in this draft and will make his future employer and fans very, very happy.
17. San Francisco 49ers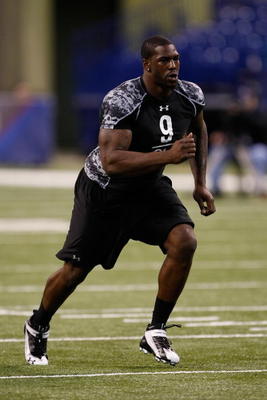 Bruce Campbell – OT (Maryland)
Adam Snyder didn't perform to modest expectations last year at right tackle so the 49ers must improve that key spot of the line.
Would it surprise me to see Al Davis take the big, strong lineman and former Terps stalwart? No, not at all considering Campbell was one of the true "workout warriors" at the combine.
The big fella certainly put on show at Lucas Oil Stadium. At 6-7, 315 pounds, he wowed league personnel in attendance by running a 4.71 forty. But he's a lineman, so despite his impressive strength I'm not too impressed with his speed being utilized often.
There's no doubting the athleticism Campbell has. His father was a former first-round pick of the New Jersey Nets in the late '70s. But questions remain about his durability and consistency—especially in run-blocking.
Regardless of the question marks, he's a nice value here and has loads of upside while filling one Mike Singletary's biggest needs.
18. Pittsburgh Steelers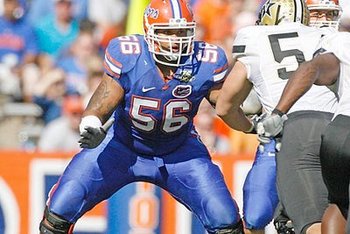 Maurkice Pouncey – C/G (Florida)
Perhaps no other position in the majority of first round mocks were as unanimous as Pittsburgh taking the much-hyped guard out of Idaho, Mike Iupati.
Pouncey has experience at guard even though he's highly recognized as the top center—by far—in this draft. He plays with a level of domination and nastiness which will endear him to Steelers fans. I believe he's a better pro prospect than Iupati.
19. Atlanta Falcons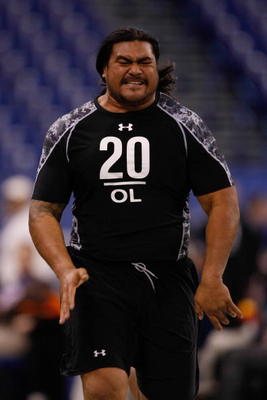 Mike Iupati – G (Idaho)
Regardless of the fact he may go one pick higher both the Falcons and Steelers will likely make Pouncey-Iupati or Iupati-Pouncey back to back picks as these are the best in class at their respective positions.
Iupati is a still somewhat raw prospect but his best football is a few years ahead of him and that should mean a nice 10-year career as one of the best guards in the NFL.
Some believe he can eventually handle right tackle but those expectations should be tempered a bit considering he played in a weak conference and has about three years of organized football under his belt.
20. Houston Texans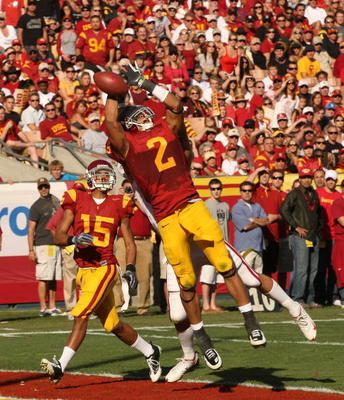 Taylor Mays – S (USC)
Believe it or not, the Texans are a pretty solid all-around solid football team—except for cornerback.
If I had to rank their biggest needs heading into the draft it would definitely begin with cornerback and perhaps free safety.
Some scouts and fans are calling for a running back here and with the top running back still on the board; they will have to strongly consider taking Spiller.
Not only will Mays fill a need for Gary Kubiak's defense but the unbelievable physical traits he brings to the field simply need the right coach to turn that into consistent playmaking and not highlight reel hits. When you're 6-3 230 pounds, run a 4.3-forty and have bad intentions for the ball carrier it's simply too much talent to pass up.

Second-year defensive coordinator Frank Bush has coached every unit on defense during his longtime career as a positional coach. He also spent time as a scout and even played the game so he understands what he needs to continue building one of the league's up-and-coming defensive units in the NFL.
He's the perfect coordinator to utilize Mays' strengths while protecting his weaknesses--even though their limited--from being exposed.
21. Cincinnati Bengals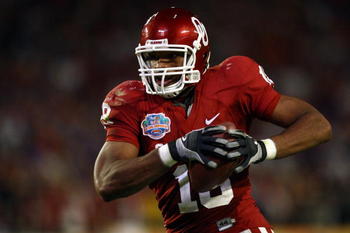 Jermaine Gresham – TE (Oklahoma)
The Bengals proved they can hang with some of the upper echelon teams last season but Carson Palmer was often handcuffed by a lack of playmakers to the throw the ball to.
Gresham, bless his heart, could have easily left Norman at the end of his junior year to be among the top 32 picks but he wanted to play for a national championship. For his good intentions all he got were torn ligaments and a season on the sidelines.
However, he was able to put forth a good effort at the combine. Gresham's an instant mismatch at 6-5 260 pounds with surprising quickness, sticky hands and elusive open-field moves for such a big man.
22. New England Patriots
C.J. Spiller – RB (Clemson)
The Patriots have more pressing needs on both offense and defense than running back but if Spiller does get by both of San Francisco and Seattle's second of two first-round picks, he would add an unbelievable amount of playmaking to the run, pass and return game.
Laurence Maroney played much better last season but he's more of short-yardage, downhill and goal line back while Spiller is a threat to score anywhere and at anytime on the field.
23. Green Bay Packers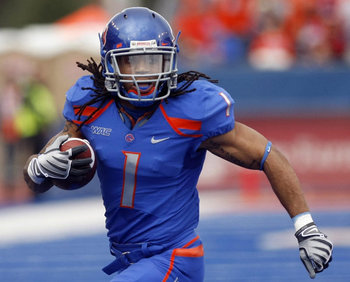 Kyle Wilson – CB (Boise State)
Charles Woodson and Al Harris are in the home-stretch of their careers.
Woodson defied the odds last season and played at an unbelievable level while Harris suffered a major injury requiring ACL surgery and could quite possibly start the season on the PUP list.
Even if Harris, 35, fails to return to his former playing level, perhaps the Packers are willing to roll with former sixth-round pick Tramon Williams, who filled in admirably when Harris went down. But without a larger sample size to grade on, Williams still has a way to go before being labeled as a bona fide corner. And considering the low probability of Woodson, 33, continuing to play at an elite level much longer selecting Wilson would pay instant and long-term dividends.
Wilson is a playmaking corner with a swagger perhaps even greater than that of a young Charles Woodson. He's a proven return specialist who could contribute immediately in nickel packages or possibly supplant Williams if Harris isn't ready to go.
24. Philadelphia Eagles
Sean Weatherspoon – OLB (Missouri)
Sean McDermott is generally regarded as one of the brighter minds in football who heads into his second year as defensive coordinator with a goal of building on the turnover-inducing unit (38 forced turnovers) he fielded in 2009.
His two greatest needs are perhaps at outside linebacker and big, disruptive defensive end. While the Falcons have shown an interest in "Spoon", he would be a great fit for McDermott's attacking defense.
25. Baltimore Ravens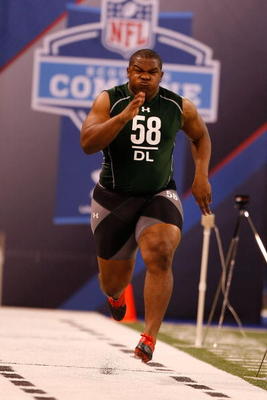 Dan Williams – DT (Tennessee)
If Baltimore ends up taking Williams here, they just might have the best overall value in the draft when this class is graded after a couple years in the league.
Suh and McCoy have taken up all the spotlight but Williams isn't too far behind them.
He's part of one of the better defensive tackle classes in recent memory and could develop into a pro-bowl tackle in a good 3-4 defense. Williams is a big force in the middle that can collapse the pocket but also consume two or more offensive lineman freeing up his linebacker teammates to make plays.
26. Arizona Cardinals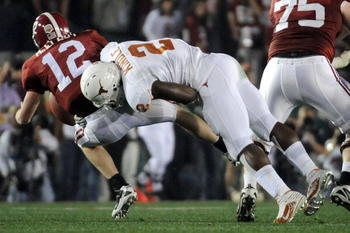 Sergio Kindle – OLB/DE (Texas)
Ken Whisenhunt's defense is going to sorely miss the productivity and presence of Karlos Dansby.
To ease that pain this Longhorns defender can step in right away and give the Cardinals an elite level of athleticism and intensity along with some pass-rushing explosiveness. No other division will be as unpredictable as the NFC West now that Kurt Warner has called it a career.
27. Dallas Cowboys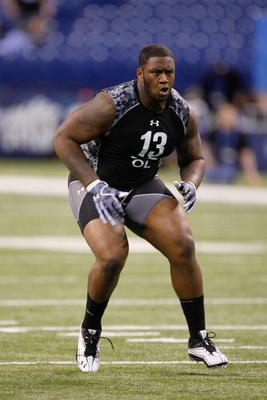 Anthony Davis – OT (Rutgers)

Davis looked sloppy at the combine and he didn't do himself any favors cancelling his pro day shortly before it was set to take place.
He looks the part but could fall this far in the draft because of consistency concerns and perhaps questions about his character.
However, he's drawn comparisons to former bookend offensive tackle and Cowboys lineman, Flozell Adams, who had a nice career in Dallas after a year or two of solid coaching. If Davis can give Dallas the same level of protection Flozell "Hotel" Adams did, this will be a steal at No. 27.
28. San Diego Chargers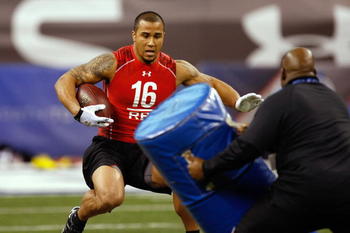 Ryan Matthews – RB (Fresno State)
The Bolts still need a big, 3-4 nose tackle but Tomlinson's departure and the fact Darren Sproles isn't built to handle a fulltime load means A.J. Williams will have to consider a running back who can shoulder the load.
I'm a fan of the next two running backs behind Spiller who could be utilized in a majority-carry role. Unfortunately for Jonathan Dwyer, his 4.6 showing at the combine likely dashes any hopes he had of hearing his name called within the first 32 picks.
However, there's a running back on the west coast who can be a three-down option as a runner and receiving threat out of the backfield. Ryan Matthews is a very solid 220 pounds with speed in the 4.35 range and a very shifty, yet equally tough, running style.
29. New York Jets
Jahvid Best – RB (Cal)
Shonn Greene displayed enough last season to convince Jets brass to allow Thomas Jones to walk. However, the trend in the NFL is more a running back by committee approach and the hard-charging style of the former Hawkeye will mesh well with the very elusive and quick scat-back rushing and receiving skills of Best.
30. Minnesota Vikings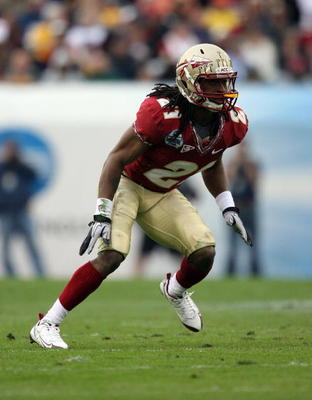 Patrick Robinson – CB (Florida State)
The Vikings defense is a run-stuffing, pass-rushing group who could be even better once they add another fast, coverage corner who can allow them an extra step or two to make a play on the quarterback in the backfield.
On the other hand, if I was a cornerback coming into the league I'd want to play for the Norsemen above all other teams because of the opportunities the front seven is going to create, via ill-advised or hurried throws. All that means is an increase in playmaking chances for an opportunistic cornerback, such as Robinson.
Antoine Winfield is underrated and still fairly dependable but he's coming off an injury and turns 33 before the season starts. I like Cedric Griffin but he's also coming off an injury (ACL) which could lead to an appearance on the PUP list when the season starts.
Defensive backs coach Joe Woods is a respected positional coach who can teach Robinson to play a more contained style of play as the Seminoles speedster has a tendency to bite on pump fakes or take occasional bad angles on passes.
Robinson has a swagger to go along with his track-like speed and amazing athleticism. He could possibly help out the Vikings return-game too.
31. Indianapolis Colts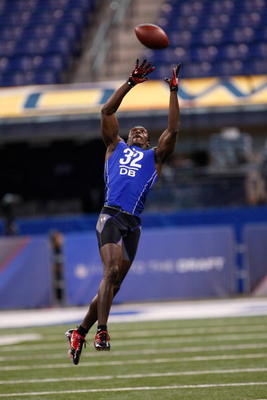 Devin McCourty – CB (Rutgers)
While his identical twin, Jason, drafted by the Titans in '09, can give his brother some insight into what he can expect as an NFL rookie, Devin and the rest of the McCourty family can embrace watching the two siblings square off twice a year in the AFC South.
I'm a big fan of Devin and what he brings to the table in terms of physical style, speed and intelligence. It's not just the academic type of intelligence either (multiple All-Academic honors). He anticipates and quickly diagnoses formations and routes considerably well.
T
he Colts lost a versatile piece of their secondary depth after Marlin Jackson left for Philadelphia. Jerraud Powers looked pretty good for a rookie and McCourty is an upgrade over Kelvin Hayden.
Fans might worry that's too much youth at the corners with a rookie and second-year player holding down the outside. Assuming Bob Sanders returns to health, he and Antoine Bethea are one of the best pair of starting safeties in the league. That type of talent over the top will provide the fledgling cornerbacks with enough of a safety net to prevent offenses from exposing their inexperience.
32. New Orleans Saints
Brian Price – DT (UCLA)
Defensive coordinator Gregg Williams did an exceptional job with disguising mediocre talent up front as world-beaters and with stellar play from a couple veteran defensive backs the Saints were a turnover-creating machine.
At 34 years old, Darren Sharper pretty much destroyed my thoughts about teams picking before New Orleans needing to add younger replacements for players a couple years younger than Sharper.
However, despite his annoyance with the team for not using the franchise tag on him, Sharper should return but anything near his amazing '09 season (9 INT) would be outstanding. And despite using a recent high draft pick on the defensive line with Sedrick Ellis, his development is moving much too slow. Also, Anthony Hargrove could sign elsewhere or even be traded—maybe to Detroit—leading up to, or even during, the draft.
Price is a very explosive force in the trenches and his frame allows him to gain great leverage on his opponent. He would instantly start not only because of his superior talent but he's also a very bright kid who will have no problem grasping the intricacies of an NFL defense.
Another prospect they could consider is TCU tweener Jerry Hughes. He's been one of the more productive playmakers in the backfield the last few years and could fill a hole either on the line at one of the end spots or as an outside linebacker.
Keep Reading