2010 NFL Mock Draft: Is Gerald McCoy in Danger of Falling Out of the Top Five?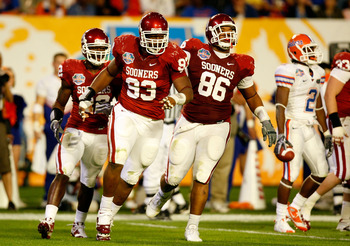 In my latest version (V.4) of the 2010 NFL Mock Draft, there are changes, as usual, since these things are not an exact science.
Some NFL fans may like these changes and some may not, but that's why Bleacher Report allows you the opportunity to comment and vent your frustration or pleasure regarding your favorite team's pick(s).
The following is the almost final mock draft that is just over three and a half weeks away from draft day.
(Author's note: No trades in this mock because those are just too hard to predict.)
1. St. Louis Rams - Sam Bradford, QB, Oklahoma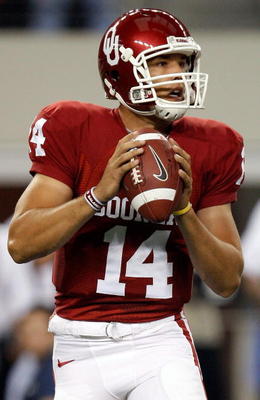 The Rams already picked their future left tackle in Jason Smith in the 2009 NFL Draft; now they complete the deal in picking Bradford, who is the popular choice in mocks across the Internet.
There is no way that a team like the Rams passes up on the chance to solidify its future at the most important position in football.
2. Detroit Lions - Russell Okung, OT, Oklahoma State
The Lions have already brought in many defensive linemen via free agency this year, and it looks like they would rather protect their young future quarterback in Matthew Stafford than pick another defensive lineman in Ndamukong Suh.
3. Tampa Bay Buccaneers - Ndamukong Suh, DT, Nebraska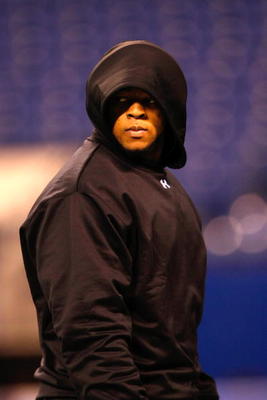 The Bucs have many spots to fill on their roster, and Suh will fill up a huge spot in the middle of their defense to not only help get to opposing quarterbacks but help make tackles against the run, too.
4. Washington Redskins - Jimmy Clausen, QB, Notre Dame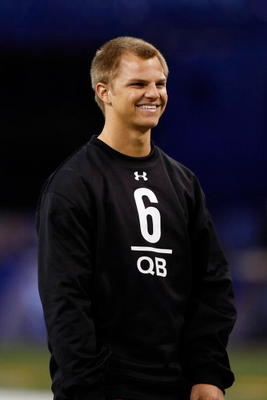 Jason Campbell is getting another year to prove himself, but with the pick of Clasuen, it's more like Campbell is getting a year to improve his trade value for after the 2010 season instead.
5. Kansas City Chiefs - Eric Berry, S, Tennessee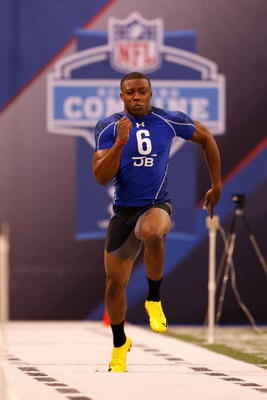 Chiefs defensive coordinator Romeo Crennel visited Berry for a private workout, which may or may not be a smokescreen, but passing up on a future All-Pro is hard to do even at No. 5.
6. Seattle Seahawks - Gerald McCoy, DT, Oklahoma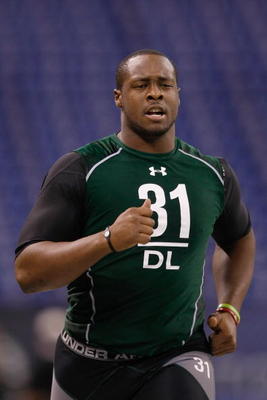 Since they are in full rebuild mode, the Seahawks have many holes to fill, but they cannot pass up on a chance to take McCoy and help strengthen their defensive line.
Even though they need a new starting left tackle to replace retired Walter Jones, McCoy is a rare talent that just doesn't fall into a team's lap like this often.
7. Cleveland Browns - Earl Thomas, S, Texas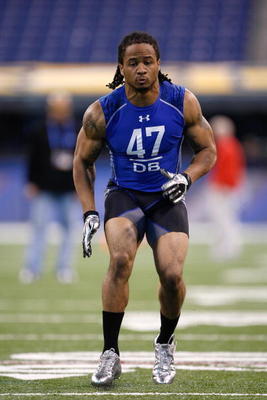 The Browns have yet to fill two starting holes in their secondary at cornerback and safety in free agency.
Thomas may be a reach at No. 7, but he has been seen in other mocks going as high as No. 10, so it really isn't too much of a reach.
Ranked No. 2 behind Berry, the Browns will still go with him over Joe Haden since the cornerback position is deeper than safety in this draft class.
Adding Thomas gives the Browns a playmaking safety in a division that already has Troy Polamalu and Ed Reed.
8. Oakland Raiders - Bruce Campbell, OT, Maryland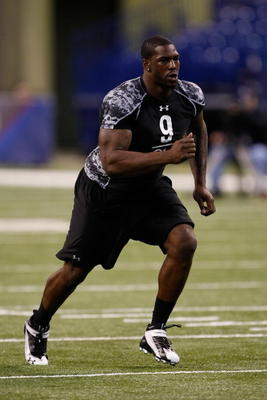 Owner Al Davis goes for his favorite type of player in Campbell, which is no surprise, but the fact that Campbell only is an offensive lineman is a surprise.
Campbell will help anchor a line that really needs to protect the quarterback if any signal caller will succeed in Oakland.
9. Buffalo Bills - Bryan Bulaga, OT, Iowa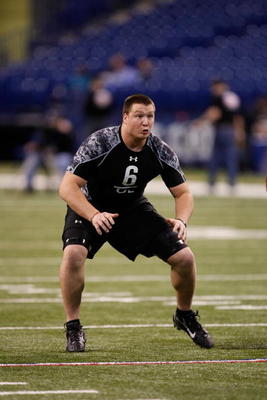 The Bills could go defensive line with Dan Williams, but since Bulaga is still on the board, they choose to improve the offensive line for whomever will be behind center in the future.
10. Jacksonville Jaguars - Dez Bryant, WR, Oklahoma State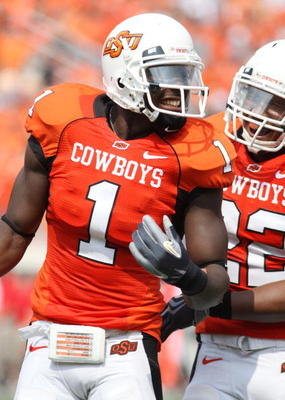 Current receiver Mike Sims-Walker is a solid player, but the addition of Bryant will make Sims-Walker even better.
Even though the Jaguars need to bolster their defense, they will take a chance on Bryant, who will not only help quarterback David Garrard by giving him another weapon but will allow running back Maurice Jones-Drew that chance to break bigger runs with the addition of another threat.
11. Denver Broncos - Rolando McClain, LB, Alabama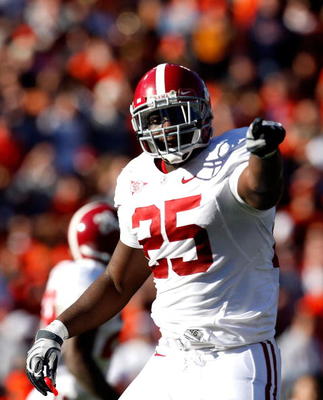 With the loss of linebacker Andra Davis, the Broncos need to fill a hole in the middle of their defense and McClain will fill that hole from day one of training camp.
12. Miami Dolphins - Jason Pierre-Paul, DE/LB, South Florida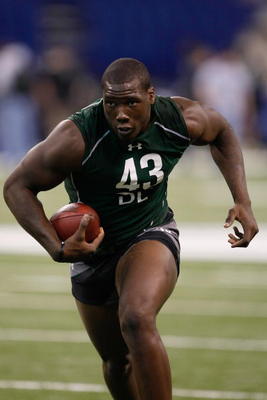 Pierre-Paul is a raw talent and the Dolphins need to add more pass rush on their defense at outside linebacker.
A big risk, but if Pierre-Paul works out, then the reward will be very high for the Dolphins.
13. San Francisco 49ers - Trent Williams, OT, Oklahoma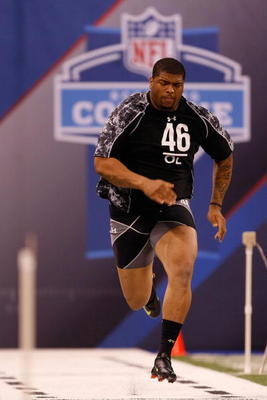 Since the Seahawks did not pick an offensive lineman earlier in the first round, the 49ers need to act fast and grab Williams before the Seahawks pick right after them.
Williams will bring stability to the line and help protect quarterback Alex Smith.
14. Seattle Seahawks - C.J. Spiller, RB, Clemson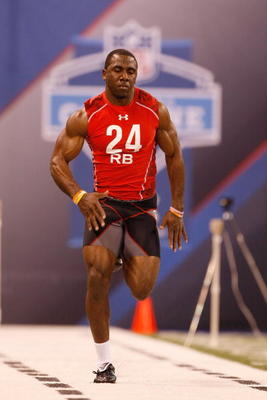 The Seahawks missed on their chance to pick a replacement left tackle for Walter Jones but find their newest playmaker on offense in Spiller instead.
New head coach Pete Carroll will utilize Spiller just as he did when he had Reggie Bush at USC.
15. New York Giants - Sean Weatherspoon, LB, Missouri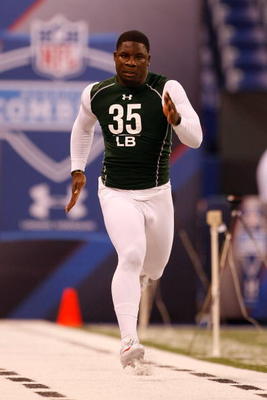 Weatherspoon is a size where he could possibly play either inside or outside linebacker and the Giants will find a role for him on their defense quickly.
16. Tennessee Titans - Derrick Morgan, DE, Georgia Tech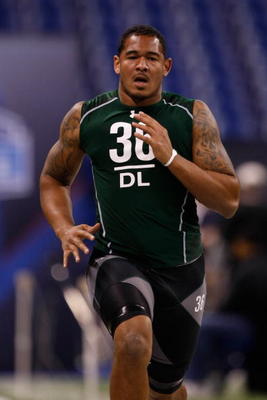 The Titans need help on their defensive line, and Morgan will bring a pass rushing force that will generate pressure on opposing quarterbacks.
17, San Francisco 49ers - Joe Haden, CB, Florida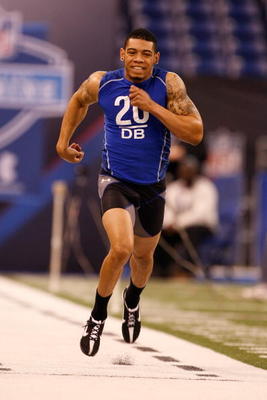 With Spiller and Thomas already off the board the 49ers go with the next area of need and pick Haden to lock down opposing receivers.
18. Pittsburgh Steelers - Mike Iupati, OG, Idaho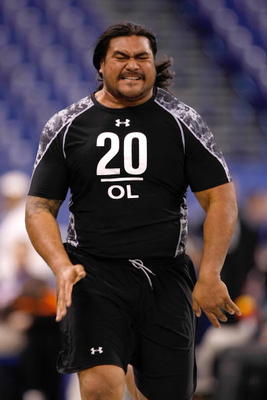 The Steelers need (and have needed) help on the offensive line and finally they pick a player in Iupati that can help in both pass protection and run blocking.
19. Atlanta Falcons - Everson Griffen, DE/LB, USC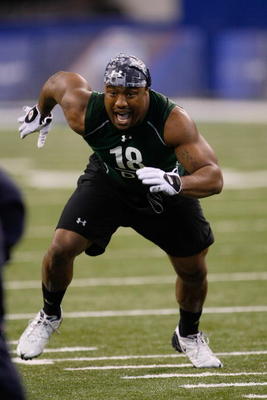 Griffen is a pass rusher that will help the Falcons' lack of talent at outside linebacker as long as he can take to the transition into the position from college.
20. Houston Texans - Kyle Wilson, CB, Boise State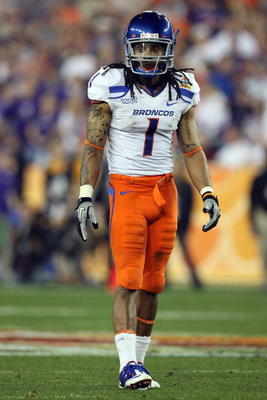 With the departure of Dunta Robinson, the Texans need to fill a hole at starting cornerback, and Wilson will step in and start immediately.
21. Cincinnati Bengals - Golden Tate, WR, Notre Dame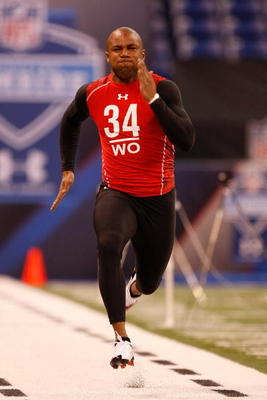 Tate has all the tools to be a good complementary No. 2 receiver in the NFL, and the current pairing of Chad Ochocinco and Antonio Bryant just doesn't seem likely to last.
Tate will step into the No. 2 spot if there is some kind of meltdown with Bryant, which is possible.
22. New England Patriots - Brandon Graham, DE/LB, Michigan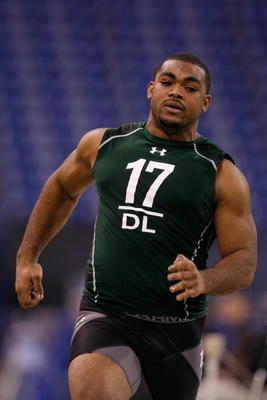 Graham seems like a Belichick type of player and will fit nicely into the Pats' 3-4 system as a pass rushing linebacker.
23. Green Bay Packers - Charles Brown, OT, USC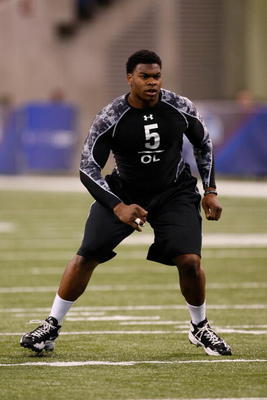 Protecting Aaron Rodgers is the No. 1 priority, and Brown will prove to be a needed piece of the Packers' offensive line puzzle.
24. Philadelphia Eagles - Taylor Mays, S, USC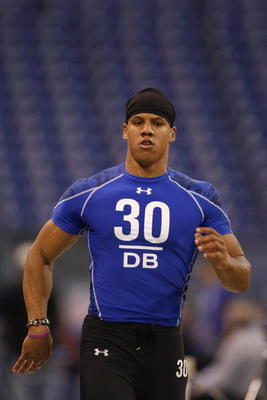 Mays will instantly fit into the Eagles' scheme and, since they had some issues at free safety in 2009, will be a much needed addition at center field.
25. Baltimore Ravens - Jermaine Gresham, TE, Oklahoma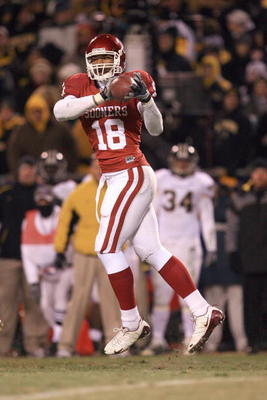 After the Ravens added receiving weapons in Anquan Boldin and Donte' Stallworth for quarterback Joe Flacco, they continue giving him weapons with Gresham, who will fit in nicely since Todd Heap cannot stay healthy.
26. Arizona Cardinals - Carlos Dunlap, DE/LB, Florida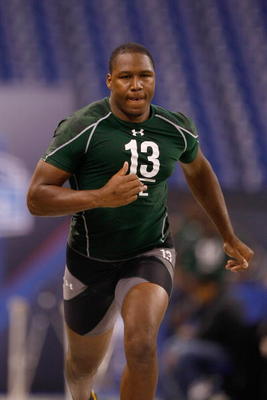 Dunlap is an excellent physical specimen to add to the Cards' defense with the loss of Karlos Dansby, and even though they acquired Joey Porter, his outlandish ways garner picking up another player like Dunlap too.
27. Dallas Cowboys - Anthony Davis, OT, Rutgers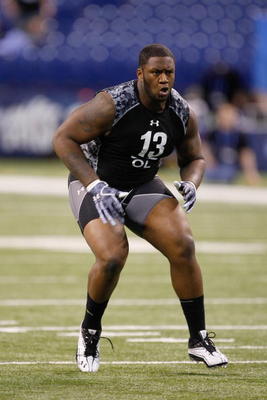 Davis will fill a need to help protect quarterback Tony Romo.
28. San Diego Chargers - Ryan Matthews, RB, Fresno State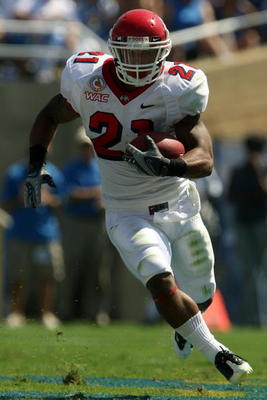 Matthews will be able to step into the staring role with Darren Sproles filling in nicely as a change-of-pace running back.
29. New York Jets - Demaryius Thomas, WR, Georgia Tech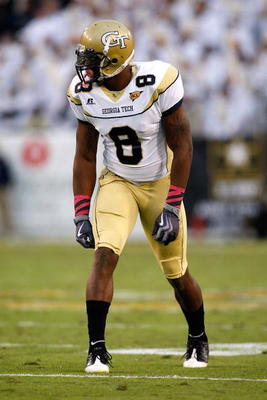 The jury is still out on Braylon Edwards, and even though Thomas may be a risk at this point in the draft, his potential is something to consider too.
Thomas will be Edwards' replacement after the 2010 season.
30. Minnesota Vikings - Kareem Jackson, CB, Alabama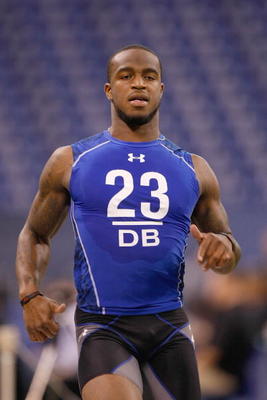 Jackson's stock has been on the rise and he is almost a perfect fit for the Vikings' Tampa-2-styled defensive scheme.
31. Indianapolis Colts - Maurkice Pouncey, OG/C, Florida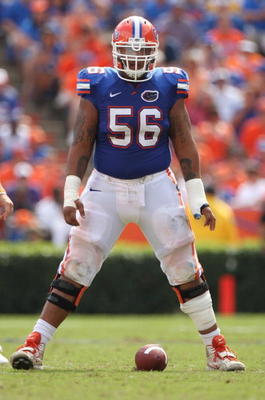 Peyton Manning needs more help in front of him with protection, and Pouncey is versatile to play multiple positions on offensive line.
32. New Orleans Saints - Jerry Hughes, DE/LB, TCU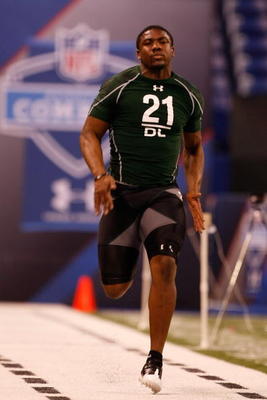 With the loss of Scott Fujita via free agency, the Saints fill his vacated spot with Hughes.
Keep Reading