2010 NFL Mock Draft 2.0: Rounds One and Two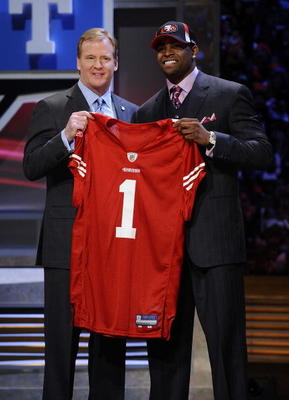 Here is my first post-Super Bowl mock draft and second version overall.
I have made a few changes based on new info and fan comments on the first mock draft.
Also, I have moved some players up according to their Senior Bowl performances, and I will update again after the combine.
There is a second round added with picks only and no analysis at this time.
1. St. Louis—Ndamukong Suh, DT (Nebraska)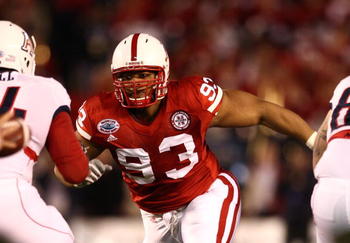 There has been a lot of speculation if the Rams will take a QB with this pick, but with a defensive-minded coach, St. Louis will look to improve the defensive line.
Spagnuolo's success with the Giants was because of a talented D-line and Suh, along with 2008's top pick, Chris Long, will be a good start.
2. Detroit—Russell Okung, OT, Oklahoma State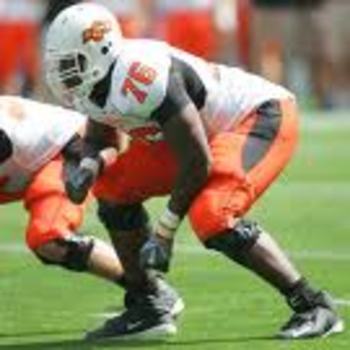 Originally, I had the Lions taking Gerald McCoy in this spot, but after thinking about it, I think they will try to improve the line and hopefully prevent further injury to Matt Stafford.
3. Tampa Bay—Gerald McCoy, DT, Oklahoma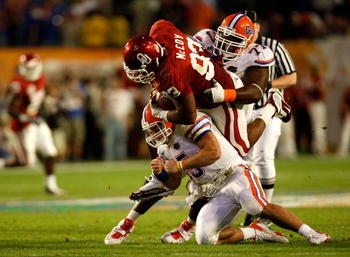 If not for the dominating performance of Suh in the Big XII championship game, Gerald McCoy might have been the first pick in the draft.
Tampa Bay will be able to add a nice piece to a young defense. They may look at Eric Berry, but at this point, there is a lot more value at DT.
4, Washington—Eric Berry, S, Tennessee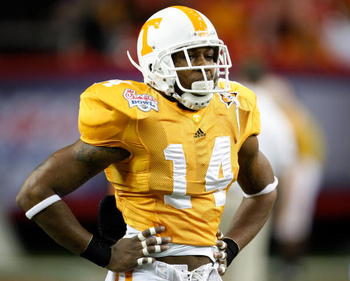 Maybe not the greatest need, but pairing Berry with LaRon Landry would give the Redskins one of the best safety combos in the league.
He is also the most talented player left on the board. They could look at a QB, but Mike Shanahan has been known for his ability to develop quarterbacks, so he may go with Campbell or even try and work with Colt Brennan.
5. Kansas City—Anthony Davis, OT, Rutgers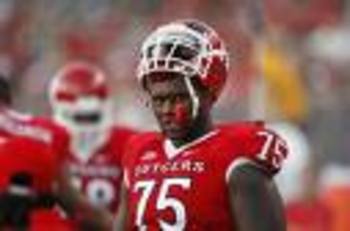 A little bit of a reach at No. 5, and I think the Chiefs will try and trade down because they have so many former New England Patriots staffers in their front office and on the coaching staff.
If they have to stay here, I believe that they will draft someone to solidify their O-line. They have invested a lot of money in Matt Cassel and will give him as much help as possible.
Recent trends also show us that a lot of OTs will come off of the board quickly.
6. Seattle—Jimmy Clausen, QB, Notre Dame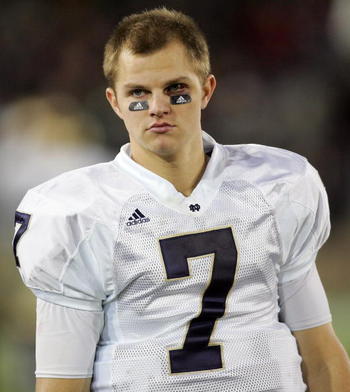 I have Seattle drafting the same position as my last mock draft but with a different QB.
Tim Tebow's recent struggles have brought to mind all of the quarterbacks who have had problems adjusting to a pro-style offense after playing out of the shotgun formation.
This, combined with Sam Bradford's injury history, will push Clausen ahead of him. Pete Carroll has also gotten to see a lot of Jimmy Clausen and already knows his strengths and weaknesses.
7. Cleveland—Joe Haden CB, Florida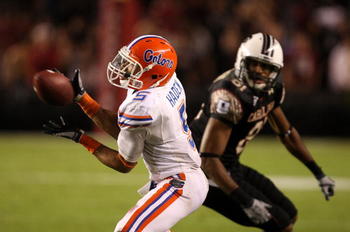 Eric Wright is a great corner on one side, but the rest of the CBs on the roster are better suited as nickel corners.
Haden and Wright would make passing on this defense a lot more difficult.
8. Oakland— Dez Bryant, WR (Oklahoma State)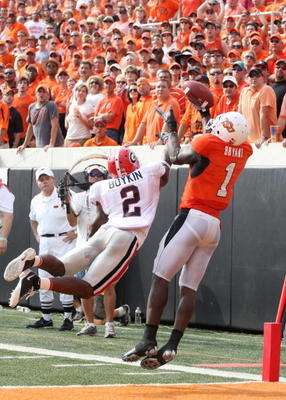 Ultra-talented wide receiver who would probably have gone Top-Five if he had not missed almost an entire year after being deemed ineligible by the NCAA.
Despite drafting a WR in the first round last year, the Raiders need a lot of help at the position. Bryant had four touchdowns in only three games last year and 21 touchdowns the year before that.
9. Buffalo—Trent Williams, OT, Oklahoma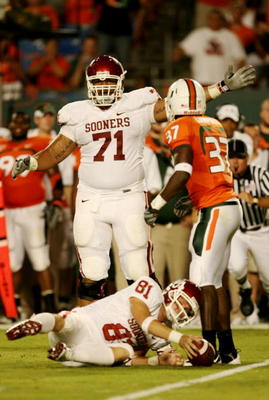 This is a spot I could definitely see Sam Bradford going, but they have so many young QBs on the roster already that I think they will solidify the line instead and go with Bradford's teammate Williams.
10. Denver—Rolando McClain, ILB, Alabama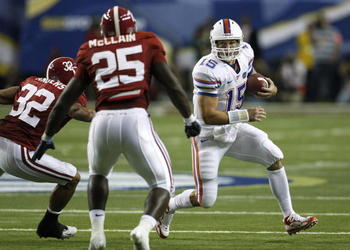 McClain was built to play in the 3-4 system and ran a very similar system to what Denver runs at Alabama.
The Broncos will be very happy if he drops to them at 10.
No. 11 Jacksonville—Sam Bradford QB, Oklahoma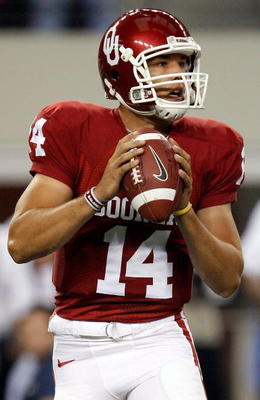 This is the perfect situation for Sam Bradford and the Jaguars. Bradford gets to sit behind David Garrard and learn and the Jaguars have the future face of the franchise. I think Bradford, like many who have played a lot out of the shotgun in college, will need this time to develop. Dez Bryant will be also tempting here.
No. 12 Miami—Terrence Cody DT, Alabama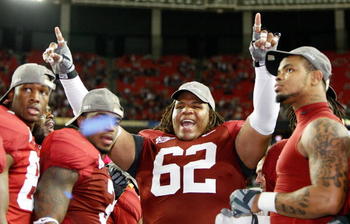 There has been a lot of talk about Cody's ability to stay in shape after the pictures with him with his shirt off at the combine, but he is too big and talented not to take at this point.
Jason Ferguson is getting old and Cody fits perfectly in the 3-4.
No. 13 San Francisco—Bryan Bulaga OT, Iowa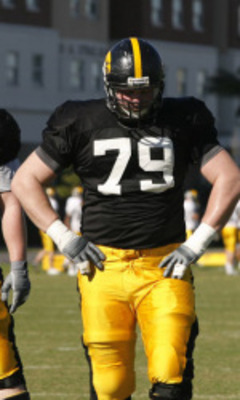 Bulaga is a former tight end with good feet and great run blocking skills. He and Joe Staley will be bookends for the 49ers for years and would help fill four of the five line spots with talented, young linemen, assuming David Baas is resigned.
No. 14 Seattle—Derrick Morgan DE, Georgia Tech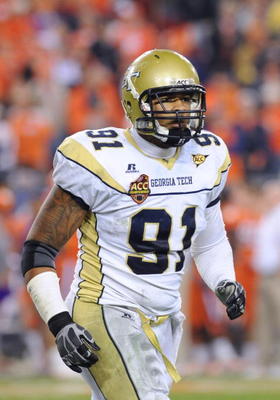 The Seahawks need a pass rushing DE, and Carlos Dunlap's off the field problems will push Derrick Morgan ahead of him. After drafting a QB with the first pick, Pete Carroll will be able to add a piece to his defense.
No. 15 N.Y. Giants—Bruce Campbell OT, Maryland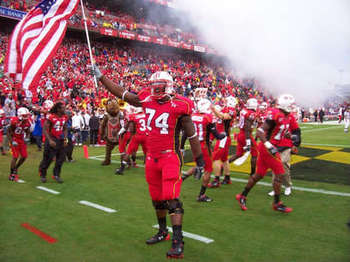 When you have a $100 million dollar QB, you need all of the protection you can get. Campbell is the best offensive lineman on the board at this point.
No. 16 Tennessee—Dan Williams DT, Tennessee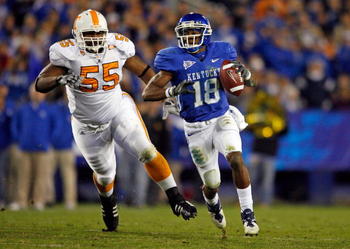 The Titans need to fill the void that Albert Haynesworth vacated, and it will be all the better if they can do it with a local guy.
No. 17 San Francisco - CJ Spiller RB, Clemson
The Niners pass on C.J. Spiller with their first pick only to have him drop to them with the second. He will add to the return game and be a change of pace back behind Frank Gore.
No. 18 Pittsburgh - Mike Iupati OG, Idaho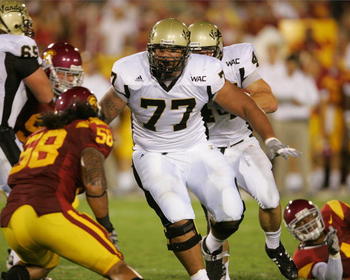 Pittsburgh gets an OL here who can fill a spot at OG for right now and could move to OT in the future.
No. 19 Atlanta - Carlos Dunlap DE, Florida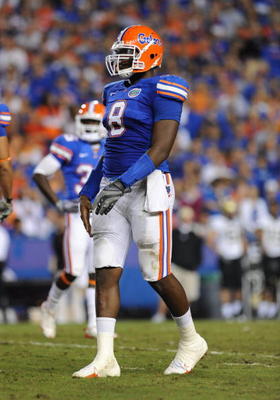 Dunlap falls down the board because of off the field issues, and Atlanta is the beneficiary.
No. 20 Houston - Earl Thomas S, Texas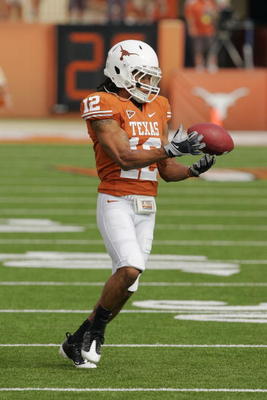 The Texans need help in the secondary, and Earl Thomas would line up perfectly next to Bernard Pollard. They may also look at Patrick Robinson, but Thomas is a better value at this point.
No. 21 Cincinnati - Jermaine Gresham TE, Oklahoma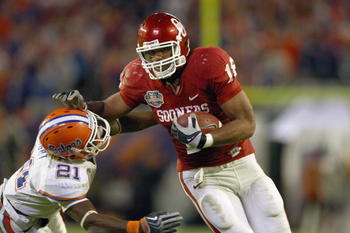 Cincinnati needs offensive weapons around Carson Palmer, so they will add a talented tight end here. If a wide receiver has a good showing at the combine, they may supplant Gresham at this spot.
No. 22 New England - Sergio Kindle LB, Texas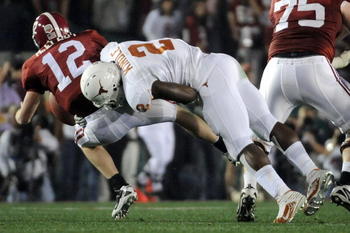 The Patriots will continue to overhaul their linebacker corp, which is certainly a need considering Junior Seau actually got playing time this year.
Kindle will help with the pass rush and a good showing in the BCS Championship will help his stock.
No. 23 Green Bay - Charles Brown OT, USC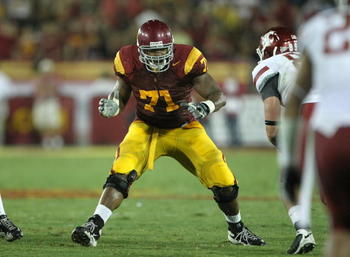 Brown is a smaller tackle and fits into the zone blocking scheme that the Packers run. The Packers allowed a lot of sacks, and Brown is the last of the elite tackles to be left on the board.
No. 24 Philadelphia - Brandon Spikes LB, Florida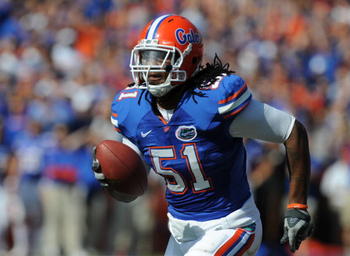 Like most highly touted players who return for their senior year, Spikes is being over-evaluated. After the combine and personal workouts, Spikes will likely settle back into the first round.
Philadelphia needs to get more production out of the MLB position, and Spikes can provide that.
No. 25 Baltimore - Golden Tate WR, Notre Dame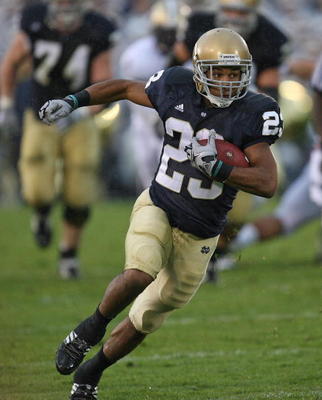 Anytime your RB leads your team in receiving, you need to add an offensive weapon. Golden Tate can step in and instantly help this receiving corp.
They could also use some help at CB.
No. 26 Arizona - Brian Price DT (UCLA)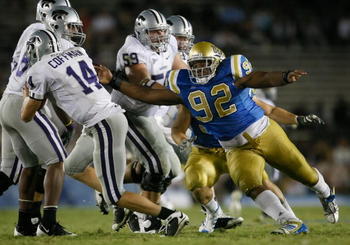 Price will need to add a few pounds to play NT, but he is very talented and will free up the linebackers behind him to make more plays.
No. 27 Dallas - Markice Pouncey C/G, Florida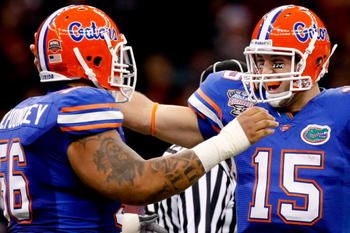 Pouncey can play either guard position and can fill in at center. He will provide depth for the line and may even overtake one of the starting positions.
No. 28 San Diego - Jason Pierre-Paul DE, South Florida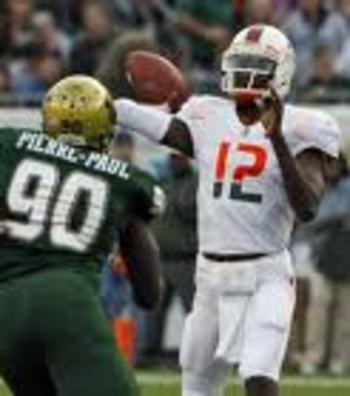 The Chargers are trying to trade for a RB and could find one later in the draft. Here, they will get a DE to go with Jamal Williams and Luis Castillo on the defensive line.
No. 29 New York Jets - Patrick Robinson CB, Florida State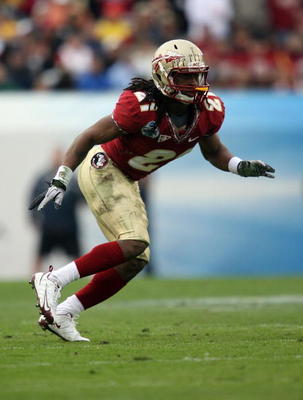 Robinson has good size for a CB and would be a great fit across from Darrell Revis. This would also allow the Jets to move Lito Sheppard to nickel corner where he can be more effective.
No. 30 Minnesota - Devin McCourty CB, Rutgers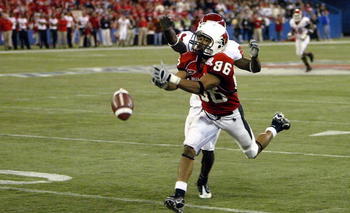 Minnesota's biggest weakness was pass defense. McCourty has been moving up a lot of draft boards, and some people have him going ahead of Patrick Robinson. If there was a good DT still available, they would consider that person to replace Pat Williams.
No. 31 Indianapolis - Ricky Sapp LB, Clemson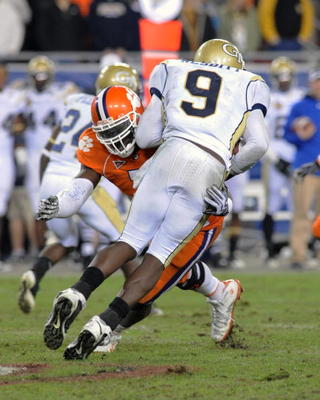 When you are this low in the first round, you have to go for value. Sapp had a disappointing senior season, but he has all the skills needed to succeed in the NFL. The Colts could also use some depth at LB.
No. 32 New Orleans - Jerry Hughes LB, TCU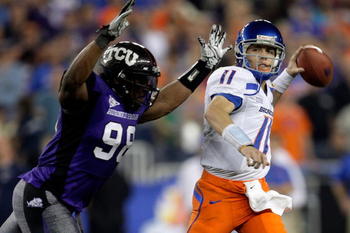 The Saints love bringing pressure, and that is Hughes' specialty. They may also look at Sean Witherspoon out of Missouri.
Round 2: Picks 33-40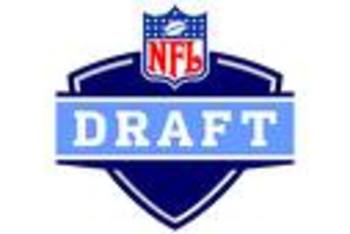 Pick No. 33 St. Louis - Colt McCoy QB (Texas)
Pick No. 34 Detroit - Everson Griffin DE (USC)
Pick No. 35 Tampa Bay- Brandon LaFell WR (LSU)
Pick No. 36 Kansas City- Sean Witherspoon LB (Missouri)
Pick No. 37 Washington- Vladimir Ducasse OG (Massachusetts)
Pick No. 38 Cleveland- Aaron Hernandez TE (Florida)
Pick No. 39 Oakland- Taylor Mays S (USC)
Pick No. 40 Seattle- Jared Odrick DT (Penn St)
Round 2: Picks 41-48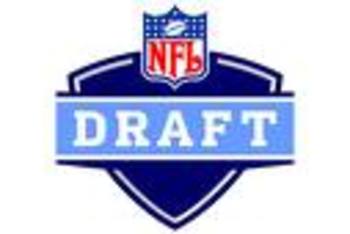 Pick No. 41 Buffalo Bills- Brandon Graham DE (Michigan)
Pick No. 42 New England - Jahvid Best RB (Cal)
Pick No. 43 Miami - Damian Williams WR (USC)
Pick No. 44 Tampa Bay - Kyle Wilson CB (Boise St)
Pick No. 45 Denver - Syd'Quan Thompson CB (Cal)
Pick No. 46 New York Giants - Daryl Washington LB (TCU)
Pick No. 47 New England - Jon Asamoah OG (Illinois)
Pick No. 48 Carolina - Selvish Capers OT (West Virginia)
Round 2: Picks 49-56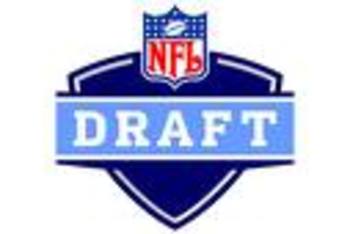 Pick No. 49 San Francisco - Javier Arenas CB (Alabama)
Pick No. 50 Houston - Jonathan Dwyer RB (Georgia Tech)
Pick No. 51 Kansas City - Mardy Gilyard WR (Cincinnati)
Pick No. 52 Pittsburgh - Chad Jones S (LSU)
Pick No. 53 New England - Corey Wootton DE (Northwestern)
Pick No. 54 Cincinnati - Reshad Jones S (Georgia)
Pick No. 55 Philadelphia - Nate Allen S (South Florida)
Pick No. 56 Green Bay - Dominique Franks CB (Oklahoma)
Round 2: Picks 57-64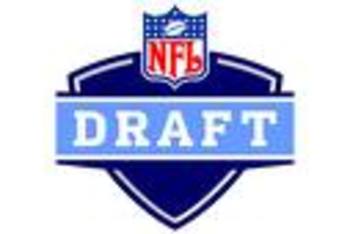 Pick No. 57 Baltimore - Brandon Ghee CB (Wake Forest)
Pick No. 58 Arizona - Tony Pike QB (Cincinnati)
Pick No. 59 Dallas - Navorro Bowman LB (Penn St)
Pick No. 60 San Diego - LeGarrette Blount RB (Oregon)
Pick No. 61 New York Jets - Mike Johnson OG (Alabama)
Pick No. 62 Minnesota - Lamarr Houston DT (Texas)
Pick No. 63 Indianapolis - Morgan Burnett S (Georgia Tech)
Pick No. 64 New Orleans - Rob Gronkowski TE (Arizona)
Keep Reading