The 10 Best Current Major League Baseball Ballparks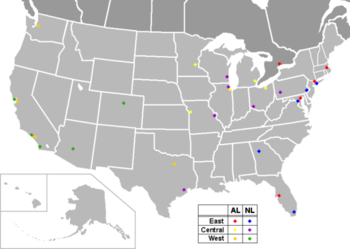 Ballparks of baseball are the cathedrals of America's pastime. These rankings reflect on the very best Major League Ballparks going into the 2010 season. Are the very best ballparks hallowed grounds, or modern marvels? MLB writer Bruce Jones decides in his 10 Best Current Major League Baseball Ballparks list.
10. Safeco Field (Seattle, WA)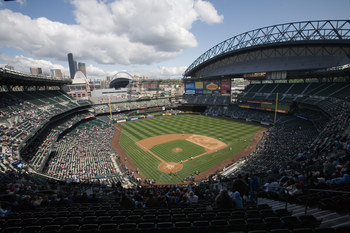 Safeco Field is a nice, retro-modern ballpark with a retractable roof, extensive food venues and a manual scoreboard. It opened in the middle of the 1999 season and has a capacity of 47,116.
9. Oriole Park at Camden Yards (Baltimore, MD)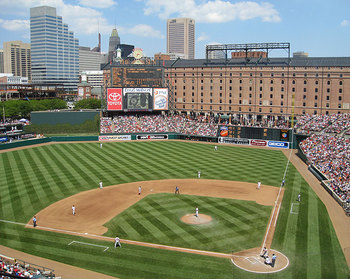 Camden Yards was built for the 1992 season, yet it was designed for a retro-feel that the builders really pulled off. The view from the park is dominated by a former warehouse behind right-field, while the skyline of Baltimore can be seen behind the rest of the outfield. Out on the street there is a statue of Babe Ruth, who was born and raised in the city.
8. Miller Park (Milwaukee, WI)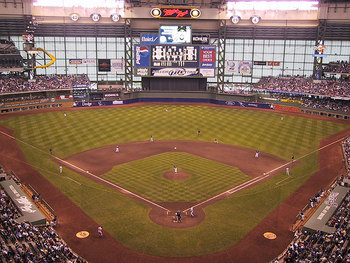 Miller Park is a great modern ballpark, with an intricate retractable roof that defines the stadium. Whenever a Brewer hits a home run, Bernie Brewer, the team's mascot, descends the slide over left field. The atmosphere is amazing, with bratwurst and beer being consumed everywhere. Stadium capacity is 41,900.
7. AT&T Park (San Francisco, CA)
AT&T Park is a great open-air modern ballpark overlooking San Francisco Bay, where balls hit as home runs have cleared the stands and splashed into McCovey Cove, the section of the bay named after the former Giants first baseman. Behind the left field bleachers sits a giant Coca-Cola bottle and a glove. The entire stadium has wireless internet access and a seating capacity of 41,503.
6. PNC Park (Pittsburgh, PA)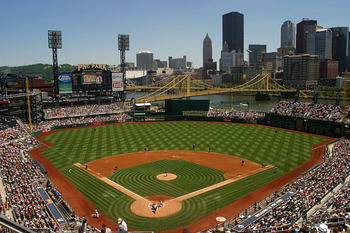 Despite the Pirate's terrible on-field product, PNC Park is a lively monument with loads of tradition. It seats 38,496 people and mixes modern design with classic style appeal. A great view of the city and bridges over the river can be seen over the outfield.
5. Kauffman Stadium (Kansas City, MO)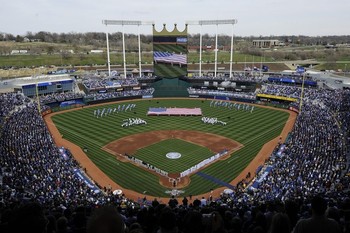 There isn't anything too special about Kauffman Stadium, it's just a nice park that has a modern, simple design. The fountains and waterfalls are spectacular, they add a great feeling to the ballpark. It opened for the 1973 season and has a capacity of 39,000.
4. Wrigley Field (Chicago, IL)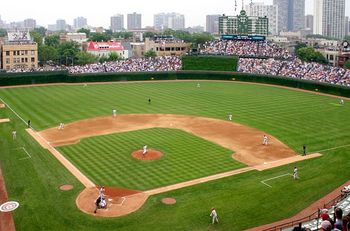 Hard to argue with a high placing of such a historic ballpark. The second oldest park in the Majors, Wrigley is well known for it's ivy-covered brick outfield walls and the flags off the cool scoreboard.
3. Busch Stadium (St. Louis, MO)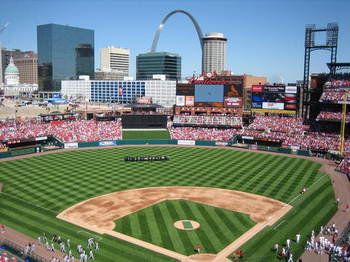 Busch Stadium opened for the 2006 season, and it has a wonderful skyline looking beyond the outfield, with the Gateway Arch clearly in view. The stadium itself is splendid itself too, with a modern, clean feeling to it and a capacity of 46,861.
2. Fenway Park (Boston, MA)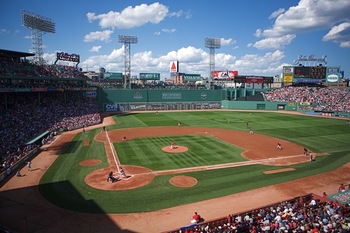 Fenway Park is historic, simply put. The Green Monster in left field measures 37 feet tall and features a great manual scoreboard with AL East Standings as well. The whole stadium feels cozy to sit in; it only houses 37,400 people and has sold out every game since May 2003.
1. Yankee Stadium (Bronx, NY)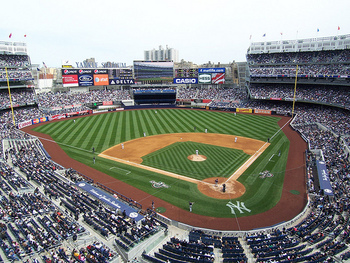 Yankee Stadium opened just before the 2009 baseball season, and boy is it nice. Costing 1.5 billion dollars, it replaced "Old" Yankee Stadium which was built in 1923. Features include 56 luxury suites, a 60x100 foot video scoreboard, and a capacity of 52,325.
Keep Reading