Tuesday Morning Running Back, Week 16: Return Of The Bungles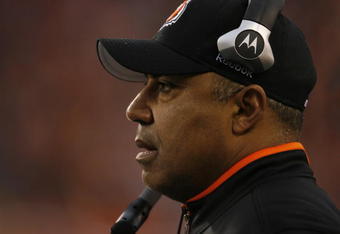 John Sommers II/Getty Images
I'd be willing to wager that soon after the New York Jets 37-0 drubbing of the Cincinnati Bengals, NBC executives began to panic.
It's bad enough that this game lacked drama, flare, suspense, and bravado.
It's even worse that these two teams are going to meet in the playoffs this Saturday afternoon.
How is NBC going to promote a game that people outside of New York and Cincinnati will likely shun in fear of the exact same outcome?
Well, for one thing, the Bengals will be the home team, and they'll be no Fireman Ed to lead the cheers.
Cedric Benson will probably average better than the pitiful 1.8 yards per carry his replacements did on Sunday night.
Maybe the Bengals will gain more than seven yards of total offense in the first half.
Maybe "Ochostinko" will stop talking smack on Twitter , and learn to be a competent receiver again.
Most importantly, maybe the Bengals will regain whatever it was that led them to a division title and only their second winning season since 1991.
A friend of mine complained on my Facebook page that I didn't give the Jets credit in beating the Colts last week, and that no one gives them enough credit.
Putting my hatred of gang green aside, allow me to praise the Jets in two areas.
1. Rex Ryan was brought in to improve the defense. To me, he didn't just improve it, he made it the best unit in the league.
And,
2. If I had a vote for NFL defensive player of the year, Darelle Revis gets it without question. I've never seen a cornerback consistently shut down top receivers like him.
That good enough for you Greg?
The bottom line here is that the Jets have to keep it up and the Bengals have to go back to the drawing board.
Hey, at the very least this game should intrigue you.
Elsewhere in the final week of the regular season:
What were the odds that one year later it would be the Eagles reeling from a terrible loss to the Cowboys heading into the playoffs since the shoe was on the other foot last year?
The Giants defensive effort in the last two weeks was absolutely disgraceful. I'm not surprised at all Bill Sheridan was given his walking papers.
The key for the Vikings in two weeks is to keep the momentum going.
The Colts and Saints learned valuable lessons this week, they're nothing without their leaders.
As disappointing as this year was for the Steelers, you can at least be thankful that they finished with a strong defensive effort and were in the playoff picture till the end,
The Jim Zorn era came to a fitting end since the Redskins couldn't even beat the Charger backups.
ESPN reported yesterday that Mike Shanahan was seen getting into a car at the DC airport that was sent by Daniel Snyder. To me, he can't get there fast enough.
The Broncos season ended just like last season did, with a big collapse leaving them searching for answers.
I like Julian Edelman, but he's no Wes Welker. The Patriots running game needs to step it up if they want to win.
Chris Johnson has officially passed Adrian Peterson as the number one running back in fantasy football. Now what will buy his offensive line?
You know a four-game wining streak is a big deal in Cleveland when the coach gets a Gatorade bath after the game.
It wasn't a pretty road to the postseason for the Ravens, but a strong performance by Willis McGahee got them in.
Rest assured Packer fans that the Cardinals you saw this week won't be the same Cardinals you see next week.
It's great that Jay Cutler played to his potential by tossing four touchdown passes, but for the Bears, this was a season of missed opportunity.
Even though he finished 1-15, I still think Steve Spagnuolo will be a good coach if he coaches to his strength. Therefore, that Suh kid from Nebraska should be the Rams first priority in the draft.
Falcons coach Mike Smith said after his teams win on Sunday that the only way to be relevant in the league is to be in the playoff picture year in and year out. I guess someone forget to tell him that he's the only coach in team history with consecutive winning seasons. That should make them relevant enough.
Please note that next week's column will be written on Monday instead of Tuesday since they're are fewer games to cover. So look for it then.
This article is
What is the duplicate article?
Why is this article offensive?
Where is this article plagiarized from?
Why is this article poorly edited?

Cincinnati Bengals: Like this team?