2010 NFL Mock Draft 1st Round: Suh or Clausen?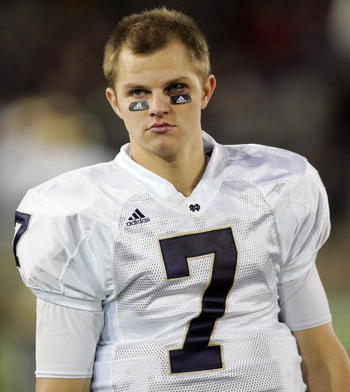 Updated 12/24
Here's the latest update of my 2010 NFL mock draft. I decided to release it a little early with Christmas approaching. The draft order is based on my season record and playoff projections. Tune in next week for another update of my mock draft, and feel free to comment and tell me what you think of my picks and whether you like your favorite team's pick.
1. St. Louis Rams—Jimmy Clausen, QB, Notre Dame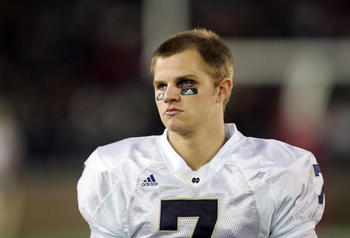 The Rams are a wreck, and Marc Bulger should retire now before he hurts himself even more. Kyle Boller isn't the answer at QB either.
Keith Null threw five interceptions in his debut, and guess who his QB coach was? Yep, the biggest NFL bust ever: Ryan Leaf.
In short, the Rams are desperate for a QB.
Clausen finished his junior season at Notre Dame with 28 touchdowns, four interceptions, and a 68 percent completion rate. Charlie Weis' firing led to Clausen's decision to enter the NFL Draft and forgo his senior year at Notre Dame.
If Notre Dame had a decent defense and a better coach, they would have been a BCS team.
Despite his critics saying that he can't lead his team to wins, Clausen led his team to great near-comebacks, specifically against USC.
Suh is an intriguing option, but the Rams need to get a new franchise face, and they won't likely pass on Clausen.
2. Detroit Lions—Ndamukong Suh, DT, Nebraska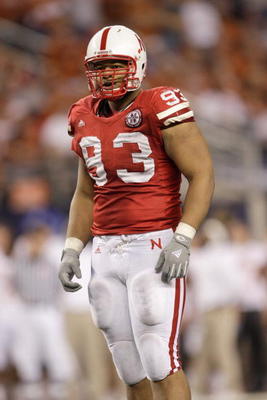 Suh had a spectacular Big 12 Championship performance. He exposed Colt McCoy, notching four and a half sacks on the day. He even got invited as a Heisman finalist and placed fourth in the voting.
He has 12 sacks on the season, and he can play in a 4-3 or 3-4 scheme, which will benefit him in the NFL. He has been compared to Kevin Williams.
The Lions should take Russell Okung here to give Matt Stafford better protection than Jeff Backus so he won't get badly injured again, but the Lions' management won't be able to pass up on a talent like Suh.
3. Tampa Bay Buccaneers—Gerald McCoy, DT, Oklahoma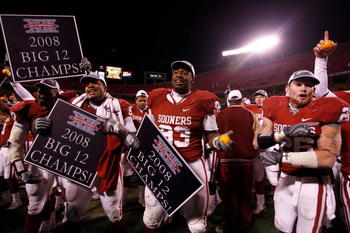 The Buccaneers ruined their chances at landing Ndamukong Suh by beating the Seahawks and Saints, and they need to upgrade their terrible rush defense badly. Suh is the best fit for the Buccaneers' defensive scheme, so winning wasn't a good idea.
Luckily, McCoy is still available and arguably just as talented as Suh, and he recently announced he will enter the draft. McCoy is an elite defensive tackle. He has great intangibles, and he's explosive with high stamina. However, he may need to bulk up a little, weighing in at 295 pounds.
4. Kansas City Chiefs—Russell Okung, T, Oklahoma State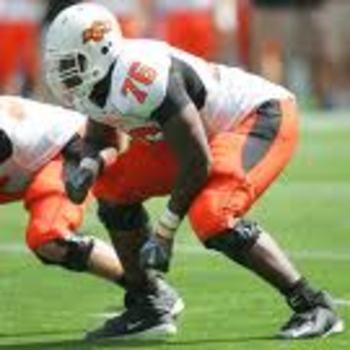 The Chiefs have no offensive line, and Matt Cassel will continue to get beaten up if the they don't take a tackle now and move Branden Albert back to guard.
Okung is a rare gem of a tackle prospect. He has amazing leadership skills and is a four-year starter. He can be expected to start on day one.
5. Cleveland Browns—Eric Berry, S, Tennessee
The Browns need major help on defense, and Berry is too big of a talent to pass up.
The Browns need to improve their pass defense, and taking arguably the best 2010 NFL Draft prospect would create dramatic improvement in the Browns' secondary.
Berry had 14 career interceptions at Tennessee and returned three of them for touchdowns. He has no reason to stay in Tennessee for his senior year.
6. Buffalo Bills—Sam Bradford, QB, Oklahoma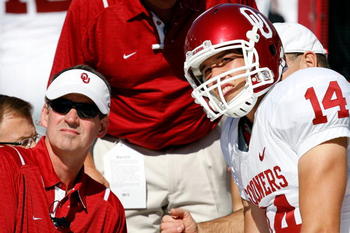 With Gerald McCoy off the board, the Bills can address their rush defense issues later and take a QB here.
Ryan Fitzpatrick isn't the answer under center, and neither is Trent Edwards. Brian Brohm is starting Sunday. He was signed by the Bills after the Packers released him, and he is obviously a bust in the making.
Bradford comes with some red flags, such as playing in a spread shotgun offense and an injury history. The Bills will be hoping Bradford can convert his old form to the NFL, but Bradford will need to convince them that he can stay healthy.
7. Washington Redskins—Bryan Bulaga, T, Iowa
QB Jason Campbell has improved over the course of the season. Meanwhile, Chris Samuels is injured, and the Redskins need help on the offensive line. If they don't get it, Campbell could easily start struggling again.
8. Seattle Seahawks—Bruce Campbell, T, Maryland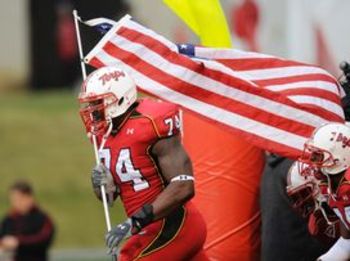 Matt Hasselbeck is not doing well for the Seahawks, and it's apparent that his age and history of injuries have caught up to him, and having a terrible offensive line doesn't help either.
The Seahawks should draft a tackle to replace Walter Jones before they draft a new QB so he doesn't suffer from no protection like Hasselbeck has.
Campbell announced that he will enter the draft. He is very fast for a tackle. His 40 time is a 4.9 and he is very athletic, but he has questions surrounding his stamina.
9. Oakland Raiders—Taylor Mays, S, USC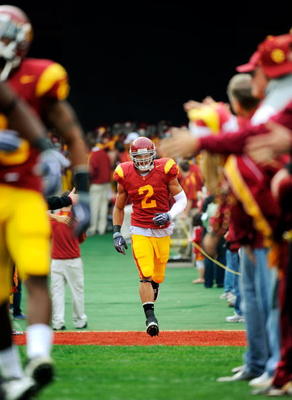 Al Davis just missed out on Bruce Campbell, and the Raiders need to improve their offensive line badly. Davis would love Campbell because of his 40 time, but not to worry Al, Mays is a hard-hitting, fast safety, and he can run a 4.36. That time will make Davis happy.
The Raiders don't need a safety, but Davis drafts based on 40 times, as evidenced by his previous choices of Darren McFadden and Darrius Heyward-Bey, who are busts in the making.
10. Denver Broncos(from Chicago)—Rolando McClain, LB, Alabama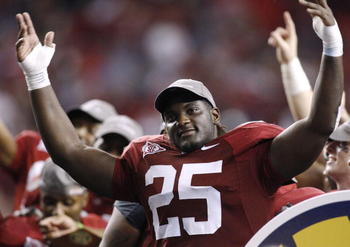 The Broncos have a hole at inside linebacker with Andra Davis struggling in recent games.
McClain is the top inside linebacker in this year's draft, and he's coming off a great performance in the SEC Championship Game against Florida.
This is a perfect scenario for the Broncos.
11. San Francisco 49ers(from Carolina)—Joe Haden, CB, Florida
Haden is the best cornerback in the nation, and leads Florida's dominant defense.
The 49ers would benefit from his services as they need to improve their secondary. Nate Clements is injured too often, and they need another reliable corner.
12. Pittsburgh Steelers—Earl Thomas, S, Texas
The Steelers' offensive line is hurting badly, but the tackle class is weak this year, and none of the options remaining are worthy of being drafted this high.
The Steelers can go for a value pick here. Ryan Clark is a free agent, so the Steelers will need a free safety.
Thomas has had a phenomenal year. He has eight interceptions for 149 yards and two of them have been returned for touchdowns.
He and Troy Polamalu would form an invincible safety duo.
13. Houston Texans—C.J. Spiller, RB, Clemson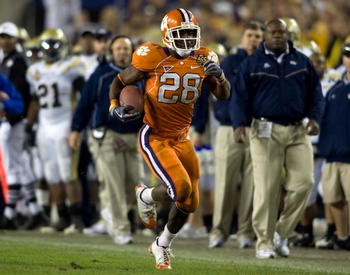 The Texans are hurting at RB. Steve Slaton experienced a sophomore slump and is now on IR. Ryan Moats' big game was a fluke, and Chris Brown is not the future at RB.
Spiller is an explosive RB. He had a huge ACC Championship Game, and he is often compared to Chris Johnson. He can run a 4.2 just like Johnson.
14. New York Jets—Dez Bryant, WR, Oklahoma State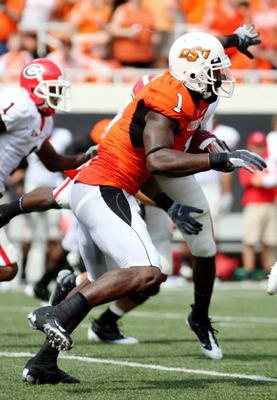 The Jets need a wide receiver because Braylon Edwards has been a disappointment. He is extremely talented, but he drops way too many passes, so the Jets will not pay to re-sign him.
Mark Sanchez has no receiving weapons, and that doesn't help his rookie campaign at all.
Bryant got suspended for an NCAA violation, but that shouldn't affect his draft stock as he is still the most talented receiver in college football.
15. Jacksonville Jaguars—Tim Tebow, QB, Florida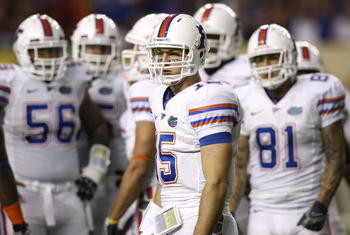 This is the only pick that's a given. The Jaguars are 7-7, but still can't sell out any of their home games.
Owner Wayne Weaver wants to draft Tebow in order to bring in more fans just like the Vikings got more when they signed Brett Favre.
Since Tebow is from Florida just like the Jaguars, picking Tebow would be convenient for him and the team.
Even if Tebow is a bust, the Jaguars will be selling a lot more seats with a big name like Tebow.
16. San Francisco 49ers—Jerry Hughes, DE/LB, TCU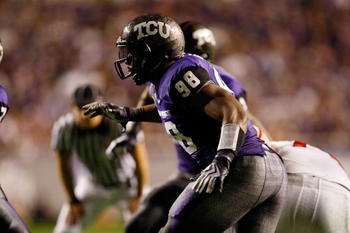 Hughes has got to be one of the most underrated players in college football. He is a two-time First-Team All-American, and the 49ers need help on their rush defense since their sack leader has only 5.5 sacks. Hughes can play both DE and OLB and plays in a 3-4 defense at TCU just like the 49ers have, so he would be a perfect fit.
Plus, he had 15 sacks his junior year at TCU, and he has 11.5 this year. Manny Lawson is a bust and needs to be replaced. The 49ers are one of the very few teams that are likely to be willing to draft a hybrid in the first round.
17. Atlanta Falcons—Sean Weatherspoon, LB, Missouri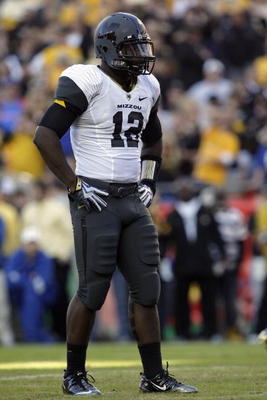 The Falcons need an outside linebacker as an upgrade over Mike Peterson, who is aging.
Weatherspoon has top-15 talent, and could start for the Falcons right away. The Falcons need to improve their struggling defense.
18. Dallas Cowboys—Trent Williams, T, Oklahoma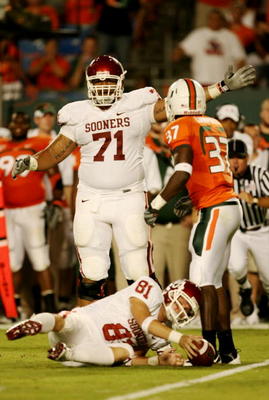 Williams is the anchor of Oklahoma's offensive line and was named to the AP All-American Third Team.
Flozell Adams is old, allows lots of sacks, and commits lots of false start penalties. He's obviously not the Pro Bowl tackle he used to be, and he should be replaced.
19. Tennessee Titans—Derrick Morgan, DE, Georgia Tech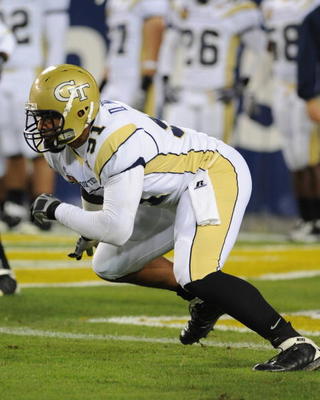 Kyle Vanden Bosch is a free agent at the end of the season, as are several other defensive ends on the Titans.
Morgan leads Georgia Tech with 12 sacks and would be a great fit for the Titans' rush defense.
20. Seattle Seahawks—Jahvid Best, RB, Cal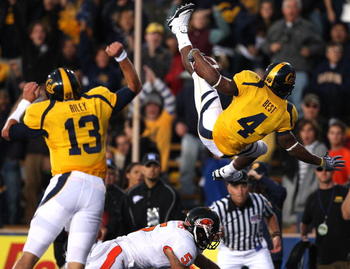 Cal just lost the Poinsettia Bowl, and they played without Best. That shows how important he was to the team.
The Seahawks need a RB badly. Justin Forsett has done pretty well, but he isn't ready to take over the reins at RB by himself. Julius Jones isn't good, and Edgerrin James will likely retire.
21. Miami Dolphins—Golden Tate, WR, Notre Dame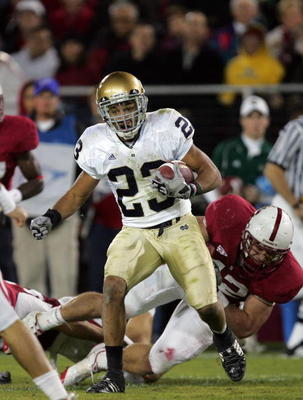 The Dolphins need a receiver, and while Davone Bess has had shining moments, Ted Ginn Jr. is obviously a bust.
Tate is a First-Team All-American, and he played in a pro-style offense at Notre Dame. He followed Clausen to the NFL after Charlie Weis was fired. He would fit the Dolphins' offensive scheme greatly.
22. New York Giants—Ras-I Dowling, S/CB, Virginia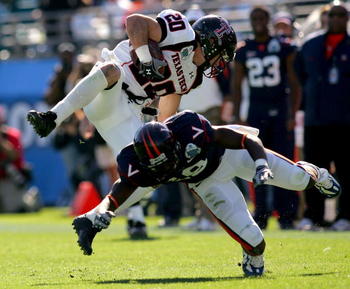 The Giants have been struggling on defense with the injury bug hitting them. Kenny Phillips has a career-threatening injury, and Aaron Rouse and CC Brown are starting at safety. Dowling can play free safety and cornerback, and he would provide better depth in the secondary for the Giants.
23. Baltimore Ravens—Damian Williams, WR, USC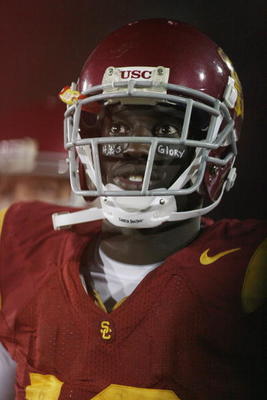 The Ravens need a receiver badly, since Derrick Mason will probably retire and Mark Clayton is not reliable.
These factors are definitely contributing to Flacco's passing struggles.
Williams plays in a pro-style offense at USC, and should do very well in the NFL with his great work ethic.
24. Green Bay Packers—Charles Brown, T, USC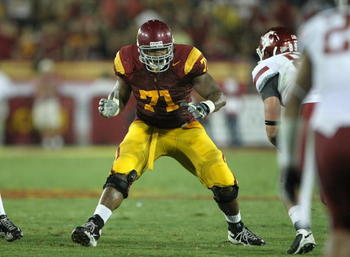 Brown had a great senior year at USC, and he was named a Sporting News First-Team All-American. He fits the Packers' scheme perfectly, and Chad Clifton needs to be replaced since he will be a free agent.
The offensive line struggled badly the first half of the season. While they are now improving, since Clifton is doing better and Tauscher rejoined the Packers, it would still be foolish to not draft a tackle if there is one valuable enough in the first round.
Brown will need to bulk up for the Combine since he only weighs 295 pounds, or his draft stock may slip.
25. New England Patriots—Anthony Davis, T, Rutgers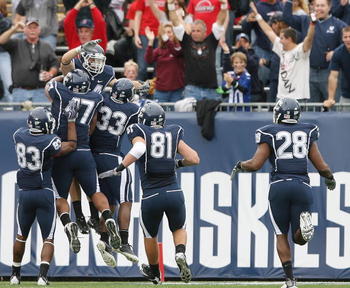 The Patriots' offensive line has been struggling, and that explains why Tom Brady isn't doing as well as he could be. Belicheck will want to fix the line. Matt Light and Nick Kaczur aren't as durable as they used to be, and they are now rotating with Sebastian Vollmer.
Davis entered his name in the NFL Draft, and he is very athletic with massive size at 325 pounds. He would be a dominant tackle for the Patriots.
26. Arizona Cardinals—Jermaine Gresham, TE, Oklahoma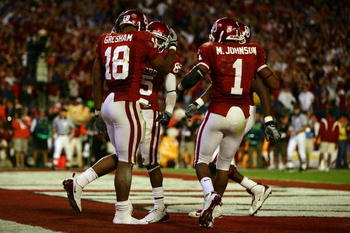 The Cardinals need a tight end, and Steve Breaston will be a free agent, so they will need to give their receiving corps a threat across the middle. Gresham is a talent the Cardinals won't be able to pass on. He is the best TE in college football.
27. Philadelphia Eagles—Greg Hardy, DE, Ole Miss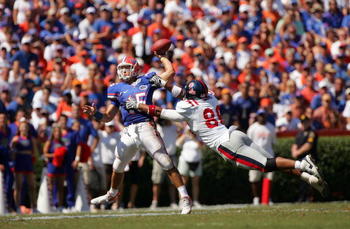 Victor Abiamiri has been struggling, and the Eagles' rush defense has been kind of shaky as a result, so Abiamiri should be replaced. Andy Reid likes drafting O-line and D-line players.
28. San Diego Chargers—Terrence Cody, DT, Alabama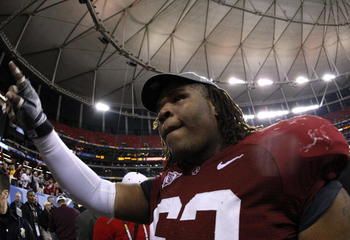 The Chargers need a nose tackle, and Jamal Williams had a season-ending injury. He's 34, and he has very little left in the tank.
Cody plays in a 3-4 defense similar to the Chargers' scheme, so he would be a great replacement for Williams.
29. Minnesota Vikings—Ryan Mallett, QB, Arkansas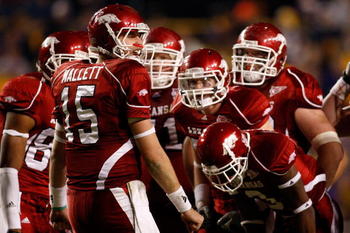 Favre will re-sign with the Vikings for one more year, but the Vikings need to draft a successor. Sage Rosenfels is, at best, a stopgap measure.
Mallett has been doing great at Arkansas since transferring from Michigan. He has thrown for 3,425 yards, 29 touchdowns, and only seven interceptions.
He hasn't answered any questions about whether he will go to the NFL early, so he's on my radar until he announces he's staying at Arkansas.
He isn't the kind of QB that will likely produce right away, but given some time, he has shown the potential for amazing results.
He can also benefit just like Aaron Rodgers did by sitting on the bench for a little while and watching Favre play.
30. Indianapolis Colts—Joseph Barksdale, T, LSU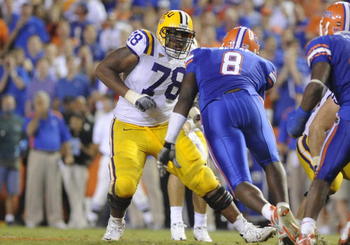 Barksdale has had a great year at LSU, and Charlie Johnson hasn't been doing very well for the Colts as Tony Ugoh's replacement. They will need to draft a tackle and Barksdale will be a good fit for the Colts' offensive line.
31. Cincinnati Bengals—Brandon LaFell, WR, LSU
LaFell was smart to stay for his senior year at LSU because the 2009 receiving class was very deep. He is a very talented receiver, and he would be a great No. 2 receiver across from Ochocinco, who is constantly being double-teamed and needs a decoy to prevent that.
The Bengals are also one receiver down now.
R.I.P. Chris Henry(1983-2009)
32. New Orleans Saints—Travis Lewis, LB, Oklahoma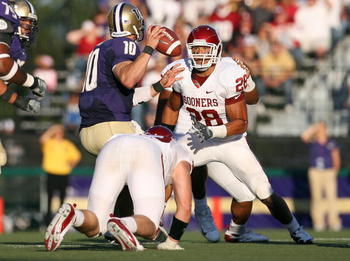 The Saints are my pick to win the Super Bowl.They could use an upgrade at linebacker, and they never had the chance to take one in 2009, as they did not have any picks in the second and third rounds.
Keep Reading