2010 NFL Mock Draft (take 2)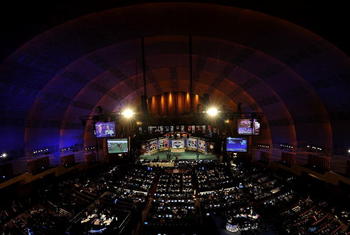 This is a mock draft for next year. Of course it is way to early, but what the heck it's always fun to project. This is based on records through Week 14 of the NFL season. This does assume that some underclassmen that haven't yet declared will come out. You can bet that this list will change over time and I plan to do more as the draft gets closer. ENJOY!
1. Tampa Bay Buccaneers: DT- Ndamukong Suh- Nebraska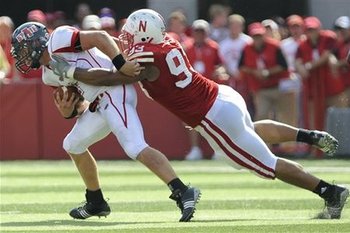 Dominant force and is one of the most heralded lineman to come out of college in a long time. Bucs can use Suh to start forming a strong defensive unit....something they used to be known for.
2. St. Louis Rams: QB-Jimmy Clausen- Notre Dame
It's obvious that Bulger's best days are behind him. Clausen seems to be the most pro ready of all the quarterbacks and could step in as a starter right away.
3. Detroit Lions: DT- Gerald McCoy- Oklahoma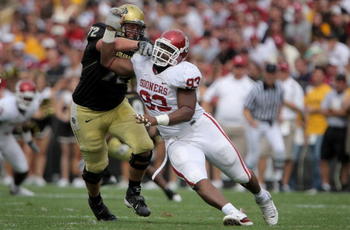 Lions have the worst defensive line in football and they will hope that Suh will fall to them, if not McCoy is the next best thing and would be there best defensive lineman immediately.
4. Cleveland Browns: QB-Sam Bradford- Oklahoma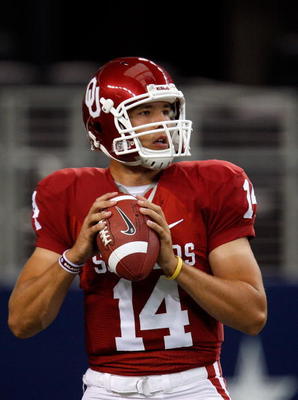 Some believe that the Browns will give Quinn another chance but I believe that this team will be cleaning house and that quarterback will be a spot that needs to be filled. Bradford comes with risk but his history should help him become a top draft pick.
5. Kansas City Chiefs: S- Eric Berry- Tennessee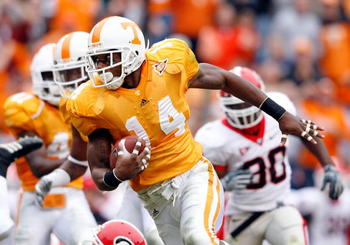 Some have compared Berry to Ed Reed.....even if that isn't true he is still the best defensive back in the draft. Chiefs need help on all defensive sides and Berry could give them a special weapon in the secondary.
6. Washington Redskins: OT- Russell Okung- Oklahoma St.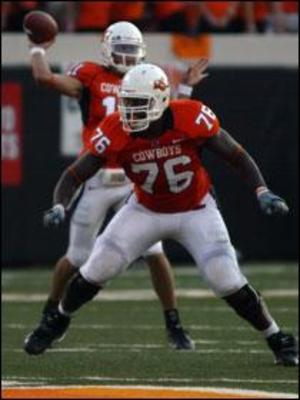 Skins will have a new coach so he may have say on who they draft and Okung seems to be the best bet no matter who is coach. Skins line is getting older and no matter who their qb is they will need someone to protect him.
7. Oakland Raiders: DE- Derrick Morgan- Georgia Tech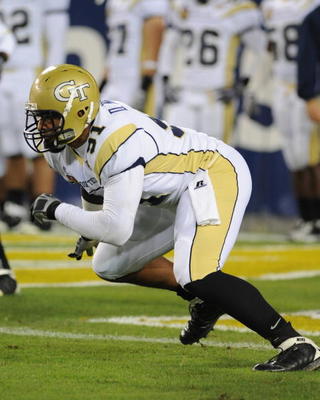 Al Davis could do something crazy here, but I'll assume he plays it right and goes with Morgan. He is fast which is something that Davis loves so that would fill the desire along with a need for a pass rusher.
8. Buffalo Bills: LB- Rolando McClain- Alabama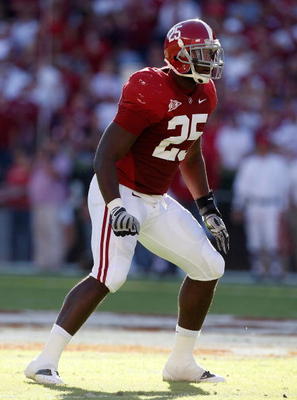 I could see the Bills moving out of this position but if they don't I believe they go with a front 7 player. McClain is the best available at this point and could give the defense a nice boost.
9. Denver Broncos: DT- Brian Price- UCLA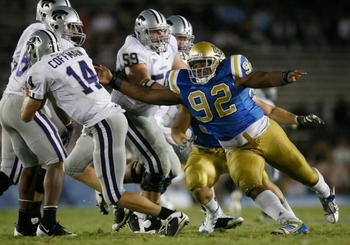 Broncos defense has been very good this year but have struggled at times against the run. Price would give them a nice run stuffer in the the middle.
10. Seattle Seahawks: CB- Joe Haden- Florida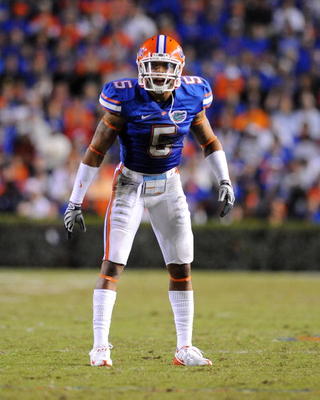 Seahawks have been terrible against the pass this year and would be thrilled if Haden fell to them, he is the best corner in the draft.
11. San Francisco 49ers: S- Taylor Mays- USC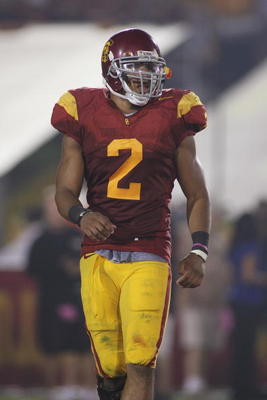 Coach Singletary loves defense and Mays is a talented player that could fit right in. Although he has dropped a bit on boards he is still a very special player and could be a steal at number 11.
12. Pittsburgh Steelers: OT- Trent Williams- Oklahoma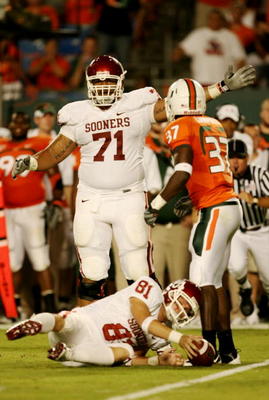 Steelers have had a disappointment season, but don't be surprised if they bounce back big next year as they don't have many needs. One thing that has been lacking a bit the past couple of seasons is OL, and Trent Williams can help make them stronger up front.
13. Atlanta Falcons: S- Earl Thomas- Texas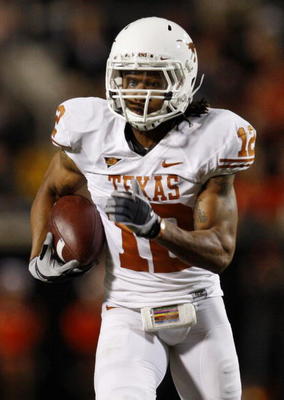 Falcons secondary is in a bit of shambles and should be their number one priority in the offseason. Thomas isn't quite as good as Berry or Mays but he is still one of the better players in the draft.
14. Tennessee Titans: DE- Jason Pierre-Paul- USF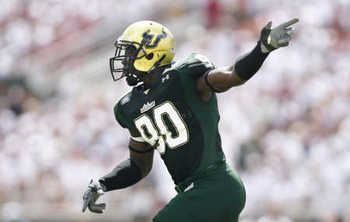 Titans will need replacements for Vanden Bosch and Kearse soon as neither is very young. Pierre-Paul could learn behind them for a year or two and reallyb e a star when he is ready to take over.
15. Houston Texans: DT- Dan Williams- Tennessee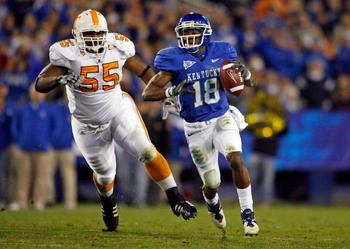 Texans always seem on the verge of being a playoff team but they still have some pieces missing. They could use another DT to help out Okoye and Dan Williams might be a nice complement.
16. San Francisco 49ers: DE- Everson Griffen- USC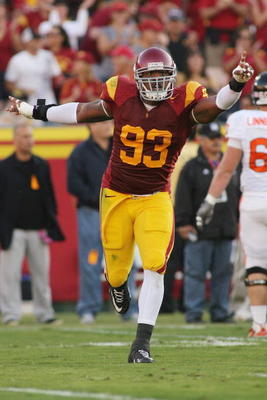 I believe 49ers will go all defense and all USC with their first round picks. Although their defensive line isn't terrible Griffen would most likely be an upgrade and at very worst great depth.
17. Jacksonville Jaguars: DE- Carlos Dunlap- Florida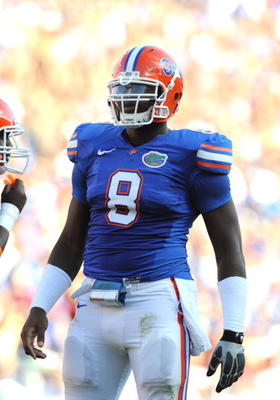 Everyone is talking about Jags taking Tim Tebow but it would be a mistake to take him so high....another Florida Gator in Dunlap would be a much better pick. If this was based on pure talent he would probably be even higher but a recent DUI has dropped him down boards.
18. New York Jets: WR- Dez Bryant- Oklahoma St.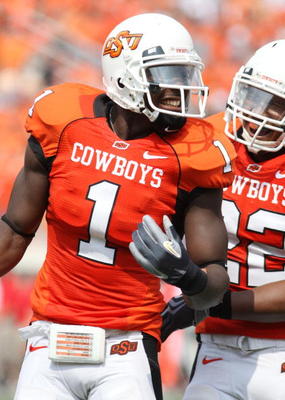 Jets defense is strong so they will be looking to make Mark Sanchez's job as easy as they can. Dez Bryant is the best receiver in the draft and could be a great target for Sanchez for years to come.
19. New York Giants: LB- Sergio Kindle- Texas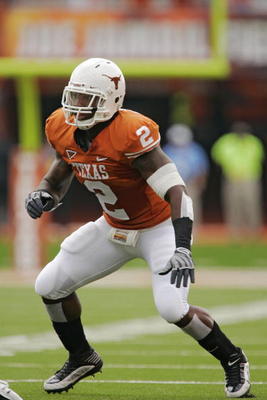 Giants have been up and down all season. This is another spot that I could see being traded but in my opinion the Giants could use help at linebacker. Kindle has been fantastic throughout his college career and should help any team that drafts him.
20. Baltimore Ravens: TE- Aaron Hernandez- Florida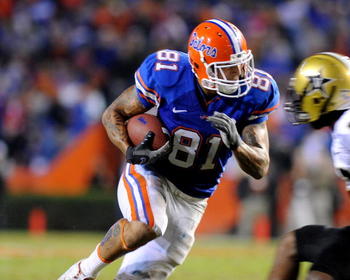 Todd Heap is nearing the end of his career and Joe Flacco will need some targets to throw to. Hernandez would fit in nicely for Baltimore and could be a star for years to come.
21. Miami Dolphins: DE- Brandon Graham- Michigan
Graham is one of the hardest working players in the draft and the Dolphins have a nose for those type of players. Miami also has great history with Michigan as seen by Chad Henne and Jake Long.
22. Dallas Cowboys: DE- Jerry Hughes- TCU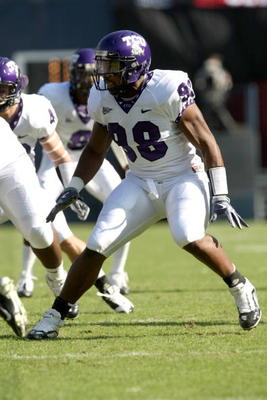 Cowboys seem to do strange things during draft day but I believe they stay in state and take TCU's best player in Hughes. He could start for the Cowboys right away if need be.
23. Arizona Cardinals: TE- Jermaine Gresham- Oklahoma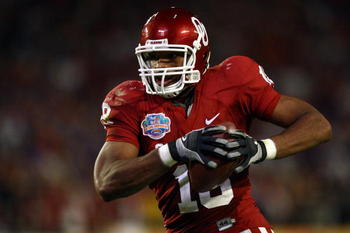 Cards could lose Boldin in the offseason and even if they don't a Tight End will be a top priority. Gresham may have been a top ten pick had he not got injured at the start of the season
24. Seattle Seahawks: RB- C.J. Spiller- Clemson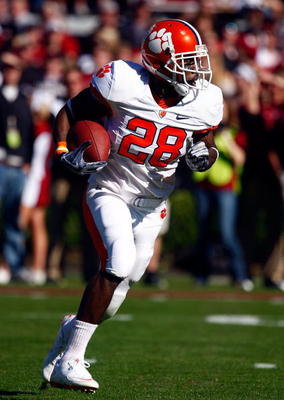 Julius Jones is not a true starter and even though Justin Forsett has shown some flashes the Seahawks might still be in the market for a running back. Spiller seems to be everyone's pick as the top runner in the draft.
25. New England Patriots: CB- Patrick Robinson- Florida St.
Patriots secondary has really struggled this year and is something they will need to address quickly. Robinson may not start right away for New England but could be groomed into a great corner.
26. Green Bay Packers: RB- Jahvid Best- California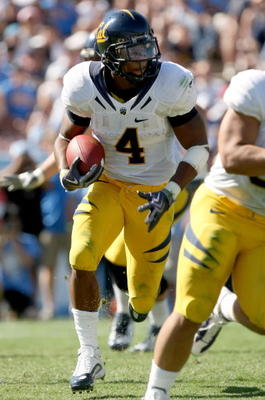 Packers have a lot of talent and are only a few pieces away from being a yearly Super Bowl contender. Offensive line and running back are the main holes that need to be filled. Best is explosive and the Packers have had success with drafting California players.
27. Philadelphia Eagles: LB- Sean Weatherspoon- Missouri
Eagles always do a great job in finding fill in linebackers, just like they have with Trotter. They don't won't to have to rely on this though so drafting a linebacker like Weatherspoon could be in the works.
28. Cincinnati Bengals: OT- Anthony Davis- Rutgers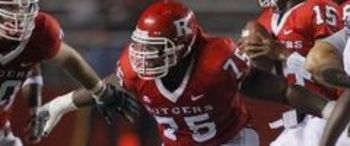 Bengals have had a great turn around and will look to improve with depth. Although Cincy took a OT last year they could still use another and Davis might form a deadly duo with Andre Smith.
29. San Diego Chargers: LB- Navorro Bowman- Penn St.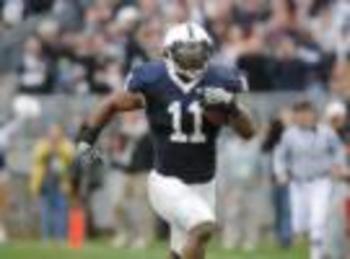 Chargers don't have many needs but Merriman may be gone and even if he isn't, he doesn't seem to be the same player he used to be. Bowman would fit in nicely in San Diego.
30. Minnesota Vikings: LB- Brandon Spikes- Florida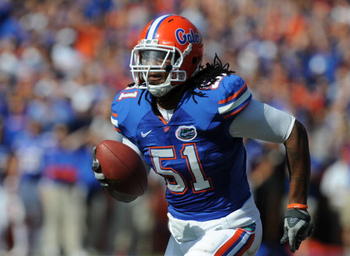 Some say he has character issues but the same was said about former teammate Percy Harvin, a player that the Vikings got a steal with. Spikes would also be a steal and would help fortify a stout Minnesota defense.
31. Indianapolis Colts: LB- Bruce Carter- North Carolina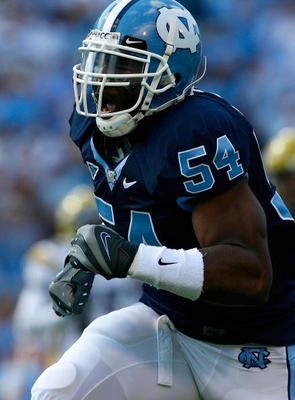 Colts linebackers have done a nice job this year but none seem to be long time starters. Carter could help change that situation and would be a good fit for Indianapolis.
32. New Orleans Saints: OT- Bruce Campbell- Maryland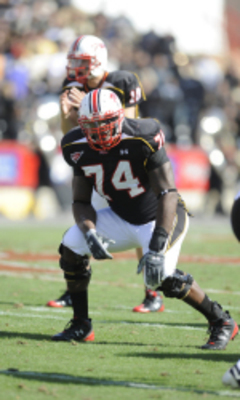 Saints have had a magical season but that doesn't mean they don't need any help. Injuries have hurt the offensive line and in New Orleans the number one priority if keeping Drew Brees healthy. Campbell had declared an should be one of the top OL taken in the draft.
Keep Reading

Detroit Lions: Like this team?