The Blind Side: Fact or Fiction, I'm a Michael Oher Fan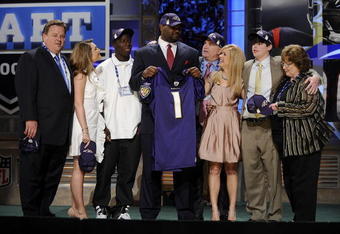 Jeff Zelevansky/Getty Images
I've never been a real big football fan.
I'm one of those people who watches the Super Bowl and maybe a playoff game here or there.
I've seen "Rudy" and root for my hometown football team if I'm around a TV they are on (go Giants!).
But after seeing "The Blind Side," not only do I want to become a football fan, I want to root for the Ravens and wear an Oher jersey.
I know the life of Michael Oher was glamorized for the big screen, but after doing some research, Hollywood stayed pretty close to his story. Granted Tim McGraw was a pretty big stretch to play Sean Tuohy, but I'll never complain about seeing Tim on a big screen.
From the opening scene, I was taken in by the story of the boy lost on the streets of Memphis.
By now, every one knows "Big Mike's" story.
As a journalist, however, it's interesting to see the differences between the movie and the actual facts of his life.
For example, in the movie, Oher finds out his father committed suicide by jumping off a bridge. In actuality, his father was murdered.
A good portion of the movie is devoted to Oher's education and his learning techniques.
In dramatic form, he needed a 2.5 GPA (grade point average) to get into an NCAA Division I school. One of the final scenes of the movie has Leigh Anne announcing he received a 2.52 at Oher's high school graduation ceremony.
While this did happen, it's not quite accurate. Oher needed more than a 2.65 GPA and achieved this by taking online classes via a BYU program, which was combined with his already achieved 2.52 GPA.
This is not mentioned in the movie.
What is mentioned, however, is the controversy over Oher's choice of going to the University of Mississippi—the alma mater of the gracious couple who took him in.
The NCAA did a thorough investigation and concluded nothing wrong had occurred.
Sandra Bullock's voice narrated the end of the movie and then the fans got a real treat—and I got teary-eyed.
Archival footage of the 2009 NFL draft, where the Baltimore Ravens picked Michael Oher, 23rd overall, in the first round.
No Hollywood glamor, no actor portraying Oher.
And the actual Touhy family by his side. No Sandra Bullock, no Tim McGraw. Just Leigh Anne and Sean Touhy along with their children, SJ and Collins.
As the credits rolled, we also got to see pictures of Oher's life as he grew up. The scenes we saw in the movie were in front of our eyes as they had happened and it felt more real.
It was the second time I saw a sports movie where the audience cheered at the end.
The first was when I saw "Miracle," the story of the 1980 Winter Olympics United States Mens Hockey Team.
I was negative three years old when the events of "Miracle" happened.
The story of Michael Oher is much more real to me and I found myself looking intensely at every picture on the screen.
I can't wait to watch the next Ravens game.
This article is
What is the duplicate article?
Why is this article offensive?
Where is this article plagiarized from?
Why is this article poorly edited?

Baltimore Ravens: Like this team?