Mock 2010 NFL Draft: "No Jake Locker" Edition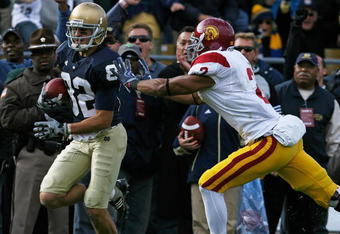 Jonathan Daniel/Getty Images
1. Cleveland Browns
Jimmy Clausen, QB, Notre Dame
Concerns will arise over height, and athleticism, but accuracy, arm strength, and production are unmatched.
2. Tampa Bay Buccaneers
Ndamukong Suh, DT, Nebraska
3. St. Louis Rams
Gerald McCoy, DT, Oklahoma
Rams can't get to the QB or stop the run.
4. Detroit Lions
Russell Okung, OT, OK State
Because they don't want Stafford to die.
5. Washington Redskins
Eric Berry, S, Tennessee
Need tackle, but Bulaga is reach and they won't be able to trade down. Reed Doughty starts at safety currently.
6. Kansas City Chiefs
Rolando McClain, ILB, Alabama
7. Buffalo Bills
Bruce Campbell, OT, Maryland
8. Oakland Raiders
Ryan Mallett, QB, Arkansas
6'7", rocket arm, high YPA. Next JaMarcus or next Brian Brohm?
9. Denver Broncos
Sam Bradford, QB, Oklahoma
10. San Francisco 49ers
Joe Haden, CB, Florida
11. Seattle Seahawks
Charles Brown, OT, USC
12. San Francisco 49ers
Bryan Bulaga, OT, Iowa
13. Houston Texans
Greg Hardy, DE, Florida
14. Tennessee Titans
Derrick Morgan, DE, Georgia Tech
15. Pittsburgh Steelers
Terrence Cody, NT, Alabama
A taller, younger, and cheaper Casey Hampton.
16. New York Jets
Ras I Dowling, CB/S, Virginia
17. Atlanta Falcons
Donovan Warren, CB, Michigan
18. Miami Dolphins
Dan Williams, NT, Tennessee
Parcells likes positional value.
19. Baltimore Ravens
Golden Tate, WR, Notre Dame
Stretches field, plays big, has amazing ball skills, and can help the return game too.
20. New York Giants
Earl Thomas, S, Texas
21. Jacksonville Jaguars
Taylor Mays, S/WLB, USC
I will quit watching football if they take Tim Tebow.
22. New England Patriots
Jerry Hughes, OLB, TCU
They have no pass rush.
23. Green Bay Packers
Brandon Ghee, CB, Wake Forest
24. Dallas Cowboys
Carlos Dunlap, DE, Florida
25. Philadelphia Eagles
Mike Iupati, OG, Idaho
26. Seattle Seahawks
Trent Williams, OT, Oklahoma
27. Arizona Cardinals
Anthony Davis, OT, Rutgers
28. Cincinnati Bengals
Dez Bryant, WR, OK State
29. San Diego Chargers
Jonathan Dwyer, RB, Georgia Tech
30. Minnesota Vikings
Travis Lewis, OLB, Oklahoma
31. Indianapolis Colts
Joseph Barksdale, OT, LSU
32. New Orleans Saints
Sean Witherspoon, OLB, Missouri
This article is
What is the duplicate article?
Why is this article offensive?
Where is this article plagiarized from?
Why is this article poorly edited?