2010 NFL Mock Draft v. 2.0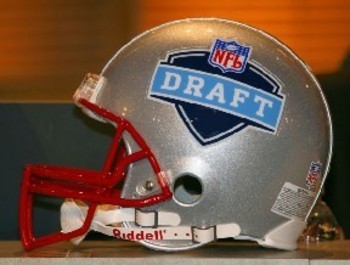 We're two weeks closer to April. The ups and downs of NFL teams are becoming clearer. Some teams, like the Titans, are climbing. Others, like the Jets (ugh), are slipping.
Though a new team is choosing first overall, much of the top 10 is the same. The bottom 10 is static, mostly. But much of the middle of the pack is flip-flopping.
In terms of the prospects, there are a few fresh faces in the first round, and inevitably some have fallen out. Also new to this week are trades! I figure a mock draft is nothing more than conjecture about what may happen, so why not guess on who may trade up or down.
So on to version 2.0. With the first pick in the 2010 NFL draft...
1) St. Louis Rams Select Jimmy Clausen, QB, Notre Dame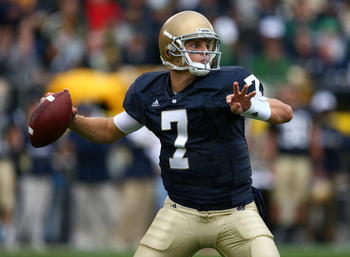 The St. Louis Rams select Jimmy Clausen, quarterback, Notre Dame.
My biggest problem in creating version 1.0 is there are no obvious franchise quarterbacks available this year. That's not to say a second or third round pick can't turn into the next Ben Roethlisberger, but there's no Matt Ryan-esque prospects.
You'll see the teams who select quarterbacks in 2010 struggling with their decisions like the 2009 Jets and Lions.
That being said, the 1-15 Rams desperately need help on offense. Opposing defenses do not respect their passing game and Bulger doesn't have the playmaking ability he once did.
S-Jax must feel like there's twenty people in the box every down. It's amazing the kind of numbers he puts up despite having no assisting offensive threat.
The Rams will take Jimmy Clausen out of necessity after he impresses at the combine with his legs and his NFL-worthy arm. Be damned with pocket presence and decision making, right?
(No. 1 version 1.0: Ndamukong Suh to the Tampa Bay Buccaneers)
2) Tampa Bay Buccaneers Select Ndamukong Suh, DT, Nebraska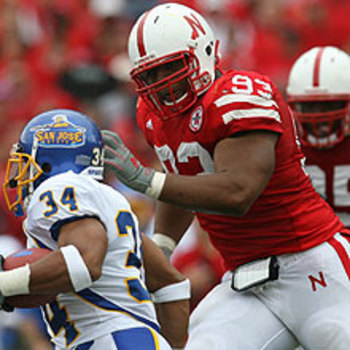 So thanks to Josh Freeman (who right now looks like the best quarterback in the 2009 draft...go figure), the Buccaneers drop one spot in version 2.0.
Regardless, they end up choosing the same player. The Rams have more serious needs on offense and do not choose Ndamukong (I love that name), so Tampa swiftly scoops him at No. 2.
This man-of-epic-proportions will cause havok in the trenches and chase down opposing running backs, like the Marshall Faulk look-a-like seen above. He'll help the 1-15 Bucs pathetic rush defense.
(No. 2 version 1.0: Russell Okung to the Kansas City Chiefs)
3) Detroit Lions Select Eric Berry, S, Tennessee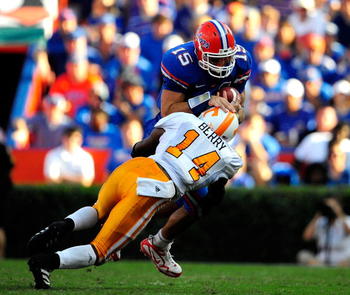 If you remember from last time, I have a thing for people tackling Tim Tebow. Expect more.
Last time around I had Berry going sixth. To be honest, that's simply too far down, which is kind of silly to say. But this guy is too good. He's a combination of all the great safeties playing right now. He's got a little Ed Reed, a little Troy Polamalu.
He's the kind of player that in a few years will frighten quarterbacks not named Peyton or Brady.
The 2-14 Lions have needs all over, but their offense has enough young talent to thrive with just some time to gel. The defense, especially the pass defense, needs major help. Berry will be that help.
(No. 3 version 1.0: Jimmy Clausen to the St. Louis Rams)
4) Seattle Trades Up to Select Jake Locker, QB, Washington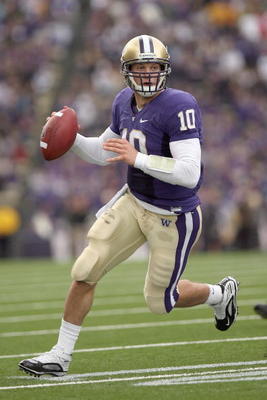 TRADE ALERT!
Because Seattle has two first round picks, they have no problem giving Eric Mangini and the Browns their 11th overall and third-round picks along with a backup defensive player to move up to fourth. They use the fourth selection to choose Matt Hasselbeck's replacement.
Now be fair, Seahawks fans, I'm sure you're all saying bad things or crying over this, but Locker has won games, essentially by himself, against professional-level talent.
I mean there's no way Washington beats USC (overrated or not) without Locker. That's promising. He might not be Peyton Manning, but a winner is a winner, and that attitude could be precisely what the 6-10, neon-green Seattle Slimers need.
(No. 4 version 1.0: Gerald McCoy to the Detroit Lions)
5) Kansas City Chiefs Select Russell Okung, OT, Oklahoma St.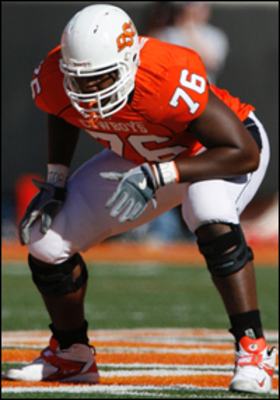 So three of the top five teams are selecting the same player as version 1.0, albeit in three different draft spots. Shows teams are focusing on specific needs early on as opposed to best player value.
As I stated last time, the Chiefs have filled their void at wide out by picking up the released Chris Chambers. This means protecting Matt Cassel is their biggest concern.
Cassel gets sacked far too often. For an inexperienced quarterback still learning to make decisions (deciding between throwing the ball to Wes Welker or Randy Moss doesn't count), what he really needs is time.
The preposterously large and powerful Okung can fend off some of the fierce pass-rushers in the AFC West and may help Cassel lead the Chiefs to more than three wins in 2010.
(No. 5 version 1.0: Taylor Mays to the Oakland Raiders)
6) Oakland Raiders Select Taylor Mays, S, USC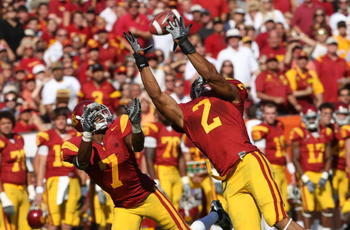 I plan on doing a new version every two weeks. I can assure you that even if I continue that trend into April, Al Davis selecting Taylor Mays will still be funny. Even in version 17.0.
Mays runs upwards of a 4.4 flat in the 40-yard dash. He does this at 6'3" and about 220 pounds. That's really all you need to know when considering who the 3-13 Oakland Raiders will choose.
I stick to my guns when I say the Raiders will not having a winning season until Al "Lord of the Undead" Davis removes that inconvenient "un" part from his title.
(No. 6 version 1.0: Eric Berry to the Tennessee Titans)
7) Washington Redskins Select Carlos Dunlap, DE, Florida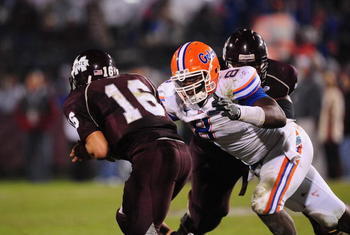 The Redskins are a disaster. Dan Snyder is about as effective as a piece of paper stopping a tornado.
Chances are the 3-13 Redskins will have a new coach next season, and that means they will want a quarterback to call their own. However, the Skins biggest problem might be on defense.
I expect them to take a super-athletic end of linebacker to assist a miserable run defense. Enter Carlos Dunlap. This disruptive force, in the mold of Mario Williams, will torture offensive lines next to Albert Haynesworth and Brian Orakpo.
Creating a dominant pass rush might put the Skins on the road to prominence once again. We'll see.
(No. 7 version 1.0: Sam Bradford to the Cleveland Browns)
8) Buffalo Bills Select Gerald McCoy, DT, Oklahoma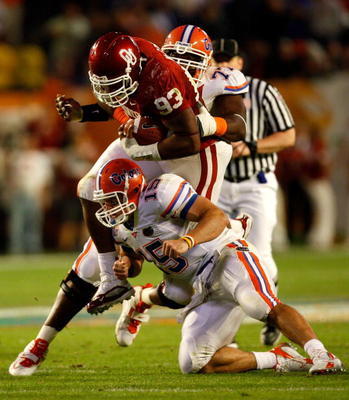 The Buffalo Bills have three wins. Sadly, that's a respectable amount for a team who can't score and sits last in the league in rush defense. They'll somehow find a way to win one more before 2009 is over.
Because of this, Bills fans will clamor and cry for a new quarterback, a new running back, a new anything with a name in a star position, but what this team really needs is help up front. They need offensive line help and defensive line help.
They need someone like Gerald McCoy. McCoy is a supremely athletic defensive tackle, that when teamed with a modestly-talented Bills defensive line, could become an explosive playmaker. The whole...300 rushing yards per game for opposing teams thing really needs to stop.
(No. 8 version 1.0: Trent Williams to the Washington Redskins)
9) San Francisco Trades Up to Select Joe Haden, CB, Florida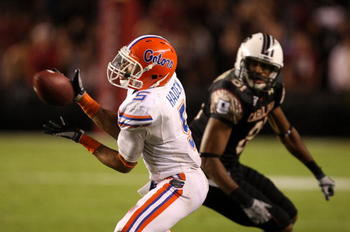 In the second trade of the 2010 NFL Draft, the 49ers swap picks with the Tennessee Titans to grab their man, Florida cornerback Joe Haden.
Haden is an extreme playmaker. He thinks like a safety, but has the physical gifts to play corner. He makes interceptions, he causes pressure on the quarterback, and he has the ability to shut down receivers.
I was hesitant to predict this trade because Tennessee needs secondary help as much, if not more than San Francisco. But San Fran has two first-round picks and won't mind giving up No. 10 overall, a second rounder and an under-performing Dre' Bly to get this Gator.
(No. 9 version 1.0: Brian Bulaga to the 49ers)
10) Tennessee Trades Down and Selects Eric Norwood, DE/OLB, South Carolina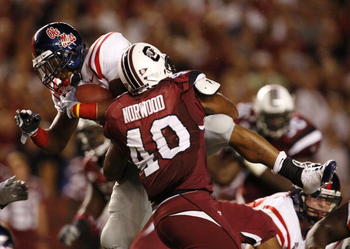 Eric Norwood has been sky-rocketing up draft boards recently due to his dominant performance as both a defensive end and a stand-up linebacker.
His skill and drive are unquestionable, though his size may hurt him come April. He comes in around 6', maybe 6'1", and about 250 pounds. His relative inability to be stopped may remind some scouts of a similarly sized NFL stud (who, you may remember from v.1.0, I have a little man-crush on) Elvis Dumervil.
Dumervil fell to the fourth round when he was drafted by the Broncos. I have a feeling the scouts won't let that happen again with Norwood. He'll help create pressure for a Titans defense that is sorely lacking.
(No. 10 version 1.0: Carlos Dunlap to the Jacksonville Jaguars)
11) Cleveland Trades Down and Selects C.J. Spiller, RB, Clemson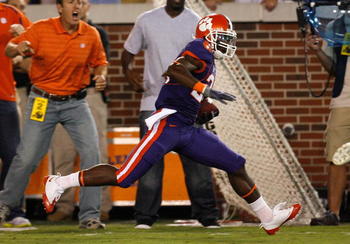 Oh, the irony.
In version 1.0, I had C.J Spiller falling precipitously into the Seahawks lap. Seattle paired Spiller up in the backfield with their other new offensive prize, Jake Locker.
This time around Seattle traded up with Cleveland into the No. 4 spot to assure themselves their franchise quarterback.
That move would cost them their franchise running back.
This is a risky pick because it's very un-Eric Mangini. But as I've stated before, I wouldn't be surprised to see someone else wearing a Cleveland Browns visor come 2010. If that's the case, the new man-in-charge may reach for Bradford or, god forbid, Tim Tebow.
But Spiller is the smart pick here, he's a home-run threat on nearly every play. He could be to the Browns what Chris Johnson has been to the Titans. Or maybe what Reggie Bush was supposed to be for the Saints...
(No. 11 version 1.0: Terrence Cody to the Buffalo Bills)
12) Dallas Trades Up and Selects Bruce Campbell, OT, Maryland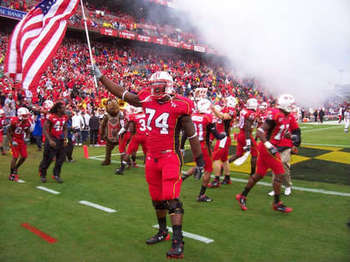 Man is that picture awesome. There's always that question, if aliens attacked, who would we send over to scare the bejesus out of them? Well after seeing this picture, I vote the 6'7", 310 pound Bruce Campbell.
The Cowboys might vote that way also. I mean he's holding the American flag, why not play for America's team?
Anyway, Campbell is another stud who's been flying up the draft boards, which means the Cowboys need to fly up to the podium early by swapping picks with the New York Jets. The Cowboys send the No. 21 overall selection, a third-round pick, and Miles Austin (I'm kidding, I wish), and Orlando Skandrick to New York.
In return they get the frighteningly large, and awesomely named, Bruce Campbell to patch up their sketchy offensive line. I mean, c'mon, Flozell Adams is a joke.
(No. 12 version 1.0: Jake Locker to the Seattle Seahawks)
13) Denver Broncos Select Terrence Cody, DT, Alabama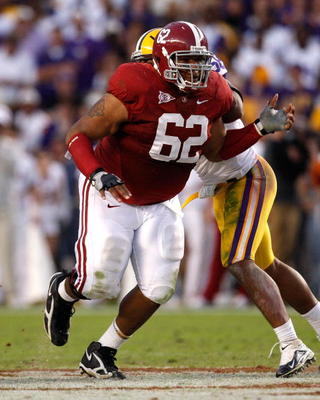 The Broncos find themselves in a fantastic position. They are in possession of Chicago's first-round pick. They're team is light-years ahead of where they could've expected it to be. They have a first-year coach, a former failure-turned resurrectee in Kyle Orton, and they're fighting for first in the AFC West.
Their depth chart is significantly more solid than I expected it to be in the preseason. And this allows them to make a risky move.
Terrence Cody is a top-five talent. I mean, look at the guy, he's freakin' huge. In Denver's pass-rush happy 3-4 system, he could become an all-world player.
Unfortunately he's been called lazy. He's been called out of shape. And most recently, he's been called injured. The one thing you don't want to hear about an athlete who's 365 pounds is he hurt his knee. But Terrence Cody hurt his knee.
It isn't season ending, and so his draft stock shouldn't exactly plummet. Denver takes him and plugs him in at nose tackle, allowing Ronny Fields (who's performed admirably) to move back to DE/OLB.
And voila! Denver's already intense defense takes a big (and I mean really, really big) step forward.
(No. 13 version 1.0: Greg Hardy to the New York Jets)
14) Jacksonville Jaguars Select Tim Tebow, "QB," Florida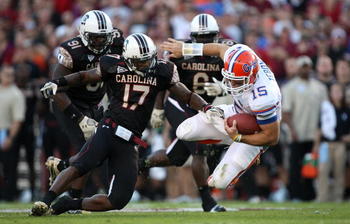 Ugh, can we put Tim Tebow on the list of unjustifiably hated athletes already? He deserves his spot next to David Wright, Derek Jeter, Sidney Crosby (well he kind of deserves it), Kevin Youkilis, Jason Bay, Peyton Manning, Tom Brady and Brett Favre (oh, wait, he totally deserves it).
The state of Florida, however, loves this guy. And the Jaguars know it. Though a defensive or offensive lineman would be of much greater help to the success of their team, the Jags biggest issue right now is putting butts in their turquoise-colored seats.
And with analysts like Mike Ditka raving over this guy recently and calling him absurd, even rude things, like a top-10 draft pick, the Jaguars have the justification they need to take him.
Tebow will be selected to sell tickets, not to win championships. It's unfortunate, but true.
(No. 14 version 1.0: Dez Bryant to the San Diego Chargers)
15) San Francisco 49ers Select Derrick Morgan, DE, Georgia Tech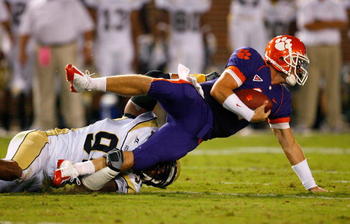 San Francisco has had a dominant defense at times this year. But when they've failed, they've failed in stopping teams' passing attacks.
They took the first step to alleviating their problems by moving up to select Joe Haden. They'll quell the second issue in that equation, pressuring the quarterback, by bringing in G-Tech's Derrick Morgan.
Morgan is similar in size and build to the New York Giants Justin Tuck. He also dissects offensive lines in the same way Tuck does.
With opposing quarterbacks feeling the pressure and Joe Haden shutting down receivers, throwing on the 49ers in 2010 might be a real bad idea.
(No. 15 version 1.0: Joe Haden to the San Francisco 49ers)
16) New York Giants Select Trevard Lindley, CB, Kentucky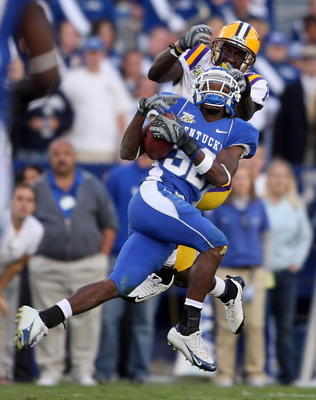 The Giants have been enormously disappointing this season. If they play well from here out they will win eight games. Ouch. So much for Super Bowl contenders.
The strange thing is the Giants are strong in all statistical categories. They're good in rush offense and defense, pass offense and defense. Yet they can't beat anyone. Well not recently at least.
Trevard Lindley and his ball-hawking skills would instantly upgrade a secondary that may be without Kenny Phillips for...eek...ever.
(No. 16 version 1.0: Sean Weatherspoon to the Houston Texans)
17) Miami Dolphins Select Damian Williams, WR, USC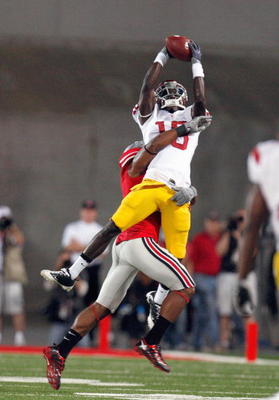 That's impressive.
I haven't had the opportunity to see Damian Williams play in 2009, but I can assure you I remember how badly he and Mark Sanchez torched my Nittany Lions in the Rose Bowl last year.
He's big, fast, and sharp. He can step into the Miami Dolphins' locker room, which frankly, isn't too far from a championship-caliber squad, and fill one of the few glaring needs they have.
Pairing him with a budding Chad Henne could bring the 9-7 Dolphins into the playoffs and beyond.
(No. 17 version 1.0: Jermaine Gresham to the Cincinnati Bengals)
18) Green Bay Packers Select Brian Bulaga, OT, Iowa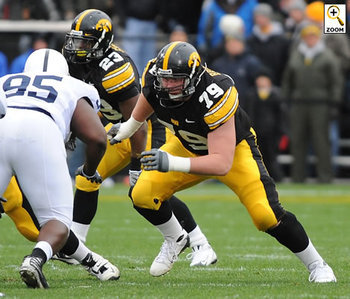 The Green Bay Packers are talented enough in nearly every aspect to contend for a Super Bowl championship. They're lead by talented receivers, a fantastic running back, and of course, Aaron Rodgers.
The only problem is Aaron Rodgers can't stay on his feet long enough to complete the amount of passes expected of a field-general with his talent.
Bulaga would only need to take a short road trip to Green Bay and switch Iowa's black and yellow to the Packers green and yellow. He would be inserted into Green Bay's lackluster offensive line to give Rodgers the time he needs to pick apart defenses like another legendary Packer (I'm talking about Bart Starr...I don't know what you were thinking).
(No. 18 version 1.0: Bruce Campbell to the Dallas Cowboys)
19) Baltimore Ravens Select Arrelious Benn, WR, Illinois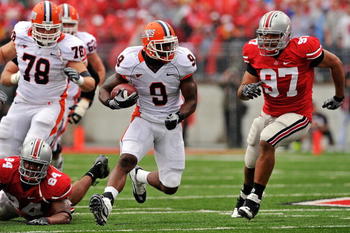 Arrelious Benn is a beast. There isn't much to say other than that. Now take him from an offense powered by Juice Williams, and put him on one led by Joe Flacco...and well, that's scary.
Benn is built like a linebacker at 6'2", 220 pounds, but is fast and agile enough to elude even the speediest defensive backs. He could make a serious impact on a 9-7 Ravens team that has always lacked an all-pro receiver.
(No. 19 version 1.0: Charles Brown to the Green Bay Packers)
20) San Diego Chargers Select Dez Bryant, WR, Oklahoma St.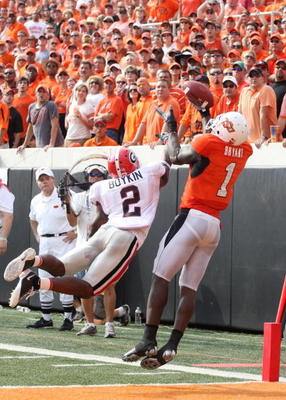 Dez has some serious issues. But what great wide-out doesn't? Wait...what? Who's Larry Fitzgerald or Reggie Wayne? Never heard of 'em.
Nevermind. Dez has been suspended for the remainder of the college football season for his relationship (not like that) with Deion "Primetime" Sanders. Which is kind of ridiculous. I mean who's to say they aren't just good friends?
Hopefully D.B. will be smart and use his time off to improve his skill-set, and if the NFL is lucky, his attitude and focus.
Regardless, Bryant paired with Vincent Jackson and Antonio Gates makes a pretty frightening group of pass-catchers for the super-talented Phil Rivers.
(No. 20 version 1.0: Arthur Jones to the Denver Broncos)
21) New York Jets Trade Down and Select Brandon Graham, DE, Michigan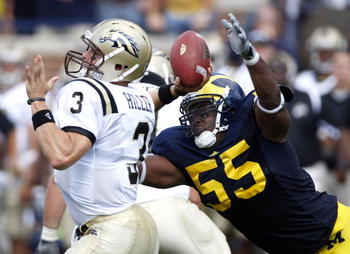 Brandon Graham is a Big Ten defensive end who comes in just above linebacker size at 6'2" and about 260 pounds. He also runs near a 4.6 40-yard dash.
This is the type of pass rushing monster the 7-9 Jets need to finish their near-complete defense. Rex's 3-4 scheme would give Graham the ability to stand up as an outside linebacker in certain situations as well.
The only frightening prospect for my Jets is they've selected a 6'2"-ish, 260 pound-ish, 4.6-ish defensive end out of the Big Ten before, and recently. And we know how that worked out. Well Jets fans do. You probably don't because you don't remember him. His name was Vernon Gholston.
(No. 21 version 1.0: Arrelious Benn to the Baltimore Ravens)
22) Houston Texans Select Travis Lewis, OLB, Oklahoma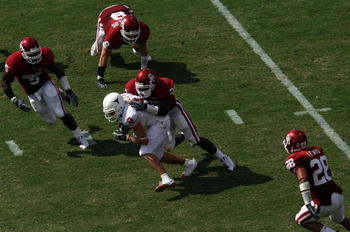 Travis Lewis is the prototype outside linebacker. He comes in at 6'2", 232 and faaaaaast. He's a risky prediction because he's only a redshirt sophomore, so he may stay another year, maybe two (yeah, right).
If he falls to Houston, and they can plug him in with other young backers DeMeco Ryans and Brian Cushing, they would have arguably the best starting linebacking crew in the league. With that offense, the 10-6 Texans become a scary prospect only one year after their franchise's first-ever postseason.
(No. 22 version 1.0: Rolando McClain to the Arizona Cardinals)
23) Seattle Seahawks Select Jahvid Best, RB, Cal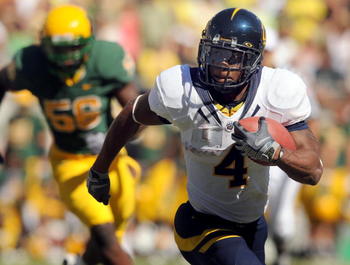 Jahvid Best is a freak talent. Unfortunately he's already dealing with concussion issues. This won't be enough to stop him from entering the draft, and I seriously, seriously doubt it will be enough for teams to allow him to drop.
The Seahawks initial trade up to get Jake Locker cost them C.J. Spiller, and so Best's injury history may cause them to forego Best in favor of the safer Jonathan Dwyer. But I think Seattle takes the local boy and pairs him with Locker in their fresh-new, and potentially scary, backfield.
(No. 23 version 1.0: Travis Lewis to the New York Giants)
24) Atlanta Falcons Select Sean Weatherspoon, OLB, Wake Forest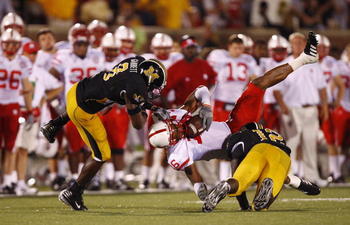 Wake Forest is one of those schools, like UNC or Maryland, that every few years puts out a stud prospect. Weatherspoon is the 2009 version of that guy.
He's a bit undersized, but he uses extra burst to be effective in the pass game. Along with 128 tackles (whoa), he recorded three interceptions last year. Dude's a force.
As much as I thought a receiver would take the Falcons offense into the next stratosphere, their talented defense has been a bit underwhelming this season and could use a jolt. Weatherspoon could be that electricity.
(No. 24 version 1.0: C.J. Spiller to the Seattle Seahawks)
25) Philadelphia Eagles Select Rolando McClain, ILB, Alabama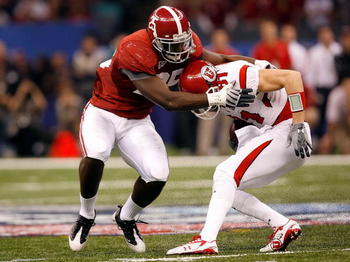 The Eagles are one of the most talented teams, top to bottom, in the NFL. Every year they say Donovan's done, and he performs. Every year Andy Reid's done, and he wins. But one area the big green birds are seriously lacking is linebacker.
Rolando McClain looks like a dominant inside presence and will seriously upgrade their front seven. I could see the Iggles looking to another running back, despite drafting LeSean McCoy just last year.
Brian Westbrook's concussions are seriously disconcerting. And for everything he's done for their franchise, Philadelphia needs to respect his health.
But, if Philadelphia is content with their running game, or Westbrook shows serious improvement, you can be assured Mr. Goodell will be calling a linebacker up to the stage to put on his new, forest-green Eagles jersey.
(No. 25 version 1.0: Tim Tebow to the Miami Dolphins)
26) Pittsburgh Steelers Select Mike Iupati, G, Idaho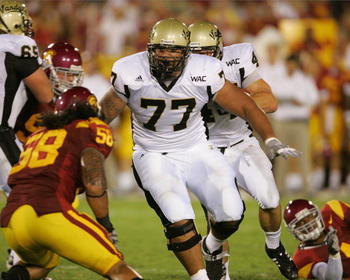 Tell me you wouldn't be scared to death seeing that large, Samoan man charging at you in a run-blocking scheme.
That's the feeling the Steelers will hope opposing defenders have in 2010, when Iupati is plugged into an aching offensive line. Luckily Large Benjamin is one of the more slippery quarterbacks in the league and the lack of a pocket doesn't particularly effect him.
Regardless, the 12-4 Steelers need to upgrade their line and not much else. If Iupati isn't the pick, expect it to be a tackle.
(No. 26 version 1.0: Brandon Spikes to the Philadelphia Eagles)
27) Cincinnati Bengals Select Jermaine Gresham, TE, Oklahoma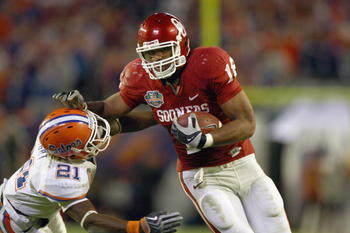 Cincinnati surprised everyone this year (be honest, you didn't see it coming either) with their success. They're currently in sole possession of first in the AFC North, above the Steelers, above the Ravens. They will finish 12-4 and potentially get a first-round playoff bye.
If you asked how they got there, a less-educated fan would say well, Carson Palmer, and Cedric Benson, and Ochocinco. But in all honesty, it's been their defense. And this is why, with aging superstars on offense, they'll bring in a superbly talented youngster in Gresham to give a resurgent Palmer another red-zone target.
(No. 27 version 1.0: Brandon LaFell to the Atlanta Falcons)
28) Arizona Cardinals Select Brandon Spikes, ILB, Florida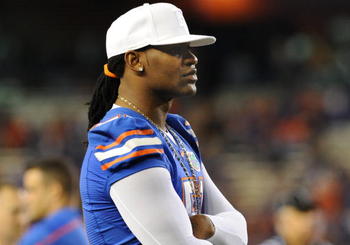 You might say, "Hey Sean, we want to see these guys in action in these photos! We want to see how they got into the first round!"
And to you sir, I say, "This is how Brandon Spikes got into the first round. At least, how he made sure he'd stay there."
Brandon Spikes intentionally poked another player in the eye this year. I expected the incident could have cost him his first-round status. Shortly after, his coach, Urban Meyer, suspended him for one half of a game that did not matter. Meyer was criticized for this. Then Spikes took it upon himself to sit out the entire game.
Unless he didn't. Lest we forget, Urban Meyer is a genius. Maybe, just maybe, Meyer said (more quotes, sorry), "Hey, Brandon. This incident could cost you a lot of money in the NFL Draft. People think you have bad character. But I know you don't. I know this was a one-time slip up. So I'm going to suspend you for one half against Vandy. And on Friday, you're going to come out and announce you're sitting the whole game because you don't want to be a distraction."
Now everyone thinking Brandon just made a mistake, he's a good guy. And the 13-3 Cardinals (yep, I said it) will repeat that enough times to put him in the center of their still-improving defense.
(No. 28 version 1.0: Trevard Lindley to the Indianapolis Colts)
29) New England Patriots Select Jonathan Dwyer, RB, Georgia Tech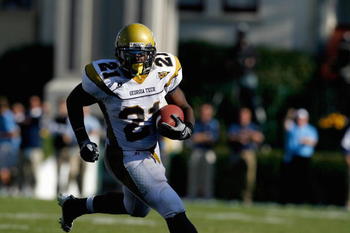 This is my second year doing mock drafts, and there's one part I always dread. Predicting who the Patriots will take. I don't hide my allegiance to the Jets, and imagining that the Patriots could get any better is frightening.
Well, this time, they could continue adding to a defense that is constantly getting younger and better. And their spread-ish offense is, well, impressive. But the one position that they truly lack effective talent is running back. If they could add a rushing game to their passing apocalypse...well, I don't think we're ready for that. Tom Brady with a working play action? Oh my...
They already won 12 games in 2009. In 2010? They might score 56 points per game.
(No. 29 version 1.0: Colt McCoy to the Minnesota Vikings)
30) Minnesota Vikings Select Sam Bradford, QB, Oklahoma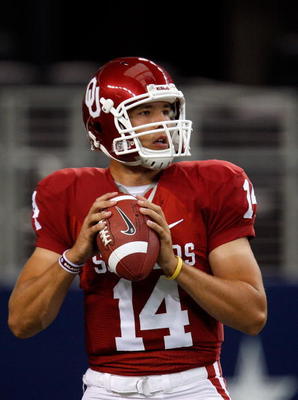 Okay, so I'm sticking to my gunslingers...sorry guns, here. In version 1.0, the Vikings took Colt McCoy. Now isn't that just illogical? Well, no.
My argument was that the 14-2 Vikings are built to win now and in the future, but their never-say-retire quarterback is not. So they take a young quarterback (in this case, they get lucky and injuries and other factors have the "better" arm fall to them) and Brett Favre finally learns to put his ego away and grooms him into a game-changing winner.
I figure, the reason he ignored Aaron Rodgers was his anger for being replaced. This time he isn't being replaced. He knows his end is near. And he feels comfortable and welcome with the Vikings. He'll have no problem developing a young stud into someone who can beat the Packers for years to come.
(No. 30 version 1.0: Jahvid Best to the New England Patriots)
31) Indianapolis Colts Select Javier Arenas, CB/S, Alabama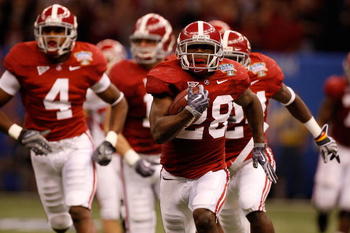 I've been fighting this bandwagon for a long time. But I've finally given in. Indy's win over New England gave me confidence to send them to the Super Bowl. The team constantly plays above expectations. It's always "the defense this..." or "Peyton Manning doesn't that..." but they win 12 games every year. And in all seriousness, they have a shot at winning four more than that this year. Yeah, I said it.
Anyway, I'll keep this short. Arenas is a serious playmaker. He plays corner and safety and returns kicks. The Colts could use that type of versatility and definitely could use help in the secondary.
(No. 31 version 1.0: Damian Williams to the Pittsburgh Steelers)
32) New Orleans Saints Select Crezdon Butler, CB, Clemson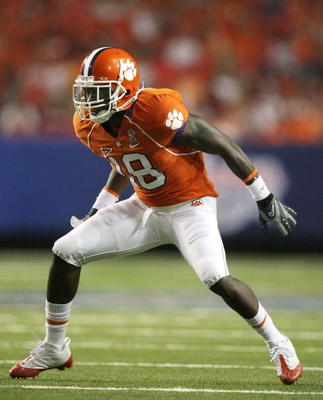 Despite giving the Saints a different opponent in the Bowl of all Bowls, I still have Drew Brees and the Bayou Boys winning. They will struggle mightily in a shootout will Peyton Manning, and they will learn from that.
Though their defense has been stellar, and their secondary has ball-hawked, they still need new talent infused into their corners and safeties. Crezdon (what an awesome name) is tall and very fast. Like 6'0" tall, 4.39 fast. Yeah.
He also has four picks and 3.5 tackles for loss. An ability to defend in the secondary and to create pressure makes him phenomenally appealing.
(No. 32 version 1.0: Patrick Robinson to the New Orleans Saints)
Keep Reading